Our next NZ bucket-list activity was to cycle the ingeniously-named Great Taste TrailTM. The best part of this cycle trail though is that there's barely any cycling involved (or at least on the most popular section that we were cycling), since most of the journey is made up of a series of stops at delicious cafes, vineyards and breweries. This is our kind of cycling.
We started our journey from Wellington to Nelson with a ferry across the Cook Strait to Picton, the jumping off point for the second leg of our NZ adventure through the South Island. As we sat in the departure hall, Mario painstakingly set up a time-lapse video of the ferry in port in front of us, ready to watch the cars begin loading. He was a bit puzzled when our foot-passenger boarding was announced and still nothing had driven onto the ferry, but it eventually became clear that the ship in front of us wasn't our ferry, it was just a ferry. I suspect this was obvious to everyone else around us, but we'd not had nearly enough coffee yet.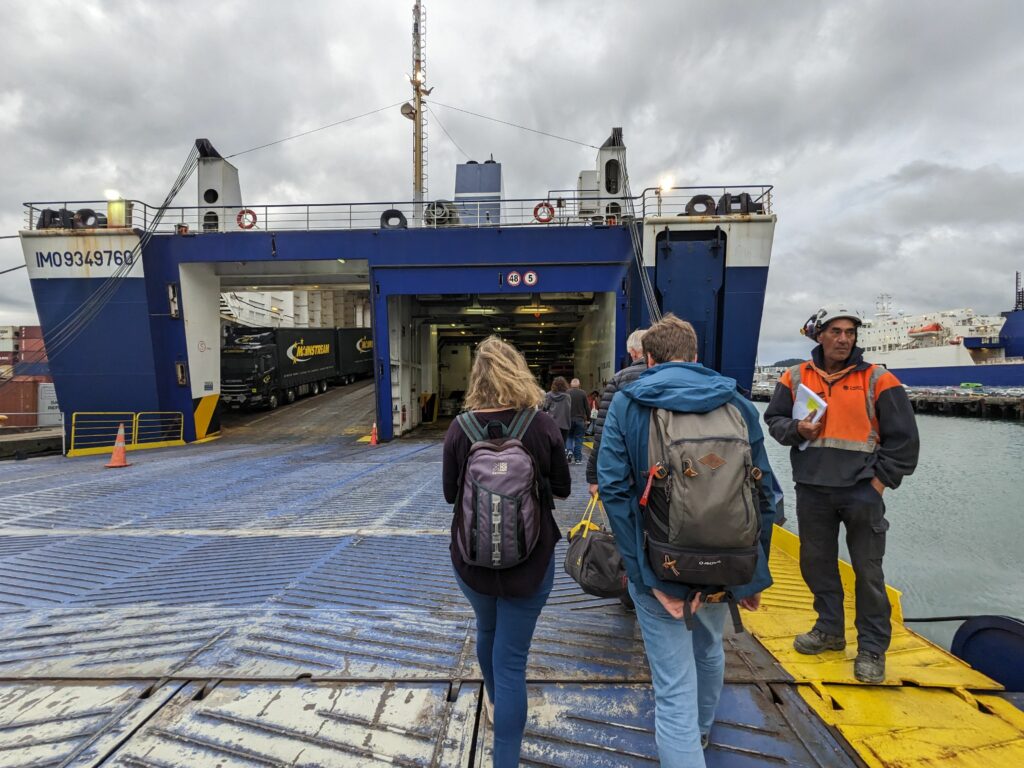 Although the ferry required a pre-dawn departure from our Wellington accommodation, the views from the ship more than made up for the early start. The ferry cruised past the fjords of the Queen Charlotte Sound, with deep green mountains protruding from the sea on both sides. Somehow, I picked a terrible moment to pop to the loo, as Sara and Mario swear a pod of dolphins passed by the ferry in what they described as a "magical moment". I still think they're making it up.
We arrived in the damp but still very quaint seaside town of Picton and checked into our apartment. At this point, Sara made the smart decision to relax on the sofa with a coffee, while Mario and I headed out into the rain to check out the Edwin Fox Museum. This museum was dedicated to the preservation of (get this): the only intact hull of a wooden deep water sailing ship built to British specifications surviving in the world outside the Falkland Islands. Hmmmm.
It turns out that this ship actually has a very interesting history, having been built in India and sailed many times around the world as a merchant ship during the days of the British Empire, before finally ending up at Picton as a mobile refrigerator for goods destined for transport ships. After an obligatory nap in front of the introductory video (which Mario perfectly summed up as "masterfully boring"), we proceeded to explore the ship itself. Even by modern standards, the ship was absolutely vast, and was even more impressive now that it has been largely stripped of its interior (prior to its purchase by the museum).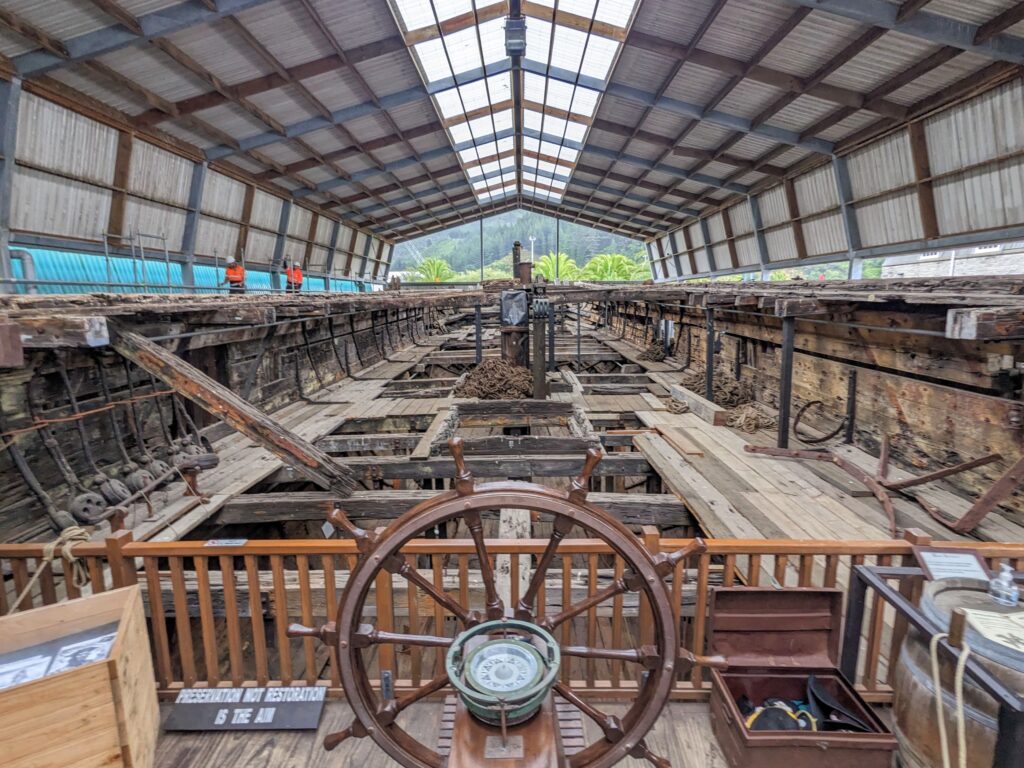 The following day, we completed our journey to Nelson by bus, with just enough time to squeeze in a short hike up the hill in Branford Park before sunset. This park is notable for its marker locating the centre of NZ atop its hill, which notably isn't the centre of New Zealand at all, but instead a central-ish point from which John Spence Browning (the Chief Surveyor for Nelson) began to create a single map of NZ's two islands. Still, the sunset views and dog watching opportunities were great.

The following day (and a full two days after we left Wellington), it was time to start our 32 km cycle adventure along the Great Taste Trail from Nelson to Mapua.
We opted for a tandem + bicycle formation, although as we departed the cycle hire shop, it became clear that the previous customer had helpfully left our tandem in its highest gear. If you've not ridden a tandem before, pulling away too slowly feels much like trying to balance on a bicycle while it's stationary, so you can imagine the extreme wobbling on our first aborted attempt at lift off. Still, it gave the folks in the cafe next door a good giggle.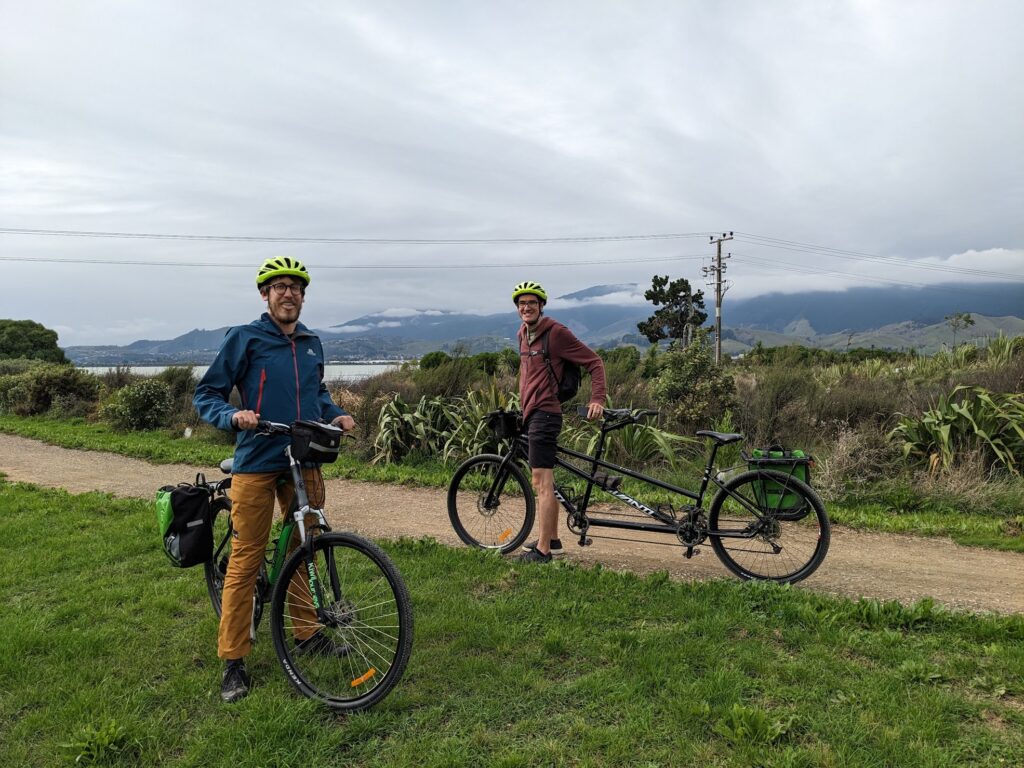 While the cycling itself was very enjoyable, it was the stops that made up the highlights of the journey…
Stop 1: McCashins Brewery
We assumed this brewery was going to be dead quiet or closed when we arrived mid-morning, which just goes to show how wrong you can be. It was full of life, and the cafe/restaurant was doing a great trade. Still, with the majority of our cycle still ahead of us, we responsibly ordered some brunch and sat down to review our progress so far.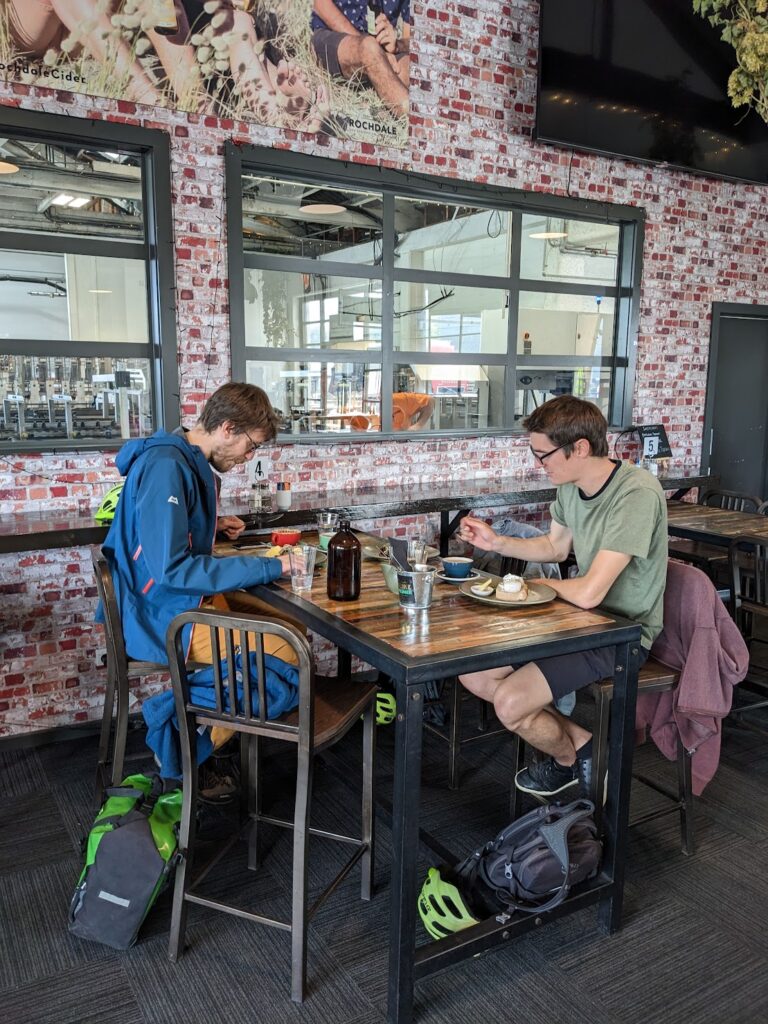 Stop 2: Wine tasting at Te Mania Wines
Just a few kilometres down the road is the vineyard and cellar door of Te Mania Wines, a family-owned winery near the Tasman Bay. The tasting room was empty when we arrived, but we managed to track down down the sommelier who talked us through a few of their white wines. It was a great warm up to New Zealand wines ahead of our upcoming visit to the world-famous Marlborough region.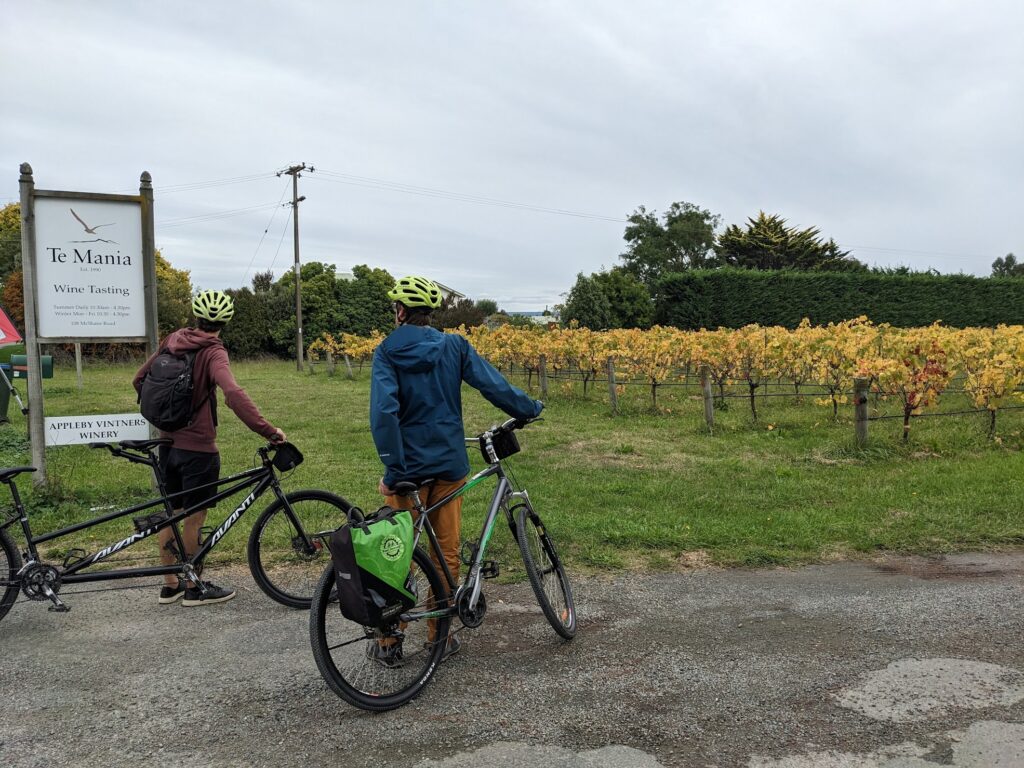 Stop 3: Cat sighting at Waimea Inlet
We returned to the coast but didn't get far before we were stopped in our tracks by this fluffy ornothologist. He seemed to be keeping an eye on the local bird population from his perch atop a wooden post, but still found time to pose for a photo.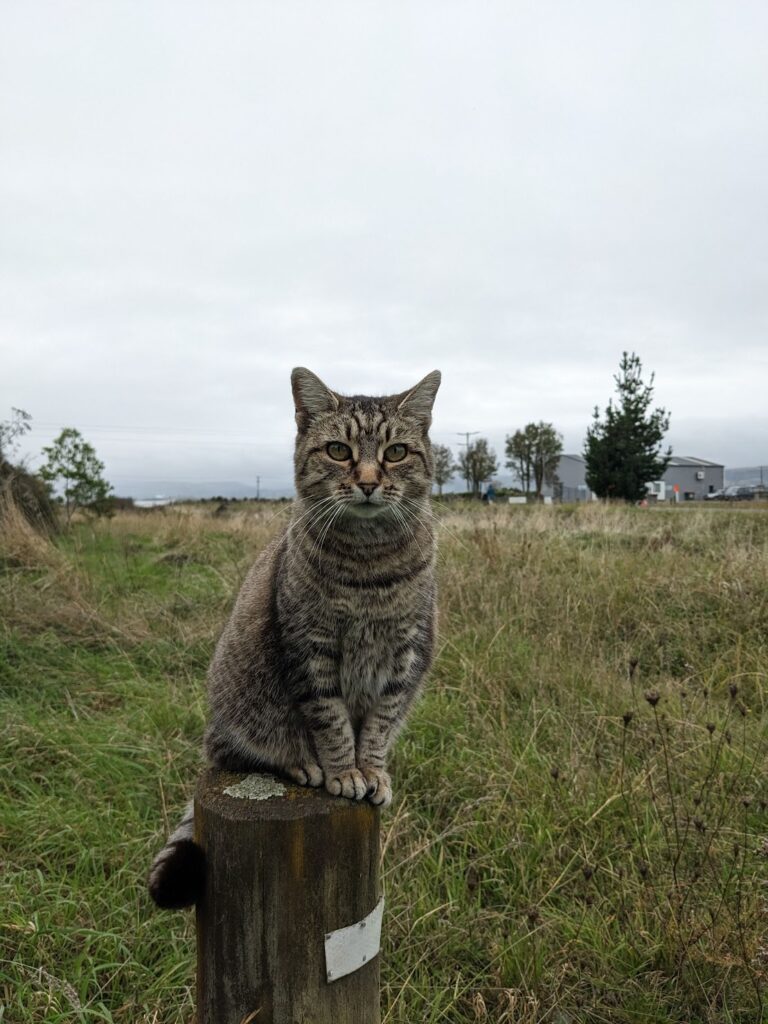 Stop 4: Rabbit Island
Our route continued across to the nature reserve of Moturoa / Rabbit Island. This is a beautifully wild and slightly remote corner of the region, with much of the island inaccessible to cars. It did seem slightly strange to dedicate an island to largely unwelcome (and invasive) rabbits, but to be honest, we quite enjoyed spotting one as it darted across the trail in front of us.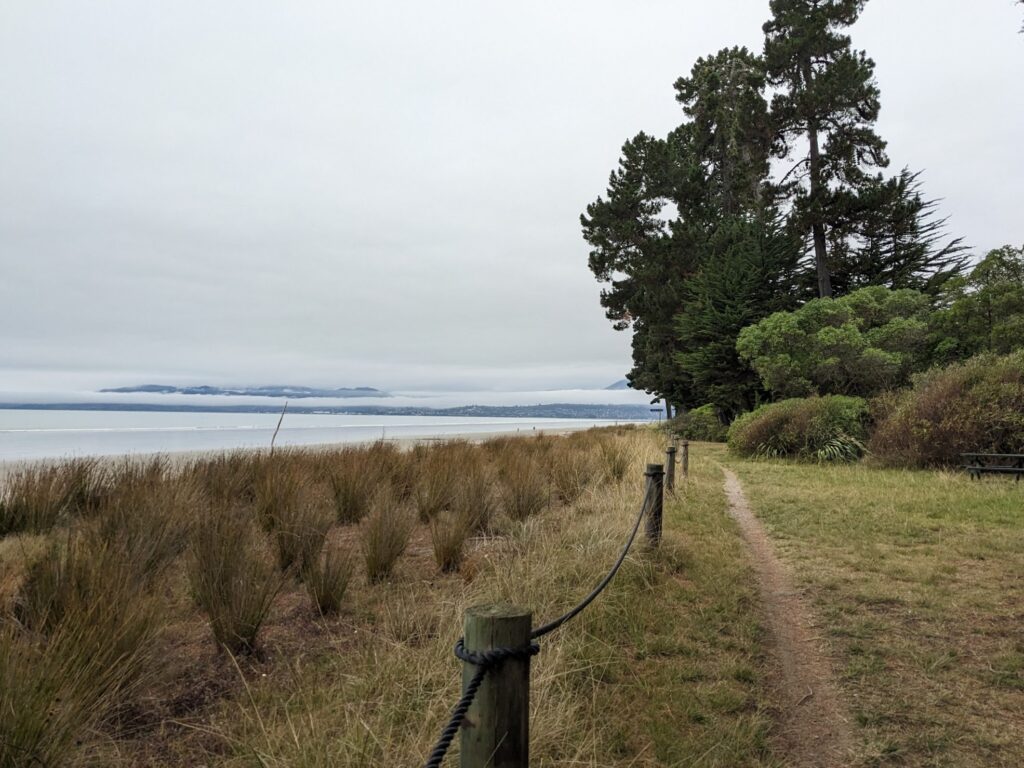 Stop 5: Ferry jetty
At the far end of Rabbit Island lies a jetty (well, a beach) where we boarded the tiny pedestrian and cycle ferry for the short trip across to Mapua.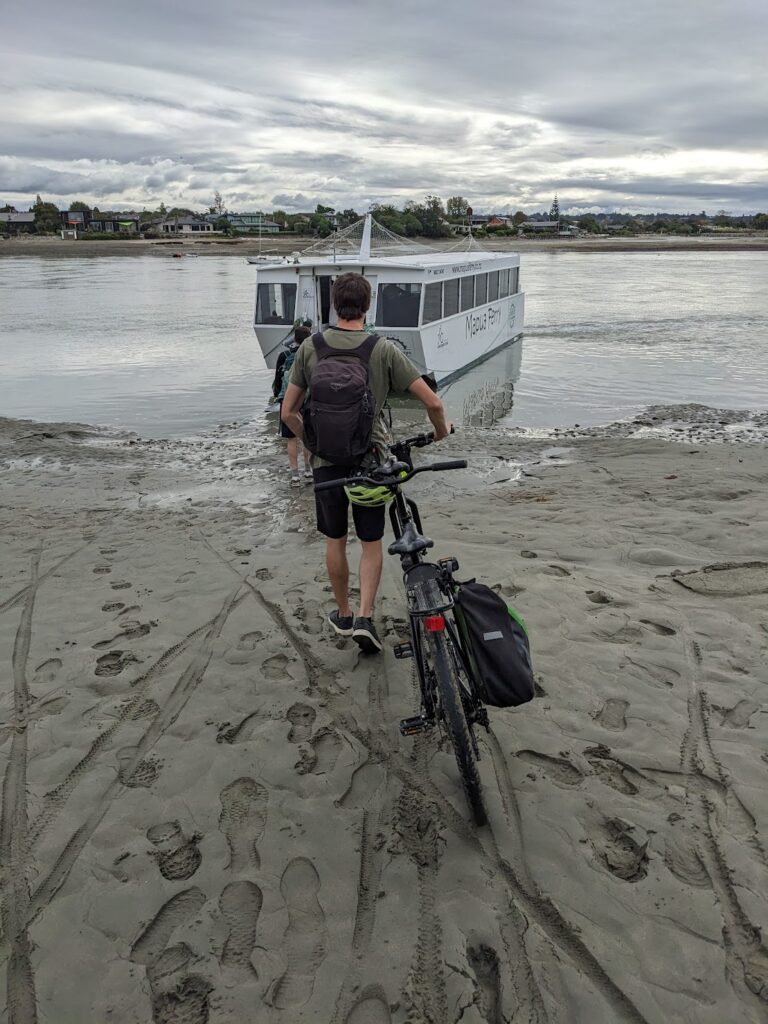 Stop 6: Rimu Grove Cellar
Mapua jetty was crammed full of restaurants, breweries, and other very comfortable places to spend an hour or two. We ended up in the Rimu Grove Cellar given the potential for both wine and pizza, which went down a treat after a full day of cycling.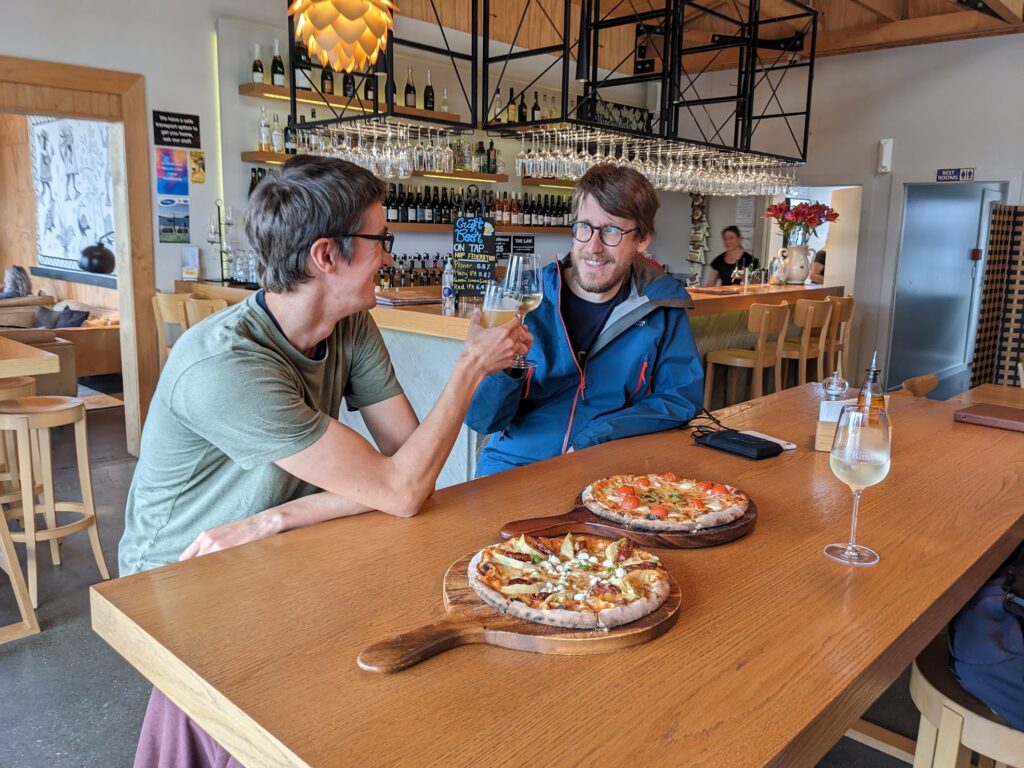 Stop 7: Golden Bear Brewery
The Golden Bear Brewery didn't open until 4pm, and our bike hire company requested that we be at the transfer pickup point at 4.15pm. Needless to say, we were banging on the door as they opened and squeezed in a cheeky glass of beer before hot footing it to the minibus back to Nelson.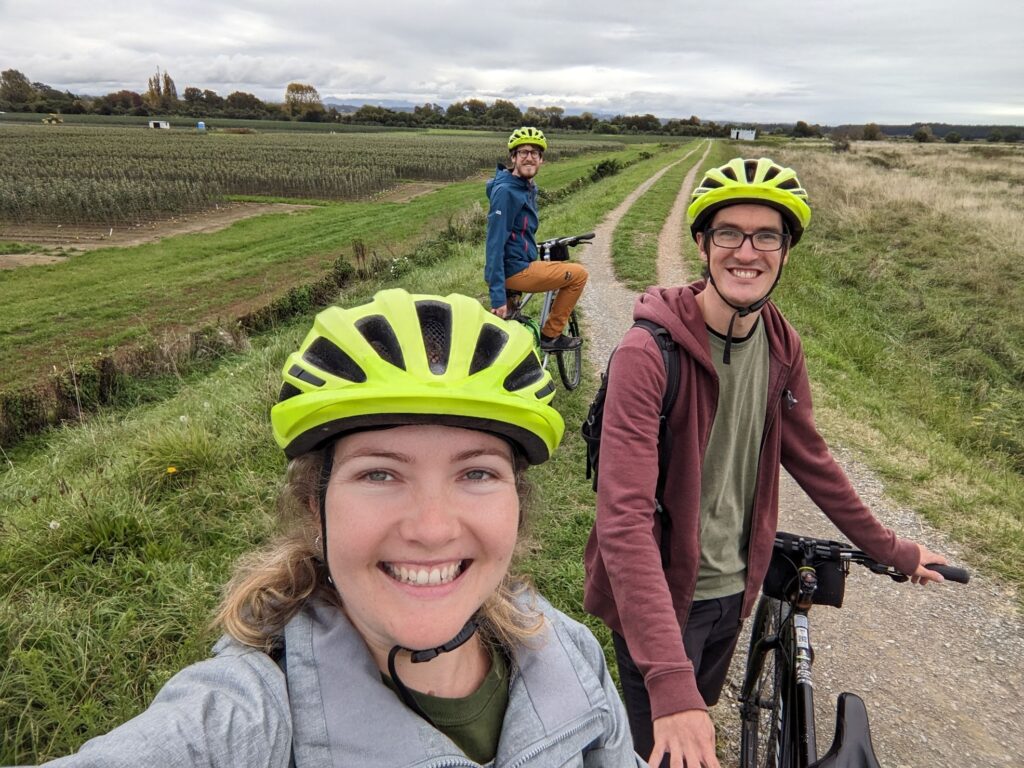 ---
While thoroughly enjoyable in its own right, The Great Taste Trail was also great training ahead of both our visit to Marlborough and our planned four-day cycle trip along the Central Otago Rail Trail. We're certainly getting into transport on two wheels!