Ever since the start of our trip last August, we've been aiming to complete a hiking or cycling trail from end to end, but then find we are short of time or have other ambitions, so ultimately spend just one day getting a taster of what it has to offer. See, for instance, Turkey's Lycian Way, Georgia's Mestia to Ushguli multi-day hike, Jeju's Olle trail, and NZ's Great Taste Trail – there's been a few. But finally, finally, after nearly nine months of travel, we've done it! Over four days, we cycled the Otago Central Rail Trail, a 152 km route that follows the course of the old Otago Central railway, built following the gold rush of the 1860s.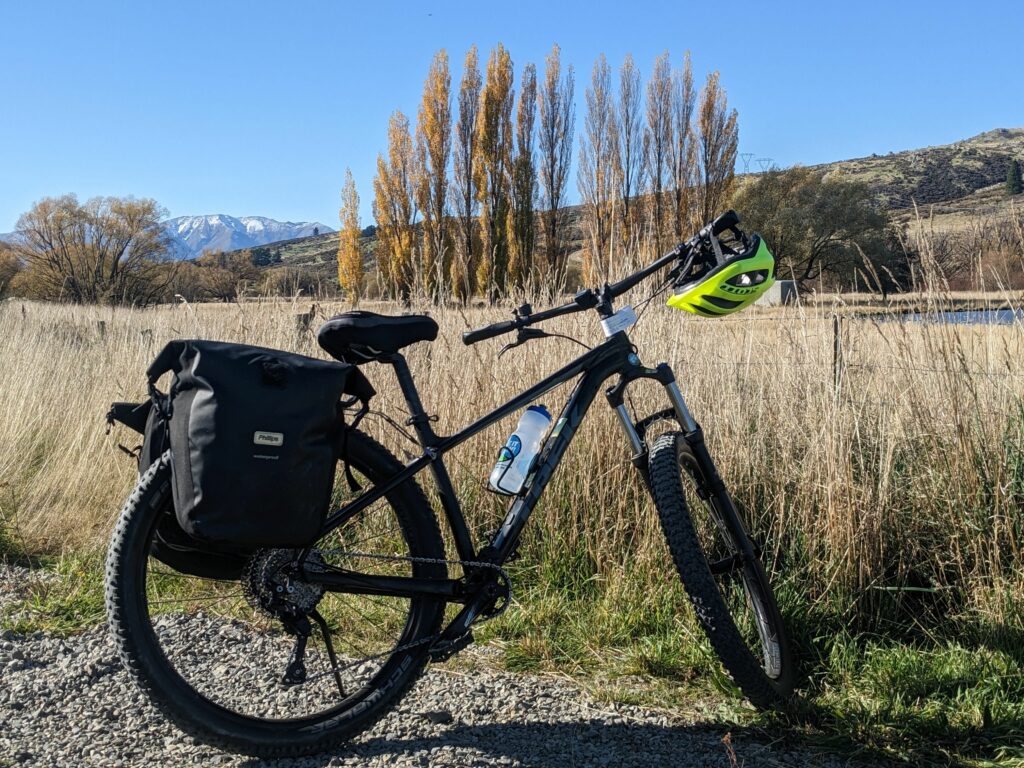 But first, we had to get to the trailhead. This required a seven-hour bus journey between Christchurch and Cromwell and then a quick hop between Cromwell and Clyde the following day.
We all thought that the Christchurch to Cromwell leg was going to be a long, boring travel day and had downloaded podcasts, books and planned blog posts to work on to keep us busy. None of this was necessary as it was an utterly epic ride! This culminated in the bus taking a lunch stop at the most spectacular spot overlooking Lake Tekapo, where we couldn't resist celebrating with yet another Tim Tam Slam.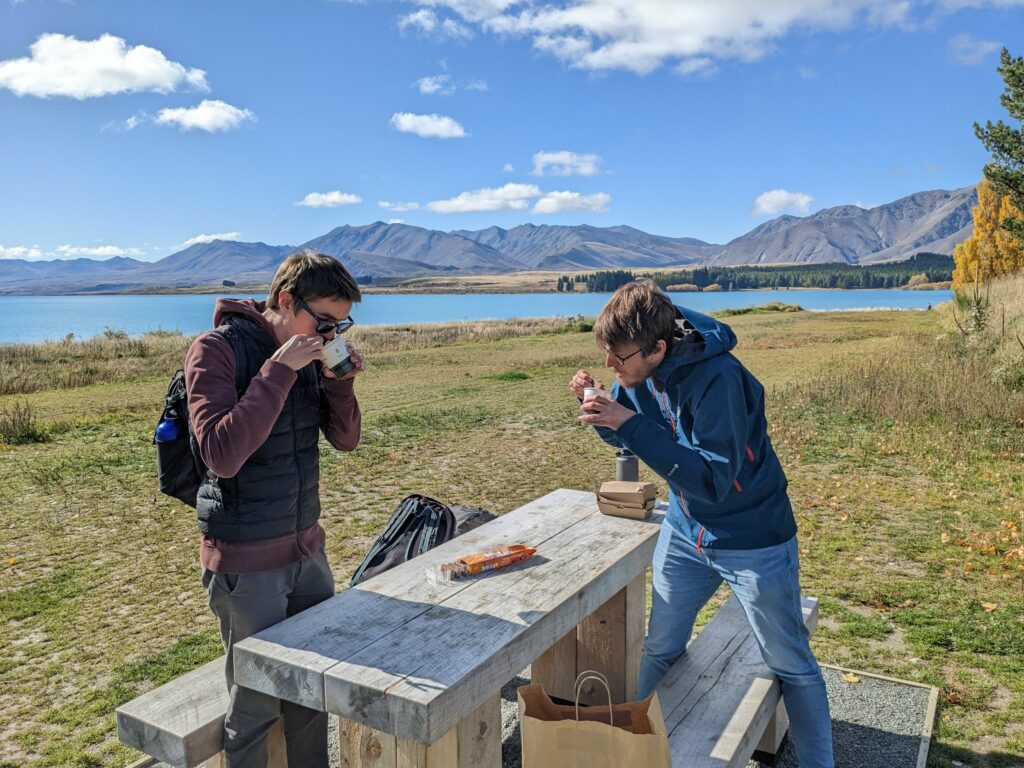 Day 1: Clyde to Omakau (41 km)
The one with Oli's gravel moving service
After taking the bus from Cromwell to Clyde, we picked up our bikes, loaded our panniers and set off towards the first town en route, Alexandra. Rather than join the main trail immediately, we decided to take the alternative riverside trail, which had come highly recommended and really was beautiful, undulating like a rollercoaster through the trees next to the bright blue Clutha River.
This added 4 km to our route, bringing our daily total from 37 km to 41 km, but at this point, we confidently believed this wouldn't be a problem. After a second breakfast in Alexandra, we set off on the trail proper. We soon realised two things:
We were pretty much the only people on the trail without e-bikes
The gravel surface was going to be really hard work, especially on the uphills (i.e. nearly all of days 1 & 2)
Halfway through the afternoon, as we slowly climbed the steepest hill on the trail, Oli grumbed that he was basically providing a gravel moving surface, where his tyres sent the stones rolling down the hill while he remained in the same position. It really felt that way!
We were relieved to make it to our accommodation well before sunset and I couldn't stay worried about how many kilometres were ahead for too long, since we were staying in a cabin next to a pub with local wine on offer and two fluffy black cats in the carpark.
Day 2: Omakau to Wedderburn (42.5 km)
The one with the highest point
Yesterday had been a tough day and I was quite nervous for today, where we had a similar distance to cover but much more elevation.

Our apprehension wasn't eased when we stepped outside our cabin to find that our saddles had frozen overnight! We moved our bikes into the sun and they were partially thawed by the time we'd eaten our breakfast and groaned our way back into our saddles for the day.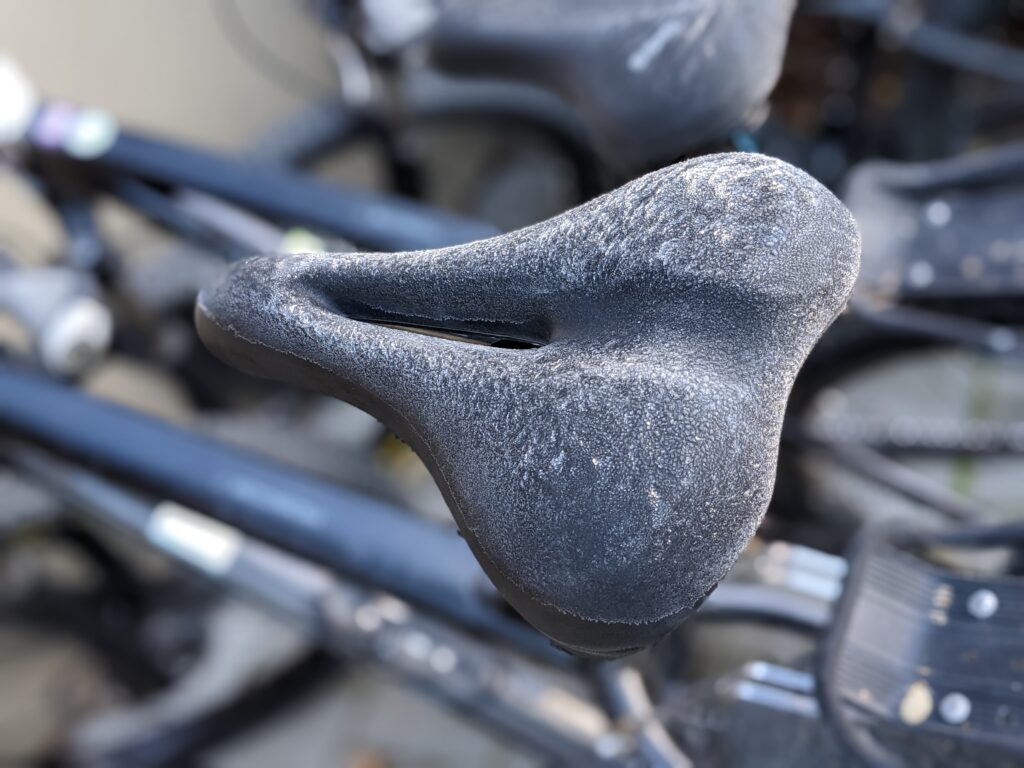 In fact, it turned out to be one of our best days on the trail. The gravel wasn't quite as deep as yesterday and we passed over several bridges and viaducts spanning dramatic scenery. We also felt our way through two very dark tunnels (where I pretended to be in The Railway Children, obviously).
Around 3pm, we reached the highest point of the trail, and Oli and Mario celebrated by sharing a lively can of beer that had been rattling along in Mario's pannier. I had eaten too much guilt-free cake at our last rest stop and couldn't join in!
As well as the rugged scenery, great food and feeling of accomplishment, our second day was also marked by our growing (and entirely irrational) hatred of the many groups of e-bikers, who smugly overtook us on the hills while barely pedalling. Unbeknownst to them, they became our sworn enemies, particularly those who had the audacity to call out pleasantries as they passed!
That evening, we stayed in a lovely cabin a long way from the nearest town (but thankfully within walking distance of a pub) and had more amazing stargazing opportunities. In fact, Mario crept out after the moon had set and said it was even better…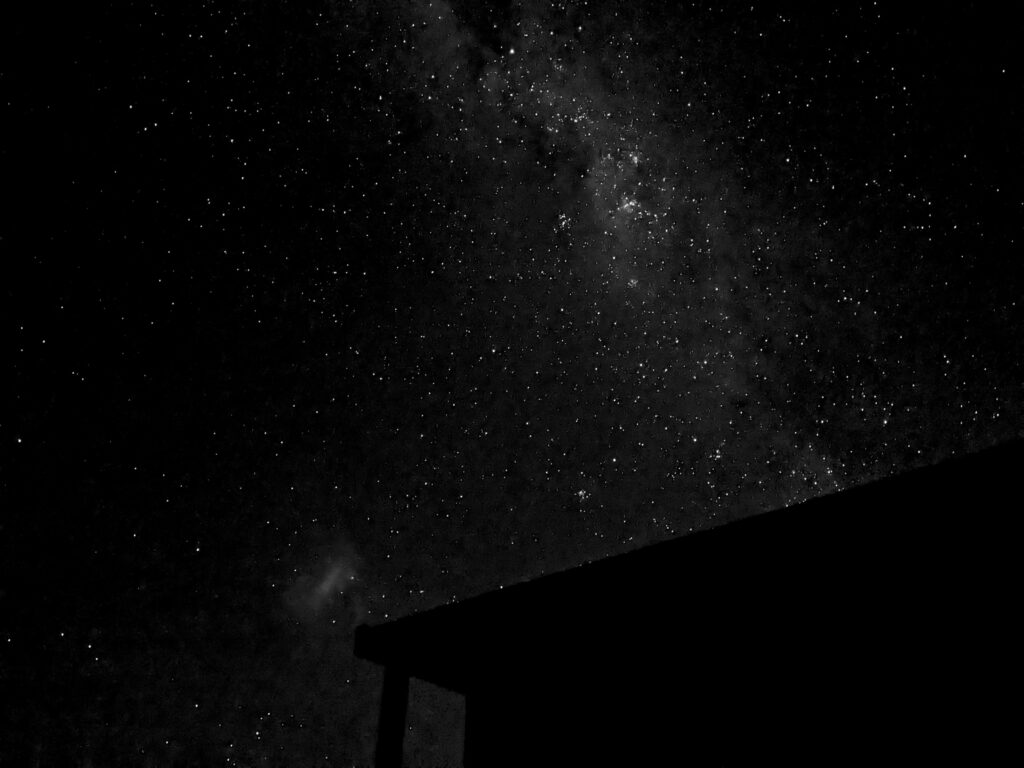 Day 3: Wedderburn to Waipiata (21 km)
The short one
We woke up to another flawless morning and had less than half of yesterday's distance to cover, all downhill, so today was about embracing the distractions along the trail. Even after a late start (because Mario and Oli were battling each other in a game of giant chess) and many stops to look at farm animals, rusting railway infrastructure, and planets of the solar system (more on that later), we still reached Ranfurly by lunchtime. This was two-thirds of our daily distance, so we passed some time roaming around the town looking at the architecture and scouting for cats. For a town that's known for its Art Deco buildings, we didn't do very well and only found one!
When we set off again, we continued to track the planets of the solar system, which were presented at a scale of 100 million to one across the length of the trail. This really brought home just how much space there was between each planet, given it took us several days to cycle to the sun!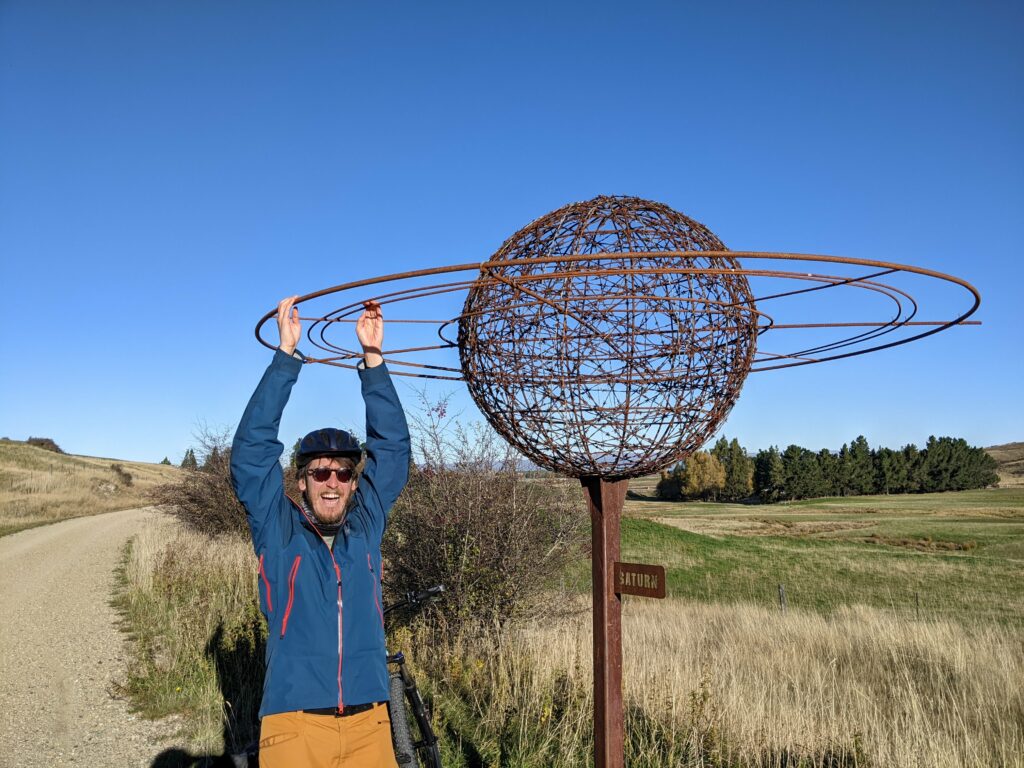 We managed to faff our way to our 2pm check in time and then spent the rest of the afternoon relaxing in the pub in the tiny settlement where we were staying. Despite its remote location (so remote, in fact, that our rooms didn't have locks!), the Waipiata Country Hotel was famous for its pies and the pub was BUSY that evening. We joined in and sampled a pie each from their ridiculously big selection (and made some loud comments about how we'd earned them with our pedal power).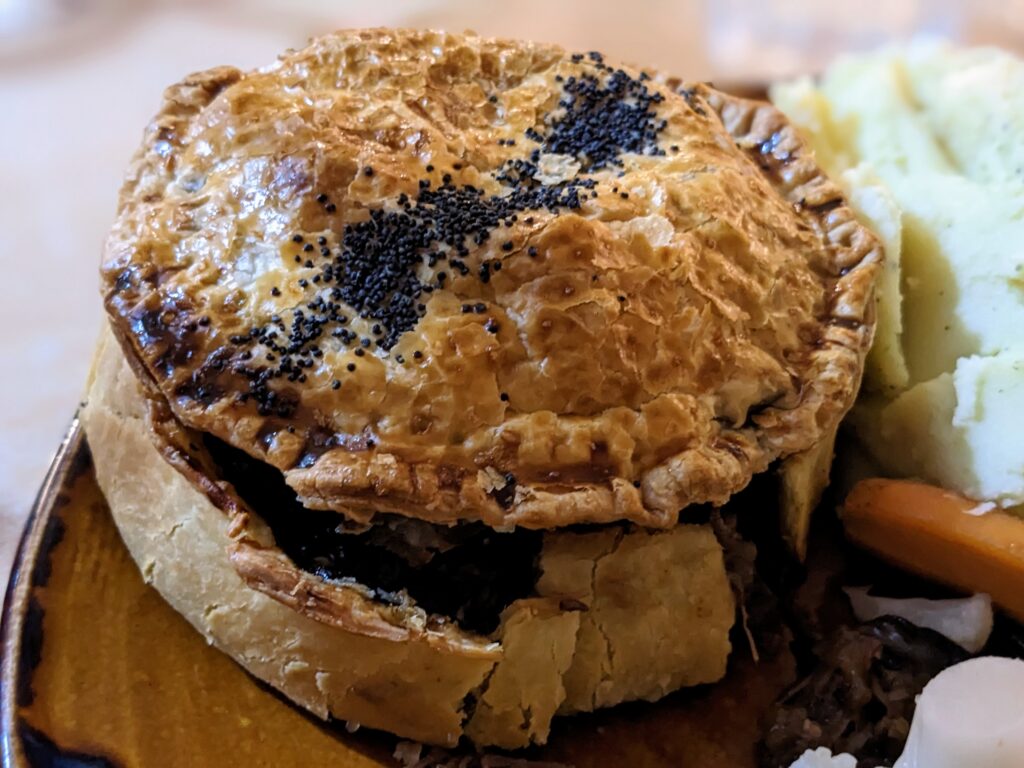 Day 4: Waipiata to Middlemarch (52 km)
The one with the deadline
Not only was this our longest day in kilometres, but we also had to be at the finish line by 1.30pm in time to catch a shuttle to Dunedin. Theoretically this was easily achievable, but we'd heard ominous tales of a powerful headwind on the final stretch so we started early to give ourselves the best chance of making it. As we crept out of our accommodation before sunrise, we saw the row of gleaming e-bikes on charge. Mario wickedly suggested we could unplug them as a final act of sabotage, which really made us laugh and was much more tempting than you might think! In the end, we decided to settle for beating them to the finish line instead.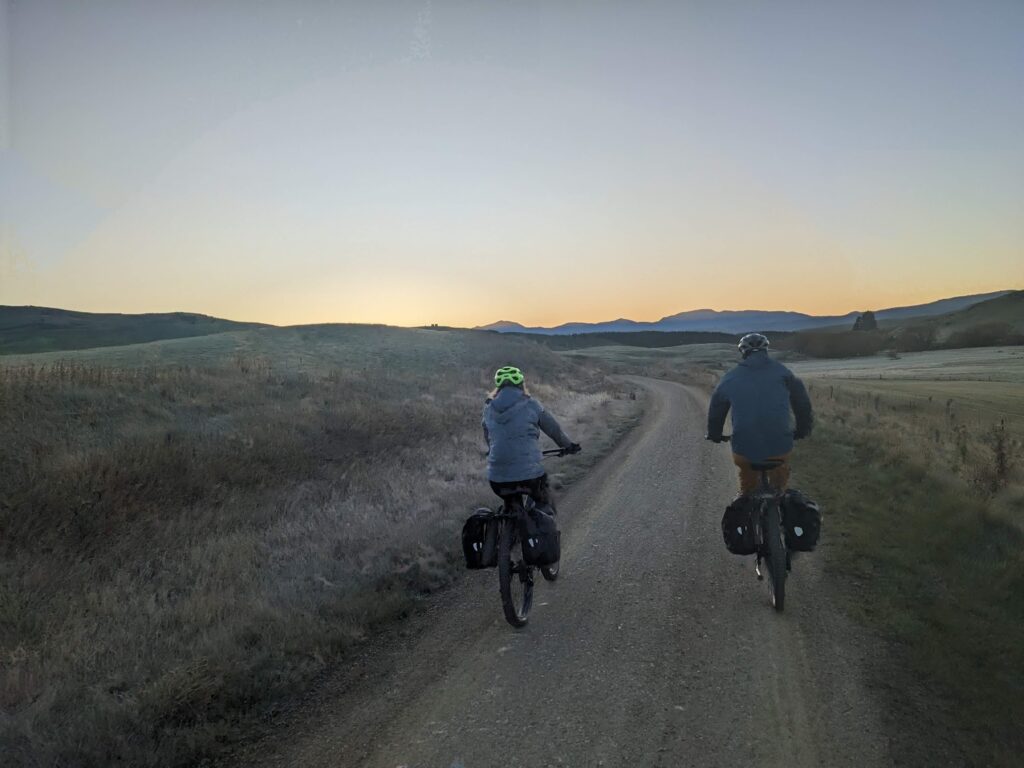 It was a very frosty start until the sun rose above the mountains, but we made good time and soon came across a tiny shelter filled with homemade goodies and an honesty box. We knew there were no cafes or shops along this stretch so we rounded up all our change and bought ourselves a few treats.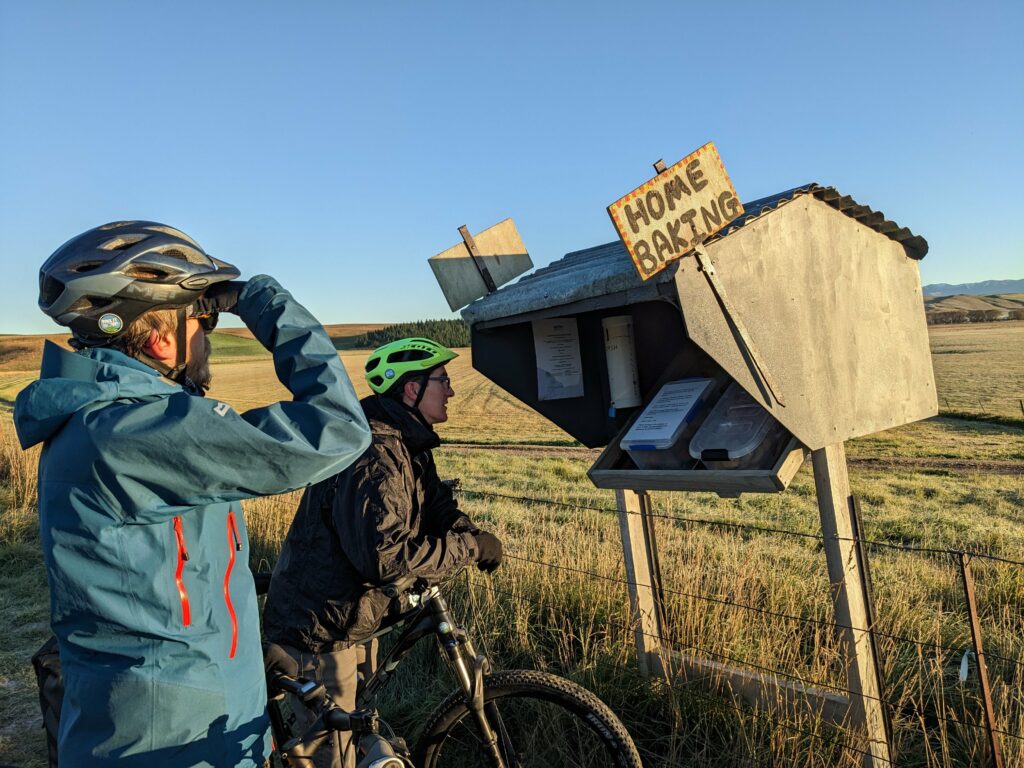 Even with these snacks, we still ate our packed lunch at 10.30am! Then just after 1pm, we rolled into Middlemarch, victorious.
It was SUCH a fun few days. We thought it would be super easy given the trail's gentle elevation changes (it was built as a railway, after all) and the comfortable temperatures this time of year, but the gravel track really did slow us down and it turned out to be just the right level of challenge for us. When we looked at our route relative to the size of the South Island (below), we were actually pretty impressed that we'd cycled a noticeable chunk of it!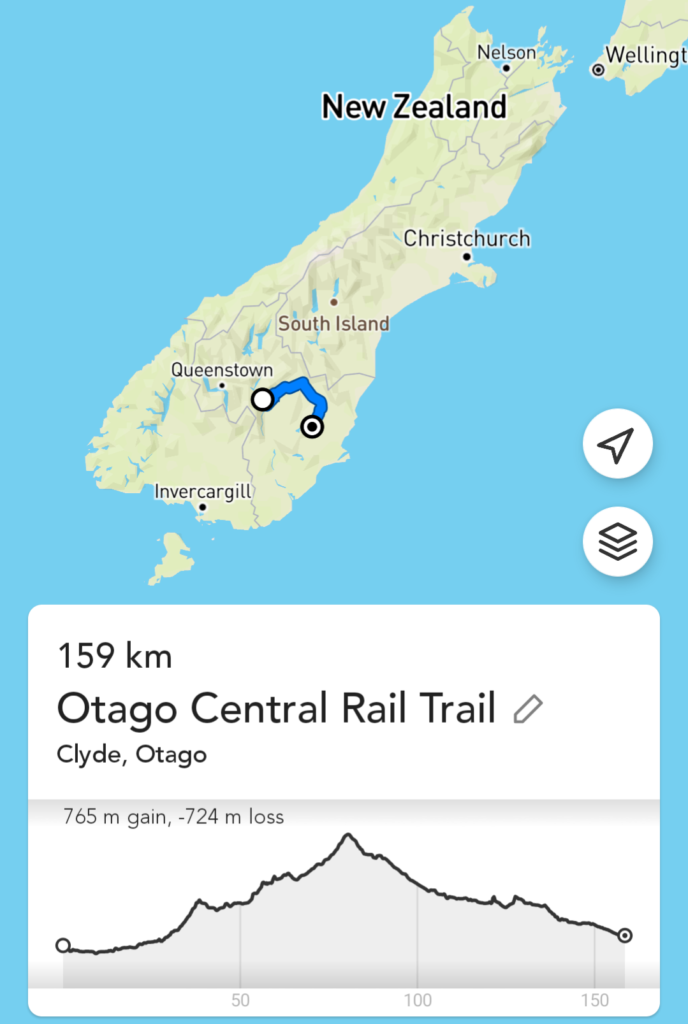 After our cycling adventure, we made our way to the city of Dunedin for a couple of days of street art, penguins 🐧 and debating the plural of albatross. Albatrosses? Albatri? Either way, we were very pleased to meet them.