Our plan was to drive our new little camper van up the remote west coast of the South Island, looping round and dropping it off again in Christchurch 12 days later. But first, we had a not-so-small diversion to make to Milford Sound, another item on our NZ bucket list and, according to Rudyard Kipling (but not officially), the eighth wonder of the world.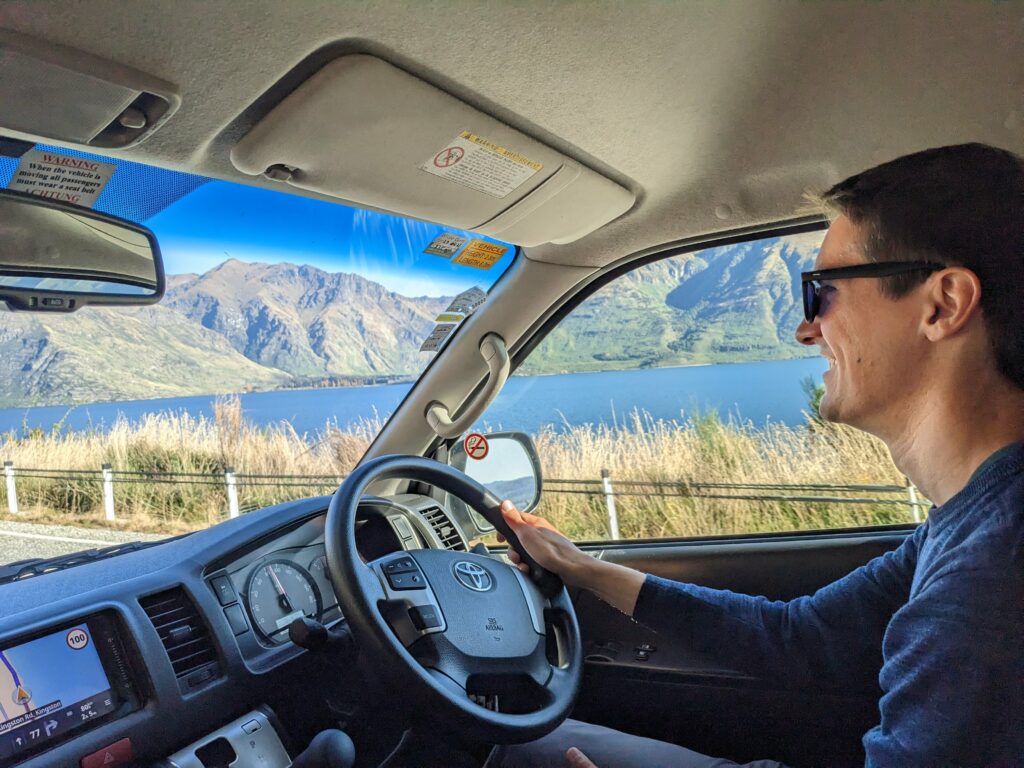 Although Milford Sound is also on the west coast, there's only one road in and out, and it's a very long way round. So, before we started our roadtrip proper, we headed to the small town of Te Anau for the night ready for a drive along the Milford Highway through Fiordland National Park the next day.
Having been advised that we needed to charge our camper's house battery on the first night and wanting to ease ourselves in gently anyway, we spent the night plugged into 240v power (meaning we could use our fan heater and our electric kettle, woohoo!) in a holiday park with a lake view. The below picture is us trying to emulate some of my mum's enviable #vanlife pictures she sends us, although her table is much nicer and always has a lovely vase of flowers in the middle. Still, ours had wine (if not wine glasses), and that's the important bit, as she would agree!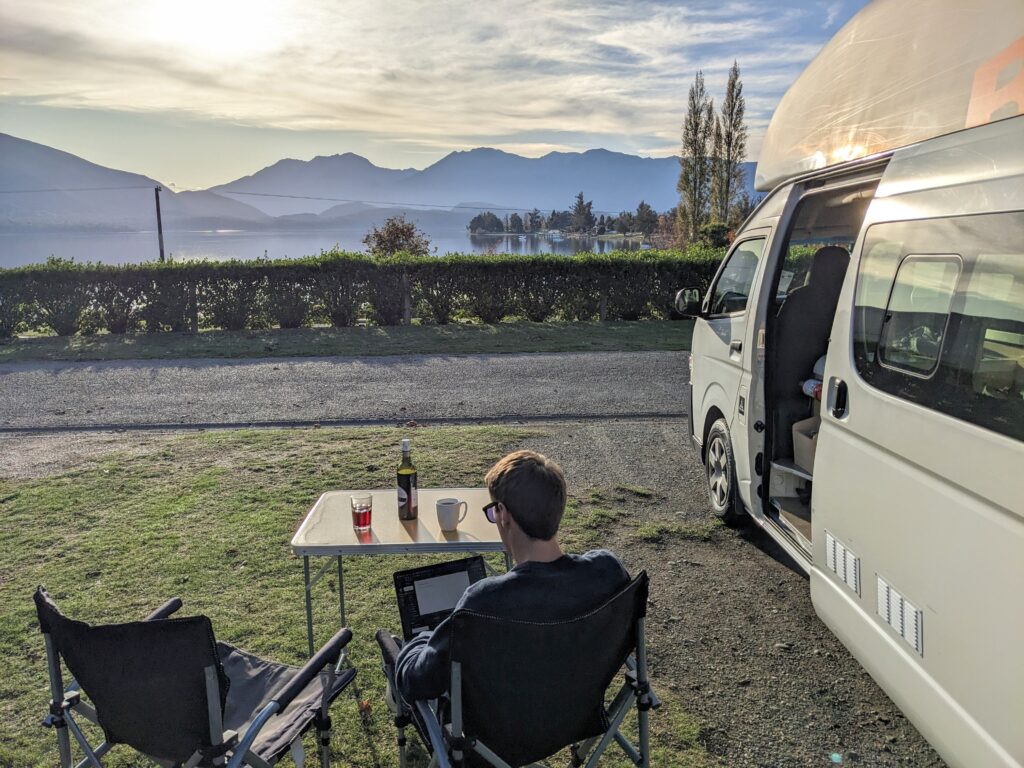 The next morning, we set off as the sun rose to tackle the Milford Highway. Like many roads in NZ, this is a long, windy, remote and incredibly scenic two-lane highway, and we'd read a lot of warnings about the lack of services along the route, the state of people's driving (because they are looking at the view), and it taking much longer than expected. In the end, it took us about two hours from end to end, so not bad at all, although obviously we also had to come back later in the day.
We stopped along the way at the Mirror Lakes, which gave us a beautiful reflection of the mountains looming on the other side of the valley. To be honest, while we thought they were pretty, the lakes were much smaller than we had expected. However, we've since visited quite a few mirror lakes (it turns out they are a bit of a thing in NZ), and none have been as perfectly still and given such a convincing reflection as this one.
One of the best ways to explore Milford Sound is (unsurprisingly) on the water, and we were lucky enough to be on a small boat (below) that would allow us to get closer to the towering cliffs and waterfalls. The view was already pretty unreal before we boarded the boat…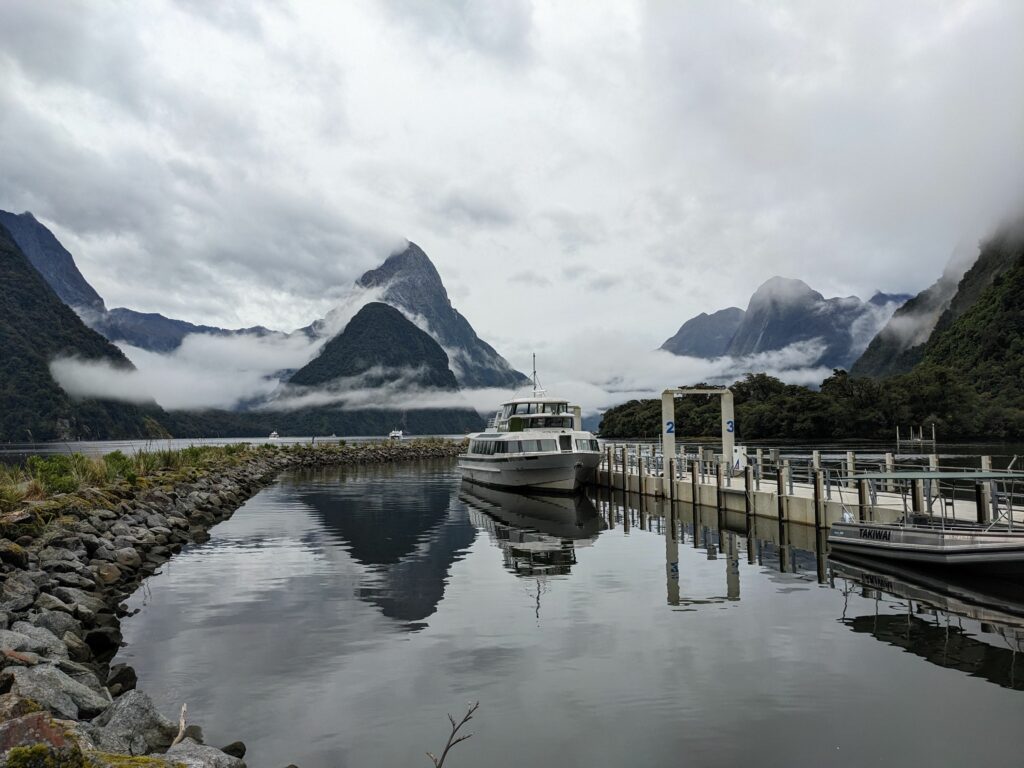 …but as we pulled away from the dock, the landscape really opened up. Our two-hour cruise took us right along the fiord to where it met the Tasman Sea, where we saw with our own eyes why Captain James Cook had missed it not once but twice when sailing around the coast of New Zealand. Once out at sea, there's really not much sign of the entrance at all, just the appearance of unbroken mountains and a continuous coastline. I haven't included a picture because there's really not much to see! Of course, the Māori people knew it was here, and had been fishing, hunting and collecting pounamu (jade) in the area for hundreds of years by the time European settlers eventually came across it in 1823. They named it Milford Sound after Milford Haven in Wales. It's actually not a sound at all though, but a fiord, since it was created by a glacier rather than a river.
Having had such beautiful weather recently, we were slightly disappointed to have cloudy and rainy weather for the day, although we did read that Milford Sound is one of the rainiest places on earth, so we weren't exactly unlucky. We've also heard from multiple local people since that it's much better in the rain – I think because it gives it such a moody atmosphere and increases the flow of the hundreds of temporary waterfalls.
On the subject of waterfalls, we heard from our skipper that it was time for a 'Glacial Facial', where he brought the boat very close to one of the more voluminous falls and we got a faceful of spray. It was very cold, very wet and strangely salty! I didn't want to risk breaking my phone by taking a video out on deck, but the second photo below, taken from inside the cabin, shows just how wet it was!
On the way back, we sat for a while waiting to go through the single-lane Homer Tunnel, which runs for a steep 1.2 km through solid rock. There are waterfalls running down the mountain right next to where the road enters the tunnel, and the entrance has to have a roof because of the risk of rockfalls. Sitting here gave us some time to appreciate just how extreme this landscape is – no wonder the tunnel took nearly 20 years to build, interrupted repeatedly by avalanches, poor weather, and even World War II. It's still the only way in and out (by road) so it must be a massive challenge to maintain it and it's only a slightly nervewracking drive!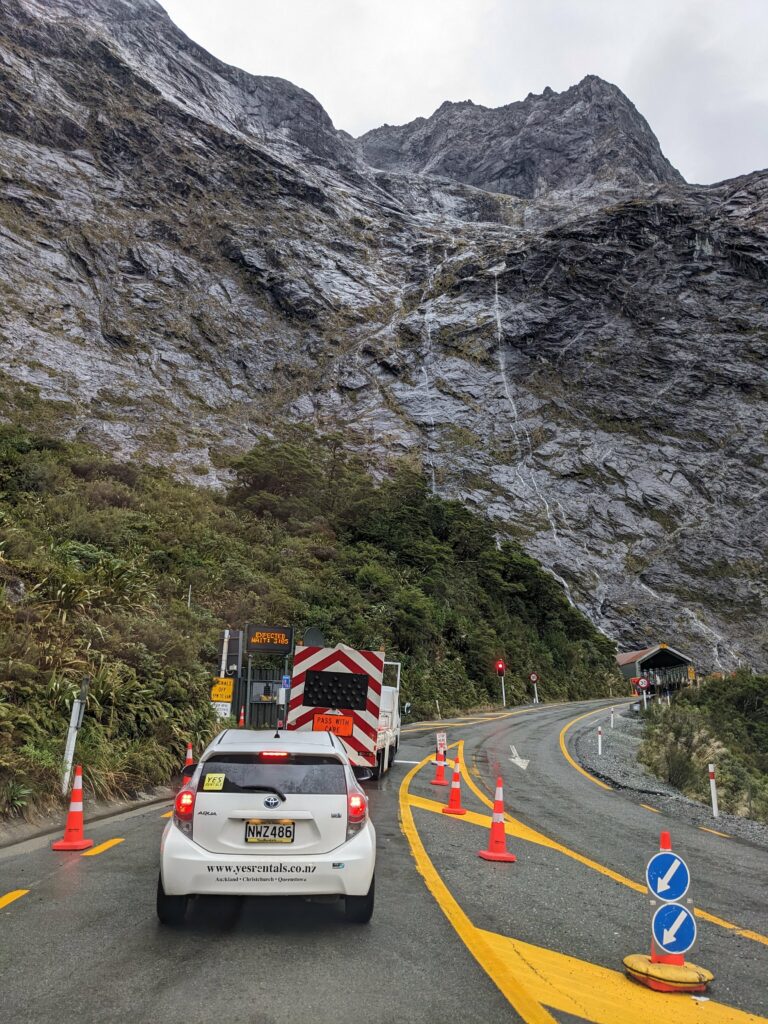 After a brilliant start to our roadtrip, we headed back to Queenstown for a brief pitstop and a few errands before continuing north towards the town of Wānaka.