We returned to Auckland on a trusty InterCity coach, and while these aren't exactly tour buses, I've come to appreciate the freestyle commentary that some of the drivers take great pride in imparting along the route. Today's driver Brian, however, gave by far the longest and most irrelevant spiel of all, which covered topics such as: yesterday's weather, the seat belt configuration on buses other than the one on which we were riding, and how to load luggage on to subsequent connecting buses. He did his best to maintain order and keep to schedule on a very busy route, but we could tell Brian had accepted that some things were just beyond his control. This was summed up perfectly when a couple of guys arrived to board the coach just as it was pulling away, and Brian spent the next five minutes chastising them over the tannoy. To be fair to Brian, he wasn't visibly angry, you could tell by the tone of his voice he was very disappointed. The irony of his next lengthy tirade about how we shouldn't take phone calls on the bus in case we disrupted fellow passengers was not lost on any of us.
Having a second shot at Auckland gave us the time to visit some sights that were further afield and that we didn't manage to squeeze into our first visit. The first of these was the suburb of Devonport, located on a spit of land opposite downtown Auckland and easily reached via a short ferry. The suburb itself looks like a very comfortable place to live, with the perfect balance of quiet local life and proximity to the city centre. We enjoyed strolling the sunny streets and browsing the shops, before settling down at Corelli's for brunch. Here, Sara enjoyed a generous helping of bacon and creamy mushrooms on wholegrain toast, which has swooped in and stolen the top spot on her list of NZ brunches.
Just behind Devonport is Mount Victoria, which is quite an impressive-sounding name for a 66m hill. Still, it occupies a great vantage point over Auckland's harbour and has long been used as a defensive fort, first by the Māori and later by European settlers. Today, the hill functions as a public park, so we joined in with what most other Devonporters seemed to be doing, and climbed it in an attempt to work off our brunch. It was a little breezy at the top, in case you can't tell!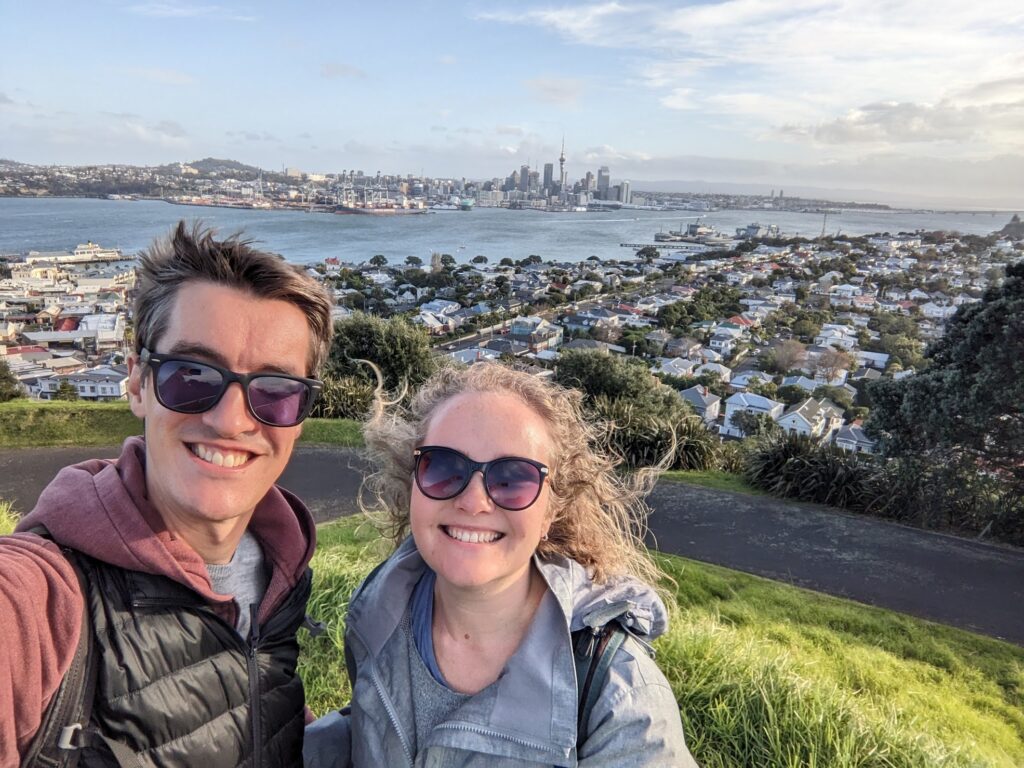 Having been feeling a little under the weather since arriving in Auckland, I took our first day to recover while Sara went out for dinner alone. She returned with such rave reviews of the Ramen joint across from our hotel that I was keen to make it my recovery dinner, meaning Sara had to eat there two days running. I could tell it must have been really good as she didn't seem at all upset at the prospect! As well as offering a traditional tonkotsu (pork bone broth) ramen, this place also specialises in sesame ramen, which we both tried. This turned out to be a deliciously rich and salty broth – the kind where the first mouthful makes your tastebuds dance, but by the last mouthful you're totally defeated.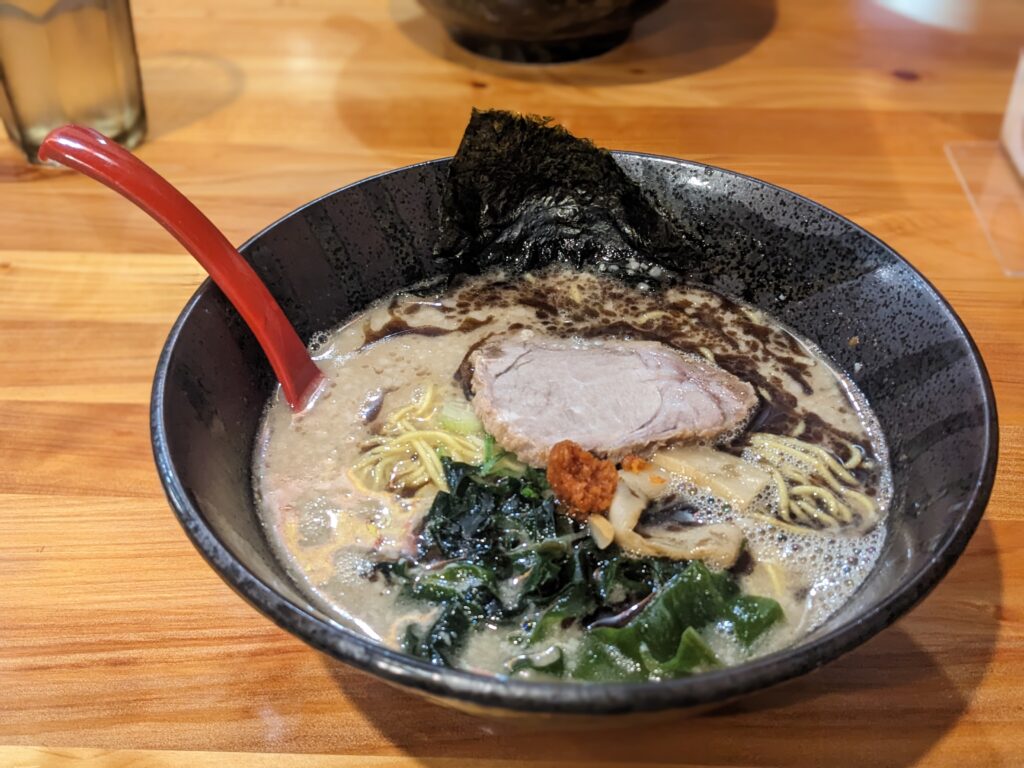 We also failed to visit Auckland Domain's Winter Garden on our last visit, having previously arrived too late in the day. This time, things were different (by luck rather than skill!), and we enjoyed a lovely stroll around two beautiful glass houses and a fernery.
It felt very fitting to end our nearly two-month trip to New Zealand in the same city in which we arrived. Auckland really grew on us too, I think helped by better weather and staying in a more central location on our second visit. Having said that, Auckland still felt worlds away from the rest of the country, and couldn't have been more of a contrast to the desert-like mountains of Central Otago or the wild west coast of the South Island. We were very sad to say goodbye, but as always, excited about the next leg.