After a Covid-enforced break of nearly three years, we've just spent three days skiing (Sara) and snowboarding (Oli) in YongPyong, Korea's oldest and largest ski resort. YongPyong's main claim to fame is that it served as the Alpine Technical venue during the 2018 PyeongChang Winter Olympics, hosting the slalom and giant slalom events. We were excited to find our snow legs again and experience skiing on another continent – our first time outside Europe. It turns out that nearly everything is different to skiing in the Alps…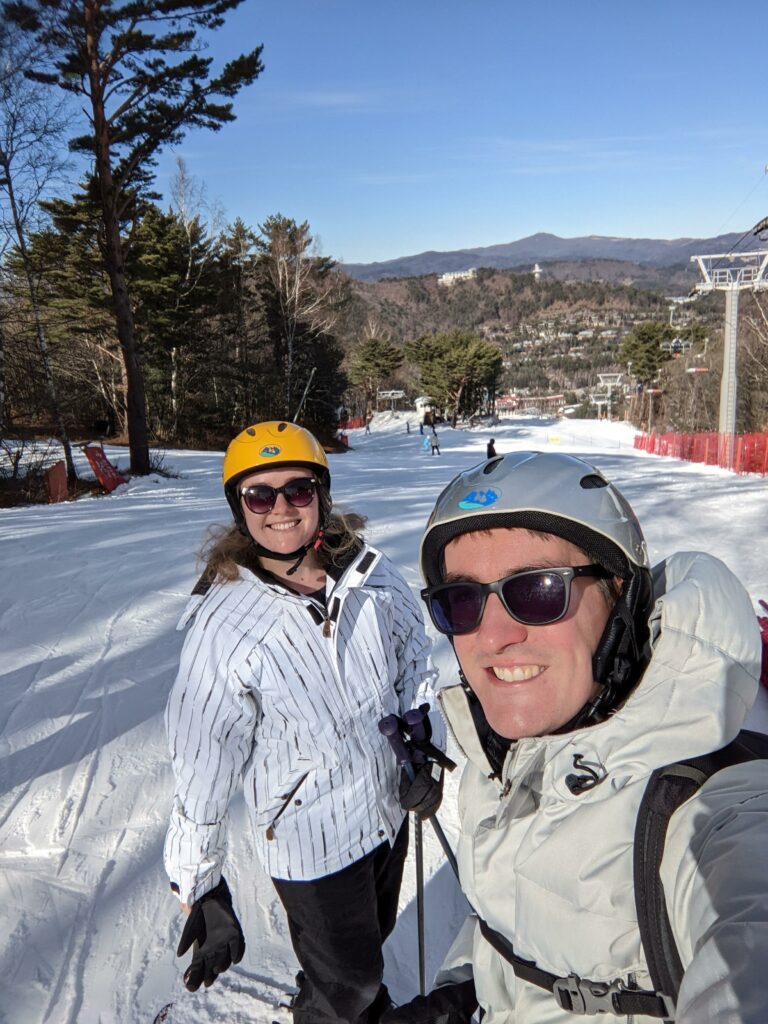 the ski Resorts are easily accessible
Our resort was about 15 minutes by road from the nearest high-speed train station. We couldn't quite believe how large, easy and 'normal' the roads into the resort were – no snaking up a precarious mountain road for an hour here! On our return journey, our shuttle bus passed through another resort on the way to the station, and this was a quick five-minute detour, so it wasn't just our resort that was easy to access. We did wonder how much this had to do with hosting the Winter Olympics – I assume easy access is a big bonus but I can't quite imagine it's this good everywhere the Olympics goes.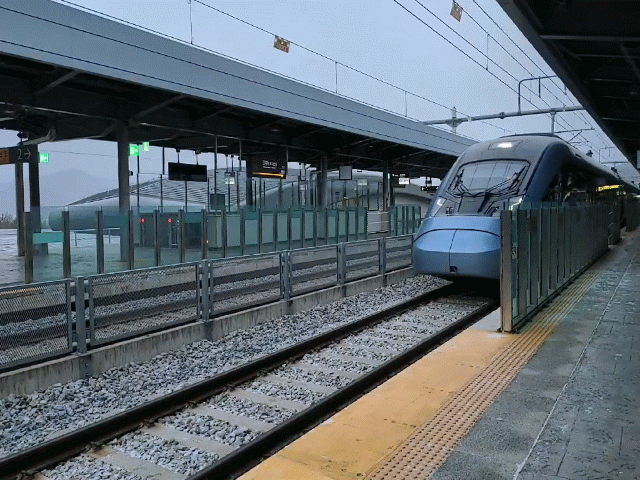 Resorts are much smaller
We picked YongPyong because it's Korea's largest resort, but it was still only the size of a (very) small European resort – at 13.6 km, it hardly compared to the 300 km of pistes available at Tignes/Val d'Isère, for instance. I'm not quite sure what possessed us to go in early December – the resort had been open just a few days and they hadn't yet had their first big snowfall. This meant that there were only a couple of runs open (that had been snow-cannoned).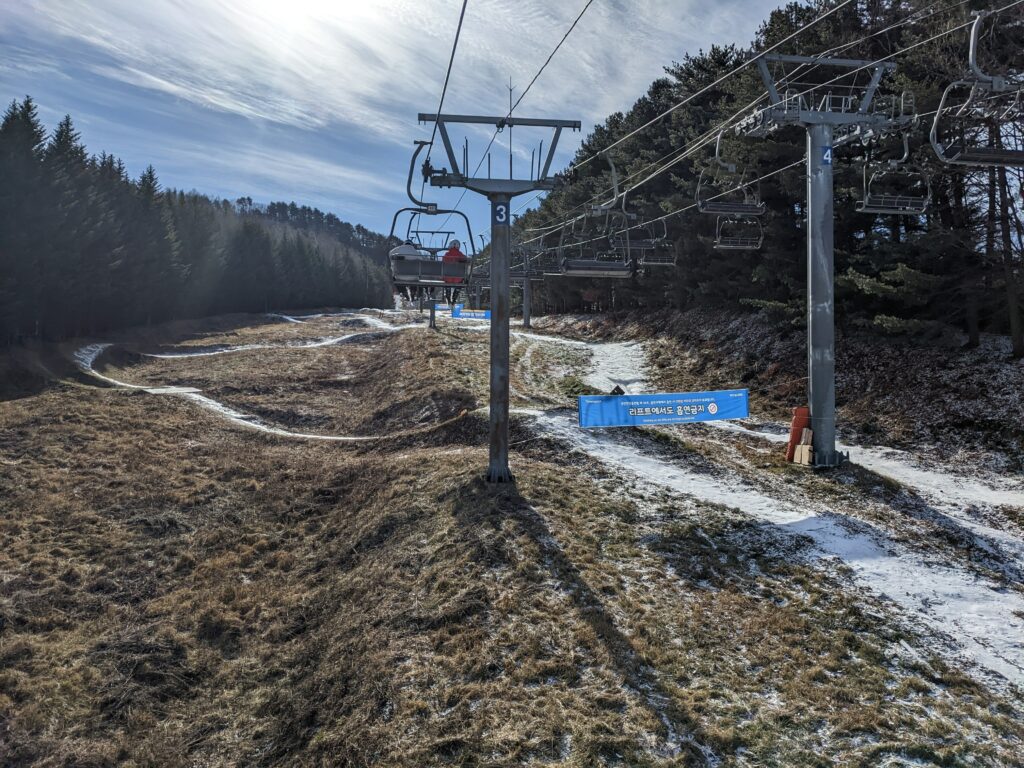 We were rarely out of sight of the village while skiing so it didn't feel very intrepid, but at least coffee was never far away. By the middle of the first morning, we'd skied everything that was open – more than once!
The food is exciting and affordable
We ate lunch a couple of times in a food court in the resort. We ordered all meals from a single, multi-lingual self-service machine, then picked them up from separate chefs – choices included Korean, Japanese, Turkish and the ominous, vaguely-named 'Western'. It was possible to get a full meal (with soup and veg sides) for around 13,000 KRW (about £8) – so certainly cheaper than in the Alps. We also thought that the selection was much more inspiring! It definitely beat the half-frozen brie and ham baguettes that we normally eat as a picnic when we ski…
The piste names are even more mysterious
If, like us, you've ever struggled to make sense of a piste map in a large European resort, let me present to you the piste names in YongPyong, which seemed to be expressly designed for maximum confusion. Red and New Red were both red (intermediate/advanced) runs – so far, so good. But then there was Red Paradise, which was actually a blue (beginner/intermediate) run and Blue, which was actually a red run. Meanwhile, Pink was a green (beginner) run, Rainbow Paradise was a blue run but Rainbow 1-4 were red runs. What?!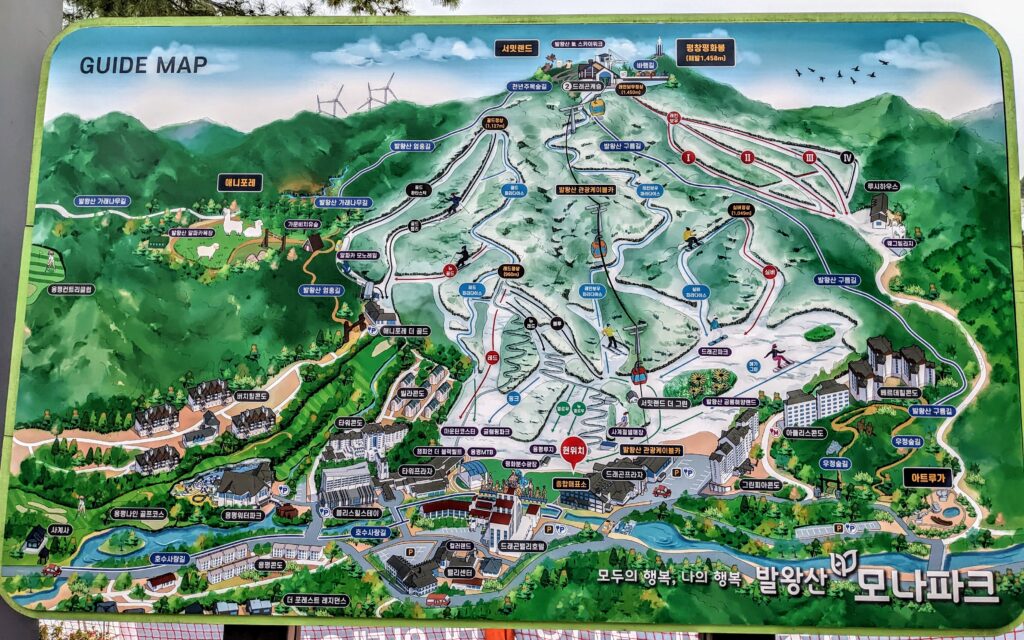 Health and safety is taken very seriously
We talked before about the number of warning and instructional signs on display in South Korea, and this was never more apparent than while we were skiing. In particular, skiing after drinking alcohol and smoking on the ski lifts were both strictly forbidden. What would our French friends think?!
Everyone is very courteous
There was no jostling for position in the lift queues, no children standing on the back of your skis and then zipping through your legs at the first opportunity, and the folks manning the chair lift bowed every time we got on and off. The level of chill was almost enough to compensate for the fact I didn't have several mugs of vin chaud coursing through my veins while skiing…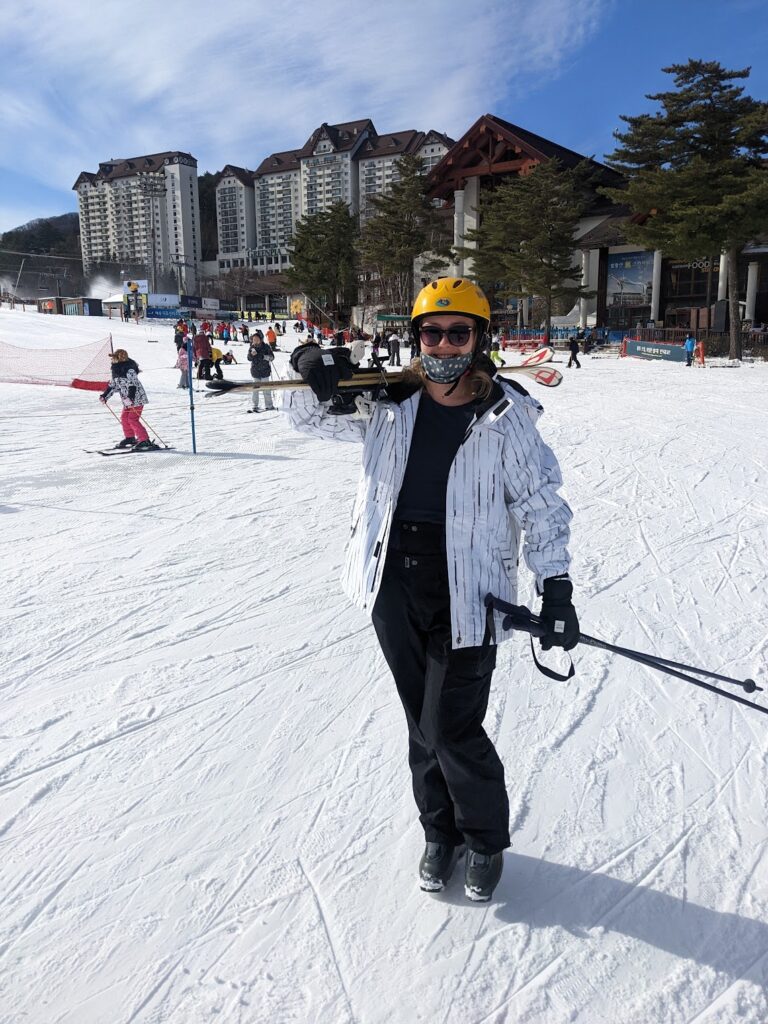 Ski cleaning is a thing
We wouldn't normally have thought anything of dumping our kit in the basement of our hotel or chalet still covered in snow. But since day-skiing is so popular here, people need a way to clean their skis and snowboards before loading them into their cars. The solution? Compressed air guns, which fire the ice off in all directions (mostly my face – thanks, Oli)! People were extremely diligent about using them, so we joined in, which was probably for the best, since our hotel's ski locker was in the middle of the extremely nice reception area (it was by far the highest quality ski hotel we've ever stayed in).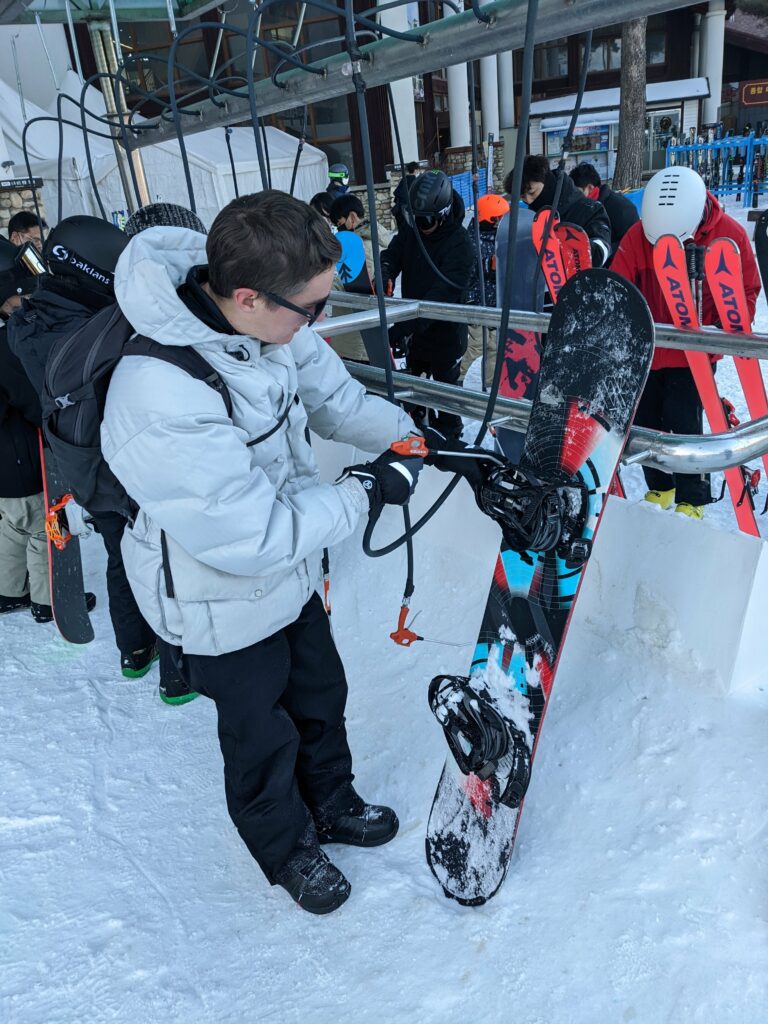 Après ski? What après ski?
We weren't exactly expecting to find La Folie Douce on the slopes of YongPyong, but we were still surprised at just how little was going on in the evenings – the best we managed was a quick pint at 6pm, carefully timed before the one bar in the resort closed.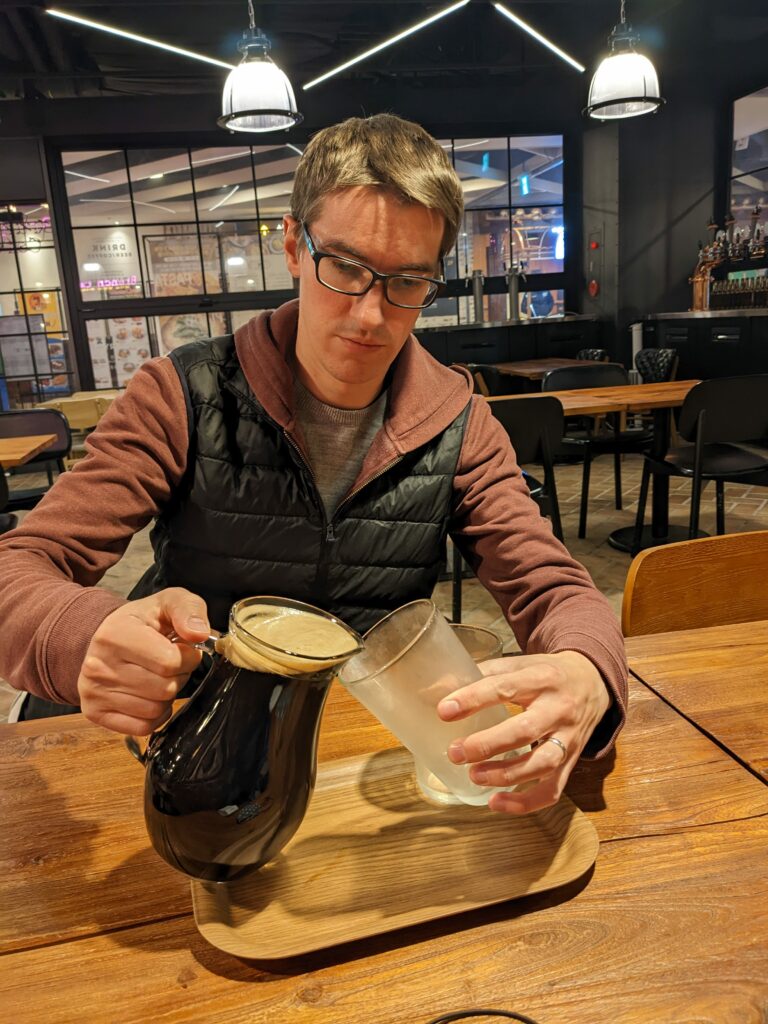 On our first evening, we popped out for dinner shortly before 8pm, only to find that one part of the resort was already in complete darkness and the other part was just closing up. Thankfully, the 7-Eleven store had an excellent selection of beer to accompany our emergency dinner of instant ramen and sauna eggs!
I'd be really interested to see how different things are during high season. I get the impression there would be a bit more going on, but that it would all still be extremely family-friendly.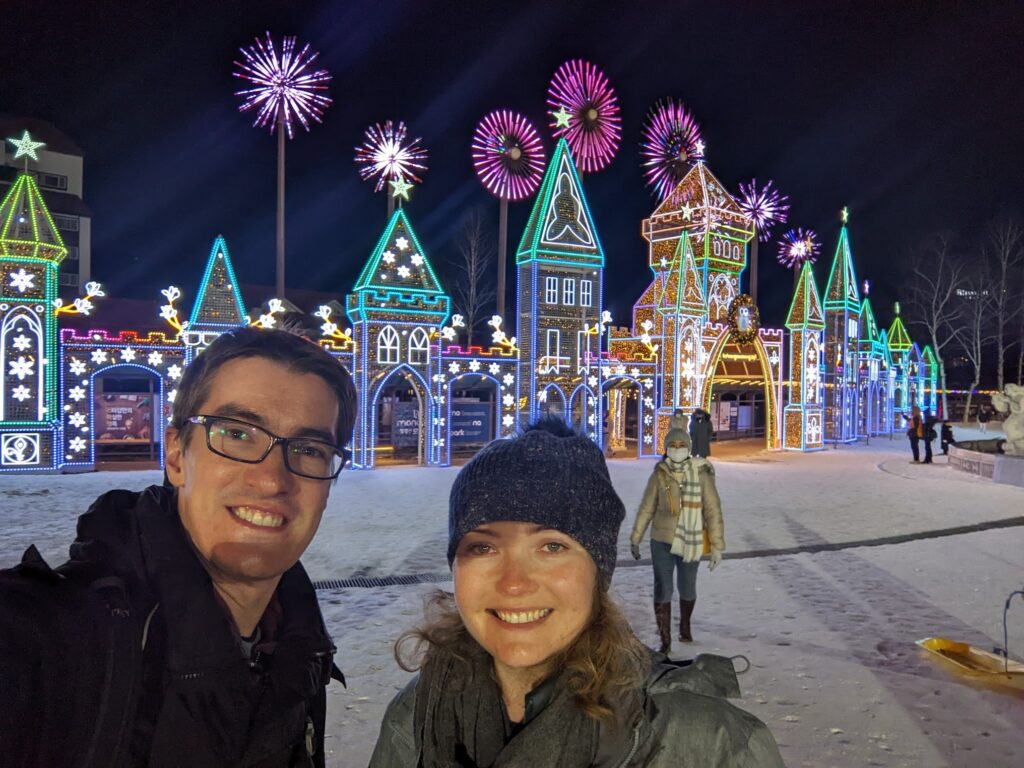 Overall, we really enjoyed our first foray into Asia's skiing in YongPyong. To be brutally honest, I think we would have been disappointed if we'd come all the way from the UK specifically (because the piste length was a bit limited) – but that would have been a waste anyway, as South Korea has so much more to offer. Either way, it was time to move on, so after a happy couple of days going round and round on the open runs, we headed to South Korea's fourth largest city, Daegu, to take drastic action to improve Korea's cat count…