Daegu is South Korea's third largest city (after Seoul and Busan) and although it has few big-hitting sights, it's a modern and lively city full of food, cats and fun.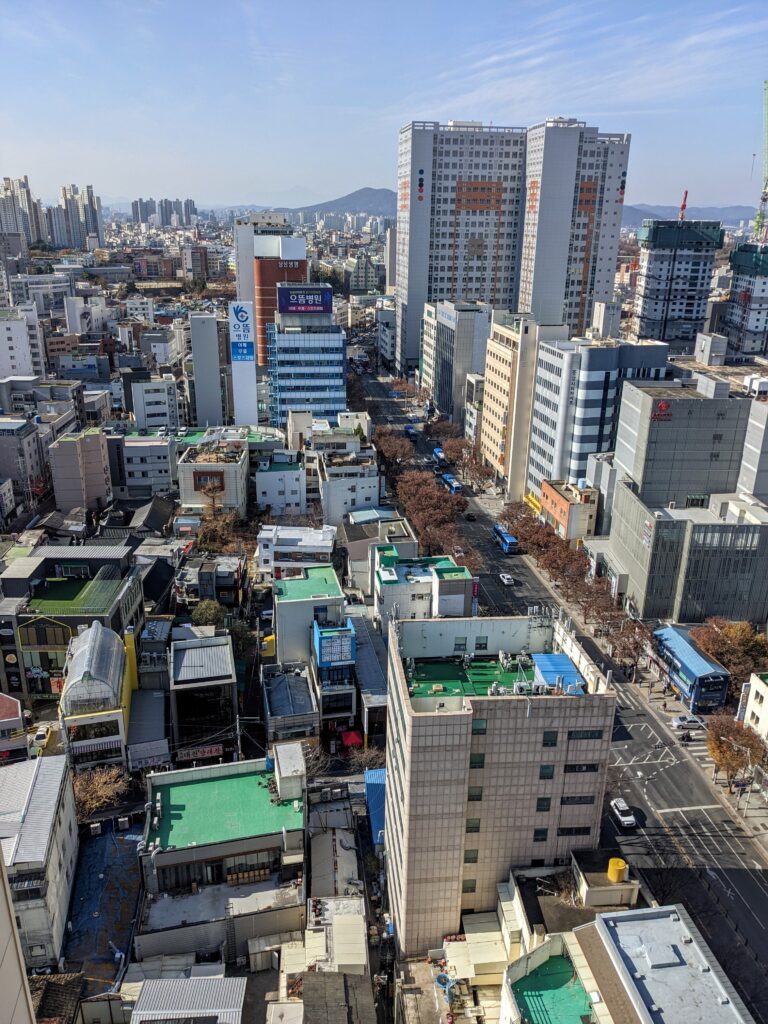 After a day spent skiing, we zoomed the 379 km from YongPyong to Daegu via Seoul on a couple of high-speed trains in a single evening.
The trains were impressive not just for their speed and comfort, but also for the wireless phone chargers at every seat. Honestly, it's hard not to feel embarrassed about the state of the trains in the UK after travelling on these.
Daegu's history lies in Oriental Medicine, owing to its central location between mountains from which a wide range of herbs and remedies could be foraged. We learned about the development of the old medicine market from Daegu's Museum of Oriental Medicine, which had some enthralling CGI videos to accompany the dioramas to keep our attention.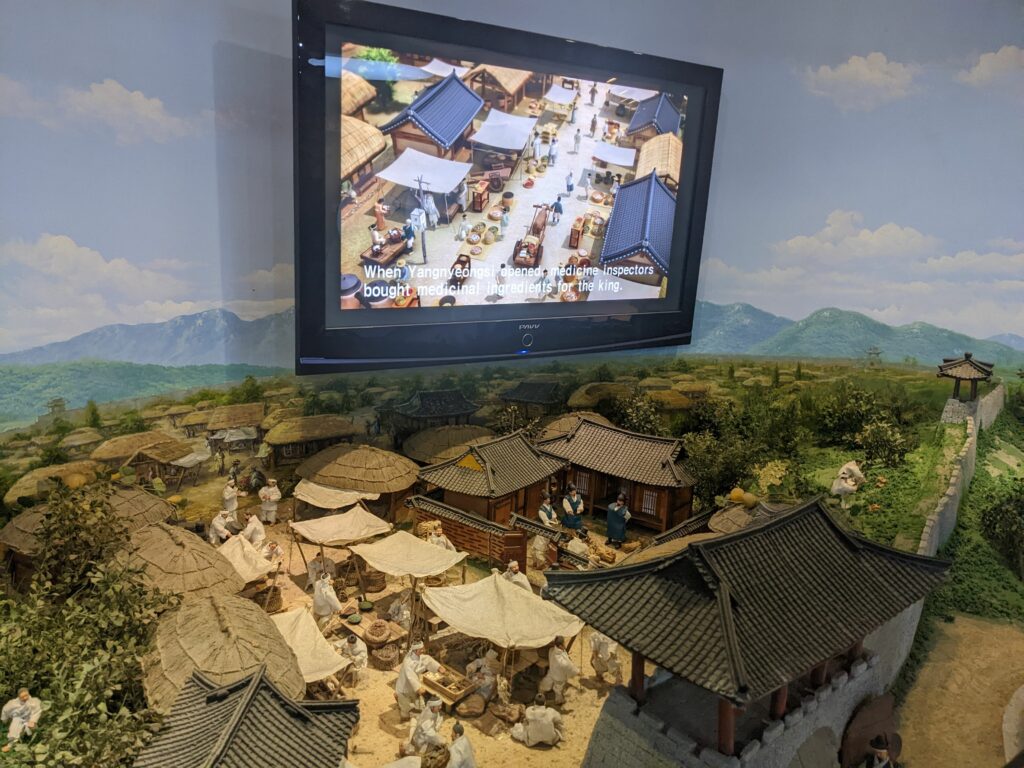 We also thoroughly enjoyed the interactive display which allowed us to determine to which of the four body types we belonged. This rather knowingly described Sara as someone who has "to rush their work because they start late and are slow" (fair), but also more insultingly claimed she likes "to slander other people" (less fair)!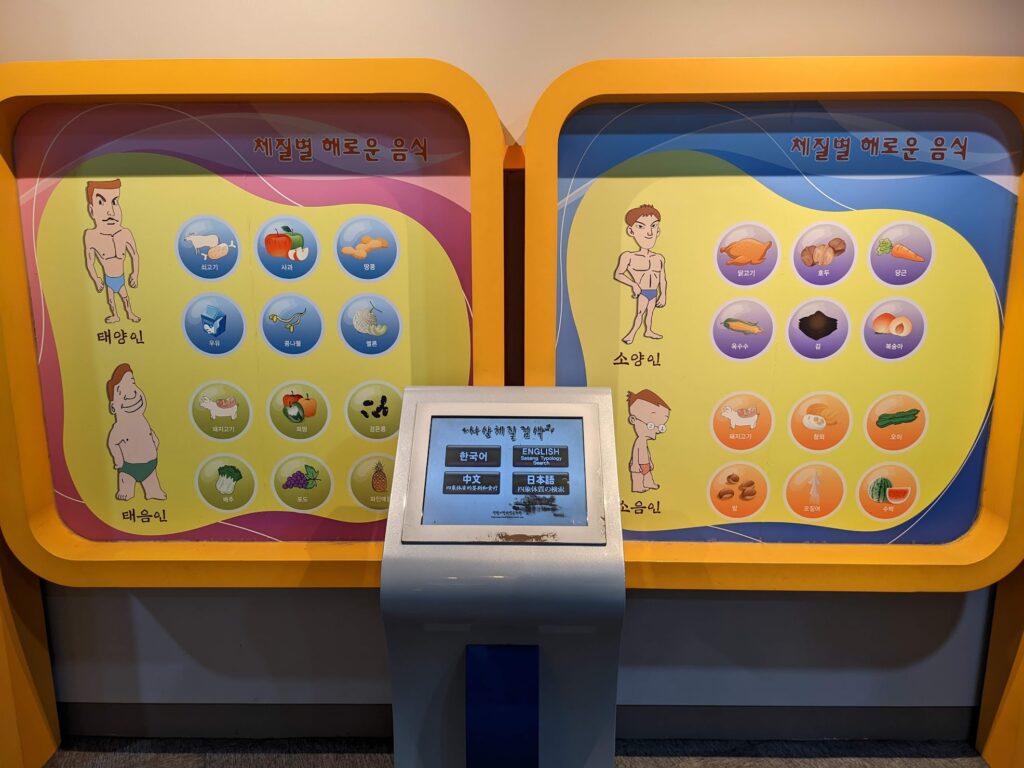 While the original market was destroyed during times of Japanese colonialism, this didn't stop Daegu from being a centre of Oriental Medicine, and the shops selling these medicines are still trading today in the area surrounding the museum.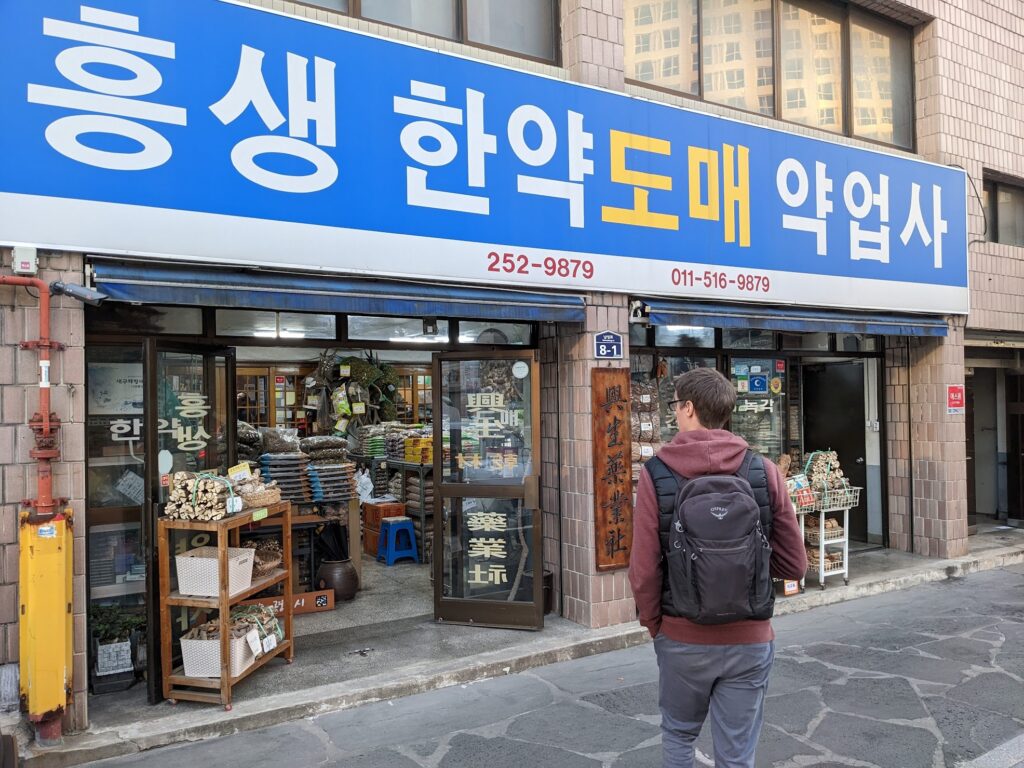 Feeling suitably informed about Daegu's history, we next needed to address South Korea's shockingly low cat count, and for that we headed to a cat cafe. The cat cafe was split across two floors; the lower floor acting as more of a cafe and the upper floor a games room. The cafe was the perfect way to combine the two loves of Sara's life (coffee and cats), and it gave us some respite from missing Thomas back home.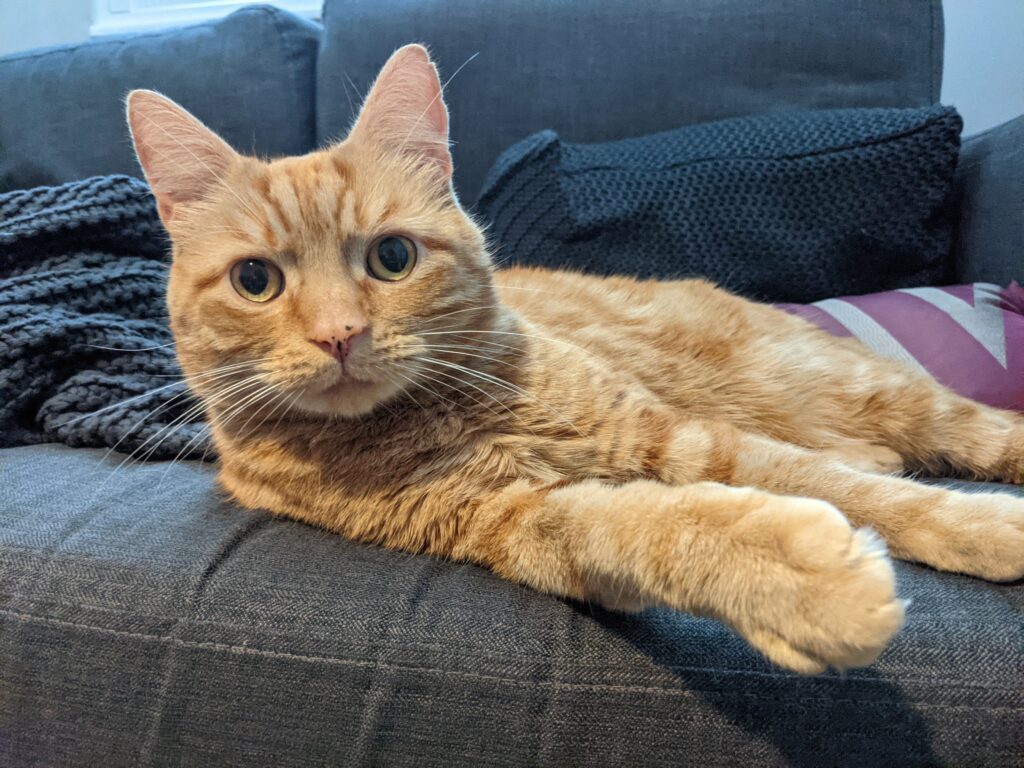 All in all, we met 30 new cats, though I'm not sure how to account for them on our cats per day metric. Is it fair to treat "paid for" cats in the same way as "naturally occurring" cats? I'm not sure, but here are a few of our favourites:
We probably spent more time eating and drinking in Daegu than anything else. There were so many restaurants close to our Airbnb, and a very popular street food night market to keep us grazing. We became particularly partial to a post-lunch Hotteok (rice-flour pancake filled with cinnamon, sugar and crushed peanuts). There was a lady making them in the street just down the road from our apartment, and the smell was so good we couldn't just walk past it without buying one.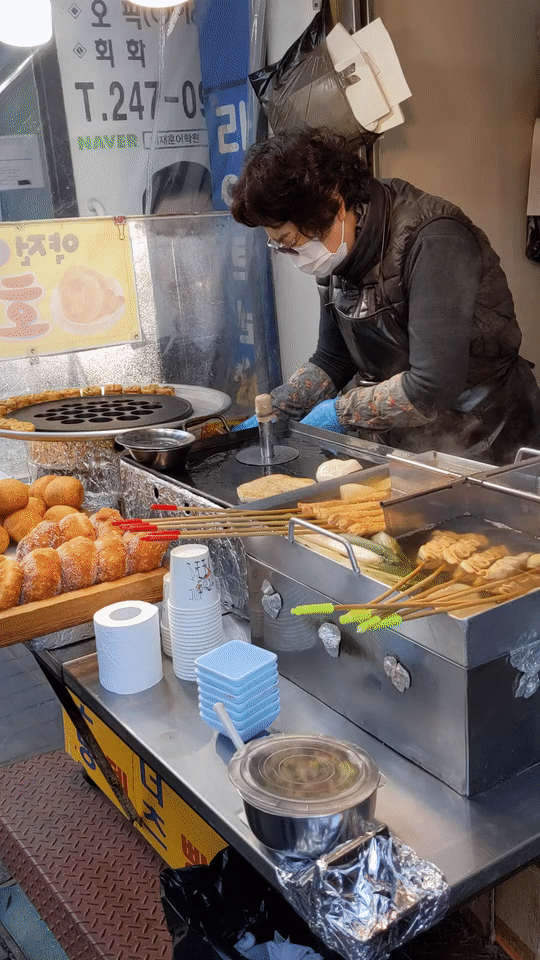 Here's a close up of the finished product, along with a few of the other stand-out dishes we tried in Daegu:
The most extravagant dinner we ate was at 가장맛있는족발 종로점, where we ordered a joint of sliced pork shoulder, which came accompanied by the customary wide range of sides. We also ordered some rice balls, but were flummoxed when a plate of dried seaweed and a plastic glove turned up. We eventually worked out that there was rice beneath the seaweed, and the glove was to make your own rice balls. The end product didn't always look good, but at least they were tasty! Fully embracing Korean culture, we ordered a few beers and bottles of soju to wash down our dinner, which more than got us on our way.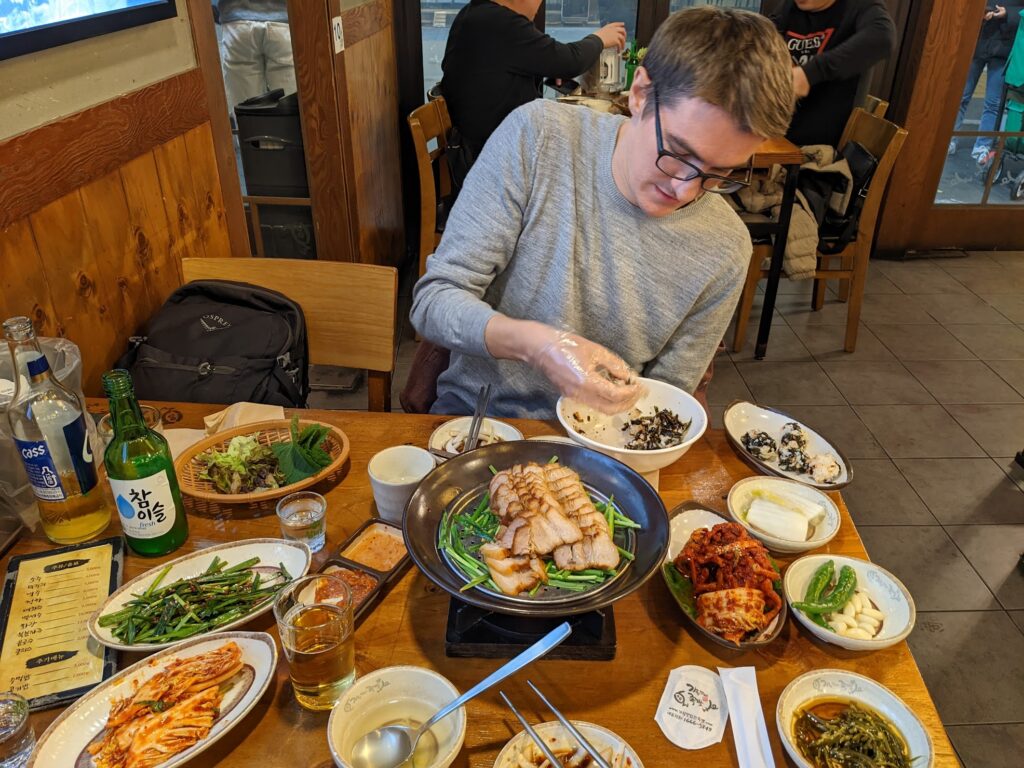 We ended the night with a much anticipated karaoke session in a private room, where we spent nearly the full hour trying to find a song that we recognised in the Argos-catalogue-of-songs and trying to work the machine (unsurprisingly, it was all in Korean!). I think we managed to sing a grand total of one intentional song (Just No Time To Die), although that didn't stop Sara freestyle rapping over the various K-pop songs that I played by mistake. I think we'll have to try again another day.
---
Our onwards travel required us to get to one of Daegu's bus stations, which could be conveniently reached from our apartment via a single underground metro. However, it would have been criminal to visit Daegu and not ride its monorail, so we cut our connection time quite fine in order to crowbar the monorail into our route. While monorails seem like quite an expensive transport solution, they definitely hold the top spot of the coolest mode of transport. The views over the city were awesome as we cruised around over the streets below on our all-too-short ride.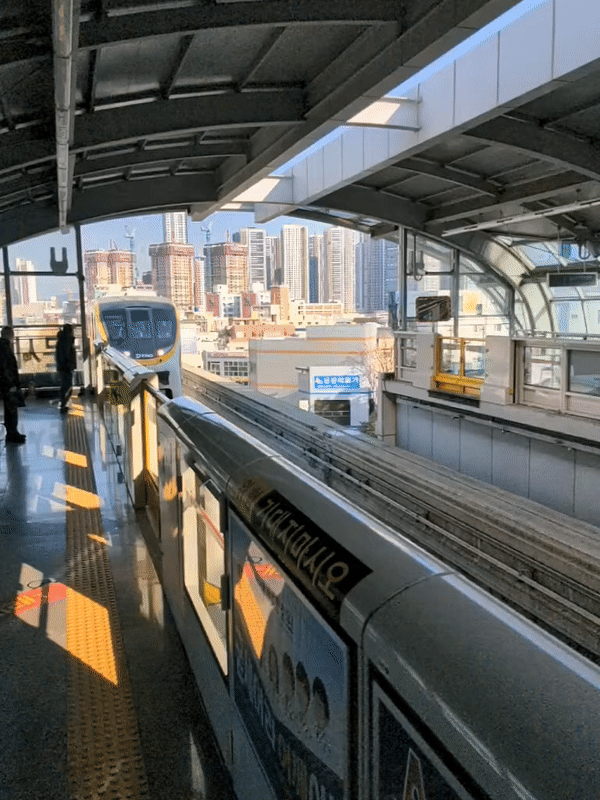 The subsequent bus took us to Gyeongju, which was the jumping off point for our stay at Golgulsa Temple.