We travelled nearly the full length of Japan during our 33-day visit. We started in Kyushu (the southernmost main island) where we gorged on ramen and were buried alive in a sand bath. We then travelled up through Honshu (the largest and most populous island) where we spent Christmas in Hiroshima and Osaka, and joined George & Erin for cat cafes and karaoke rooms in Tokyo. Next we continued north to Hokkaido (the northernmost main island) where we brought in the new year in Sapporo, skied in Niseko and rode a ropeway to the summit of Mt Hakodate. On our way back down through Honshu we stopped off in Sendai for beautiful island views and a snowy outdoor onsen. Finally, we returned to Tokyo to meet Katie, before checking in to a Ryokan in Kyoto and soaking ourselves silly in Kinosaki Onsen.
We spent far longer in Japan than any other country, and yet we knew that it still had so much more to offer. We would have loved to visit the tropical Okinawa Islands, but hey, it's always good to have a reason to return 🙂
Carbon 🚅
Japan's rail network has got to be the best in the world. We got the impression that a love of trains is by no means a niche interest here, based on the Shinkansen-themed shoes I spotted a little boy wearing, and also the bento boxes we saw for sale.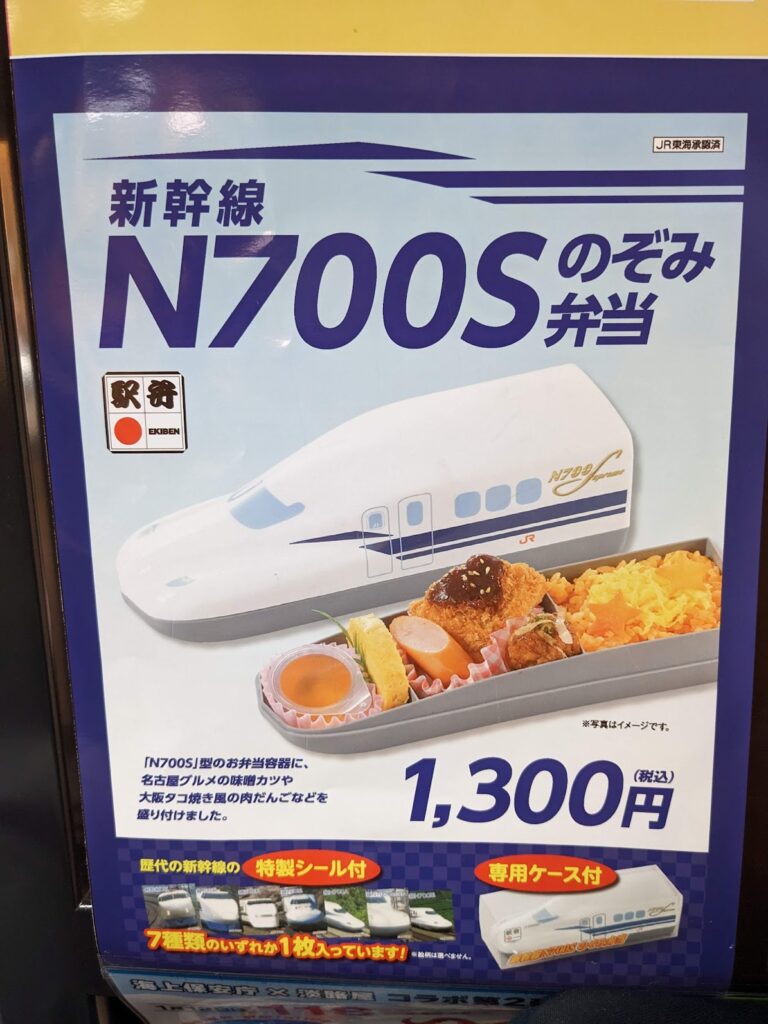 We travelled further in Japan than in any other country, and yet our carbon footprint was minimal and the journeys were never arduous. We managed to travel pretty much everywhere we wanted to go by train, and even when the high-speed network ran out, the extensive conventional trains often went the last mile.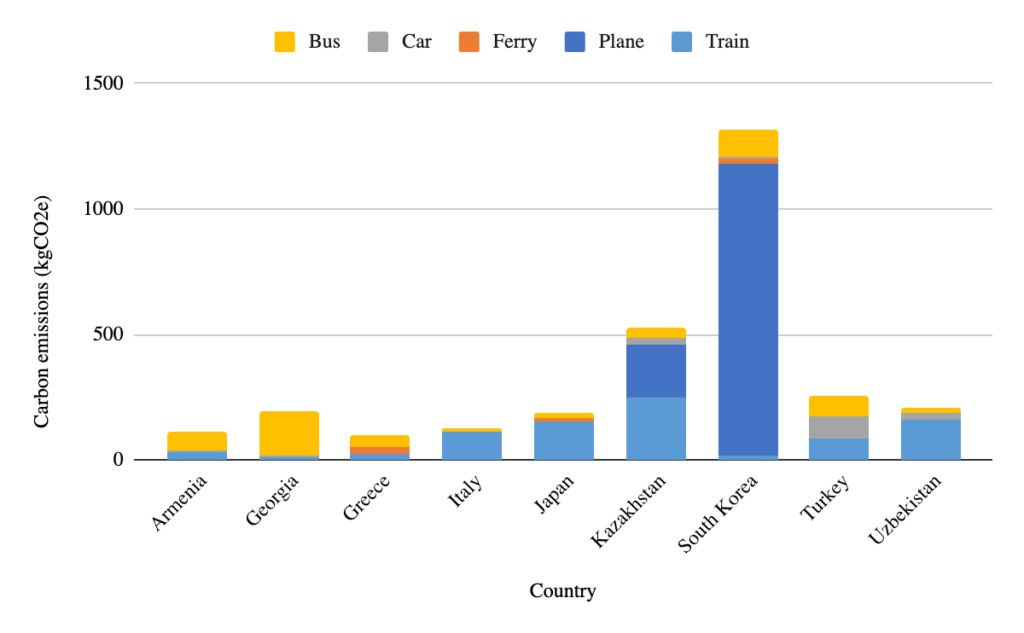 Although our travel in Japan only emitted 185 kgCO2e, this pushed our total emissions since leaving London to just over 4 tonnes, so we've offset another tonne of CO2 through Gold Standard's Climate+ Portfolio. This time the offset went towards providing efficient and clean cooking stoves to households in Honduras, which will reduce the amount of carbon emitted by burning wood, improve air quality and reduce deforestation. As always, while it would have been preferable to not have emitted any carbon in the first place, carbon offsetting is the next best way to take responsibility for emissions that can't otherwise be avoided.
Cost 💰
Japan was our most expensive country to date, both in total expenditure and also when considering our spend per day. While the Japan Rail passes (which allowed us unlimited use of almost any trains) certainly weren't cheap, they weren't solely responsible for our increased costs. In fact, it was our ski trip to Niseko that really pushed our budget, while our accommodation and transport costs were only slightly higher than elsewhere.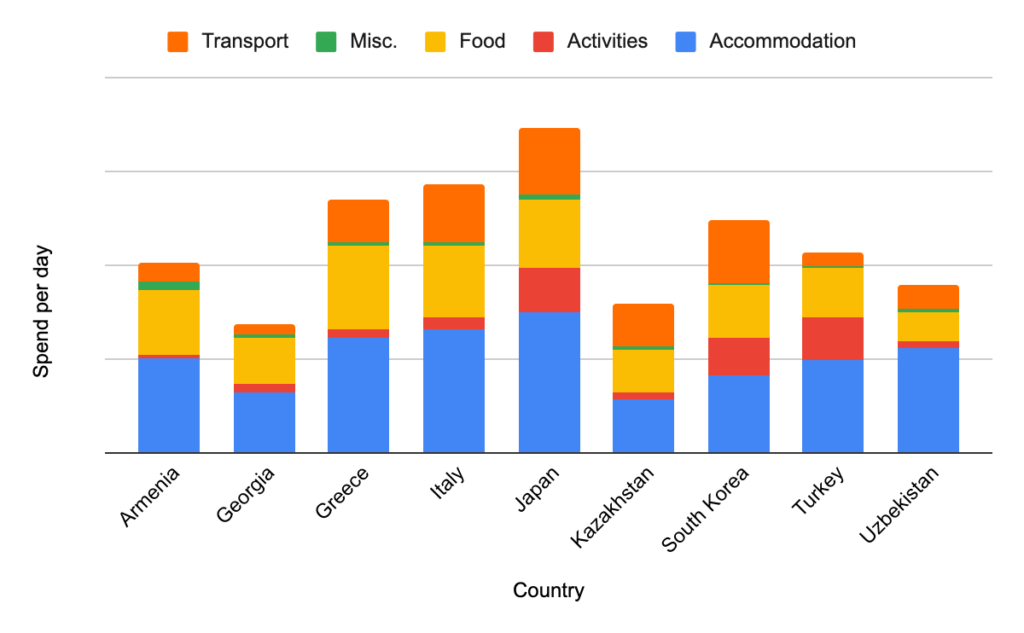 Cats 🐈
Japan came in dead last with 1.55 cats per day, despite our intervention at the cat cafe in Tokyo.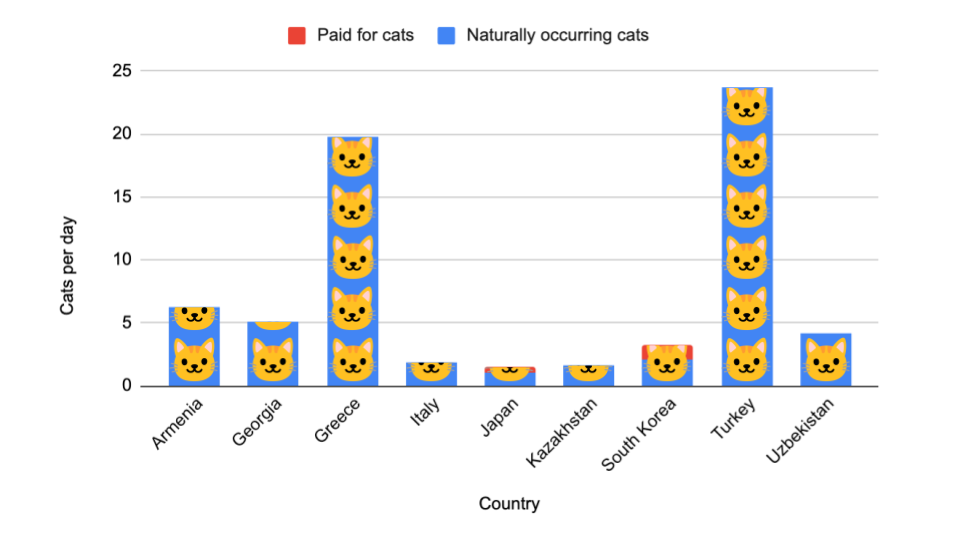 Bizarrely, Japanese folks seem to love the idea of cats (we saw cat cartoons and plushies everywhere), but we saw very few actual cats. Once again, some of the Japanese cats might have been staying inside in the warm and out of sight, but this can't be the only reason for Japan's disappointing cat count.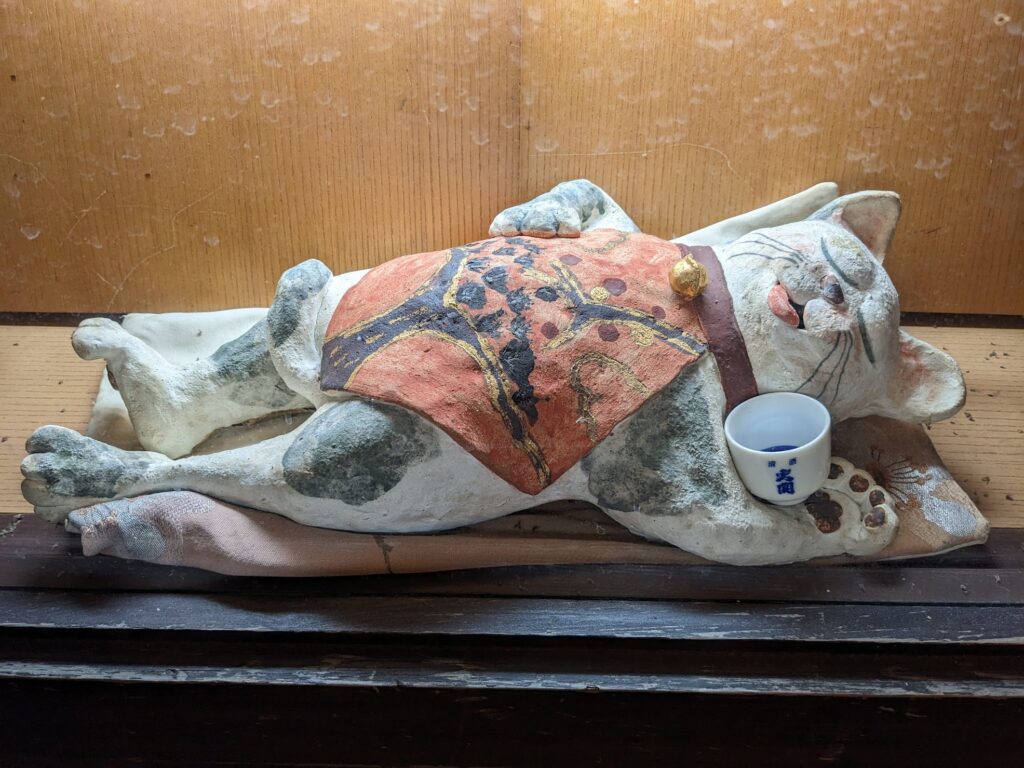 Culture 👨‍💼👩‍💼
I think part of the reason why we found Japan so interesting was because it felt both strangely familiar and subtly different to life in Europe. Minor cultural differences were everywhere, which made even the most mundane of tasks (like visiting a supermarket) an experience in themselves. Here are a handful of observations, which when taken together, give a flavour of Japan's unique culture. For more observations (and a much more credible, informed source!), we found this recent BBC article fascinating.
Japan felt incredibly polite and considerate 🙇
Honestly, I have no idea why the British have a reputation for queuing, because our queuing skills are nothing compared to the Japanese. Unsurprisingly, waiting for trains, buses and trams prompted orderly single-line queues to form. But what really brought it home was queuing for pedestrian crossings while waiting for a green man. A few times we walked right past people to reach the kerb only to realise that an orderly and socially-distanced queue had formed behind us that stretched 10 metres back from the road. This begs the question of how many faux-pas we made without even realising it 😬
Old-school automation is everywhere 🤖
I definitely had the preconception that everything in Japan was going to be super modern and high-tech. And while it's true that many verbal interactions have been replaced with interactions with a machine (e.g. vending machines at the front door of restaurants to place an order), it was the age of these systems that surprised me. Both restaurant vending machines and train station ticket machines felt like systems that were introduced 20 years ago, and have been meticulously maintained rather than replaced as technology moves on. These machines felt like perfect examples of both Japan's love of technology and passion for tradition.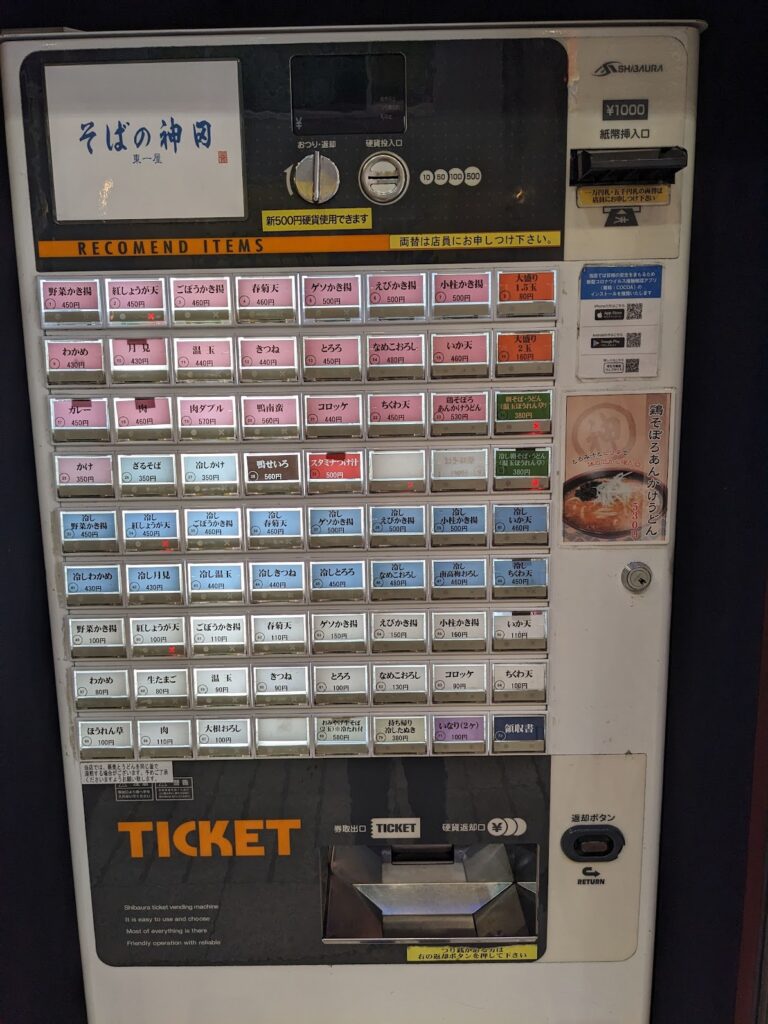 Station platform staff really do point and talk to inanimate objects
Pointing and calling is a method of occupational safety employed in Japanese train stations which staff use to perform checks of monitors, timetables and platform safety. Although I'd read about this previously, I didn't really expect to see it in action at every station, and it felt like a great illustration of just how seriously Japanese people take doing a good job. Our favourite instance was when Sara noticed a train conductor frantically pointing and calling at one of the platform monitors as a Shinkansen train sped out of the station. For context, the trains are probably doing about 100 km/h by the time the last carriage leaves the platform!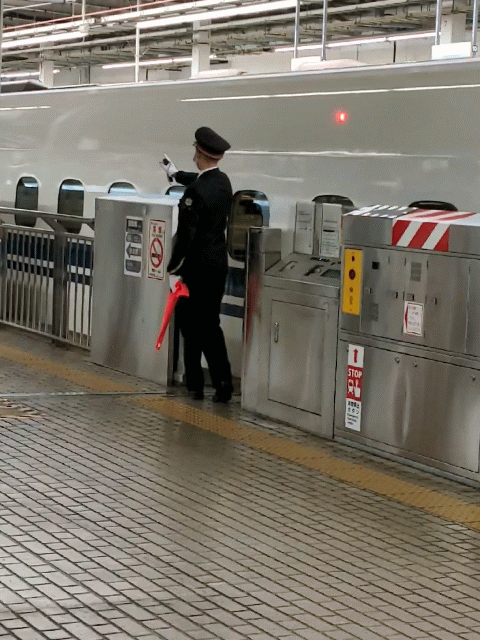 cartoon characters are everywhere, and every tourist site has its own mascot 🐰
I love that the cat in the photo on the left is wearing a bear-themed hoodie. The one on the right is the mascot for the Mt Hakodate ropeway, who featured on a ton of merchandise which was available for purchase. We were a bit baffled by the sheer variety of cartoon characters that we came across, but they certainly were cute!
EVEN MID-RANGE Hotels offer every possible amenity (including pyjamas!) 👕👖
We really enjoyed making full use of the amenities that Japanese hotels had to offer, if only so that we didn't have to fully unpack our bags! I think this is the whole idea – that you can stay in comfort without having brought anything at all with you. In addition to the extensive set of toiletries, we particularly liked the pyjamas and slippers that were available at almost every hotel. These ranged from shirt and trouser combos (which inevitably came up comically short on me) to one-piece night gowns that Sara thought made us look like we'd discharged ourselves from hospital without getting dressed.
But public toilets were light on amenities 🧼
Given that Japan seemed like an incredibly orderly and clean country, we were surprised at the lack of facilities in public toilets. Not only did sinks often offer very cold water and no soap, but there also seemed to be a notable absence of any hand drying facilities. While we saw that a handful of blow dryers had been taken out of service during the pandemic, we'd also read that hand dryers have always been somewhat rare in Japan, to the extent that Japanese folks often carry a handkerchief to dry their hands after washing them. This made us feel very unprepared!
Excellent and affordable food was so easy to find 🍜
Japan really excelled in delicious casual dining – our favourite way to eat. It seemed like eating alone in restaurants was very common, especially at the six-seats-around-a-counter type restaurant that we quickly came to love. On top of this, free water or tea was always available at the table, which made quick and cheap dinners so straightforward. Given that we mostly paid for meals in advance (e.g. by using the omnipresent vending machines) and tipping is simply not a thing in Japan, this meant we could just get up and leave when we were finished. Maybe not everyone gets our level of payment and tipping anxiety when wrangling with foreign currencies, but we found the whole thing much more relaxed. Although on one hand I wish this style of restaurant was more common elsewhere, I'm sure that would also have made dining in Japan feel slightly less special.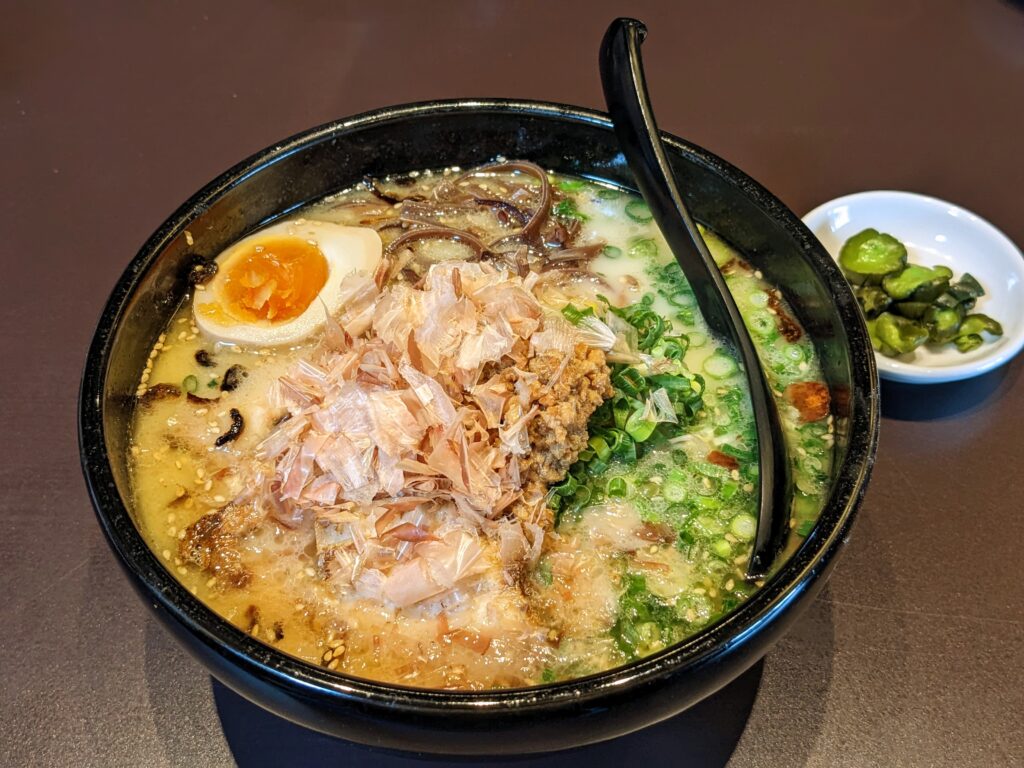 ---
After having spent two months in the Far East, our tour of South Korea and Japan has finally come to an end. Our next destination will be Vietnam, and we'll share more plans in our next post. 🇻🇳