Our background research for Kyoto consisted of watching the film adaptation of Memoirs of a Geisha, which is set in the city. While Sara had previously read the book, this was my first introduction to Geisha culture. For anyone else that didn't already know – Geisha are women trained from a young age in a number of creative arts, such as music, poetry and dancing, and they can still be seen on the streets of Kyoto if you know where to look.
Our journey from Tokyo to Kyoto got off to a slightly chaotic start when we arrived at our local metro station to find the line we needed wasn't running. This was not the news we wanted to hear after lugging Katie's suitcase up and down goodness knows how many stairs, but after a quick re-plan we found a new route that still got us to Tokyo terminal in time for our long-distance Shinkansen. We even had time to grab a few bento boxes for lunch, and Katie also bought me a cute little dessert in return for my luggage porter services.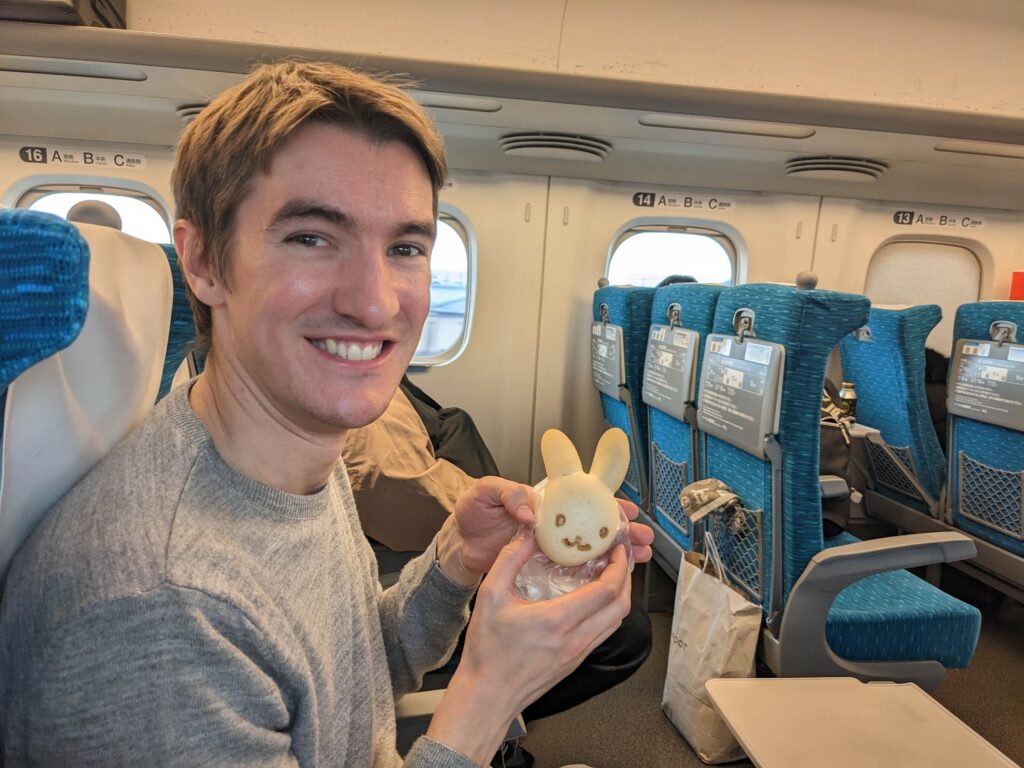 We stayed in a Ryokan for our first night in Kyoto, which is traditional family-run Japanese inn. Our room certainly felt authentic, with its floor of tatami mats, simple futon beds (thin mattresses laid on the floor), and chairs that sat flat on the floor (i.e. without any chair legs).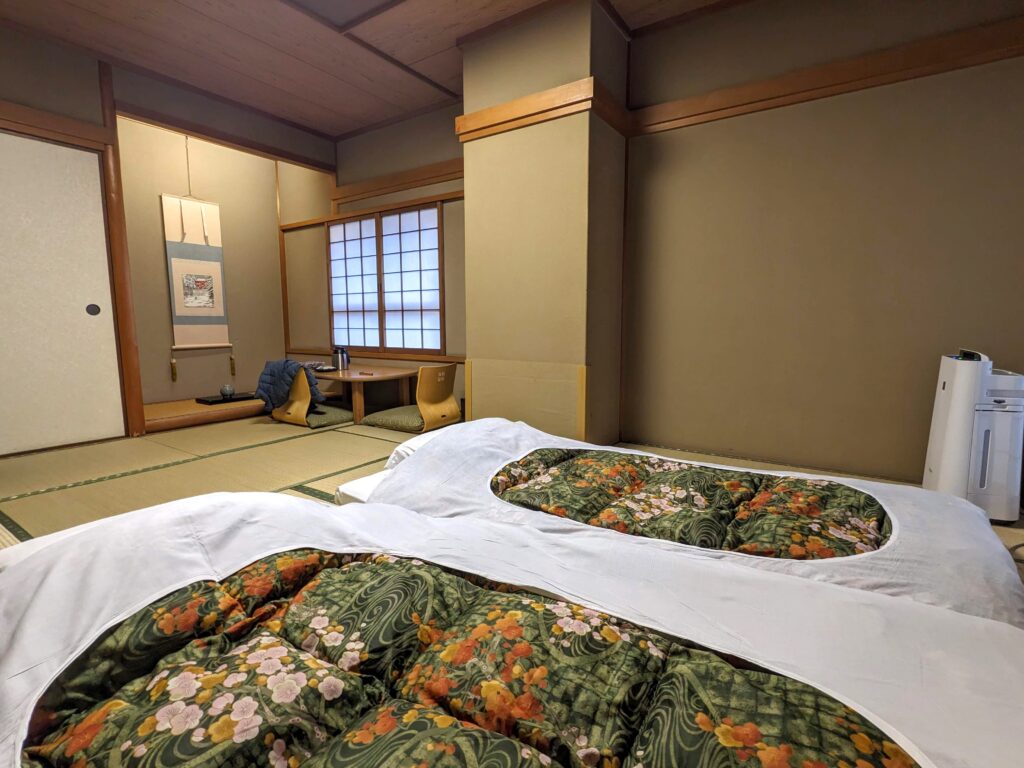 While the Ryokan naturally had its own onsen, it was the food that was the real highlight of our stay. We'd ordered a seven course kaiseki (fine dining) dinner, which consisted of two fish courses, two beef courses, two vegetarian courses and a dessert course. Each course was a real feast for the eyes, which also tested our comfort zone on a few occasions (crunchy fish eggs weren't a hit with any of us!). We enthusiastically donned our ryokan-provided yukatas for dinner, although with hindsight, I'm not totally sure this was what they expected us to do with them!
On our first afternoon we took a train out to Fushimi Inari-Taisha – an iconic Shinto shrine famous for its hundreds of torii (shrine gates). The gates are arranged so close together that they effectively form a tunnel, which winds its way up and down through a quiet mountainside forest. Guarding the shrine were a handful of fox statues, which are said to represent Inari's messenger. Inari is the god of cereals, which explains the grain in the fox's mouth in one of the photos below, and apparently the fox in the other statue pictured is holding the key to the rice granary.
The next day, we took a stroll through Nishiki Market – an alleyway of artisan shops covered by a beautiful stained glass ceiling. Most of the stalls seemed to be selling souvenirs or presents to take home, while even the food stands seemed to offer a fairly sanitised experience. This was nicely summed up when we heard an announcement encouraging punters to take their food purchases to a dedicated food zone in an effort to keep the market clean and tidy. This level of consideration and tidiness just seemed to sum up Japan perfectly.
We later headed to south Higashiyama to take part in a traditional tea ceremony. Sara had unknowingly sat on the special cushion, which meant that she was the guest of honour and thus the recipient of the single cup of tea that our host made over the next ten minutes. It was strangely mesmerising watching her proceed through a series of very intentional and quite mechanical movements to prepare a cup of matcha tea. I wish I'd paid more attention, because next it was our turn to spoon some matcha powder into our cups, whisk it with hot water until frothy, and enjoy the end product. Our host kindly complimented our technique as we almost certainly made a hash of things, but our teas generally came out fine in the end.
We spent the evening exploring the atmospheric Hanamikoji Street and the surrounding geisha district. We loved walking through the dark narrow streets lit by red lanterns, and even managed to spot a real life geisha clip-clopping along the street in her kimono and wooden clogs.
On our last day, we took a train out to the west of Kyoto to visit Arashiyama's Bamboo Grove. We each took a lot of photos, but none of them quite seem to do justice to the size and density of bamboo. I found the height of the bamboo was even more impressive when I considered that they were also hollow – as was confirmed by the very pleasing sound they made when we knocked on them with our knuckles.
Our final bit of serious sightseeing in Kyoto was a trip to Kinkaku-ji (aka the golden palace), a reconstruction of an earlier temple which was burnt down by a young monk in 1950. As stunning as it was, this was probably the pinnacle of us turning up to a sight, reading a bit of information, and saying "huh" (although Sara says that's her favourite kind of sightseeing).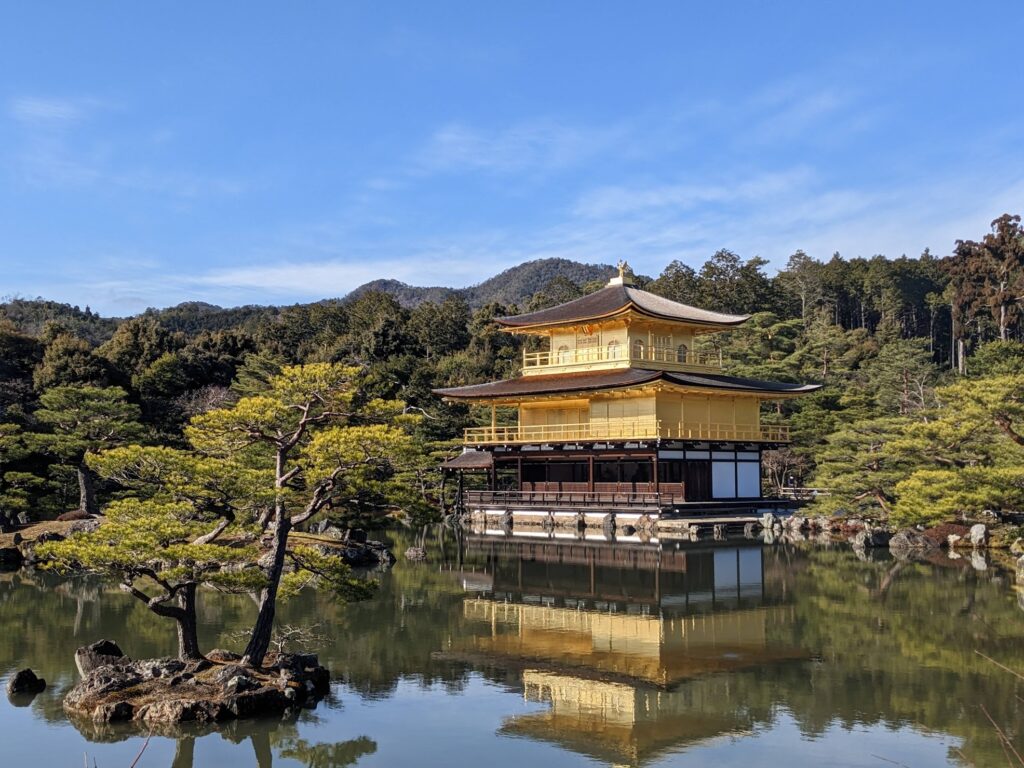 Later that afternoon, Sara and Katie were keen to do some yukata shopping so we went our separate ways. Honestly I'd barely taken a few steps before I saw a sign to a Pokémon Centre, and had to check it out. However, it seems like some time has passed since I last played Pokémon, as I didn't recognise roughly half of the plushies that were on the shelves. Keen to buy something but also knowing full well that my rucksack was already heavy enough, I settled for a cup of Pikachu-flavour noodles. Who knew Pikachu tastes like sweetcorn?
---
After a lovely few days in Kyoto, Sara was very excited to visit Kinosakionsen – a town named after its natural hot spring bath houses. I was a little worried she might eventually dissolve given her daily onsen use, but at least Katie was here to keep an eye on her for now.