*Or more like Ha-koh-da-tuh, but that didn't work with our new favourite catchphrase (coined in response to a slightly abusive drunk man who told Oli his pronunciation was "so bad!")
---
From Niseko, we caught a single-carriage train to Oshamambe, where we had a long wait. Everything in the station was closed up for the night and the town outside was eerily quiet, so our main entertainment was reading the 'wanted' posters in the waiting room (not at all alarming) and watching a growing crowd assist a woman who was stranded having missed the last train of the evening to her destination. There was only one person actually helping her (who appeared to be the local English-speaker and had been called from his home to assist); the rest of the crowd were just unashamedly watching it all unfold! I suppose we were doing the same, but hopefully with a bit more subtlety…
Eventually, we boarded our 'limited express' train to Hakodate at around 9pm. We looked up why they were called limited express, but it turns out no one really knows! In any case, the express part was just wishful thinking, as our train halted for two hours because the one in front had apparently hit a deer 😔The train conductor came down the carriage handing out emergency rations, which was very nice until I realised halfway through munching on a biscuit that it was nearly 12 YEARS past its expiry! I guess this was a sign of just how rare these kinds of delays were – in any case, I lived to tell the tale (evidently).
We arrived in Hakodate just before 1am and were very pleased that we'd booked a room in an unexpectedly slick JR (Japan Railways) hotel just above the station, so it couldn't have been a shorter walk to bed.
Oli was even more delighted the next morning when he realised that we had a view over the station and tracks and that the hotel had provided a laminated guide as to what was what in the station – they certainly knew their market!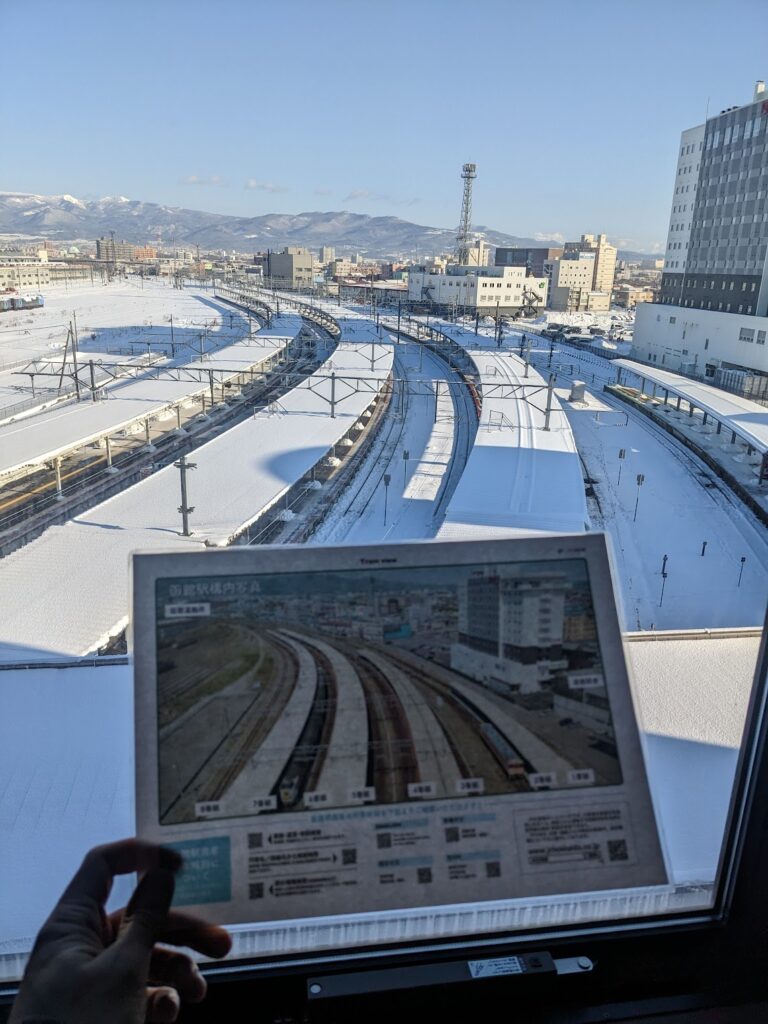 We mainly picked Hakodate as it was a convenient point to rejoin the Shinkansen network ready to head south again, but actually it was a delightful small city. We had one full day and it was a gorgeously sunny one, so we spent it exploring the Motomachi district, which was full of photogenic historic hillside buildings and red brick warehouses on the waterfront.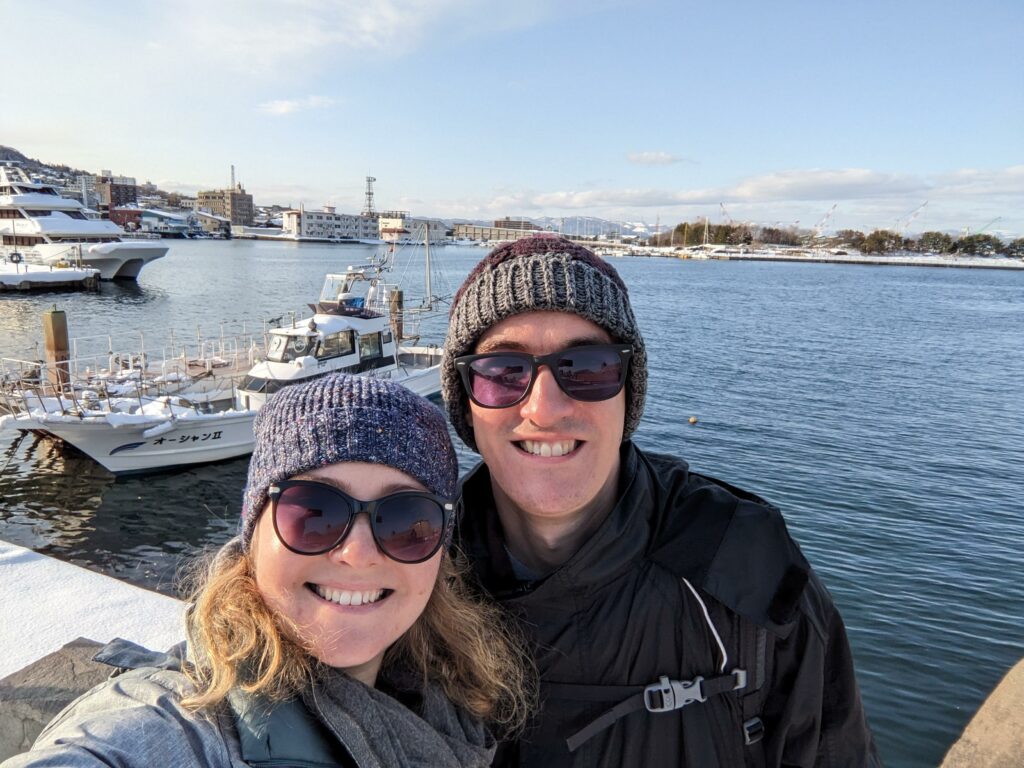 Hakodate was one of the first ports in Japan to open up to international trade in 1859, and in stark contrast to elsewhere in Japan, there was a strong outside influence on the architecture. The town even housed the British consulate until 1934. Some of the buildings in the old town really reminded us of New England, which was a surprising sight in northern Japan!
In the late afternoon, we took the ropeway up Mount Hakodate to see one of the top night views of Japan, a view over the peninsula backed by mountains and surrounded by the waters of the Tsugaru Strait.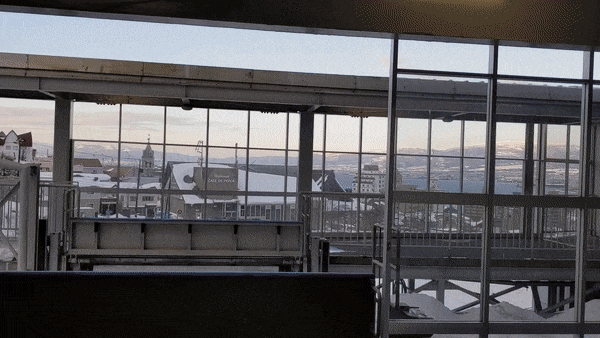 Although it was pretty at night, we also loved it before the sun set, as we had a better view of the snowy mountains and could even see the Shinkansen line (complete with a handy sign showing the timetable to make it easier to spot the trains!)
The next morning, we headed straight to Hakodate's famous Morning Market to check out the seafood on offer. We shared a squid cracker that was made by squashing a whole squid in a heavy press along with rice batter. The end result was pretty striking!
After a beautifully snowy eight days on Hokkaidō, we boarded a bullet train and headed back into the 54 km tunnel under the sea to explore Tōhoku, a prefecture in the north of Japan's main island.