We completed the bulk of our journey from Sapporo to Niseko via two trains; one (relatively fast) limited express train to Otaru and one (pretty slow) single-carriage local train to Kutchan. It's always concerning when your train isn't listed on the departure board when you arrive at the station, but in the end we managed to catch another train and still made it to Kutchan in good time.
Our trains trundled through beautifully snowy landscape, and it was immediately clear that there was going to be a lot more snow this time than during our last attempt to ski in South Korea!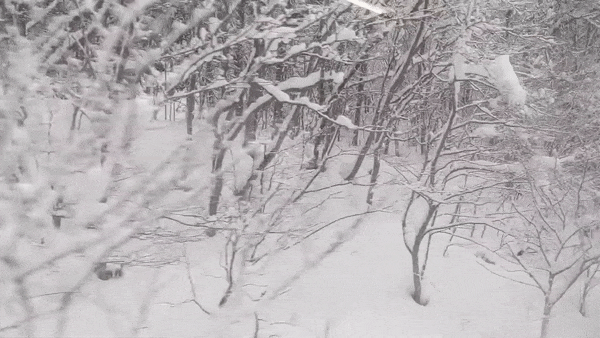 When we changed to a local bus at Kutchan for the final leg of our journey, the conditions looked better suited to skis than motor vehicles. I was very glad to be on a bus rather than driving myself, since the snow had completely covered the roads such that there wasn't a shred of tarmac, kerb or road marking in sight.
After arriving in Niseko Grand Hirafu, we hot-footed it to collect our ski gear before the hire shop closed for the afternoon, and began the treacherous trudge to our hotel, each of us carrying two backpacks, a snowboard/skis and poles, boots, a helmet and ski clothes. We got so close to making it to our hotel's front desk intact, until I slipped over on the ice and my belongings went in all directions, just like sonic losing his rings. Fortunately there was no lasting damage this early in the trip!
---
It didn't take many runs down the mountain before we understood why Japan is so famous for its snow. Often referred to as powder, the snow in Japan has an almost fluffy texture, apparently the result of Siberian winds from the north. This creates snow that's fun and forgiving for skiing, as well as beautifully soft to fall on (which I tested extensively). It snowed pretty much constantly during our four-day visit, which meant that we didn't have to look hard to find virgin snow, even without going off-piste.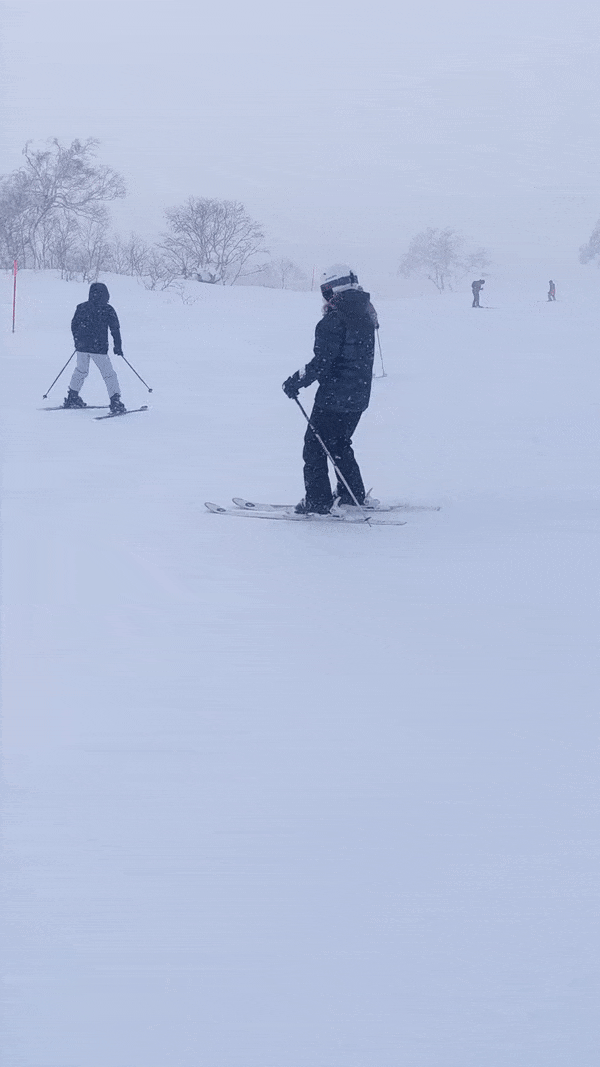 Niseko also introduced us to the concept of night skiing – for which a handful of lifts ran well beyond sunset and floodlights kept the pistes illuminated. I'd expected the lack of daylight to make skiing a bit trickier, but in fact the shadows cast by the floodlights provided more definition than the some of the flat light we'd experienced during the daytime. The slopes were also noticeably quieter after dark, which kept us going even when our legs were close to giving up!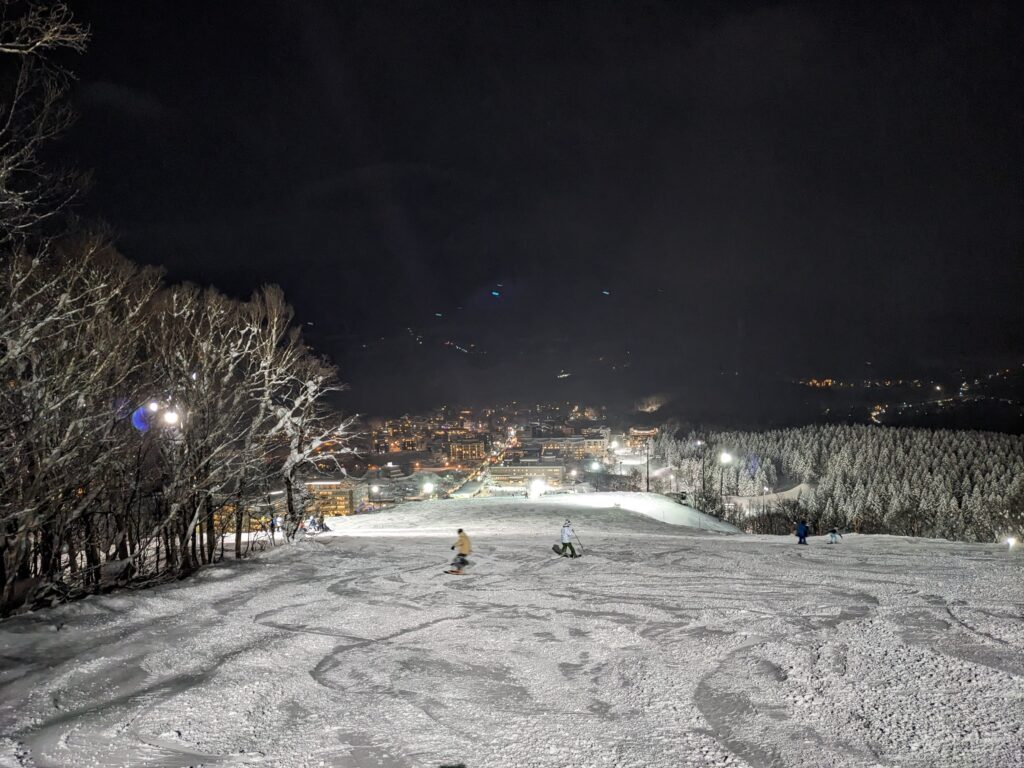 And what better way to rest our aching muscles than a soak in yet another onsen? Sara was delighted to find that our hotel also had a hot bath, and I have to admit it felt very relaxing sitting there looking out the window at a gradually accumulating snow drift.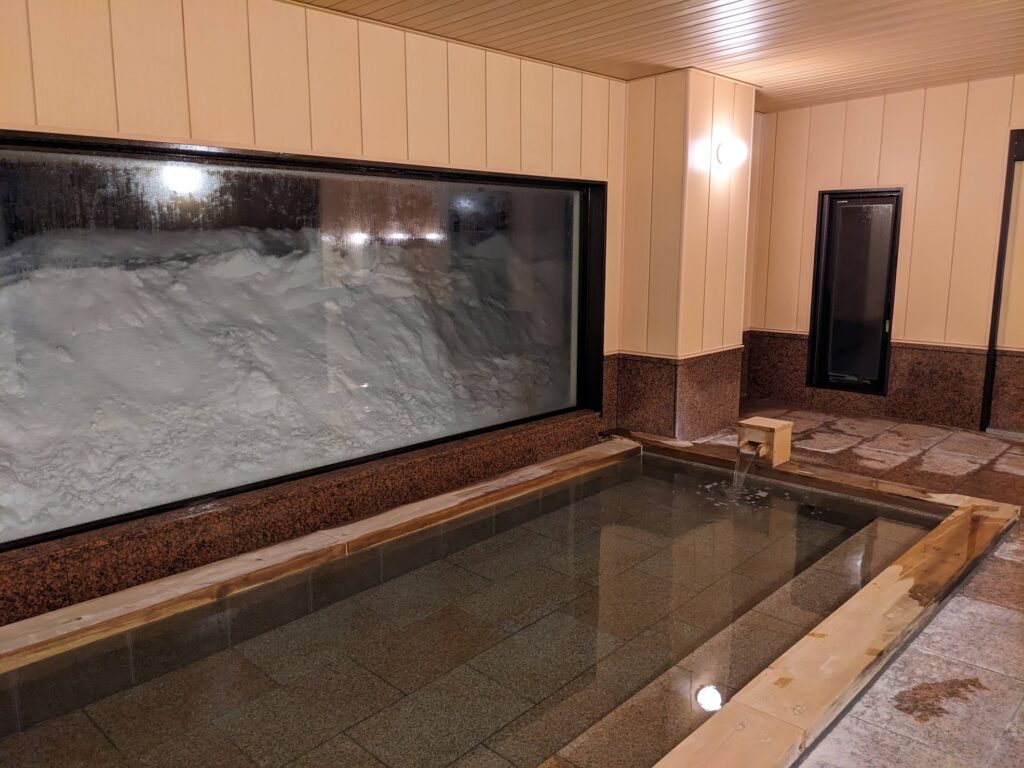 Niseko was noticeably more international than anywhere else we'd visited in Japan. English seemed to be spoken everywhere we went, and we heard plenty of American and Australian accents from our fellow skiers. We also noticed far fewer masks around the resort, which had been worn pretty much everywhere in Japan outside of people's homes.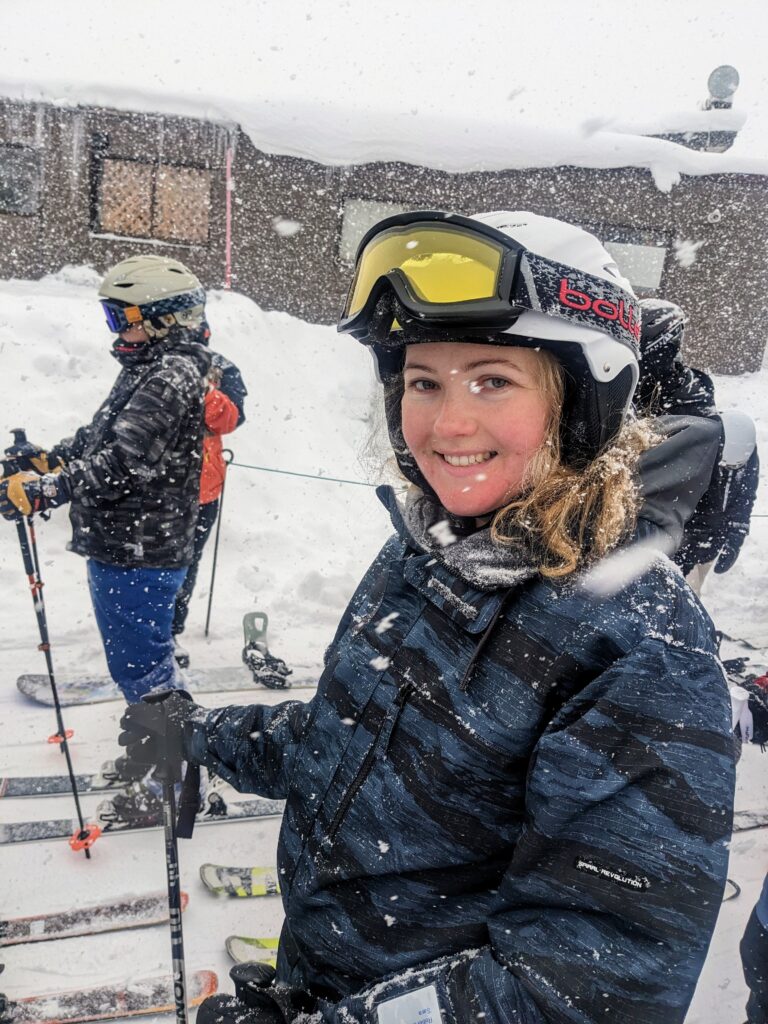 Niseko featured the highest proportion of snowboarders we'd seen anywhere in the world, with about a 50/50 split between skiers and snowboarders, so I felt right at home.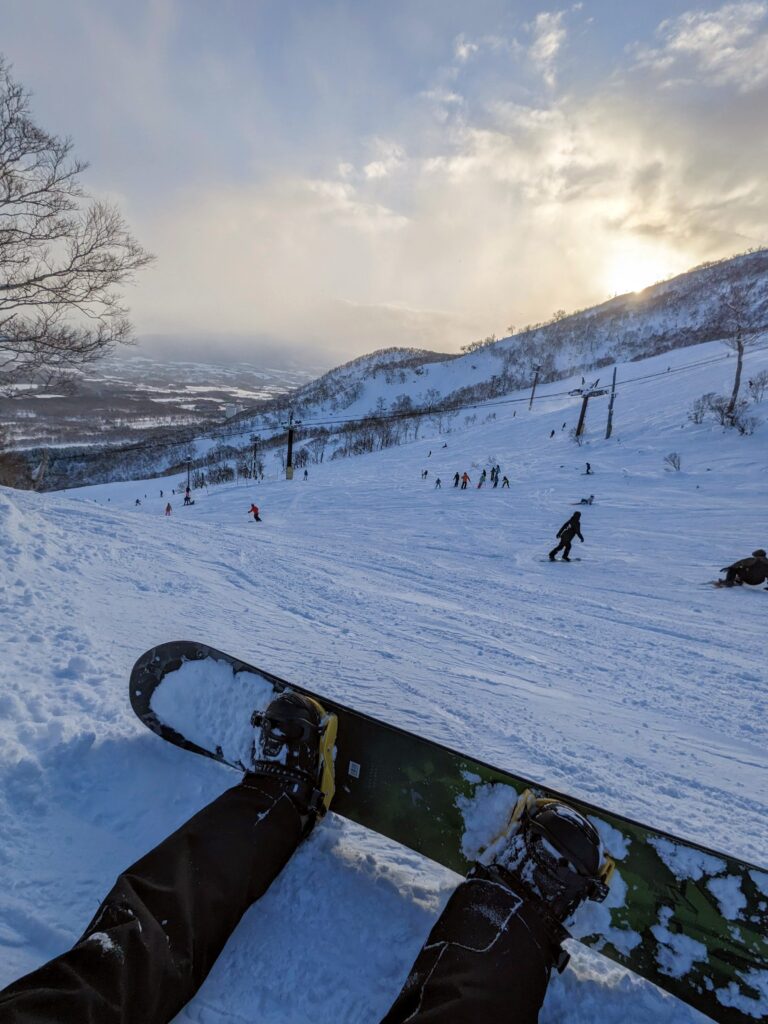 The lifts were particularly snowboard friendly too, with plenty of gondolas and not a single drag lift in sight. We even came across a chair lift that not only had a plastic hood to protect you from the icy wind, but also heated seats! What a luxury!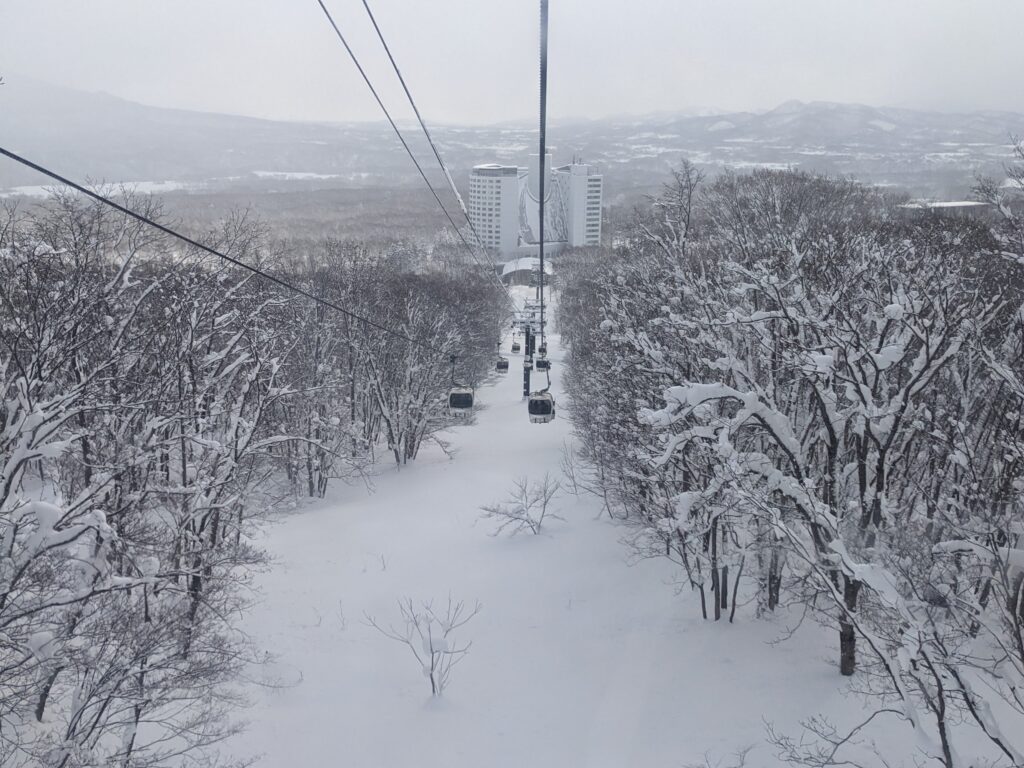 The United Niseko resort is made up of four distinct ski areas, which are each connected by high mountain passes. However, these passes often required a bit of a hike (while carrying equipment) as the highest runs were closed for most of our stay due to high winds, and sometimes the passes were closed altogether. As a result, we only skied three out of the four ski areas in the resort.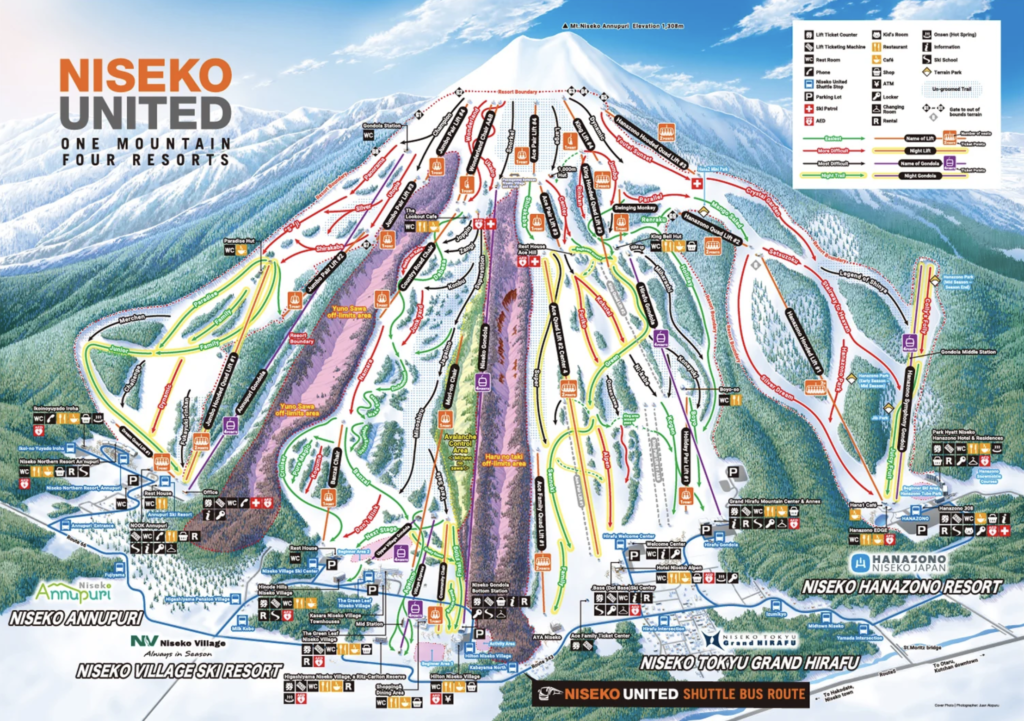 The sun came out in afternoon of our final day and the mountains immediately looked less menacing. Sara even found a bell to ring, much to her delight. This break in weather also gave us a rare of glimpse of Mount Yōtei across the valley as we headed back to our hotel.
As good as the snow was in Niseko, we couldn't help but feel for the residents of Alpine resorts in Europe whose livelihoods depend on a healthy delivery of snow, but this year have been left with slopes of grass and mud. Hopefully this is a one-off and not a sign of things to come!
---
After an awesome four days skiing, our next destination was Hakodate – Hokkaido's southernmost city and oldest port.