We arrived in Tokyo via another Shinkansen high-speed train, which zoomed the 498 km from Osaka in 2 hours and 54 minutes.
On our way we sped past Mount Fuji, its perfect cone capped with snow that appeared to run down the mountainside like rivers.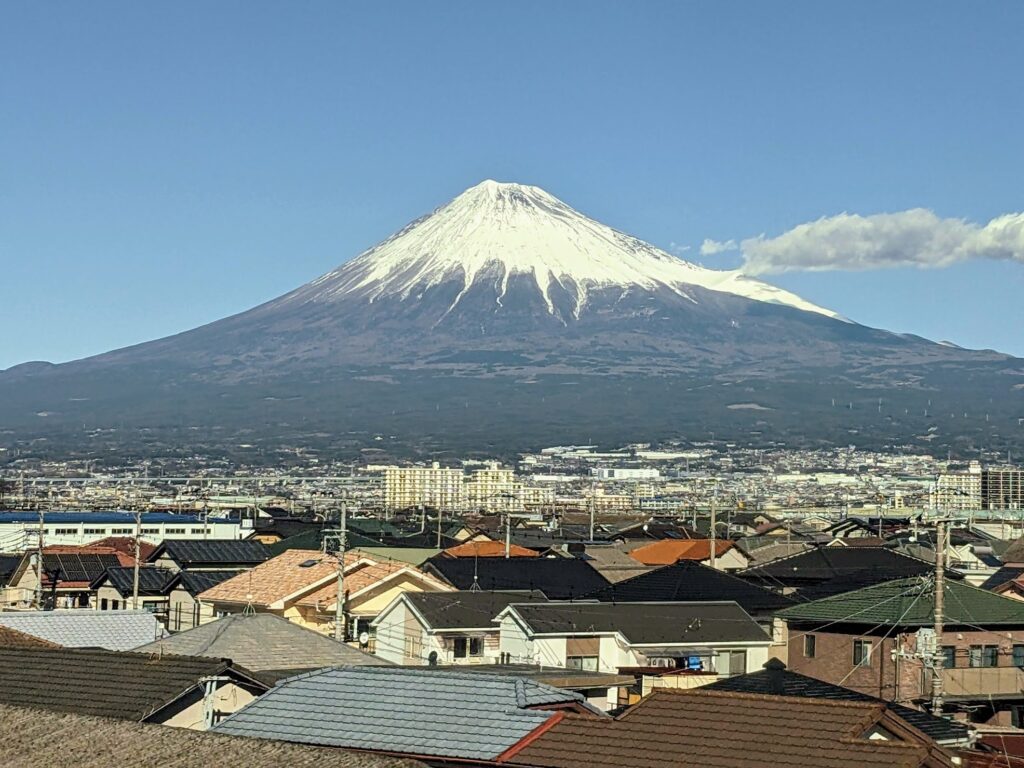 We were super excited to arrive in the most populated metropolis in the world because we'd planned to meet up with our good friends George and Erin. They were kicking off their honeymoon in Japan, which just so happened to match up with our itinerary. After spending the last 5 months talking over video calls, it felt so good to catch up at an Izakaya restaurant in the historic Omoide Yokocho alley, and put the world to rights over a few rounds of drinks and grilled skewers.
---
Fuelled by George and Erin's excitement and adrenaline, we started the following day bright and early at Shinjuku Gyoen park and botanical gardens. The sky was beautifully clear and the temperature was mild (especially in the giant greenhouse!), in stark contrast with the rain and snow we'd encountered on Kyushu.
Having read plenty about Tokyo's overwhelming size (and knowing that we'd return in a couple of weeks), we were keen to focus on the area around where we were staying in Shinjuku. So, our next stop was the Meiji Jingu (shrine).
This shrine was set in a large forested park, and we might have struggled to find it if it weren't for plenty of other folks heading in the same direction. While George made a wish at the shrine after making a donation and diligently completing the required series of claps and bows, it was the wall of Bourgogne wine barrels that caught Erin and Sara's attention. These barrels had been offered by celebrated wineries in France, and a nearby sign explained how the wine represented the friendship between the two countries and wished for it to continue for many years to come. Who knew?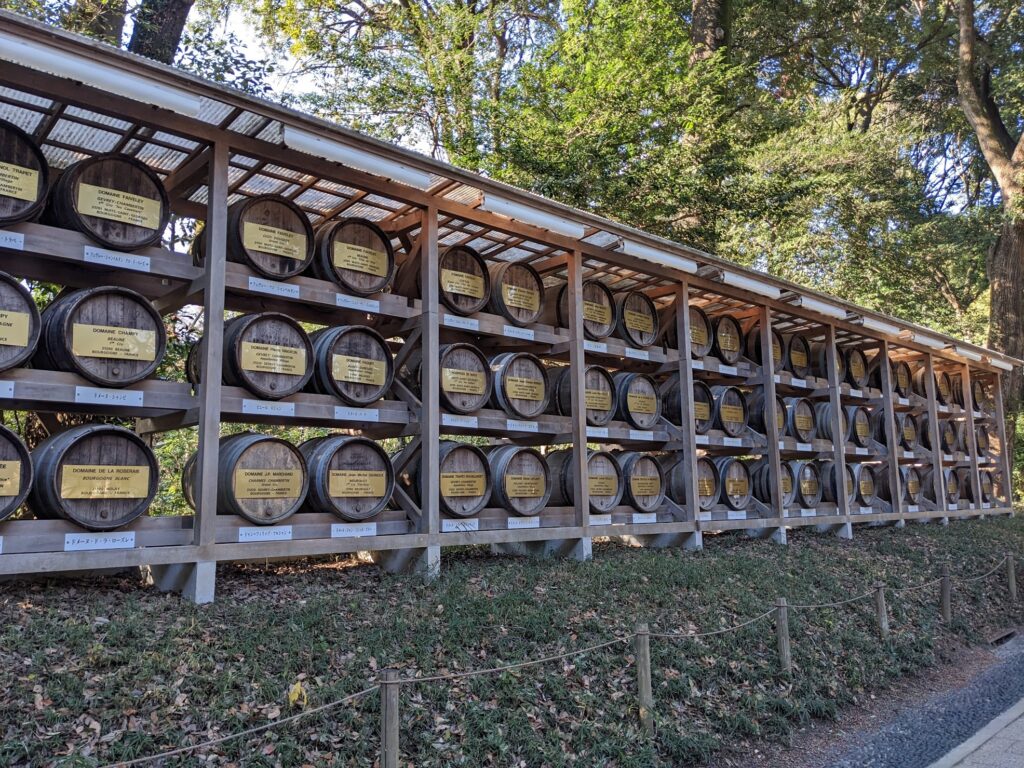 Later that day we paid a visit to Shibuya's famous crossing; the world's busiest pedestrian intersection. The crossing is an example of a pedestrian scramble, which means that all traffic is periodically stopped to allow pedestrians to cross the junction in every direction, including diagonally. The crossing connects a handful of shopping centres and offices with a busy transport hub, meaning that the foot traffic ebbs and flows with the arrival of trains and buses. We (unintentionally) crossed the intersection in pretty much every direction before finally managing to locate a bar overlooking the busy world below.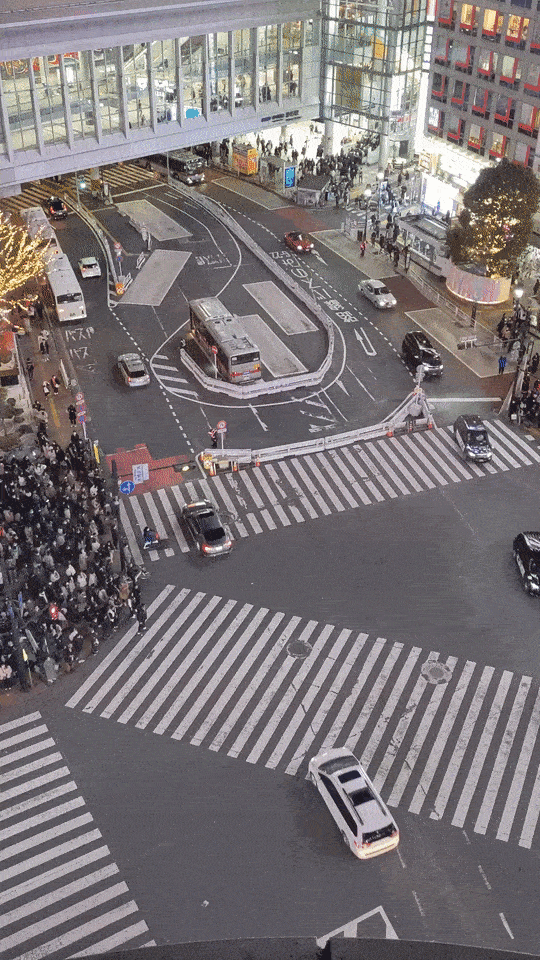 Much of the rest of the evening was spent trying to convince George into joining us for a karaoke session, which after a few drinks was forced by Erin's ultimatum – either we did karaoke RIGHT NOW or we called it a night. We walked into the first karaoke venue upon exiting Shinjuku station, which happened to be an eight-storey building of private karaoke rooms. This session was much more successful than our disaster in Daegu in South Korea, and we happily butchered our way through too many pop classics to list here. I think Erin and Sara claimed the highest score for their heartfelt rendition of You're Still The One, but the people's choice award went to George for his energetic performance of Earth Song.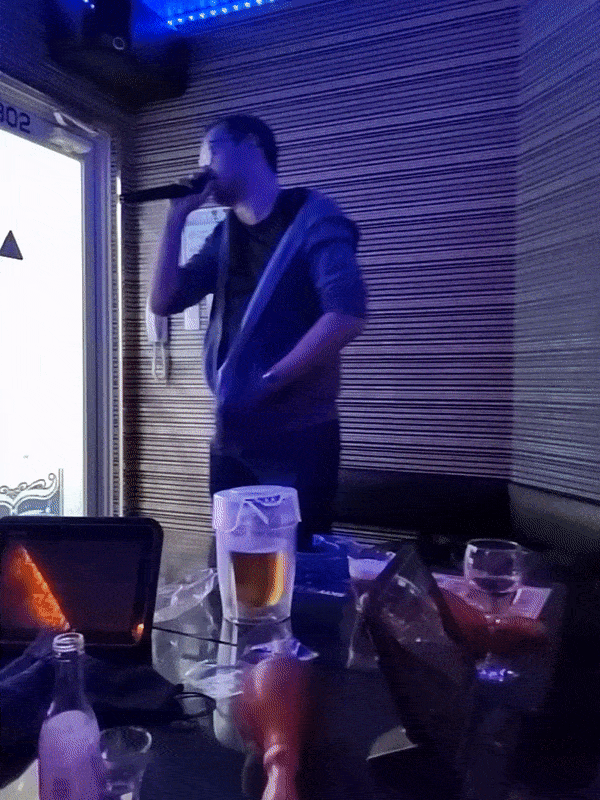 On the way back to our hotel we came across possibly the finest piece of public signage on the metro. The poster covers the very serious topic of assaulting police officers through two fighting cats. The text at the top translates as "I'm drunk and can't remember", while the drunk cat with a tie around its head is simply saying "meow!" after being stopped by the cat police.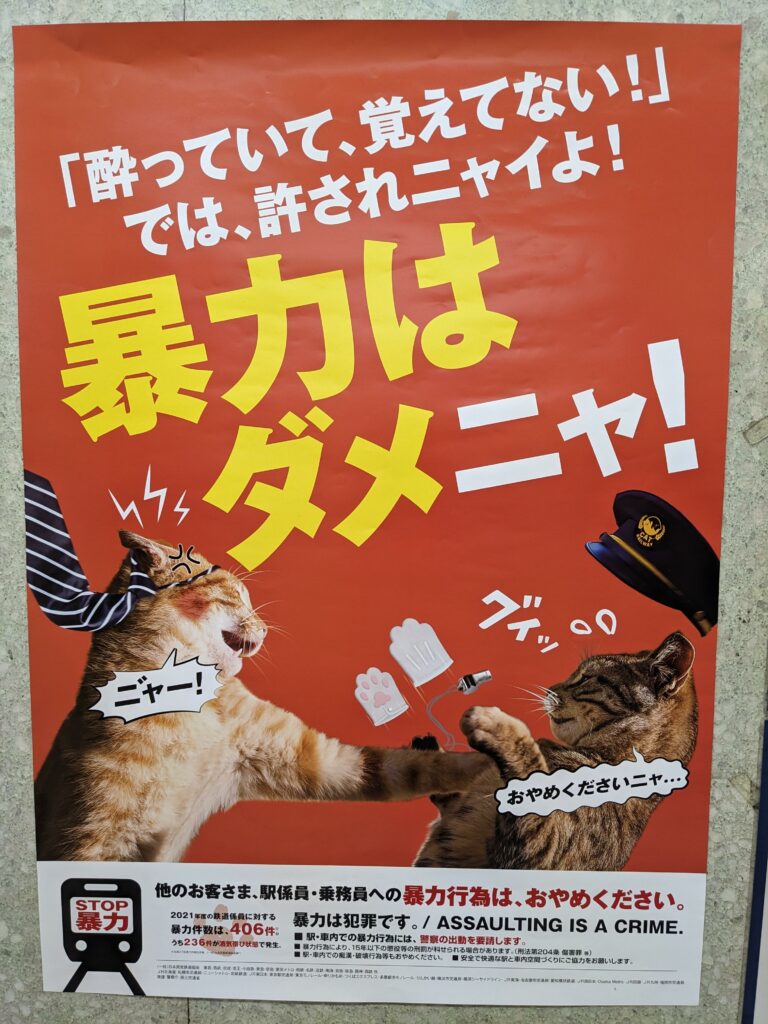 ---
We spent the next day forest bathing (i.e. hiking) in the Ōme Hills to the west of Tokyo. To get there, we left the city centre behind and headed out deep into the suburbs on a local train. As we exited the quiet little station of Ōme, it felt just like arriving in the suburbs of London to walk a section of the London LOOP (a long distance route around London through suburban parks) we'd been walking with George and Erin prior to this trip. Fortunately, the walk itself along a forested ridge was far more spectacular than some of the furniture superstore car parks we've found ourselves walking through on the LOOP.
It would have been a very relaxing way to spend a few hours together had it not been for the signs warning us of wild bear attacks. To make matters worse, most of our fellow hikers had bear bells (apparently bears also don't enjoy surprise meetings) so we felt a little underprepared. Still, we did our best to chat away as we went, attempting to strike a balance between scaring off any unsuspecting bears while also not breaking the peace.
Prior to starting the hike, we spent a disproportionate amount of time trying to locate Ōme's "cat alley"; a tiny pedestrian walkway that had been decorated with a bizarre collection of cat paraphernalia. Strangely though, we only spotted a single real-life cat in this seemingly cat-obsessed town.
---
With Japan's cat count languishing depressingly low, we applied the same treatment as in Korea and visited a cat cafe. We weren't the only ones missing a furry companion, since George and Erin had recently returned Gordon – the absolute unit of a cat they'd been looking after for a friend. As was the case at our previous cat cafe, our feline friends paid us relatively little attention until George took matters into his own hands and purchased some cat treats. It wasn't long before he was absolutely mobbed by cats, but he diligently shared the treats out to ensure every cat felt valued.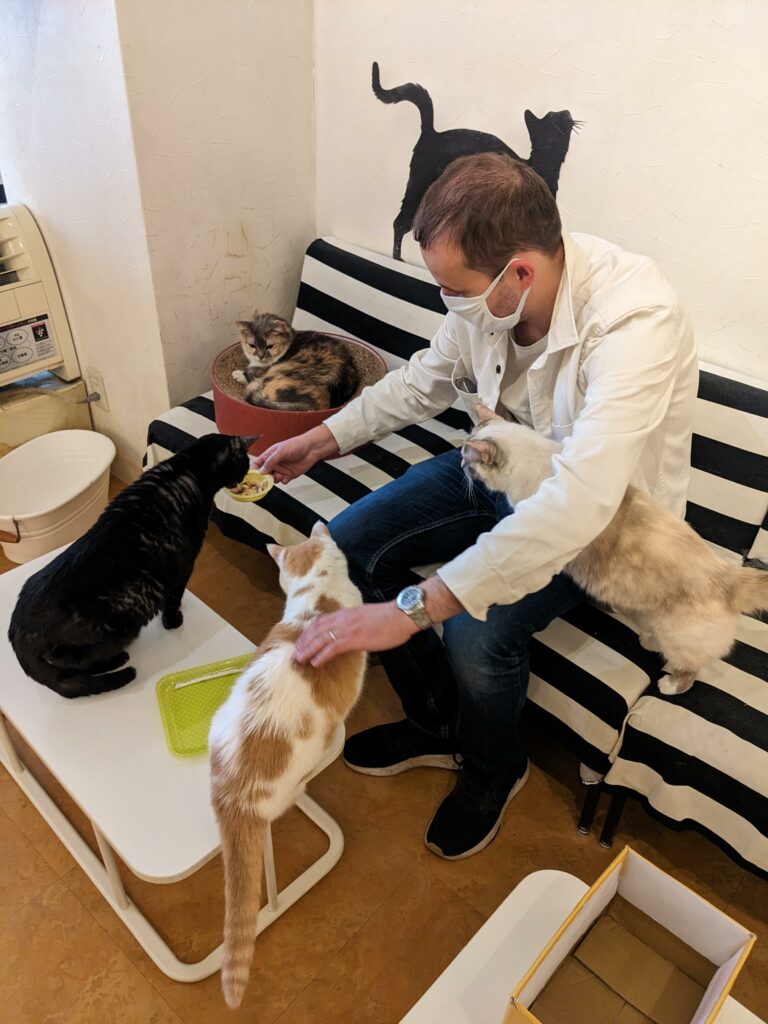 Our final destination in Tokyo was Akihabara, a neighbourhood that has become a centre of various geek subcultures, specialising in everything from anime and manga to retro video and arcade games. Some buildings had up to eight floors of stores and arcades, ensuring that any niche interest could be represented here.
Honestly, some of the floors featured such a sensory overload of lights and sounds that we didn't last long, although George and I did find time for a quick dance off. It turned out that we're both too old for this kind of competition, and had to leave after two songs for some fresh air and a sit down. Believe it or not, the screens are feeding us both with the same instructions in the video below.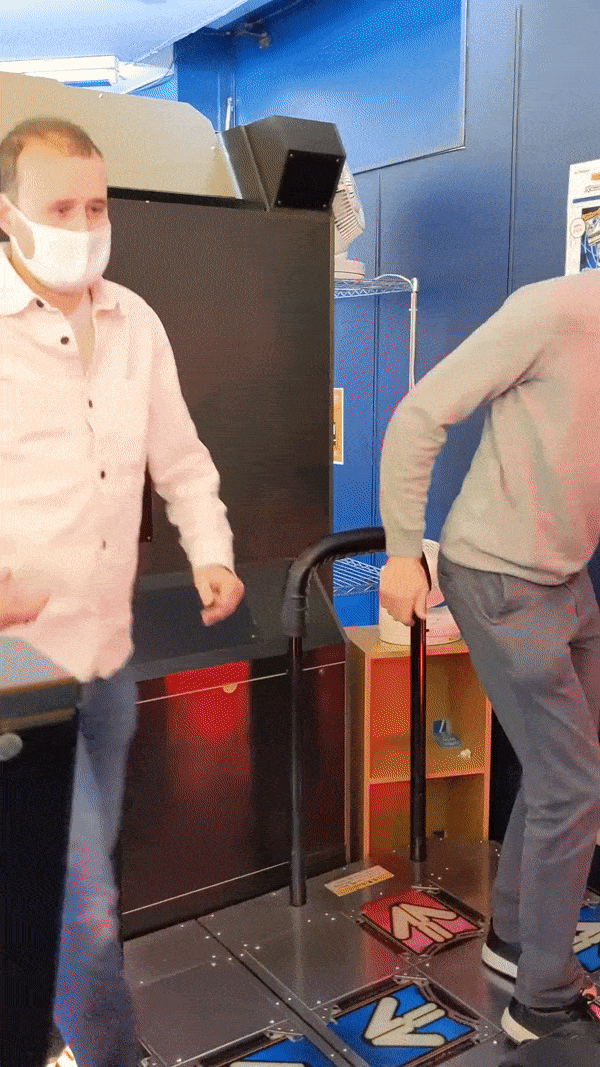 ---
It was lovely to spend some time with such good friends so far from home. I'm not sure whether it was the good company or packed itinerary, but the three days absolutely flew by and we were sad to part ways so soon. Still, George and Erin had exciting plans to continue their honeymoon in south-east Asia, while Sara and I headed to Hokkaido; Japan's wild and sparsely populated northern island.