We arrived in Hokitika with just enough time to hotfoot it to the beach for sunset, accompanied by the obligatory glass of wine and pre-dinner nibble. Despite being just a stone's throw from the town centre, the beach was empty save for a few dog walkers, which I still struggle to get my head around given its flawless setting.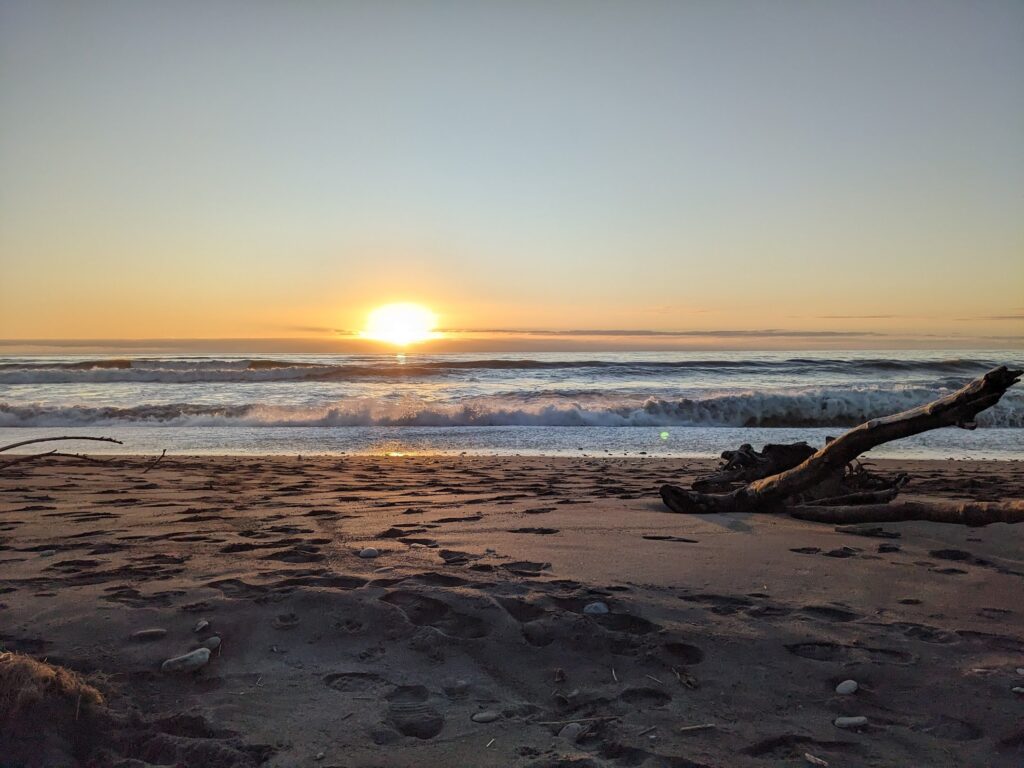 As with Ross and Arrowtown, Hokitika contains a handful of restored gold rush-era buildings. However, Hokitika also has lots going on in the present, and the town boasts plenty of restaurants and cafes, and also plays host to a number of cultural events too. For example, we arrived on the eve of a 100 km ultramarathon, which concluded on the beachfront promenade.
---
I'm not sure whether it was inspiration from the ultramarathon or guilt from all the Tim Tam Slams (we've discovered that they come in 20-biscuit family packs, which we can polish off in three days!), but we decided to spend a day getting a taste of the West Coast Wilderness Cycle Trail.
Controversially, the section we cycled barely followed the coast at all, and instead started by weaving its way through forest on what felt more like mountain bike trail than a rail trail.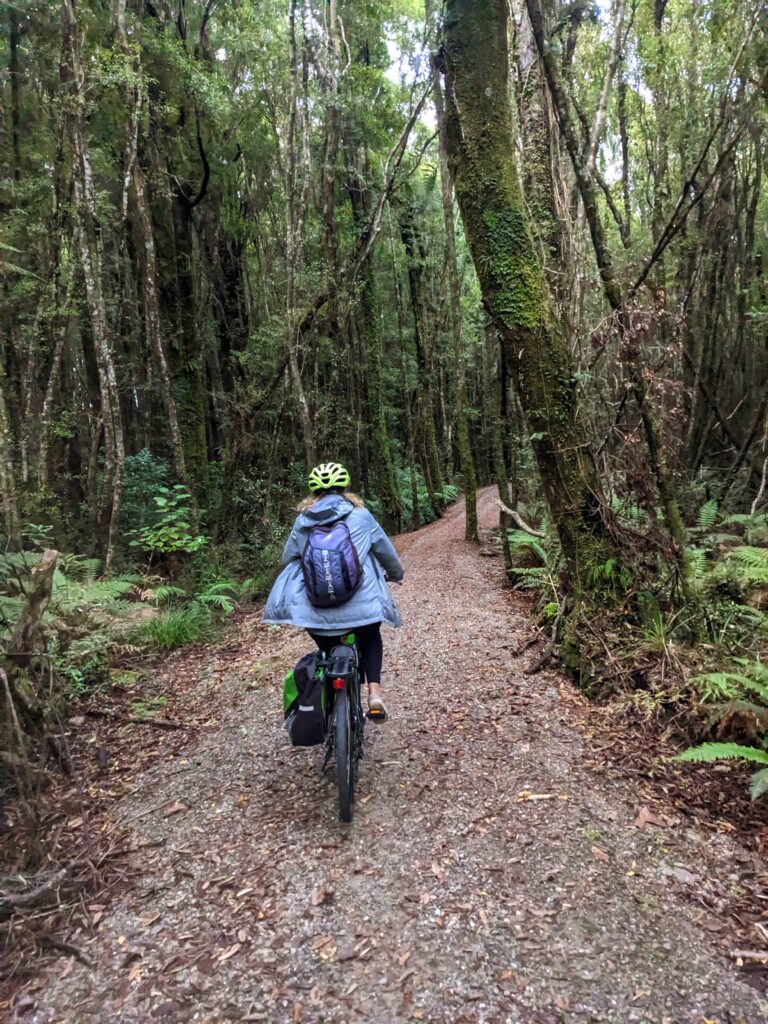 The forest trail led to a bridge over a perfectly still lake, stained nearly black by tannins – an organic substance found in some barks and plants. Despite not being named as such, this lake's reflective qualities surpassed both the Milford Highway's mirror lake and Lake Matheson. We had great fun taking photos of the very confusing perspective – check out the last photo below, which was taken looking straight down into the lake from the bridge.
The route continued along a boardwalk, which while beautiful, posed quite the photography challenge. With no safety barriers, Sara still took the risk of photographing while cycling, and somehow managed to avoid both dropping her phone and cycling off the edge into the wetland. 😬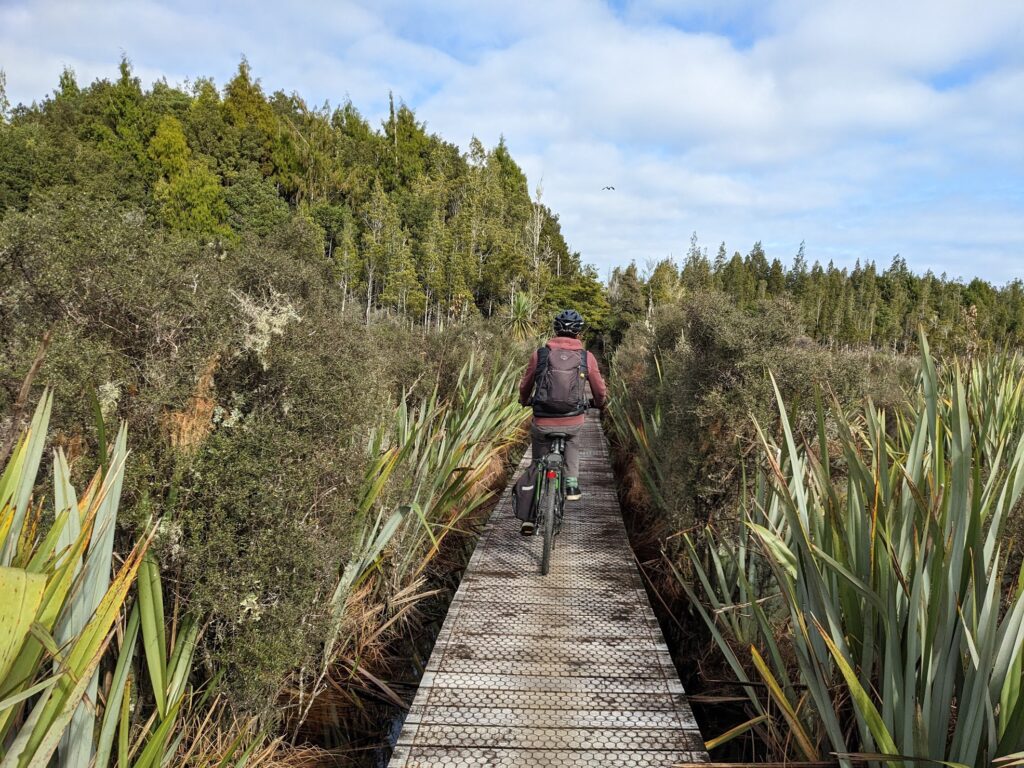 Determined to see the sea before turning around and heading back to Hokitika, we pushed on to the tiny village of Ruatapu, which I spotted on Google Maps contained the encouragingly named "Beach Road". We followed this track and traversed some sand dunes to find yet another huge, sandy, wild and empty beach, which made the perfect spot to enjoy our lunchtime purchases from The Hokitika Sandwich Company. I think Sara might have won the lunch-off, with her pastrami and havarti sandwich, containing plenty of aioli, mustard and salad, although both sandwiches seemed to evaporate shortly after we opened them!
On the way back to Hokitika, we stopped at the Tree Top Walkway cafe for a quick coffee (and a cheeky Tim Tam Slam, of course). Just as we were leaving, a handful of silver-haired e-bikers turned up, one of whom immediately struck up a conversation with Sara and heavily recommended e-bikes over our traditional cycles. Searching for something polite to say that didn't involve the word 'cheating' (we're still very bitter from our rivalry on the Otago Central Rail Trail!), Sara told him that we needed the exercise because we eat far too much chocolate. He immediately replied, "Oh, but you need to pedal these too!" This really made us smile since it was one of two conversation topics that always seems to come up when we speak to the e-biker crowd. "So I hear," Sara replied as we cycled off, "Next you'll be telling us how rarely you need to charge the battery!" thereby checking off the second conversation topic.
---
Arriving back in Hokitika, we returned the bikes and celebrated with fush & chups in a ship-come-picnic-spot at Sunset Point. Not only was this a very comfortable spot (the ship even had lighting and a heat lamp!), but it also acted as a memorial to the ships that had collided, wrecked or run aground just off Hokitika's shores. This seemed to happen with alarming frequency, peaking at one incident every 10 days in 1866! Fortunately, our ship was in dry dock on top of the causeway, so we managed to avoid adding to such concerning statistics.
After sunset, we popped into the Glow Worm Dell, a woodland walk where you can spot the light of thousands of tiny glow worms in the trees. However, the glow worms don't like light, so imagine stumbling around on a rough track in the pitch black with a handful of other people all doing the same. Somehow we managed to avoid any direct collisions, which was lucky as we only learned on the way out that we should have been keeping to the left of the path. To be honest, this would have been a bit tricky anyway, given we couldn't see the path!
---
Satisfied with our 42 km taste of the West Coast Wilderness Trail, we returned to our camper van with an ambitious plan to make it to the end of the Great Coast Road the following day.