Half of the reason we'd bent our route via Podgorica was to link up with the Bar-Belgrade Railway. Slated as "one of Europe's most spectacular train rides" by the definitive authority on trains anywhere in the world, the Man in Seat 61, we were very glad to have secured tickets when we arrived in Podgorica for the bargain price of €21.25 per person – not bad for 11 hours of scenery! We'd never heard of this route before, so we were pretty excited to find ourselves in this lesser-travelled corner of Europe and able to weave our route around it.
We've noticed that some subscribers didn't receive an email yesterday when we posted about our visit to Montenegro. You might want to check it out before reading this post if you missed it!
We arrived at Podgorica's colourful yet crumbling train station bright and early in anticipation of the journey to come. Our train arrived only 30 minutes late (which is basically on time based on everything I'd read), so we boarded and found our compartment, and joined a Serbian family who were on their way home from a seaside holiday (their fishing net and volleyball were a bit of a giveaway). The views were breathtaking almost immediately as the train climbed through the mountains and we crossed the Mala Rijeka Viaduct, which was the highest railway bridge in the world when it was finished in 1973. By the way – our photos almost certainly don't do the scenery justice (there were one or two children and fishing nets between us and the window!) but The Man in Seat 61 has a video that does capture just how stunning it was, if you're interested.
The spectacular views continued as we crossed the border into Serbia, but then the train began to slow. Eventually we ground to halt, confusingly just over the border into Bosnia and Herzegovina. The train shuffled back and forward before continuing along a 9 km loop of track and thankfully returning to Serbia without any explanation or border formalities.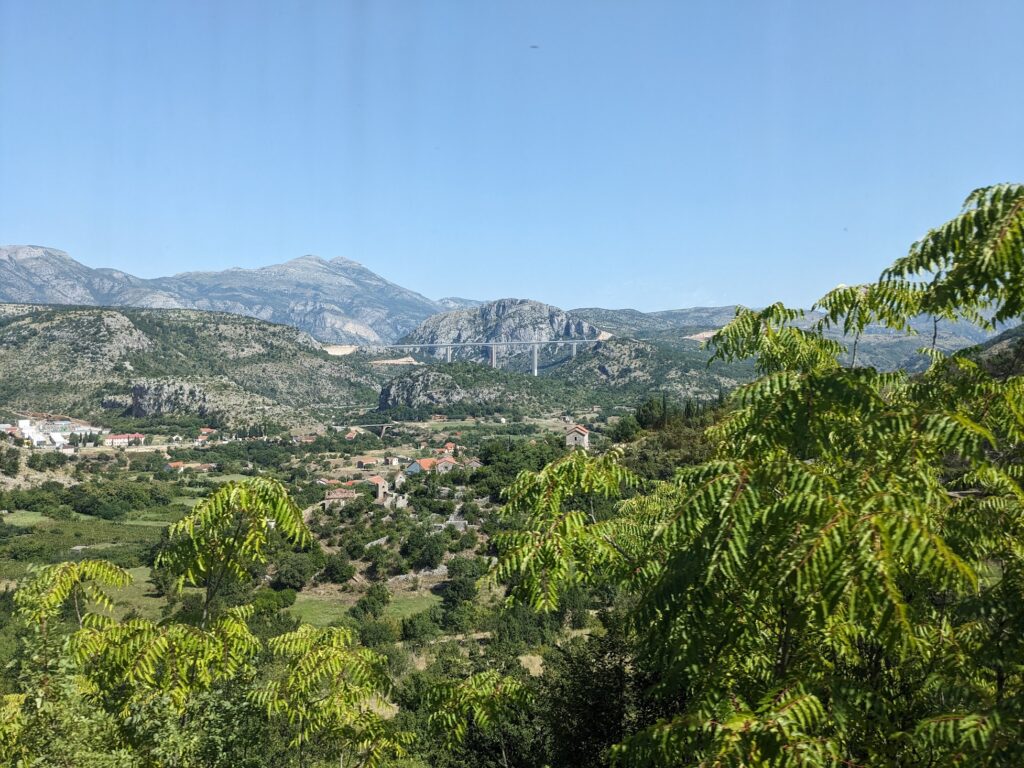 The mountains eventually ran out and the train sped up on its final approach to Belgrade. We arrived roughly two hours late into Belgrade's central station just as the sun was setting. Construction of this infamous station began in the 1970s, but to this day the building remains unfinished, with no commercial units or ticketing hall, and only a single bus connection to the city centre. But we didn't mind, because we'd finally arrived in the 23rd country of our trip.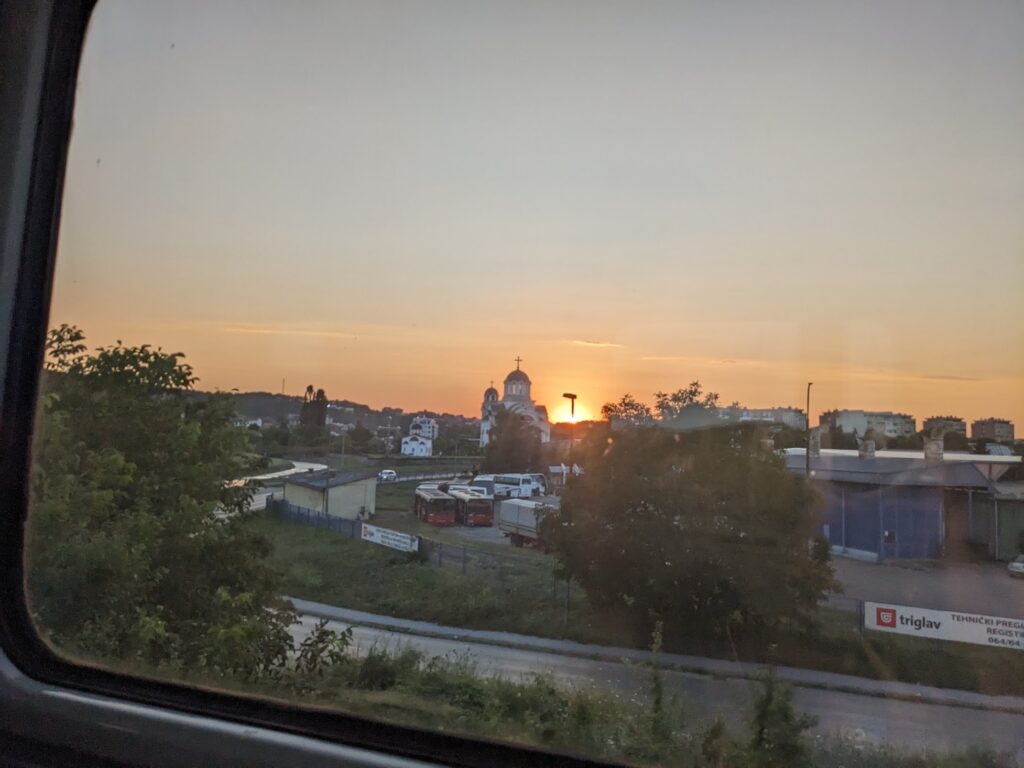 We were staying in a very comfortable apartment on the second floor of a quintessential Belgrade apartment block. The building's main entrance was an atmospheric combination of crumbling plaster, wrought iron, graffiti and stylish pot plants. But best of all, we got to meet the mob of six cats who lived in a ground floor apartment and liked to wreak havoc upon the courtyard beneath our apartment's balcony twice a day.
Previously the capital of Yugoslavia, Belgrade was bombed heavily by both Nazi Germany and the Allies during the Second World War, and later by NATO during the Kosovo War in 1999. As a result, Belgrade's architecture is a mishmash of grand boulevards flanked by beautiful Neoclassical buildings, mixed with brutalist apartment blocks. There seemed to be a surprise around almost every corner.
For lunch we dropped into Mikan Restaurant, a Serbian kitchen right opposite our apartment that has been serving traditional dishes for three decades. We tried pljeskavica (a spiced meat patty), prepranac (baked beans) and breaded kackavalj (hard cheese). We made short work of everything on the table, but it was the prepranac that surprised us the most – the sauce was thick and rich, and more akin to a meaty stew. It was certainly a step up from the baked beans we know so well!
That afternoon, we took a walk around Kalemegdan – a public park enclosing Belgrade's hilltop fortress that our guidebook assured us has been destroyed no fewer than 40 times in its 2300 year history. As if to prove its age, the fortress now contains a dinosaur 'zoo', a Roman well, an 18th century clocktower, an exhibition of modern military artillery and a handful of tennis and basketball courts. As incongruous as the collection might have appeared, it really did seem like there was something here for everyone.
Now, we couldn't visit Serbia without trying kajmac again – a type of cottage cheese that we first ate in a Serbian restaurant on our visit to Slovenia 13 years ago. I remember we spent all evening arguing whether it was really cheese or butter, and to be honest, I'm not sure we've ever reached a firm conclusion. Further discussions weren't possible this evening either, as the table a few down from ours seemed to have hired the restaurant's raucous live band for the evening, and were belting out heartfelt renditions of (presumably) Serbian classics for quite some time. I guess we'll never never get to the bottom of the mysterious butter-cheese!
---
As we prepared to leave Serbia after spending just two nights in a single city, we really felt like we didn't do the country justice, but at least we saw a good amount of its natural beauty from the train window. And as we said goodbye to Serbia, it was time to say hello Slovenia, the first country of this trip to overlap with our inter-rail trip in 2010.