From buzzy Tirana, we set our alarms bright and early to walk through the city at dawn and catch a 6am bus across the border into Montenegro. We were bound for Podgorica, which must surely be Europe's least well known capital, and notable only really for the fact that it doesn't appear anywhere at all in Lonely Planet's list of Montenegro highlights – that's really unusual for a capital city! Anyway, we had a very good reason for coming here (more on that in the next post), but first we had a couple of days to explore Podgorica and further afield.
In line with everything we'd read, Podgorica barely felt like a city at all – more like a provincial town. We spent a short time doing some very gentle sightseeing through Independence Square and the old town, before retreating to our accommodation to enjoy its riverside location.
And actually, this is where Podgorica really came into its own – where else can you swim in crystal clear river water within a ten minute walk of the very centre of a capital city? Of course, when I say swim, what I actually mean is that I lost my balance and fell in with an almighty splash. Thankfully I was on my way in anyway, but it was still a very cold surprise! From our lovely spot on the rocks next to the river, we could just see Podgorica's one remaining landmark that we hadn't yet visited: the graceful Millennium Bridge, which crossed the Morača River just downstream of us.
On our second day in Montenegro, we hopped on a 90-minute bus bound for Budva, a town on the Adriatic Sea. We hadn't been able to get seats on the daily train to Belgrade, our next destination, so would have to wait until tomorrow. We'd decided on this train ages ago but needed to buy the tickets in person (as there's no way to do so online), so this was a little frustrating. But then again, I knew just how beautiful the Montenegrin coast was from when I'd visited my friend Amy a few years ago, so having a bonus day wasn't exactly a hardship.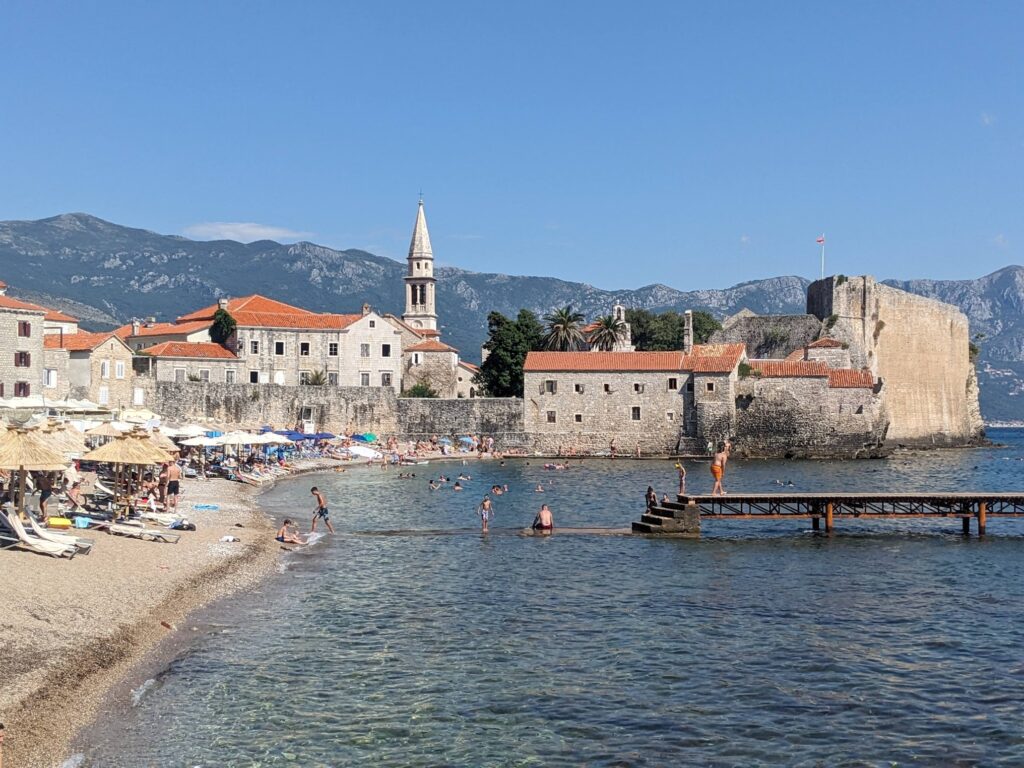 Budva is a big, busy holiday town not unlike Sarandë, except that it has a beautiful walled old town jutting out to sea, which is protected by a citadel and sometimes described as a mini-Dubrovnik. We spent most of the day retracing my steps from a few years ago, which basically involved me giving the vaguest of directions ("I'm sure there were some cannons somewhere," or, "I think there was a pretty church") and then taking credit when Oli found what I had in mind by reading the guidebook.
On our final morning, we sat out by the river to eat our breakfast (including the not-exactly-healthy but delicious local doughnuts, Priganice). While we were there, Oli made firm friends with 'Montenegrin Thomas', a little charmer of a chap who wanted to share our breakfast. Not that we're soft touches or anything, but we offered him a bit of everything we had (except our coffees – we didn't like him that much).
We'll return to Montenegro sometime soon when we have a bit more time and it's not peak summer – I know it has lots more to offer and it is the most ridiculously beautiful country! But for now, we'd run out of time and so we set our sights on Serbia, a brand new country for both of us.