If I'm honest, I didn't really know much about Albania before we arrived, apart from its pretty poor scorecard at Eurovision. Besides this useful titbit of knowledge, we did know that Albania is only a short ferry ride from Corfu, so we made it the first port of call on the final leg of our journey back to London. We'd (loosely) planned three stops to give us just a small taster of Albania: the seaside town of Sarandë, the mountainous old town of Gjirokastër, and the bustling capital, Tirana.
Our journey to Albania began with being herded around Corfu Town's port departure lounge by an angry Greek lady. And when I say departure lounge, I actually mean a completely sun-baked car park. In the end we were glad to board our ferry just to get away from her! We'd booked onto the slow car ferry, with the hope that the larger ship might give us a slightly calmer crossing. Alas, this was not to be. The ship was actually pretty small, with space for fewer than ten vehicles, and while the water was calm for the first half of the journey, the ferry started rolling aggressively as we left the shelter of Corfu. It was a pretty nerve-wracking experience as we gripped our benches, with other passengers screaming when the ferry rocked to some quite alarming angles. We were so relieved to eventually disembark at Sarandë and collect our luggage from the lower deck (which had been thoroughly soaked by the waves). We were even more relieved when we realised this was to be the last ferry of our entire trip – we've had some interesting experiences!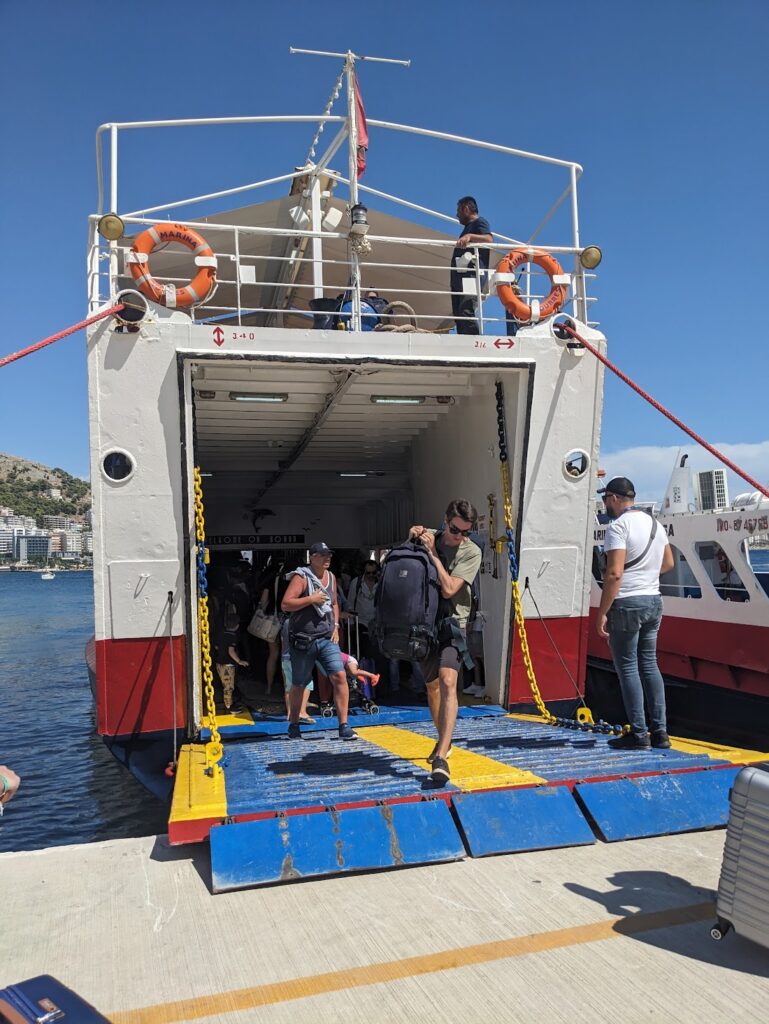 Sarandë
Sarandë is known as the capital of the Albanian Riviera, and as such is a popular summer holiday destination for Albanians and people from other surrounding Balkan countries. In July and August it transforms into party town, with every square metre of sand occupied by a sun lounger and every hotel fully booked. Come the evenings, holiday makers stroll the promenade after dinner and bar hop along the seafront.
Somehow, we managed a land a table at Haxhi for dinner – a casual restaurant with a big reputation for its views and seafood. While Sara really enjoyed her grilled sea bream, it was our starter that stole the show for me – a giant slab of grilled cheese that genuinely tasted like the cheddar on toast we know so well, just without the toast – I must be missing home! 😋
Gjirokastër
The next day, our good luck continued as we snagged the last two seats on a 90-minute bus to Gjirokastër, with Sara ending up with the best seat in the house next to the driver and me at the back of the bus. Still, it turned out that seats weren't the limiting factor on this bus, with the driver allowing two people to stand for the first 45 minutes of the journey through the mountains.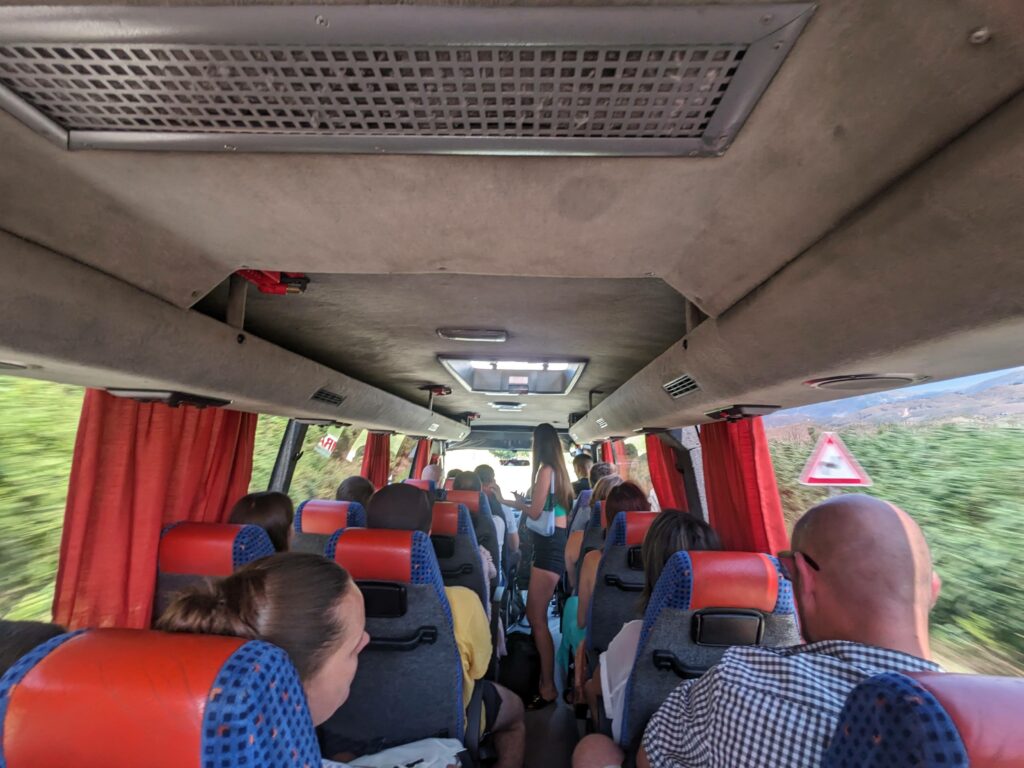 Gjirokastër itself is a beautiful medieval town built down the side of an incredibly steep mountain. For context, the short walk to our guesthouse from the commercial town centre involved over 100 metres of slippery elevation gain up polished cobble roads. To be honest, I was quite thankful we were on foot and not driving, as most roads looked frankly impassable without a 4×4, although that didn't stop a few visitors attempting them!
As soon as we'd checked in, lunch was our next priority, and we'd read that Gjirokastër was a great place to sample traditional Albanian cuisine. We descended on Odaja, a slick restaurant that has been churning out Balkan staples since 1937. We loved the reversal of the gender roles that were so common in Southeast Asia, with the men waiting on the tables and a woman (who was clearly in charge of the business) handling the money. We dutifully tried quite a few local dishes, and among our favourites were Qifqi, which had been described in English as fried rice balls. We'd assumed that these might be quite similar to Sicilian arancini, but in fact they were very different (and better – sorry, Italy!) in texture and taste, with a satisfyingly crispy exterior and soft, subtle vine-leaf flavoured interior.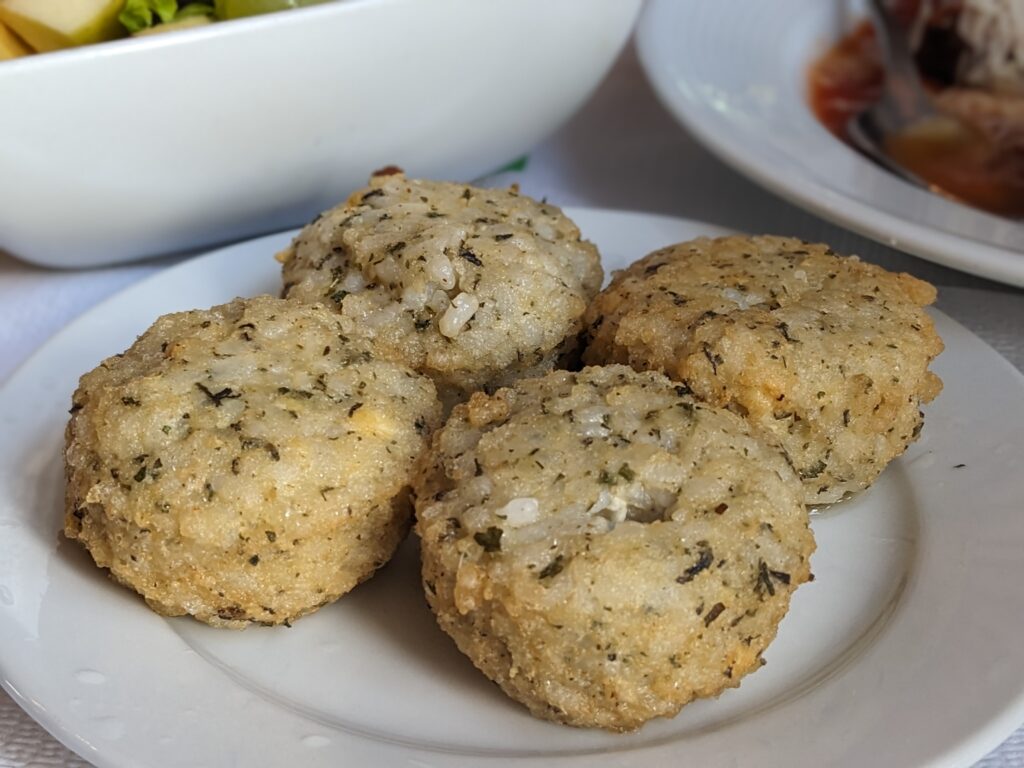 That afternoon, we attempted to work off our heavy lunch with a visit to Gjirokastër's hilltop castle. This 12th century fortress once enclosed the whole town, but the city has practically flowed down the mountain and into the valley beneath as it has grown. The castle had so many interesting stories to tell, but our favourite had to be the two tales behind a US Airforce jet which is curiously parked on top of one of the castle's walls. US intelligence swears that the pilot became lost in fog and landed at a nearby Albanian military base (during the Cold War), while the Albanian government instead claim that the jet was forced to land after being intercepted by Albanian military aircraft. Either way, the aircraft never flew another mission, and instead rests incongruously amongst the castle's other treasures.
The view from the castle was nothing short of spectacular. Not only could we see over the rooftops and down the side streets of Gjirokastër's old town, but also right across the valley and to the mountains beyond. The landscape really reminded us of the mountains, valleys and plains of the Tarnia series – books written by our good friend Luke. We've loved reading them on some of our long journeys, but weren't expecting to suddenly find ourselves in this world in real life!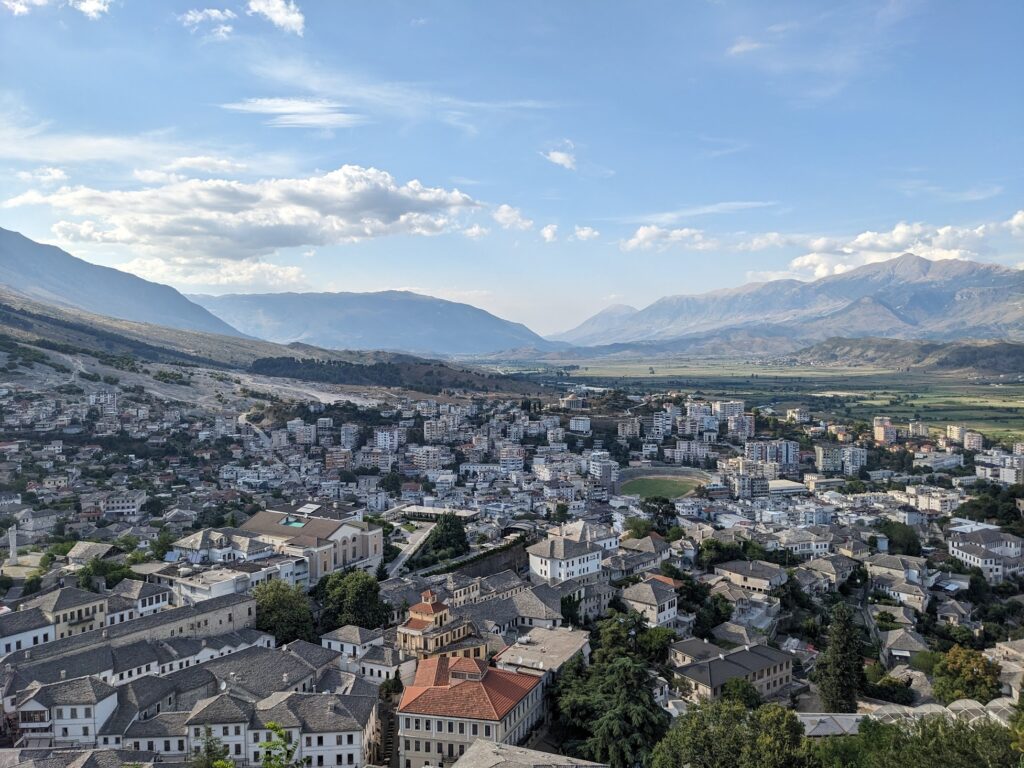 Tirana
After our short stop-over in Gjirokastër we hit the road again, but this time on a four-hour bus to Tirana, Albania's capital city. Tirana felt like the polar opposite of Sarandë – where Sarandë was flashy, brash and busy, Tirana was cool and atmospheric. In fact, it seemed like a good chunk of Tirana's population had headed for Sarandë's beaches, and left behind a glut of affordable accommodation and great restaurants. Result!
Tirana's star attraction is undoubtedly Bunk'Art – a Cold War-era nuclear bunker that has been reincarnated as a museum and art gallery. The top-secret bunker was built in the 1970s by the communist government to house the country's most senior politicians in case of war or invasion, and was unknown to most residents for much of its useful life. Despite its recent facelift, we didn't want to spend too long in the cold, dark and windowless interior. Still, we did enjoy learning about Albania's history, from its Second World War occupation by Nazi Germany and Fascist Italy, to its subsequent Communist isolation and most recent emergence as a modern democracy.
The most captivating exhibit had to be the debris of an Allied aircraft, carrying 30 nurses and medical officers, which crash landed in poor weather in an Albanian field during the Second World War. The local Albanians secretly looked after the survivors and dismantled the aircraft to prevent detection by the occupying forces. Even when all 30 of the aircraft's passengers escaped the country practically unharmed, the secret was kept for a further 50 years during Albania's Communist era to prevent the punishment of those who had "sympathised with the enemy".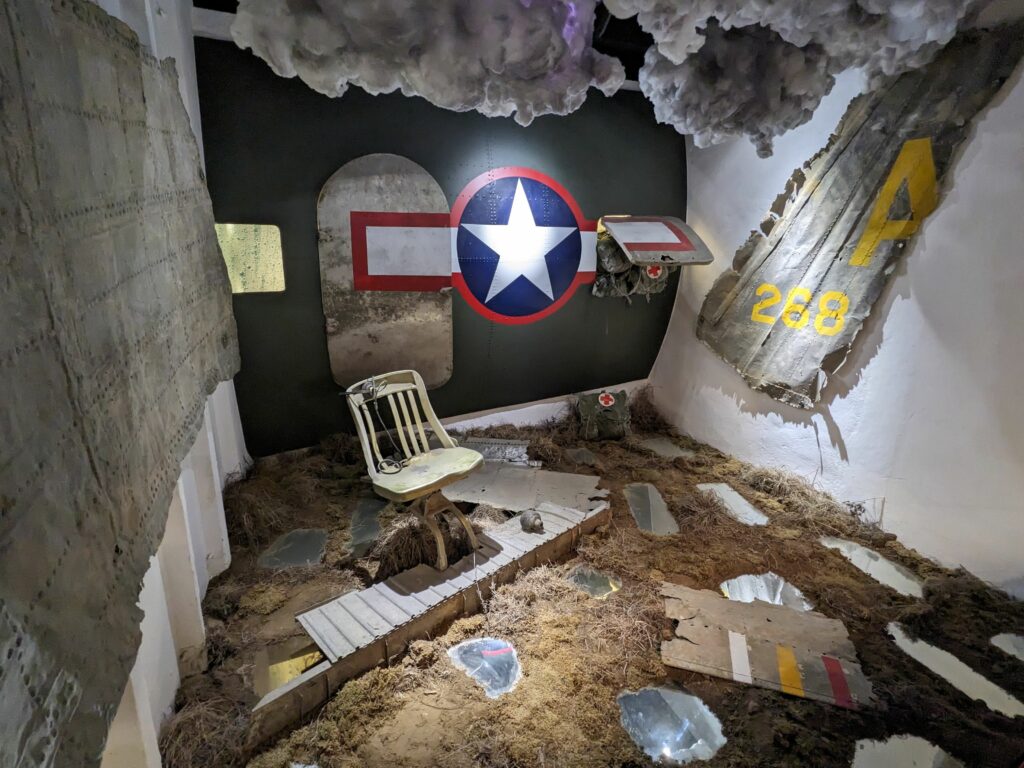 We rounded off our stay in Albania with a few more traditional Albanian meals. My favourite had to be the qofte (kofta) in bread cooked over a coal barbecue by a one-man show at Te Met Kodra. I must have been in the queue for about an hour waiting to finally place our order, which kept increasing in size with every stomach rumble. The reward was worth the wait though, and we wasted no time in demolishing the salty snacks, barbecued to perfection. Other dishes of note included the oily and spicy Kosovo sausage in a white bean stew, and a strangely satisfying baked lamb and yoghurt casserole that we enjoyed as part of our evening meals in Tirana.
Summary
If I had to grade Sarandë, Gjirokastër and Tirana on scales of delicious food and city vibes, I think it would look something like this: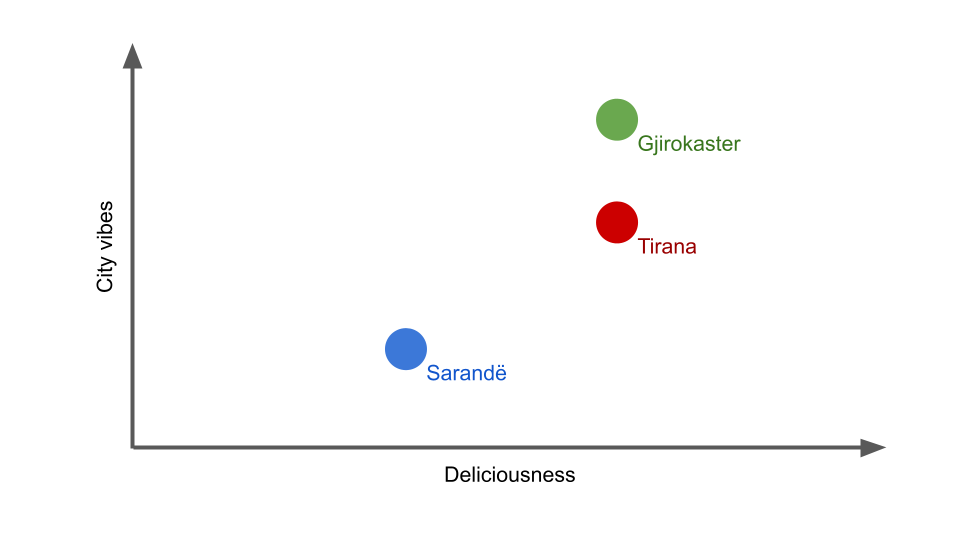 While I'm not sure we'll find a reason to revisit Sarandë, both Gjirokastër and Tirana excelled on their food, with Gjirokastër just pipping Tirana to the post with its delightful old-town vibes. I'm amazed how different all three of the stops turned out to be, and I'm so glad we decided to break the journey in Gjirokastër – especially since we nearly skipped it altogether!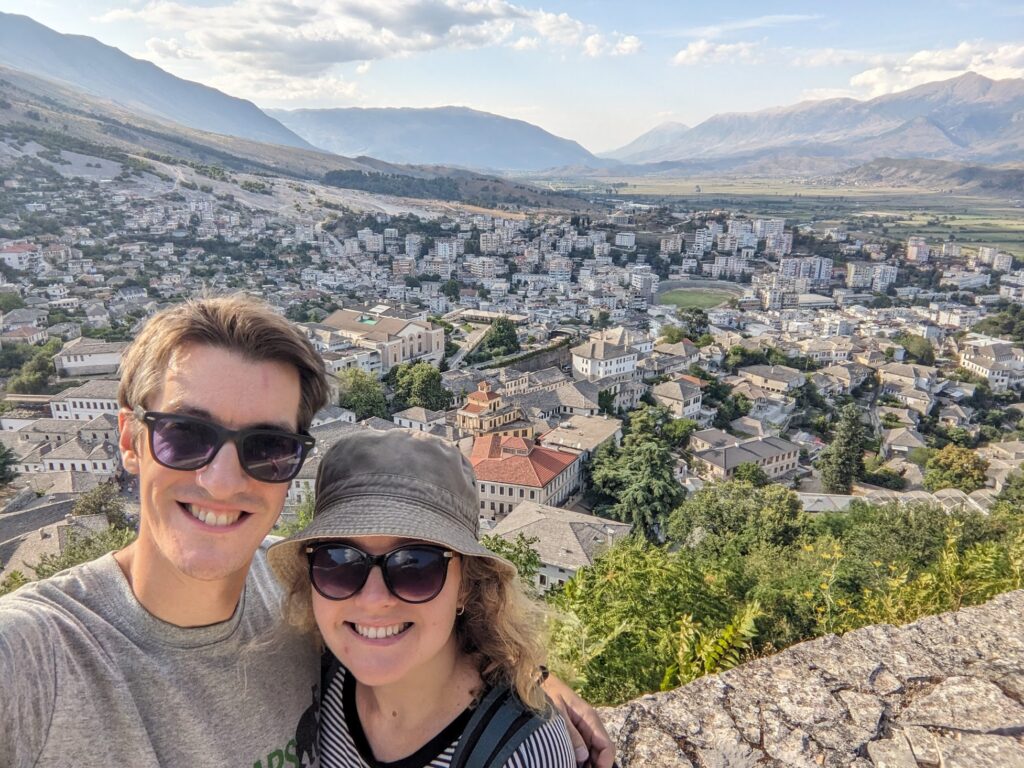 After a slightly manic four days in Albania, we increased the tempo further by allowing ourselves just 48 hours to cross Montenegro 😬