We woke up to beautiful sunshine in Ljubljana and got dressed for the warm weather, our first time in real summer clothes this trip. A brainstorm over breakfast led us to decide that it would make more sense for us to visit Bled, a lake-side town in the mountains, as a day trip today rather than tomorrow (we couldn't stay in the hotel for an extra night so would need to move). After breakfast, we headed off to the bus station where we were served by a grumpy ticket man who didn't like our 50 Euro note one bit… whoops! Anyway, we got on the bus for our one-hour journey where we planned to look at the mountain scenery on the way. In reality, though, Sara fell asleep and Oli couldn't see the views as it started to rain! Not a good start. When we arrived, we decided to make the best of things and began our 6km walk round the lake as planned, even though we were wearing sandals. Thankfully, we had remembered our waterproofs so we didn't feel too silly, at least half of us stayed dry!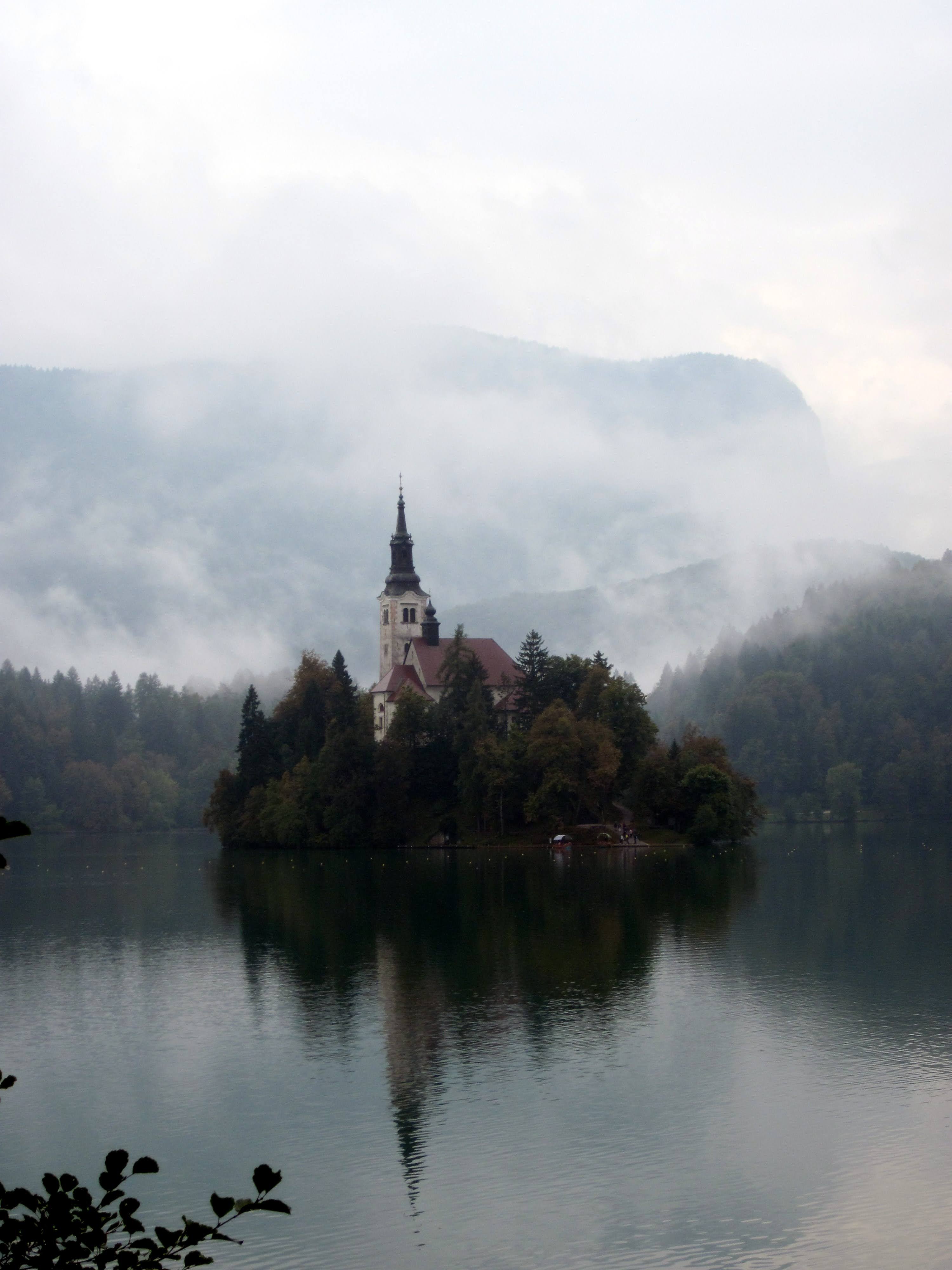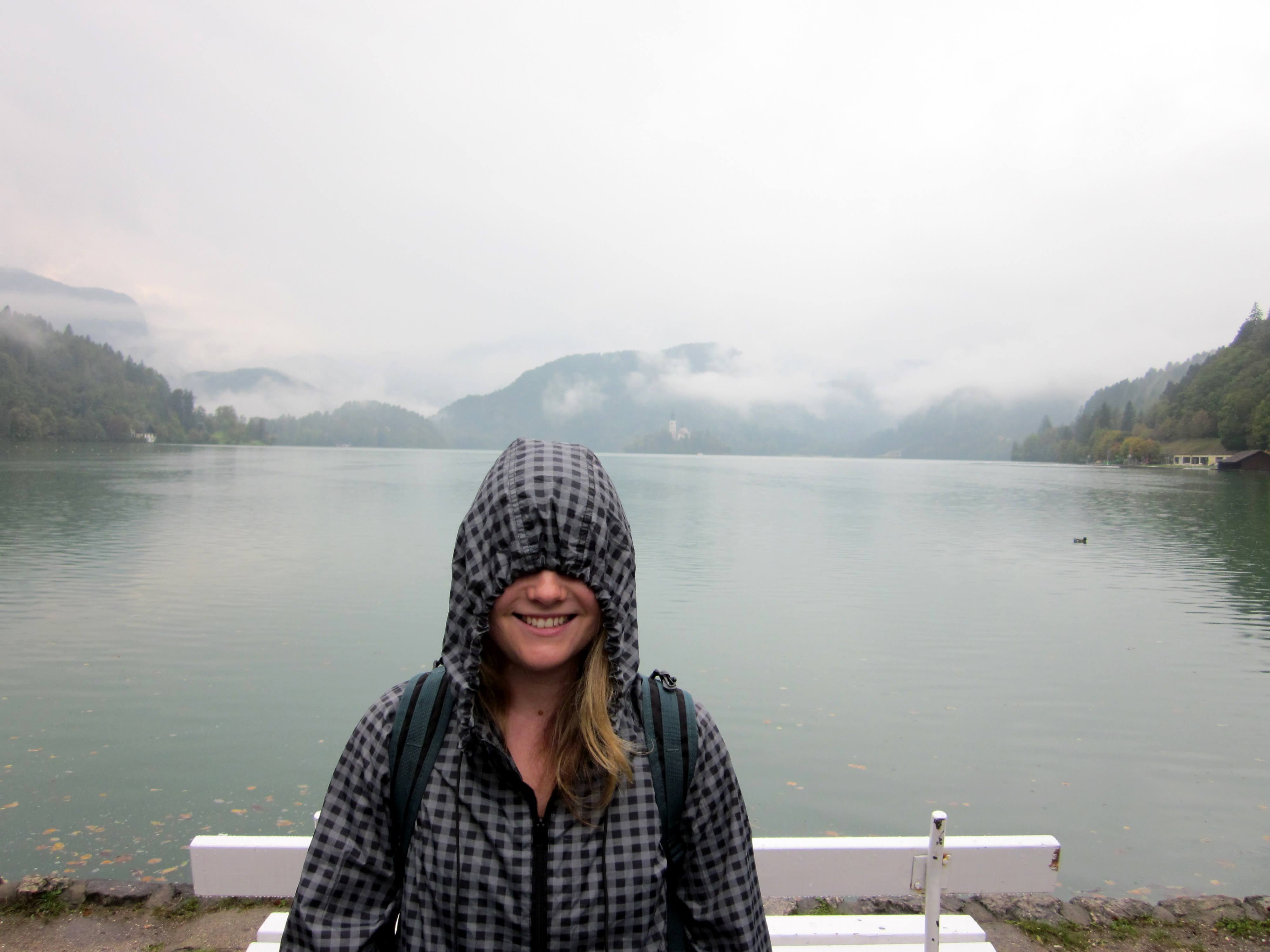 A short distance round the lake, the rain eased and we stopped for lunch on a jetty with some inquisitive ducks for company and an amazing view of the whole lake and the church on the island in the centre. We were pretty impressed that the lake really was emerald green just as we'd heard. How??!!
Although we were a bit tired after our walk (our many days of sightseeing were catching up on us!) we decided to climb the steep hill to the castle. At the top, we found that we had to pay for entrance even to visit the cafe (contrary to the info in the guidebook) but we were glad we did, as the views alone were definitely worth the money. Neither of us had ever seen anything quite so picture-perfect. Unfortunately, the tour group (S's and B's as Sara's Grandad would say) that descended on us were a less attractive proposition, so we didn't stay too long!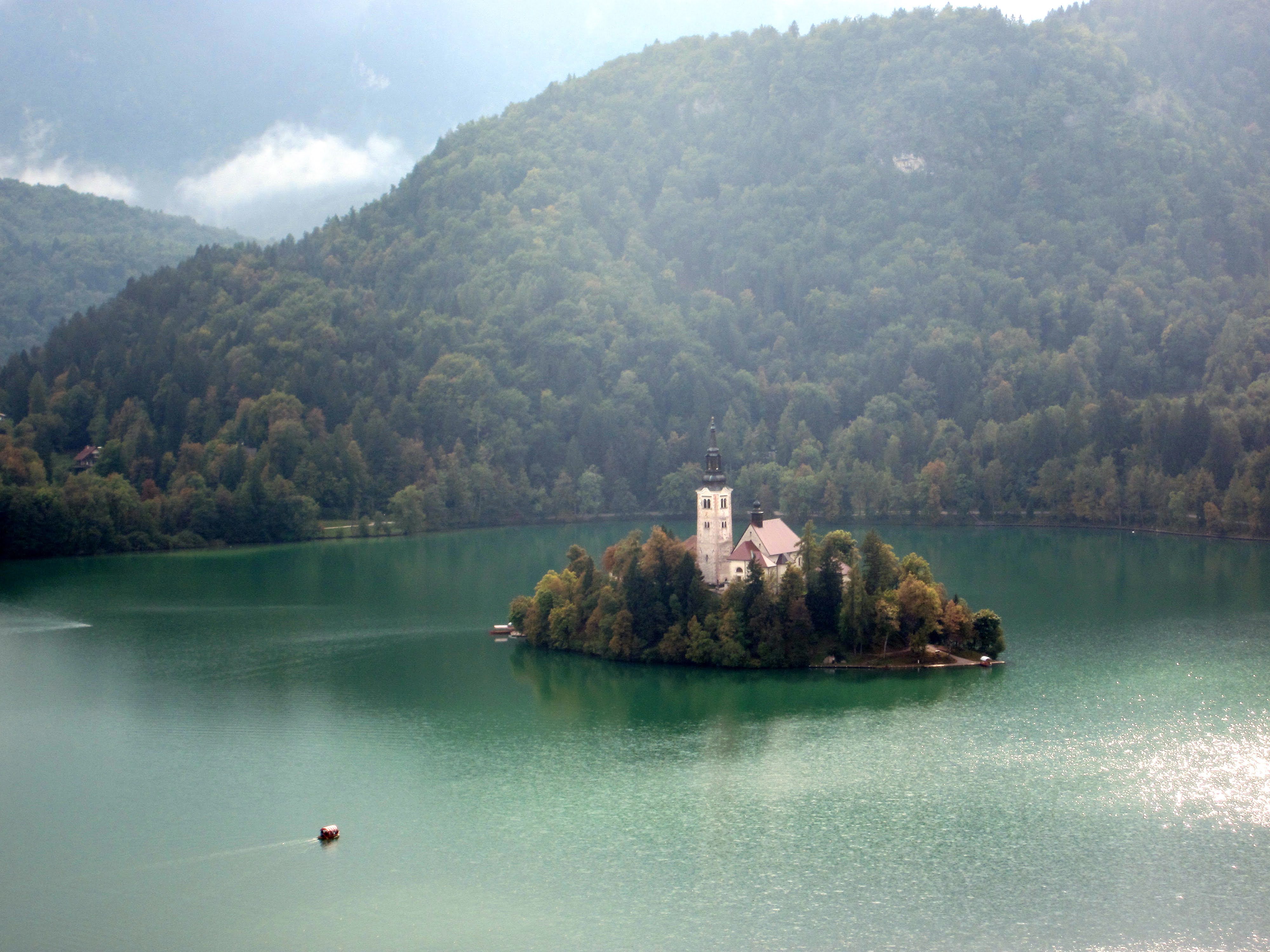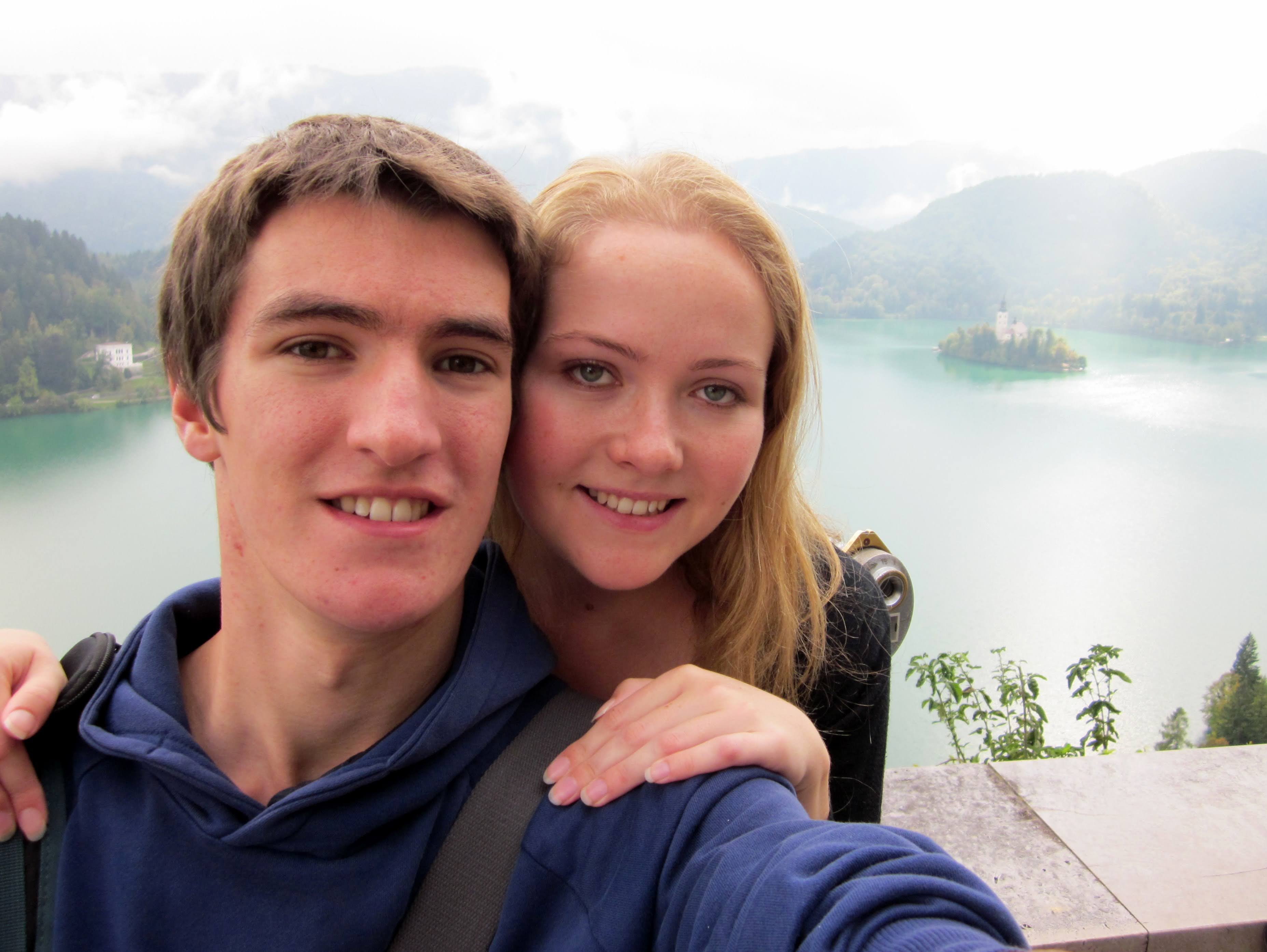 After the castle, we decided it was only fair that we should give Bled the opportunity to impress us further with its speciality cake (kremna snežna rezina), which was cream and custard cream sandwiched between flaky pastry. Very tasty! Oli had some lovely hot chocolate which was so thick and rich you could eat it with a spoon, so he did and got it smeared all over his nose!
After this, we headed back to the bus for our return journey to Ljubljana. We followed a Lonely Planet recommendation for dinner and visited a Serbian restaurant for a really nice (and very funny) meal. The menu proved our Serbian language skills weren't quite up to scratch, but thankfully the waitress helped us out. Even so, we didn't have too much idea what we would be eating, but had a tasty meal of sausages and meatballs in delicious soft bread with butter/cheese – we still can't agree what it was, but it tasted good!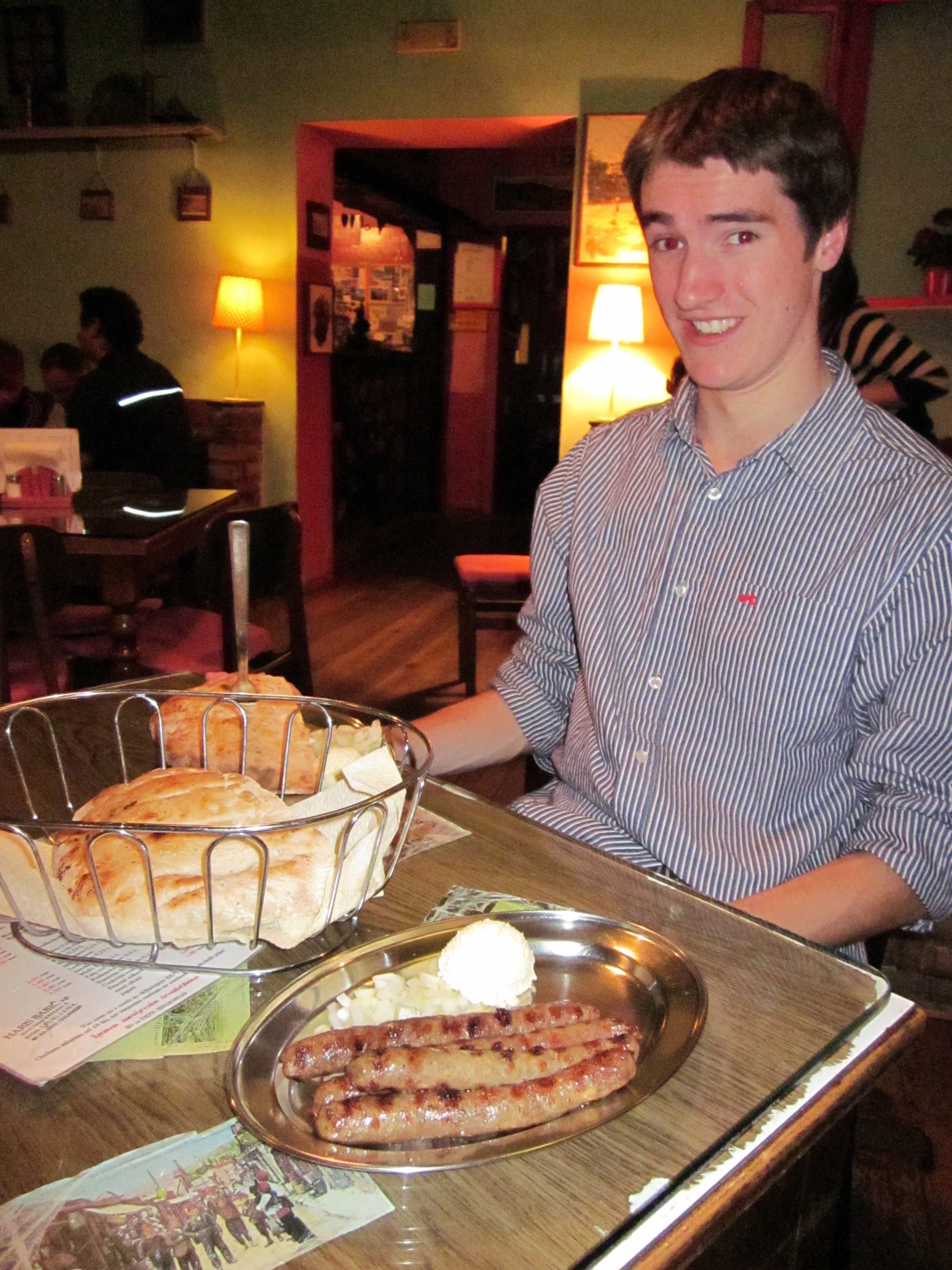 We had a great laugh at our neighbouring table (who were British and also had a copy of LP, everyone else was local) because after a few glasses of wine she accidentally ordered a balaclava rather than baklava for pudding. They didn't find it quite as funny as Sara did, but thankfully didn't notice her giggles! We topped off the meal with some ice cream from the main square on the way back to our hotel.