After bidding a fond farewell to our little camper van in Christchurch, it was time to get back on the public transport bandwagon and start our return journey to the North Island. We spent an evening doing an inordinate amount of laundry and then woke up the next morning bright, early and extremely disoriented – it might not have been very comfortable, but our 12 nights in the camper had been by far the longest we've slept in the same bed since leaving London in August. Neither of us could work out where we were for quite some time! It was still dark outside and pouring with rain, but we had our priorities firmly in place so ventured out for one last visit to C1 Espresso to pick up lunch supplies for our bus journey. You can tell how much we liked it as we were banging on the door when they opened at 7am!
We then hopped on the bus and spent 6 hours travelling north to Picton. This was a little odd as a lot of the journey was retracing our steps from the previous day, including a long break in Kaikōura, from where we'd just come. As much as this felt like a waste of time (and carbon!), it was necessary because Christchurch was the furthest north we could drop off the camper unless we wanted to take it all the way to Auckland, another 1000 km north.
Until this point, the journey was going almost boringly smoothly, but the slightly rough ferry crossing to Wellington soon livened things up. I had the great pleasure of re-experiencing my lunch very publicly, and according to Oli, inadvertently set off a chain reaction where several other passengers joined in. Whoops! Despite my best efforts (and those of the very large waves), the chunder rate didn't get anywhere near our journey between mainland Vietnam and Côn Đảo, so that was something.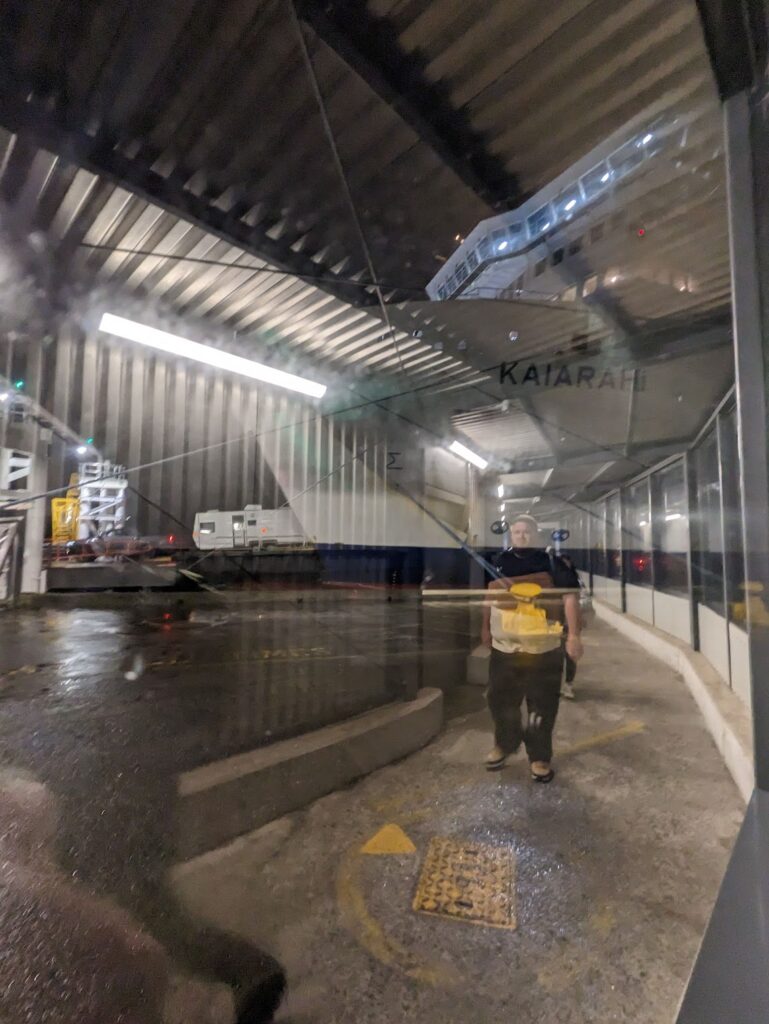 We'd already spent a sunny few days in Wellington so didn't plan to stay for long this time, but we did have to attend to a couple of pieces of unfinished business. The first was (predictably) food-related: our Italian correspondent Mario had given the Pizza Pomodoro menu his seal of approval when we were there together a few weeks ago but sadly they'd totally sold out that evening, so we needed to put this right. We happily gobbled a couple of Neapolitan pizzas and they were every bit as good as we'd hoped. No photos were taken as I was still recovering from my exploits earlier so ate dinner in my PJs in bed!
The second item of unfinished business was to go on a tour of the New Zealand Parliament. I'd read about this last time but the tours were all booked up during the school holidays, so I was happy to get a second try. True to form, as we walked there early the next morning, Oli announced that my beloved Swiss Army knife was still in his backpack. Thankfully the security staff were thoroughly nice (just like everyone we've met so far in NZ) and stored it for us while we were on the tour, but it'll still be a miracle if the penknife makes it through the year – it's now been temporarily confiscated at least five times!

I'm a big fan of NZ politics – both because they were the first country in the world to allow women to vote in 1893 and also because former Prime Minister Jacinda Ardern is a bit of a feminist icon, so I really enjoyed the tour, even if it felt a bit like our guide was making it up as she went along! Unfortunately we couldn't take photos, but we saw backstage in three of the buildings that make up Parliament, including the aptly-named Beehive (below left; and see below right for a pretty impressive 7000-matchstick model of it from 1981). The coolest part was seeing the debating chamber first hand, but it was also great to nose at old photographs on the walls, see the themed select committee rooms, and learn more about the political system. Did you know that NZ has a unicameral legislature, meaning there is no upper house?
That afternoon, we headed to the highly-rated Wellington Museum. This was a very well-executed version of our new favourite genre: the baffling local museum. A whole floor was dedicated to travelling by sea, and in particular the perils of crossing the Cook Strait. One particularly memorable exhibit was entitled 160 years of Cook Strait Shipwrecks, and I was very glad we'd got the crossing out of the way the day before.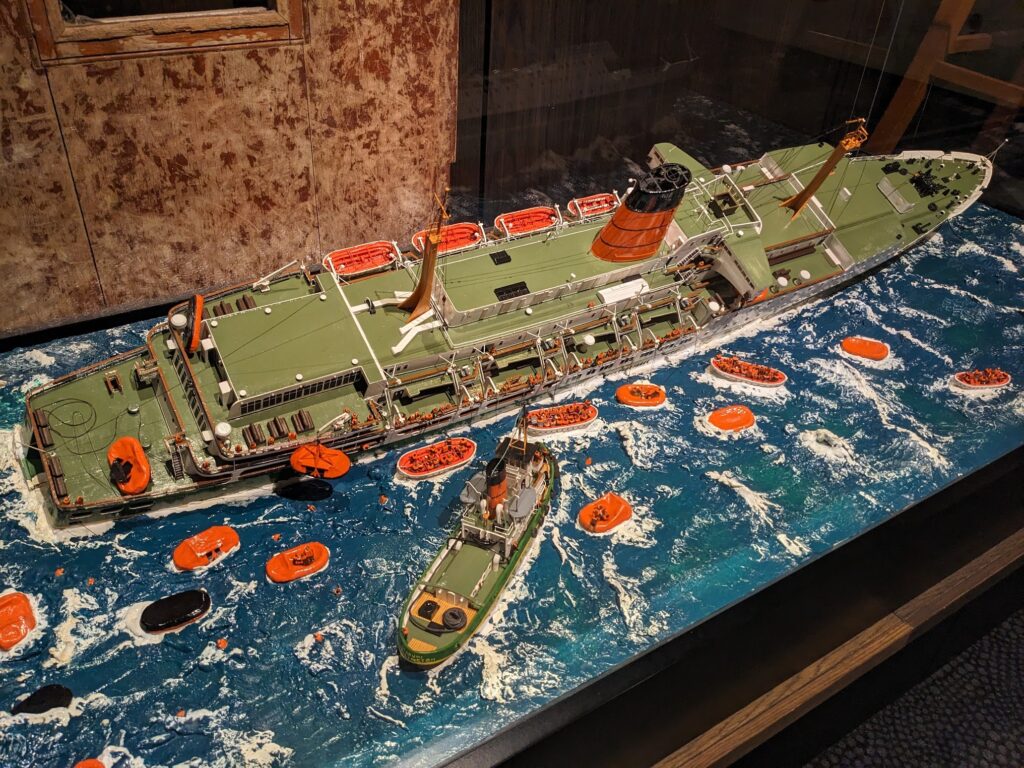 Most of it was much more lighthearted, though. In a very small space, they managed to cover UFO sightings, local television studios, a stuffed lion named Rusty, memoirs of US soldiers stationed in NZ, and much, much more. But probably the best bit was the section covering Saatchi & Saatchi's Absolutely Positively Wellington campaign from 1991, which became a bit of a modern classic. I'll just leave this here…
That concluded our time in the Wellington, and after a great second visit, we continued our journey north to the Art Deco capital of the world, Napier.