We arrived in sunny Napier by coach from Wellington, and started to make our way towards our apartment on foot.
It's always a bad sign when the map resembles one of those curly mazes on the back of a cereal box, with none of the roads leading in the direction we wanted to go. The shortest route took us through Tiffen Park, which sounded lovely until we realised this was more like scaling a cliff face than a walk in the park. Then our route took us downhill again. And then up again. And a couple more ups and downs as we got lost explored the Bluff Hill neighbourhood thoroughly. We were exhausted by the time we arrived at our apartment!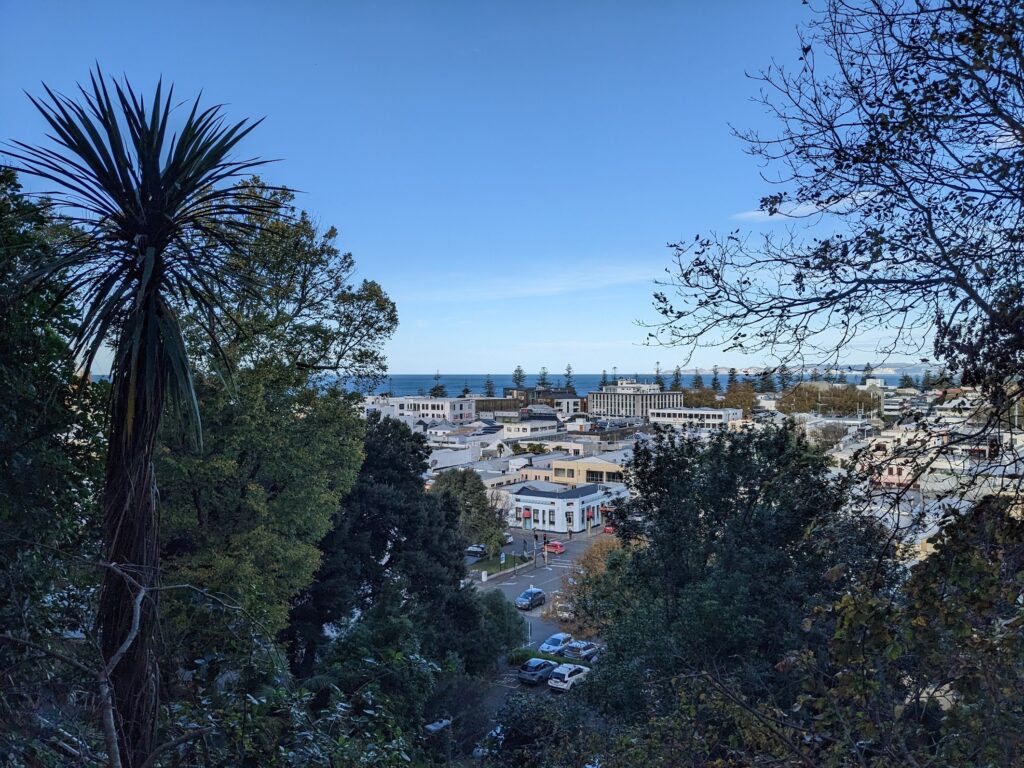 Napier is pretty unique in its consistent Art Deco style, having been almost entirely rebuilt following a devastating earthquake and resulting fire that hit the city in 1931. Instead of relocating, Napier's residents chose to stay, and instead of recreating the past, they took the opportunity to embrace modernity. The city was rebuilt in just a few short years, and was briefly known as the world's most modern city as a result. Walking around Napier felt like we'd time-travelled back to the 1930s, only with modern businesses inhabiting the tastefully restored buildings. After a slightly disappointing trip to Ranfurly (another town known for its Art Deco architecture) while cycling the Otago Central Rail Trail, we didn't have particularly high hopes for Napier, but this time there were beautiful examples everywhere we turned. Our walking tour alone had over 70 stops on it, and this was just scratching the surface!
The vast majority of shopfronts were decorated in bright colours with graphical motifs, bold columns and often carried the name of the original business owner just below the roof. We diligently followed our self-guided walking tour around the city, and learned that many of the buildings had taken inspiration from Frank Lloyd Wright, a highly successful American architect, which explained why the city seemed to have a slightly American twist.
That afternoon, we hired a tandem with a plan to cycle around the peninsula to the suburb of Ahuriri to round off our architecture tour at its star building – the National Tobacco Company Building. Billed as "the region's Art Deco masterpiece", we were slightly underwhelmed at its rather rundown appearance. To be honest, our reaction might have been partly due to the fallout from our recent traversal of Ahuriri's one way system – I'd made a surprise emergency stop and unintentionally tipped Sara off the tandem and into a gutter while giving way, which irked her slightly for some reason. We later returned to Napier's seafront via a second trip to the gutter on the opposite side of the one way system, before ducking into an Irish pub to repair our relationship.
That evening, we headed out to Vinci's Pizza for dinner. The pizzeria is housed in a building with a beautiful wooden and glass frontage, very similar to the music shop next door (pictured below). Here we ordered a giant (18 inch) sourdough pizza, because we'd agreed that it's better to over-order and have leftovers than under-order and be hungry. Still, you can probably see where this is going, and obviously we rose to the challenge and finished the whole thing. So full were we that we nearly didn't make it back up Bluff Hill to our apartment.
The following morning, we woke to stunning sunshine and the sound of birds singing in the trees outside. One of the neighbourhood cats promptly arrived at our door, pleading to be let in so she could join us for breakfast. We totally would have let her in if we hadn't had specific instructions NOT TO ALLOW THE CAT IN UNDER ANY CIRCUMSTANCES. Where's the fun in that?!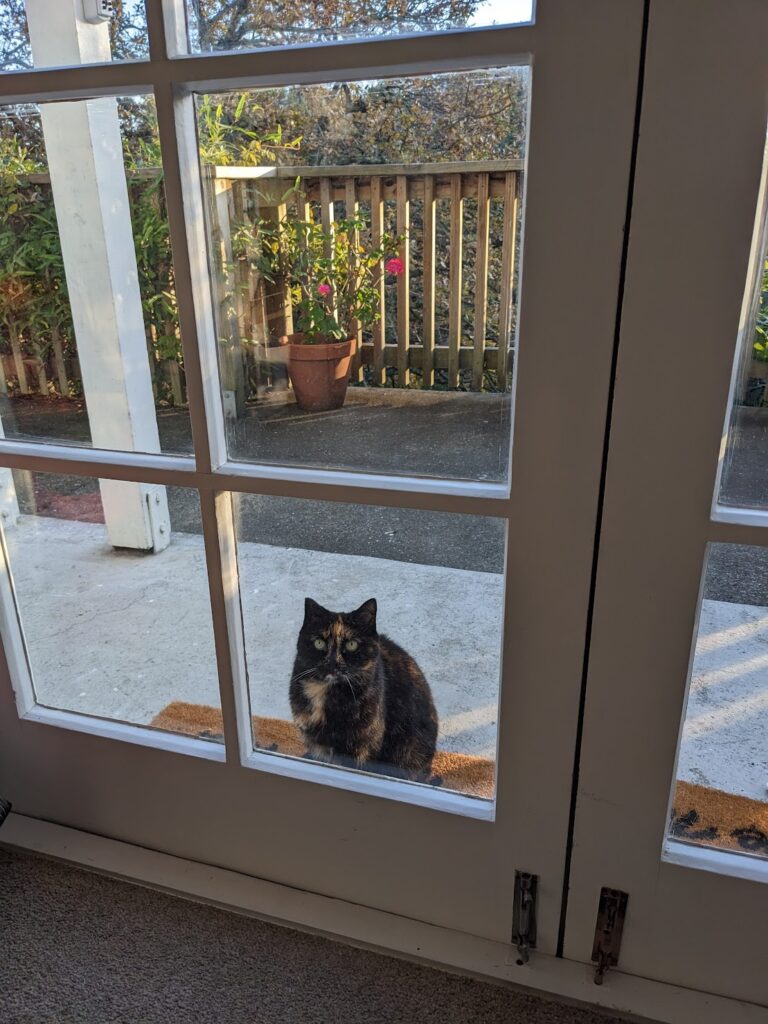 With some time to kill before our onward bus to the geothermal hotspot of Rotorua, we spent the morning enjoying the sunshine in the elegantly named Clive Square. This was a charming place to spend time, especially with musical backing from the park's Carillon (musical bells), which played four tunes twice an hour. Apparently the melodies change regularly, and feature a mix of nursery rhymes, seasonal tunes and popular songs.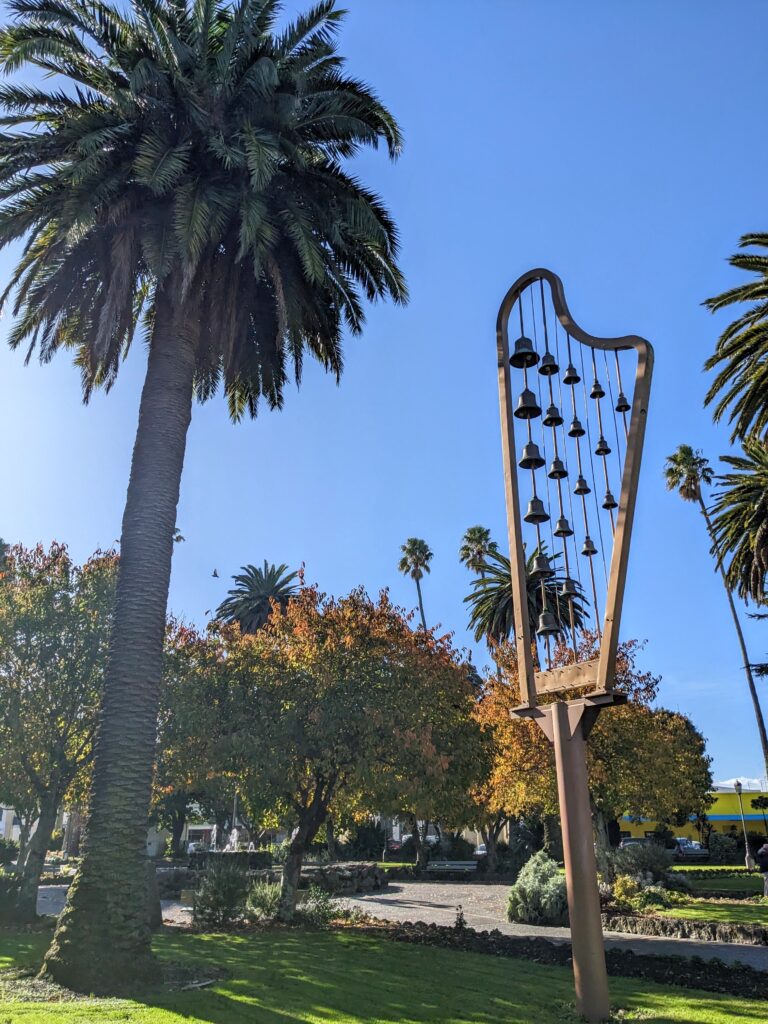 At midday we boarded our bus towards Rotorua. As we exited Napier, we saw first hand the damage and destruction left by floods that hit the region in February 2023 after Cyclone Gabrielle. Whole vineyards had been destroyed, buildings had been gutted, railway banks had been washed away, leaving rails and sleepers suspended in mid-air, hundreds of trees had been relocated, and huge piles of silt had been deposited downstream. While the state of emergency has ended, it was clear that the repair effort was still very much underway. It was shocking to see the level of damage, but if the 1931 earthquake response is anything to go by, the region will come back even stronger than before and we're wishing them well.