From Amish Country, we drove 157 km east to reach the city of Pittsburgh in western Pennsylvania.
Like Minneapolis, Pittsburgh's "Rust Belt" status is worn with pride throughout the city. Its metalwork heritage is celebrated through the local "Steelers" football team, and some of the city's 446 (!) bridges have received a colourful facelift in recent years.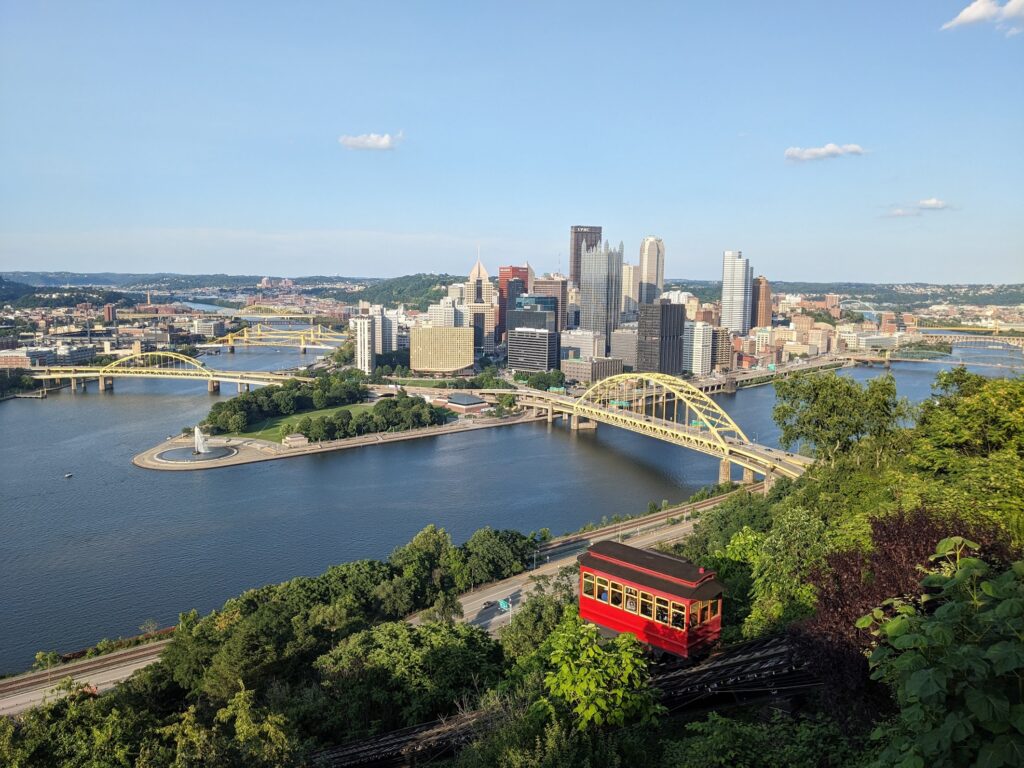 Our first stop was Pittsburgh University's Cathedral of Learning. Built in 1926, this creation is a bizarre combination of a 163 m tall skyscraper, a neo-gothic cathedral and a modern day university. The exterior and interior are such strong contrasts that it's hard to believe they're the same building at all.
The Cathedral of Learning also features 31 nationality rooms surrounding the neo-gothic main hall. Each room is themed after a particular nationality or culture at a specific time in history. These rooms are as functional as they are decorative, with many classroom features (such as blackboards or projectors) hidden within historical artefacts. I'd actually visited previously (on a conference in 2012) and thought the building was cool enough to bring Sara back for a second visit. I'm not sure what was better – the infectious enthusiasm of our tour guide this time, or the thrill of being given a large iron key and being left to my own devices on my last visit! Either way, the rooms were really interesting, with lots of hidden symbolism and cool craftsmanship.
The Armenian room, modelled after the Sanahin Monastery (which we spent a whole 7 minutes exploring when we visited Armenia)

The Swiss room

The Syria-Lebanon room

The Hungarian room
Just outside the Cathedral of Learning, we came across a statue of Dippy, the world-famous Diplodocus. I had no idea that the skeleton that used to be housed within London's Natural History Museum (currently in Coventry) is actually a cast of the original, which is on display inside Pittsburgh's Carnegie Museum of Natural History. I also love that the original skeleton, the cast, and this statue all share the same benevolent name of "Dippy" that was given in 1907 and has stood the test of time. Not at all confusing!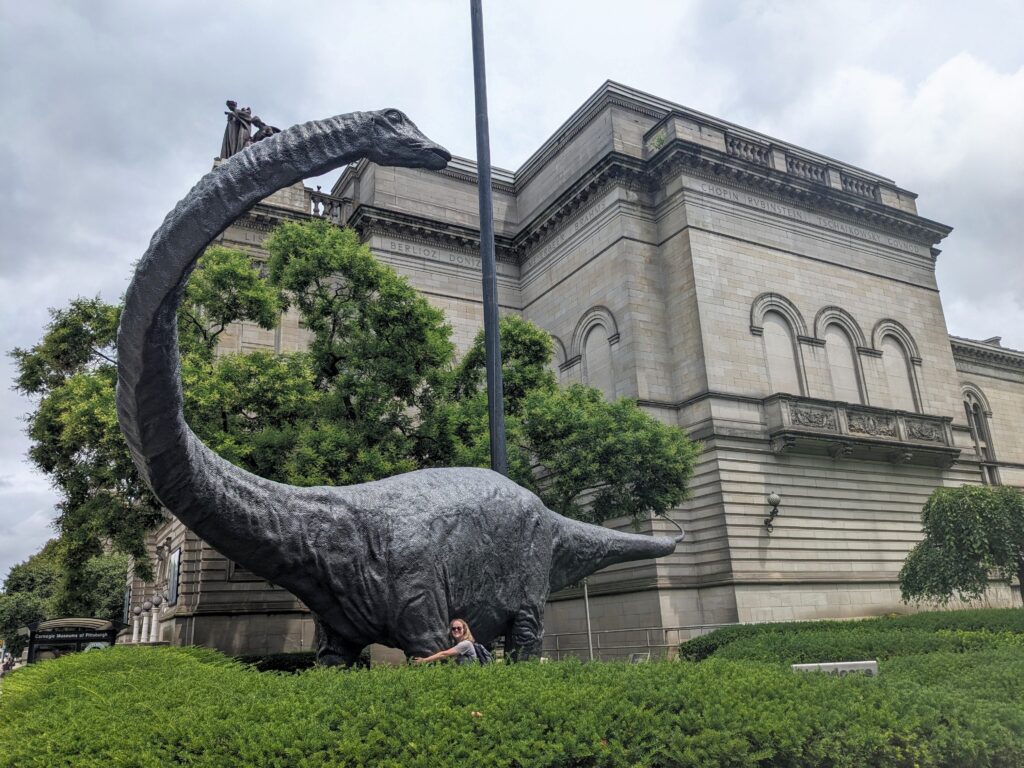 Just over 100 km southeast of Pittsburgh lies Fallingwater; arguably Frank Lloyd Wright's most famous building. Wright designed the building as a summer home for the Kaufmanns, a wealthy family from Pittsburgh and the owners of the Kaufmann's Department Store. Apparently, the construction cost went five times over budget, although this didn't seem to bother them very much. While a visit to Fallingwater had been high on Sara's list, I'm normally less of a fan of residential architecture. But I have to admit it didn't take long before I became pretty envious of the Kaufmann family's beautiful holiday home!
The building is named for its unique construction directly above a river, which literally flows right through the building. As a result, the sound of falling water can be heard throughout every room in the main building.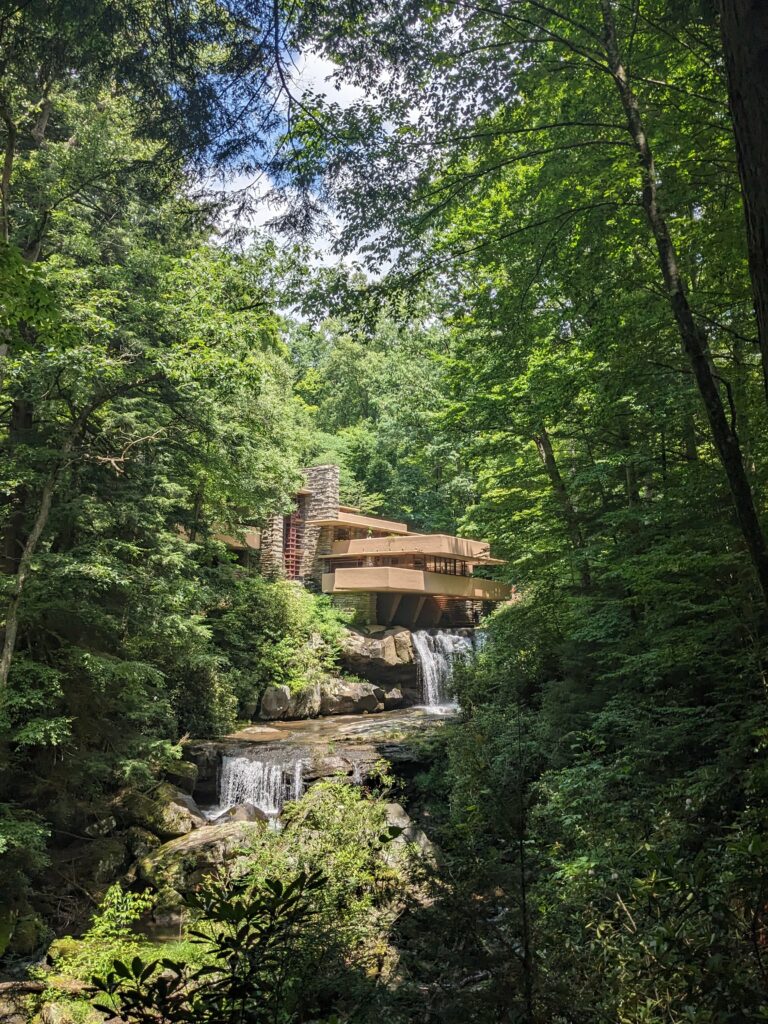 We were fortunate enough to visit on a beautifully sunny day, which felt like redemption after our total washout in Oak Park, Chicago. This made the sun terraces extra inviting, which was lucky as we learned they make up nearly half of the building's total square footage!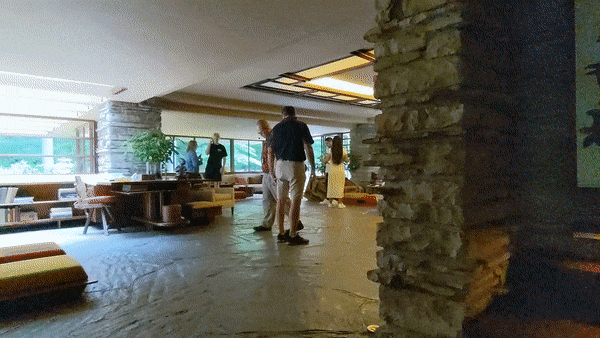 We left Fallingwater with a whole 40 minutes of contingency on top of the time needed to drive back to Pittsburgh to return our hire car. However, this time rapidly evaporated when we got stuck behind a slow-moving dumper-truck, hit two sets of roadworks, were slowed by general rush hour traffic, stopped for fuel, and took an unintentional detour across the Allegheny River on our final approach to the rental centre. In the end, we screeched into the car park with a whole 10 minutes left on the clock, and we were very relieved to hand over the keys just before they closed for the day. Although in a generally unhelpful location, the rental centre did happen to be just down the road from the Church Brew Works – a 1902 church-come-brewery, which quickly washed away our hire car stresses.
With the weather still on our side, we spent the rest of the evening on Mt Washington overlooking Pittsburgh's downtown.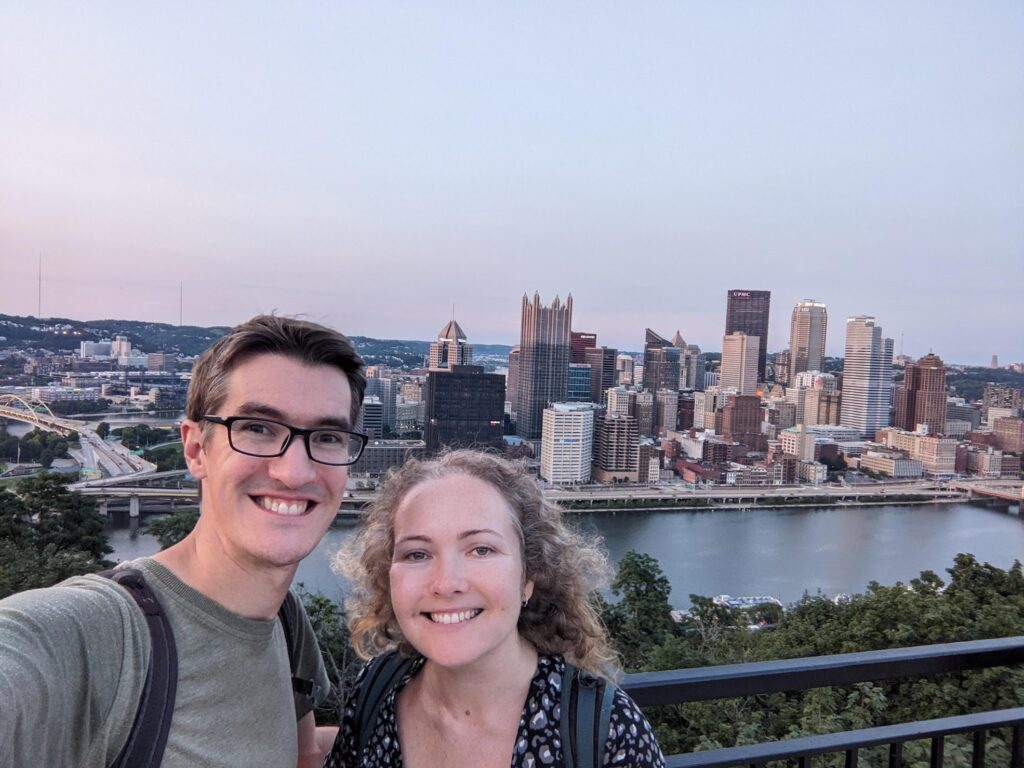 Fortunately for us, the mountain is easily navigated by the Duquesne and Monongahela historic funicular railways, which traverse the incline in a matter of minutes. The former even hosts a museum at its top station where you can see the original hoisting equipment in action as the car runs up and down.
Watching the sun set and the sky turn pinky-blue behind the downtown skyline felt like a fitting end to our final evening in Pittsburgh. Next, we hopped back on an Amtrak train one last time, bound for Philadelphia, the "birthplace of America".