We began our time in Rotorua with a casual stroll around the town and along the lakeside. At first glance, it's just your average NZ town, until you start to notice the little pools of bubbling mud and steam rising from all over the place. And then, of course, there's the pungent, eggy smell of sulphur that lingers in pockets, catching you out when you least expect it. That's because Rotorua sits within the Taupō volcanic zone, which is an incredibly active geothermal area. Even the picturesque Lake Rotorua, on which the town sits and which looks very benign, is actually a volcanic caldera!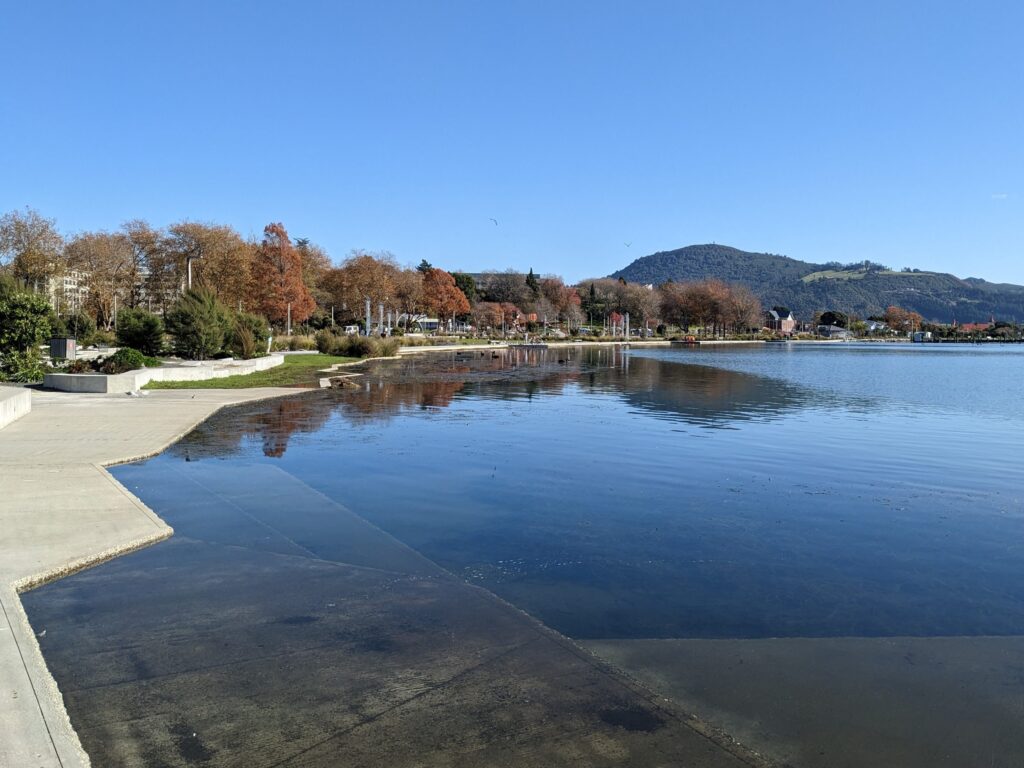 A walk through Government Gardens made for a pretty interesting combination of Māori heritage, European-style park landscaping and wild nature, but this was really just the beginning of the geothermal activity we would see.
Later in the day, we wandered through Kuirau Park, which had free foot spas that made use of the hot spring water, and more geothermal curiosities, including smoking piles of rock, bubbling pools of mud and a whole steaming lake. Again, though, this was just a warm up for what was to come tomorrow.
For the afternoon, we switched tack to see the other side of what Rotorua had to offer. Much like Queenstown on the South Island, Rotorua specialises in outdoor adrenaline activities, with a gondola to whisk visitors up Mount Ngongotaha to take part in things like mountain biking, ziplining and a 150 km/h sky swing. Seeing as we'd missed out on both the gondola and the luge track in Queenstown, we thought it was about time to put this right.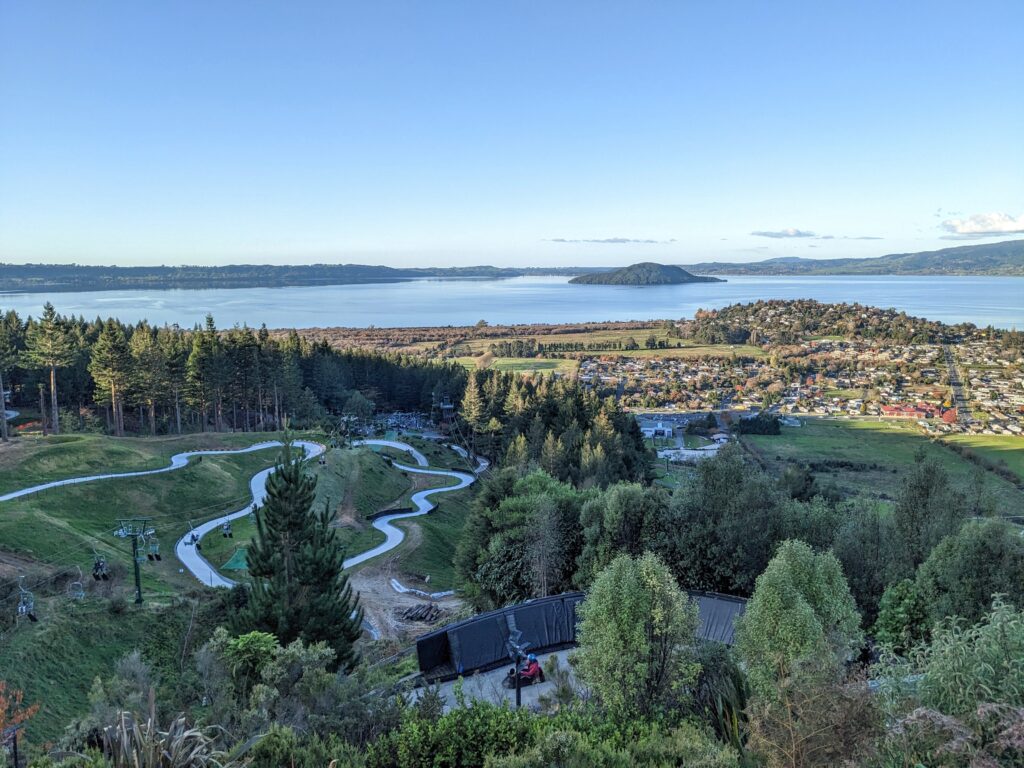 I made sure to get my money's worth by going down the luge SO slowly that at one point Oli had to stop entirely to wait for me to catch up. Safety first!
To be honest, the biggest adrenaline rush probably came from our bus journey back into town, when we were picked up by an incredibly enthusiastic driver who wouldn't accept our bus fare (we're still not sure it was actually a public bus) and spent the entire journey frantically giving us emphatic recommendations for the local area while maintaining eye contact in the rear-view mirror and not looking at the road at all. The whole thing was both alarming and heartwarming, such was his level of enthusiasm. He even left his engine running in the middle of a busy road and hopped off the bus to point us in the direction of the Thursday night market, which was our next stop.
Here, we joined the longest queue we could find (always a good sign) and shared some of the locally-famous Johney's dumplings as well as a satisfyingly spicy portion of channa masala and rice, all while enjoying some live music from the two-piece band.
The following day, we started bright and early with an attempt to visit the Waiotapu Thermal Wonderland 30 km south of town using only public transport and our own steam. We'd read online that this was just about possible, as long as we were prepared to do quite a bit of road walking and spend all day there to fit with bus times. A long day and the possibility of getting stranded in the middle of nowhere? Sign us up!
Our first hurdle was to get into the geothermal area containing the Lady Knox geyser, since we'd read online that pedestrians weren't allowed to enter and we saw a huge sign saying the same. We thought that was a bit ridiculous and thankfully the person we spoke to at the visitor centre said it was fine, as long as we were VERY CAREFUL of the traffic while walking along the road. Well yes, we do know to avoid cars (of which there were very few) – we'd assumed it had more to do with the risk of falling into hidden ditches filled with boiling water!
Anyway, Lady Knox erupts every morning at 10.15am, which sounds impressive until you find out that one of the guides pours in organic soap powder and this sets it off. Exactly how this works is still a mystery, since their explanation was rather vague. But I have to say that seeing the occasional soapy bubble floating out of the erupting geyser did add a bit of comedy to the proceedings.
After this somewhat odd spectacle, we spent most of the rest of the day on the walking trails exploring the various geothermal features around Waiotapu. We saw a series of craters, some 15 m across and up to 20 m deep, formed after acidic steam rose from underground and eroded the ground until it caved in. At the bottom of one of the craters is a pool of boiling mud making a pretty ominous sound, which was recorded for use as Mordor sound effects in the Lord of the Rings films. In another crater, birds nest in holes in the walls, with the rising heat helping to incubate the eggs.
The whole area was hissing, bubbling and steaming, with hot waterfalls, unnatural-looking colours and strange deposits forming a landscape that looked unlike anywhere else we've ever been, and on a huge scale. It was quite an assault on the senses, but the indiginous population knew how to make the most of this environment, and used the heat for cooking and collected unrefined crude oil from the mud pools to burn in lanterns. We just did our best to stay on the paths and not get ourselves in hot water, which was tricky as I was trying to navigate using yesterday's map of the luge tracks and couldn't work out why nothing seemed to fit!
The star attraction is the Champagne Pool, the largest hot spring in NZ with a maximum depth of 62 m, which takes its name from the fizzing of carbon dioxide in the alkaline water. While it looked very appealing on a chilly day, the spring that feeds the pool is 230°C and the water contains such minerals as arsenic, thallium and mercury, so probably not brilliant for a dip…
Even more alarming was the lime-green colour of the Roto Karikitea, or Devil's Bath, which had a pH of 2 – roughly the same as lemon juice. I know it looks like I've filtered this picture, but it really was this bright! Fun fact: the canteen in our University Hall used to serve a cake that was just this shade of green. Funnily enough, we all called it radioactive cake.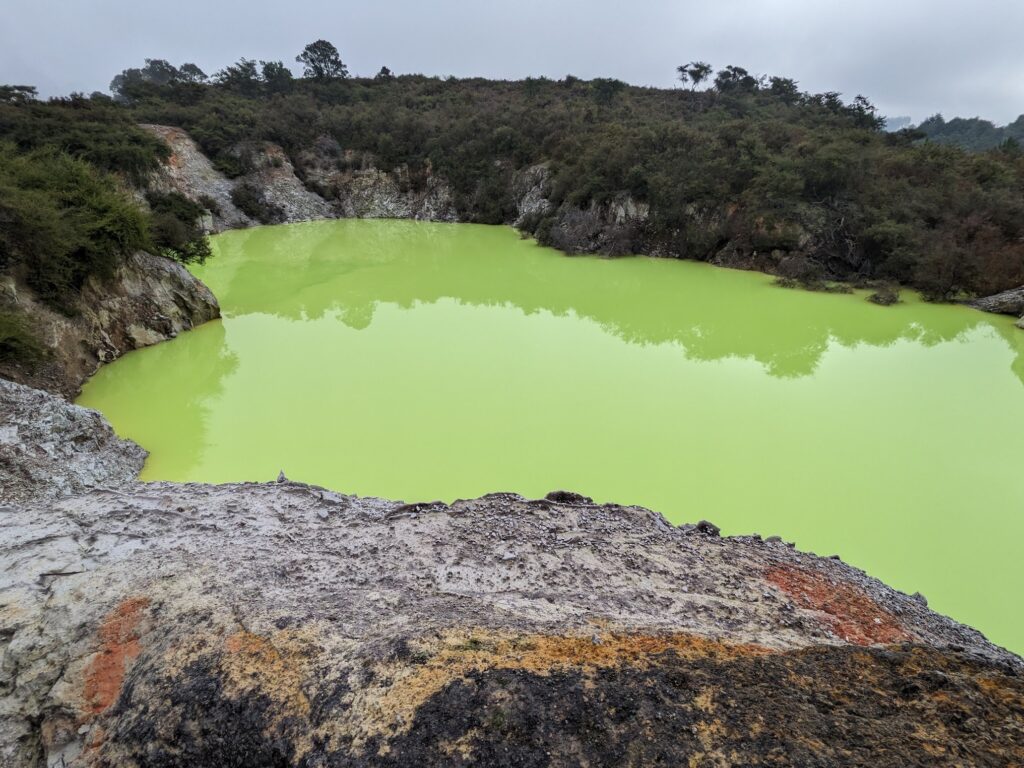 Our final stop before catching our return bus were the Waiotapu mud pools, which sat outside the Thermal Wonderland park and were free to visit. These were so mesmerising that we could barely tear ourselves away – it's difficult to explain why, but they made such satisfying blip blopping sounds and we got really into predicting which mini mud-volcano would erupt next. I know it's probably hard to believe from the gif below, but it was the best thing we saw all day!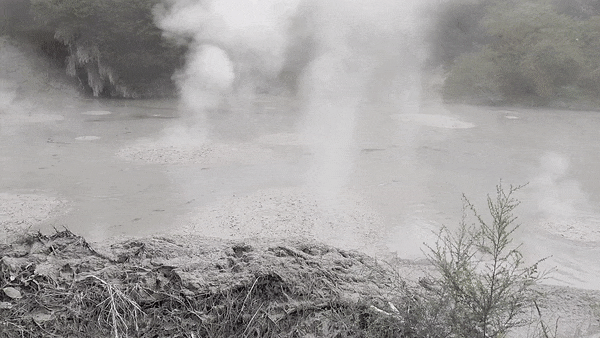 Finally, after a busy and baffling day of geothermal wonderment, we hopped onto the bus to take us back into Rotorua. Then, early the next morning, we set off back to Auckland to complete our figure-eight of NZ and return to where it all began, nearly two months ago.