We continued our journey south through Malaysia via coach to the capital, Kuala Lumpur. We then switched to a metro for the final few kilometres to our hotel.
Kuala Lumpur's skyline is dominated by the Petronas Towers, despite the towers being surpassed in height by two other buildings in Malaysia's capital (including the Merdeka 118 – the second tallest building in the world). Everywhere we went they seemed to loom over the rest of the cityscape, especially at night when they're spectacularly illuminated. Honestly, I think they have to be the most beautiful skyscrapers we've seen, and we just couldn't stop taking photos of them.
After thoroughly enjoying the miniature scenes in George Town's Wonder Food Museum, we felt drawn to Kuala Lumpur's MinNature Museum. This featured hugely detailed dioramas of typical Malaysian scenes, each of which were accompanied by beautifully colourful descriptions of the characters, what they'd been up to that day, what they do for a living, and their aspirations in life. We also enjoyed the larger models representing different cities across Malaysia, although this was mostly because they featured model trains which could by triggered by touching a sensor. I assume these were aimed at children, but there were no children in the museum and someone had to give the trains their big moment!
Fishing village scene featuring board games, children playing, and a restaurant

Town scene featuring lantern maker (left), restaurant (centre) and performance (right)

City of Ipoh at the foot of the Cameron Highlands, complete with moving trains (hence excited pointing)

Typical Malay kitchen – the more you look the more you see!
We'd read that Kuala Lumpur's shopping was a real highlight of the city, and while we didn't have much space in our luggage for new purchases, we did learn that shopping malls often come with speciality food courts. The Lot 10 shopping mall had dedicated three out of its seven floors to food; one Chinese (with quite the reputation), one Japanese, and one international. We ate Char Siew duck (Cantonese) and Char Koay Kak (Malay) at the Chinese food court, and Tonkotsu (bone broth) Ramen at the Japanese food court. In all cases, we were absolutely overwhelmed by the sheer number of specialist restaurants available in a shopping centre.
With full bellies, we spent one warm afternoon exploring the residential neighbourhood of Kampung Baru, an oasis of traditional Kuala Lumpur life from another era that is separated from the high-rise district by the Klang River and a busy motorway. This part of Kuala Lumpur is famous for its collection of traditional wooden houses surrounded on almost all sides by the skyscrapers. We loved this neighbourhood for two reasons; it was buzzing with life from the afternoon Ramadan markets, and it was also a cat hotspot.
We also took a trip to Petaling Street, located in the heart of Kuala Lumpur's Chinatown. While the main market largely sells clothes and phone accessories, we were here for the food (surprise!). Sara very trustingly followed me down a dark side alley as we attempted to find a set of street kitchens that we hoped were nearby. As always, our unconventional route became clear once we emerged onto Madras Lane from the opposite direction to all other punters.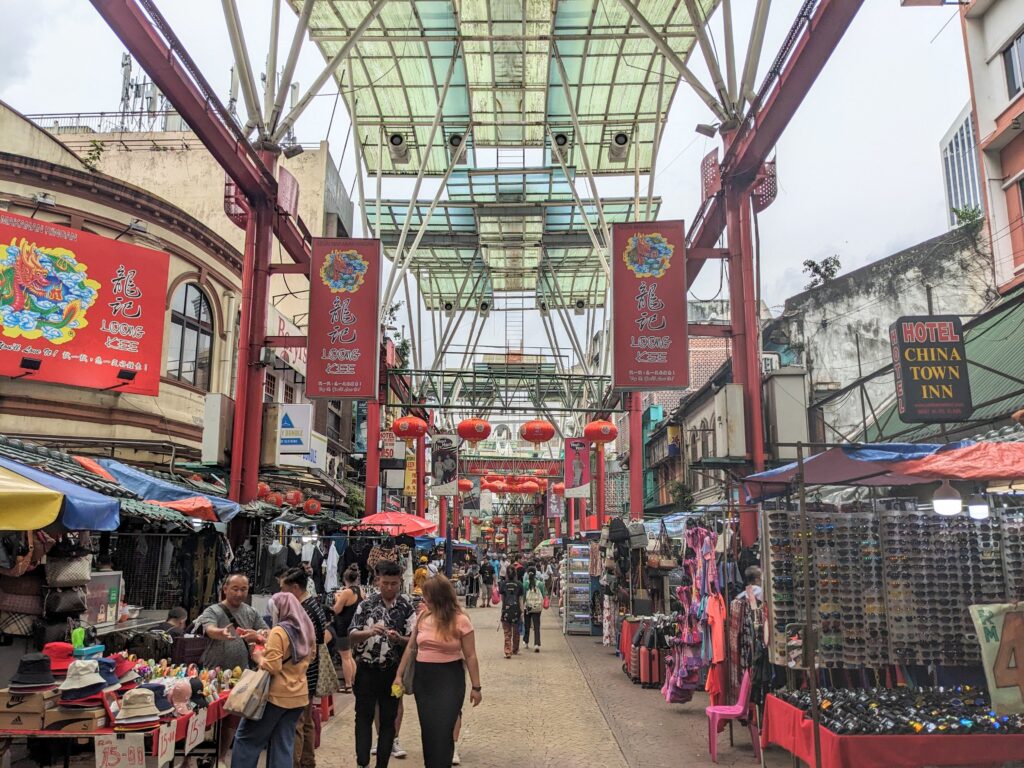 There were only a couple of vendors open when we visited, but one in particular was doing an absolutely roaring trade. This vendor was selling Yong Tau Foo, a Hakka Chinese dish consisting of either tofu filled with things, or things filled with tofu. We diligently joined the line and filled out our paper order slip, hedging our bets over many different types of tofu given that we really didn't know what each thing was. Our order arrived accompanied by tiny bags of soy and chilli sauce, which we decanted into little plastic dishes for dipping. The end product was good, if not life changing, and it actually tasted surprisingly familiar and unchallenging relative to our expectations when we arrived at the stall! As is pretty typical in Malaysia, there was no seating available at the food vendor, but they had an arrangement with a neighbouring drinks stall where we could sit in exchange for buying a couple of cans of coke. Deal!
---
Kuala Lumpur was our last stop in Malaysia, meaning that our time in Southeast Asia was quickly running out. The final leg of our journey took us south beyond the tip of the Malayan peninsula, to the city-state of Singapore.