We made only three stops during our 11-day stay in Cambodia. We started by paying a visit to the Royal Palace in Phnom Penh, before learning to cook Cambodia's national dish in Battambang, and finally spending three days exploring the ancient temples of Angkor by bicycle.
Carbon 🚆
Our travel across Cambodia emitted less carbon than any country we've visited since leaving London. This is primarily because Cambodia is a relatively compact country, so we travelled much less distance than than we did elsewhere. We also travelled 98% of the distance by train or coach, which helped keep our footprint small.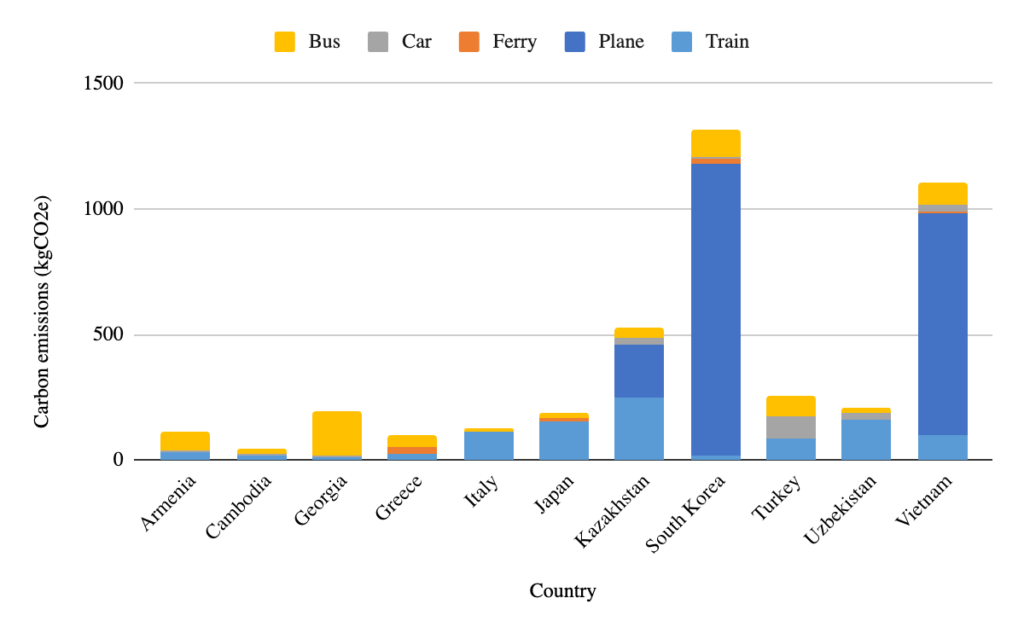 We wish we'd recorded from the beginning how far we'd travelled by bicycle – the kilometres are starting to add up!
Cost 💰
Cambodia was the second most affordable country we've visited, after Georgia. However, given our relatively short stay in Cambodia, the per-day cost of our visas was pretty high. The tickets to explore the temples of Angkor also seemed relatively expensive when compared to the very affordable food and accommodation costs.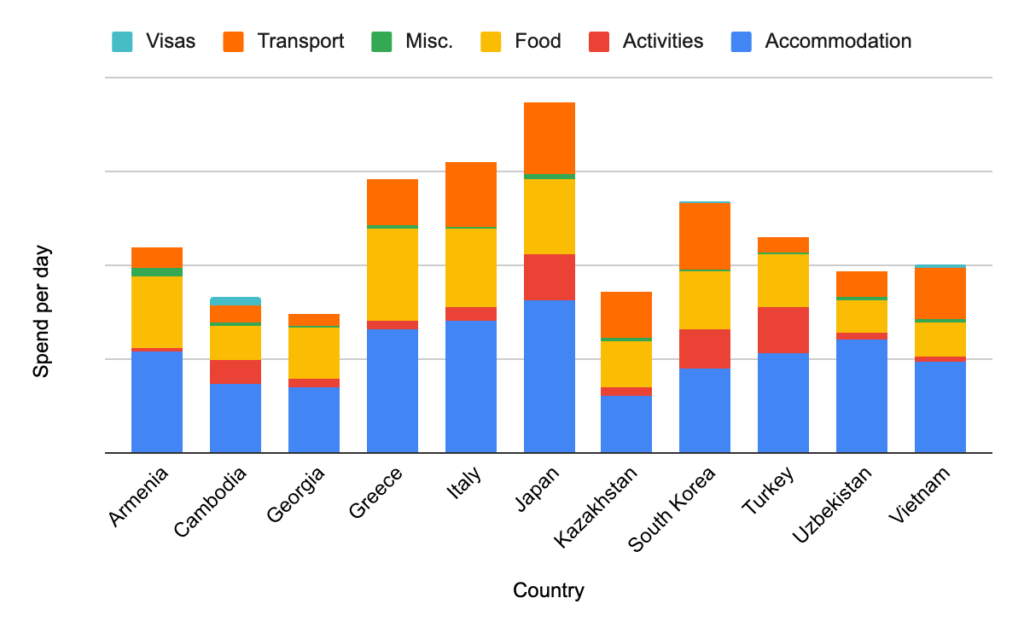 Cats 🐈
We were delighted to find that Khmer people love their cats. As a result, cats were plentiful across Cambodia, and the country has secured third place in the league table. It's been quite a while since any country has held a candle to Greece and Turkey's scores last summer, and we thoroughly enjoyed interrupting every other conversation with some casual cat spotting again.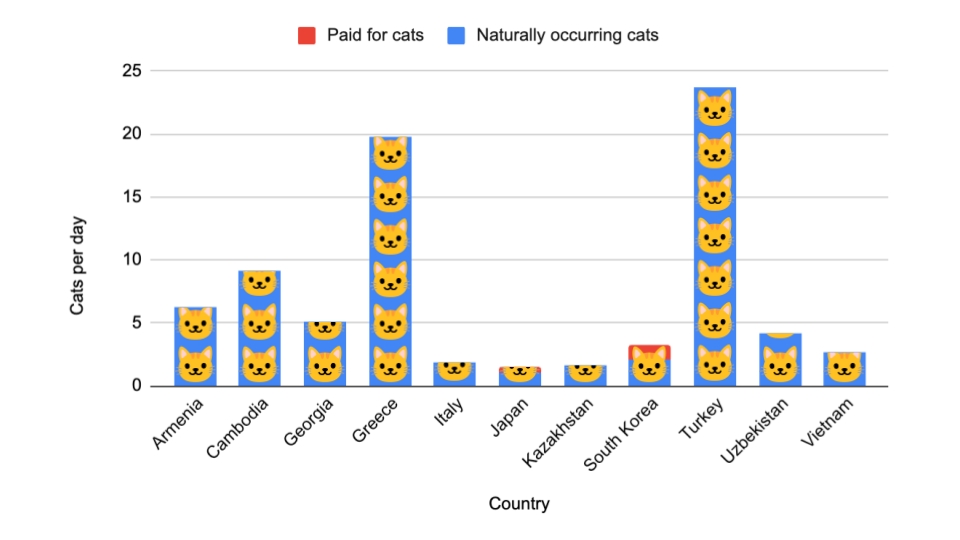 And of course there were a few stand out winners…
🏅Most effective hawkers
We made a number of purchases from this store above the market rate, but it was worth it to spend some time with these fourteen (!) cats. I asked the lady running the shop why they had quite so many cats – apparently they are all part of the same family, from grand-parents to grand-children. There were no signs of the cats during the day, but each night they came out to take the cool evening air. They were attracting a lot of attention!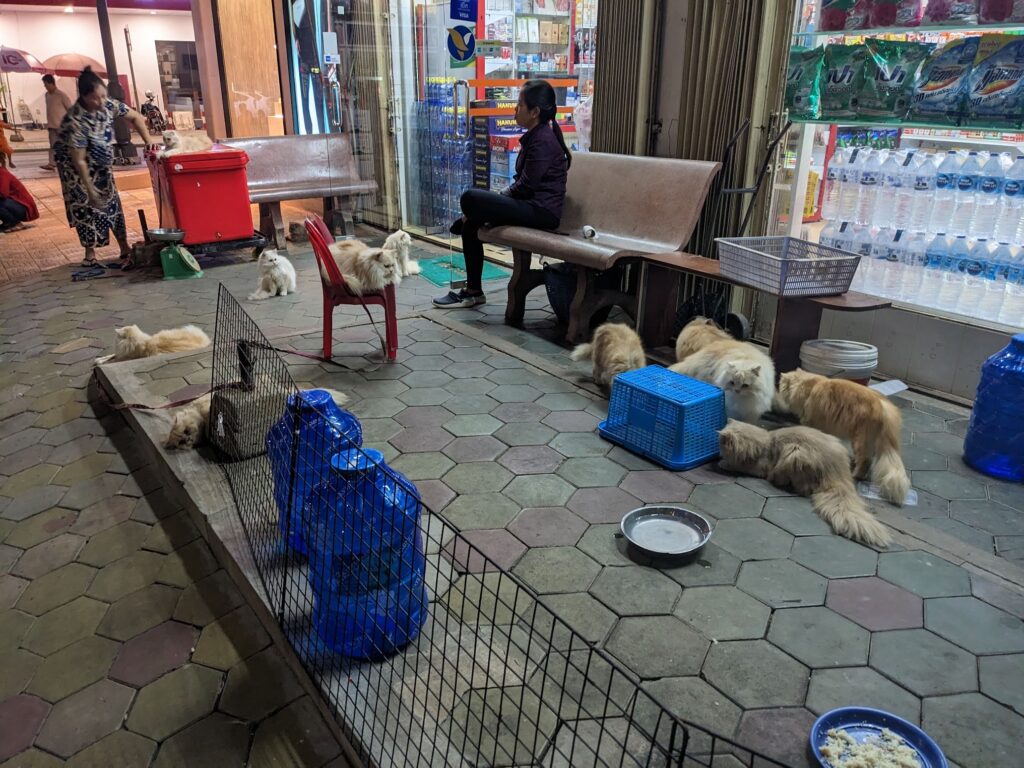 🏅Most photogenic cat
Who can blame this chap for cat-napping in the shade given the borderline-oppressive afternoon heat?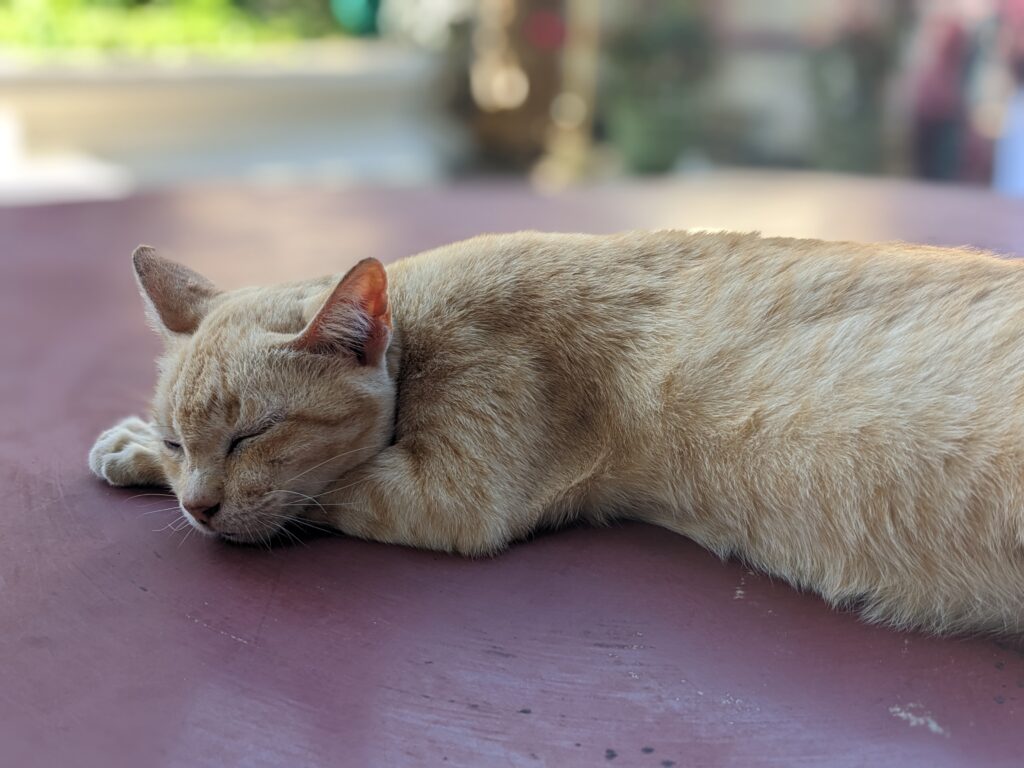 🏅Pest control employee of the month
We often accuse cats of living rent free in someone else's home, but this one seemed to be earning his keep as chief of pest control. Just look at the size of that rat!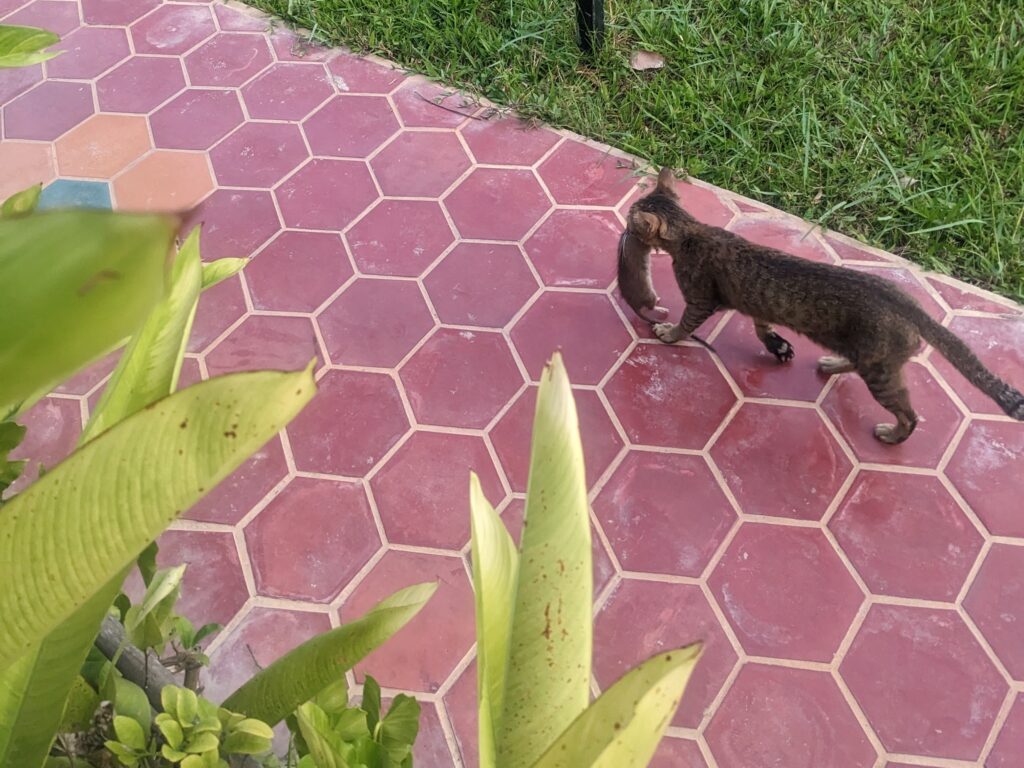 🏅Most casual temple monkey
Okay this one is obviously not a cat, but I always love how proficient monkeys are at stealing from tourists. I mean, why bother foraging from nature when humans walk right past your nose carrying more food than you could ever eat? The chap below had just looted someone's carrier bag for a bottle of water and had the cap off within seconds, before drinking from it just like a human would.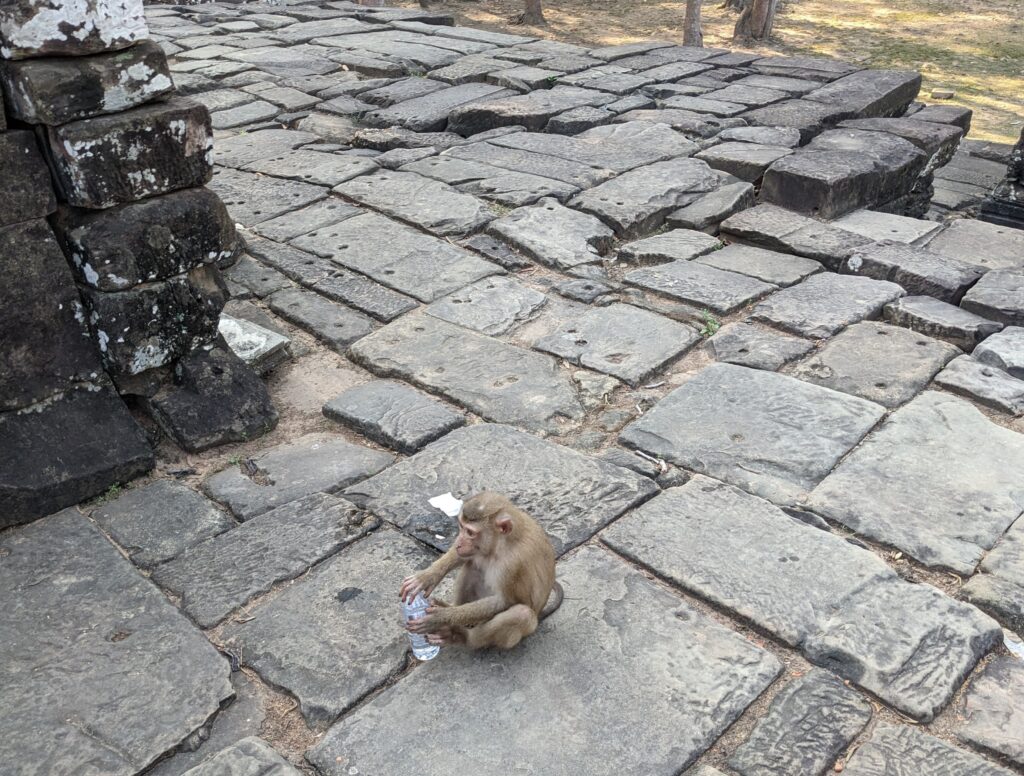 Culture 👨‍👩‍👧
💵 We were really surprised to discover the extent to which US Dollars and Cambodian Riel are used in combination – In many countries, it's normal for tourism-related activities to be priced in Dollars, but I've never been anywhere that used two currencies completely interchangeably. Even if a purchase was priced in Riel, it was perfectly legitimate to pay in Dollars (or vice versa) without even asking first, using the well-known exchange rate of 4,000 Riel to the Dollar. Dollars seemed slightly more common for larger purchases, while Riel were used for fractions of a Dollar. In fact, it was even possible to make payments and receive change using a mix of both currencies in a single transaction, providing us a great opportunity to practise our four-times-table at every purchase.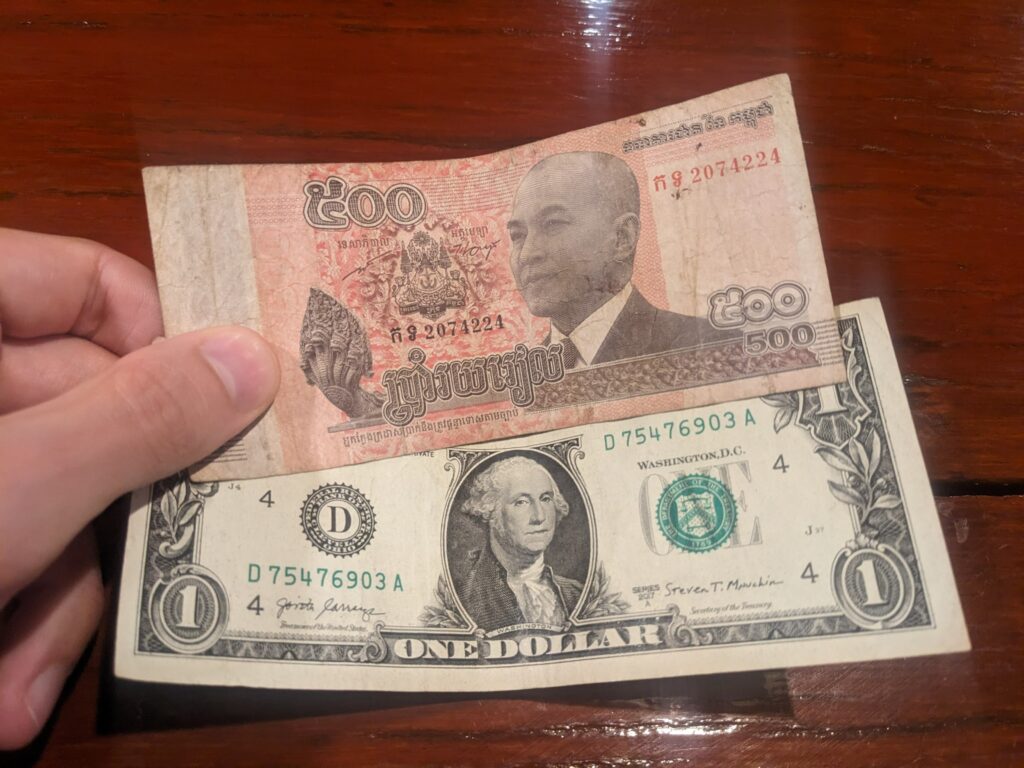 🚙 The wealth gap was on full display in Phnom Penh – There was a strange mix of vehicles on the roads of the capital, with brand new, white SUVs with blacked out windows at one extreme, and mopeds and ancient tuk-tuks at the other, and really not a lot in between.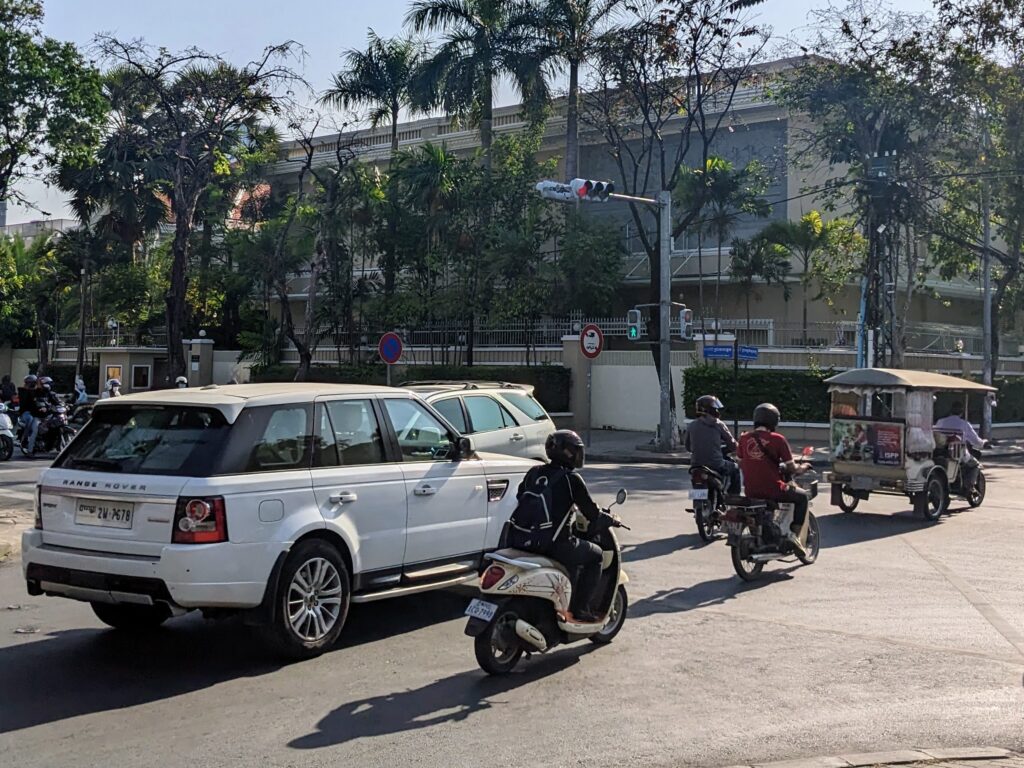 🧒 The Khmer are a friendly bunch – Everywhere we went (and particularly when cycling around Battambang), kids would smile, wave and shout a "Hello!" as we passed. But it wasn't even just young children – I remember a lady waving at me as our train departed an interim stop on its route to Battambang as if it were the Titanic leaving to cross an ocean. We loved it, even if our arms started to ache after a while from all the waving.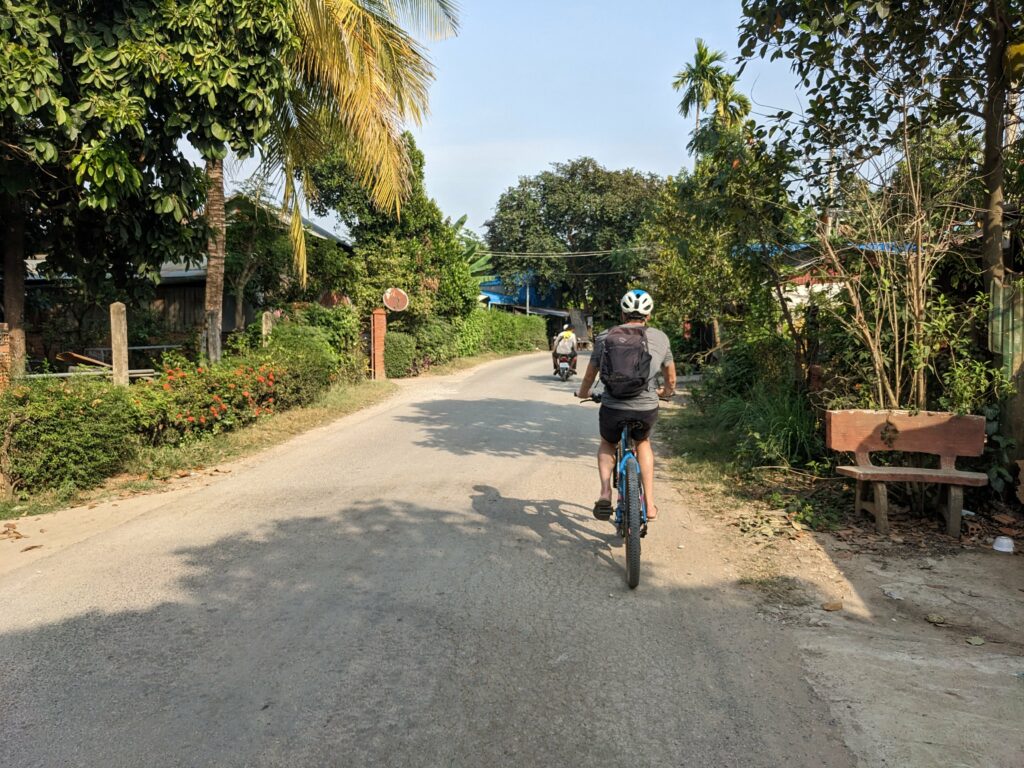 👑 We've never seen so much gold paint before – Thailand is probably a close second, but Cambodia surely must take the crown for the highest annual bill for gold paint of anywhere in the world! Everywhere we looked, there was something painted in a gaudy (but jolly) shade of gold.
🍚 Khmer cuisine was a beautiful fusion of familiar cuisines – We were interested to learn that many Cambodian dishes bore many similarities to their neighbours in Vietnam and Thailand. Maybe this shouldn't have been too surprising, given that the Khmer Empire covered large chunks of both of these countries for many centuries. Either way, we had a delicious 11 days!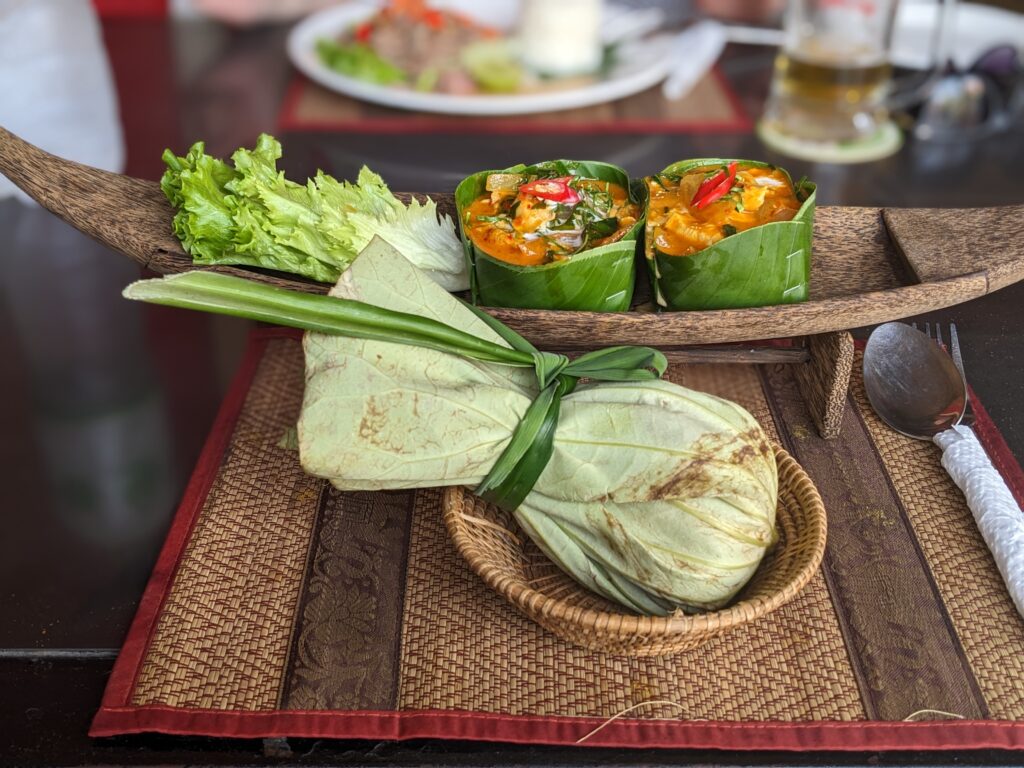 ---
Beyond Cambodia, our journey continued west into Thailand, home to some of the spiciest food in the world 🥵