The next stop on our Turkey itinerary was Ephesus, one of the largest and best preserved archeological sites of the Roman Empire. Most notably, it's home to the ruins of The Temple of Artemis, one of the Seven Wonders of the Ancient World. To afford this visit the time it deserved, we stayed in the nearby town of Selçuk for a couple of nights, in a beautiful small hotel with a pool chosen by Sara (the day we arrived was her birthday, after all!)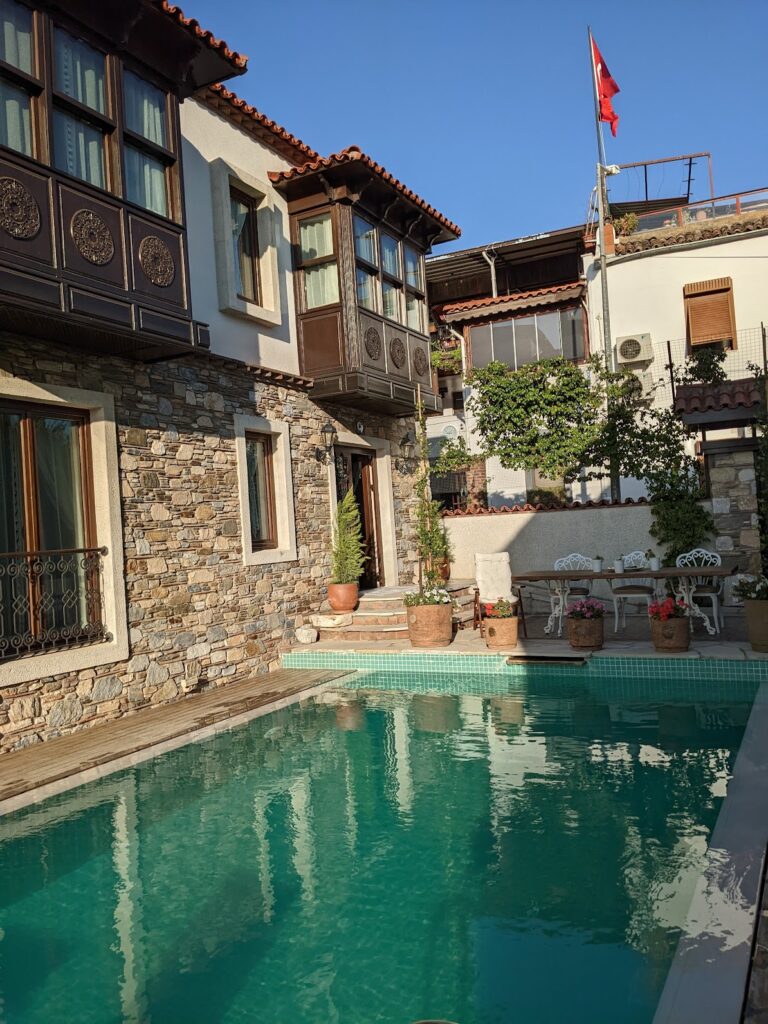 We hitched a lift with Sara's parents in their hire car for the 82km journey from Izmir to Selçuk. This was only our second and by far our longest car journey since leaving London, and emitted 54% more carbon per passenger relative to the four of us travelling by coach. Still, it was well worth it make the most of our time with Helen & Mick.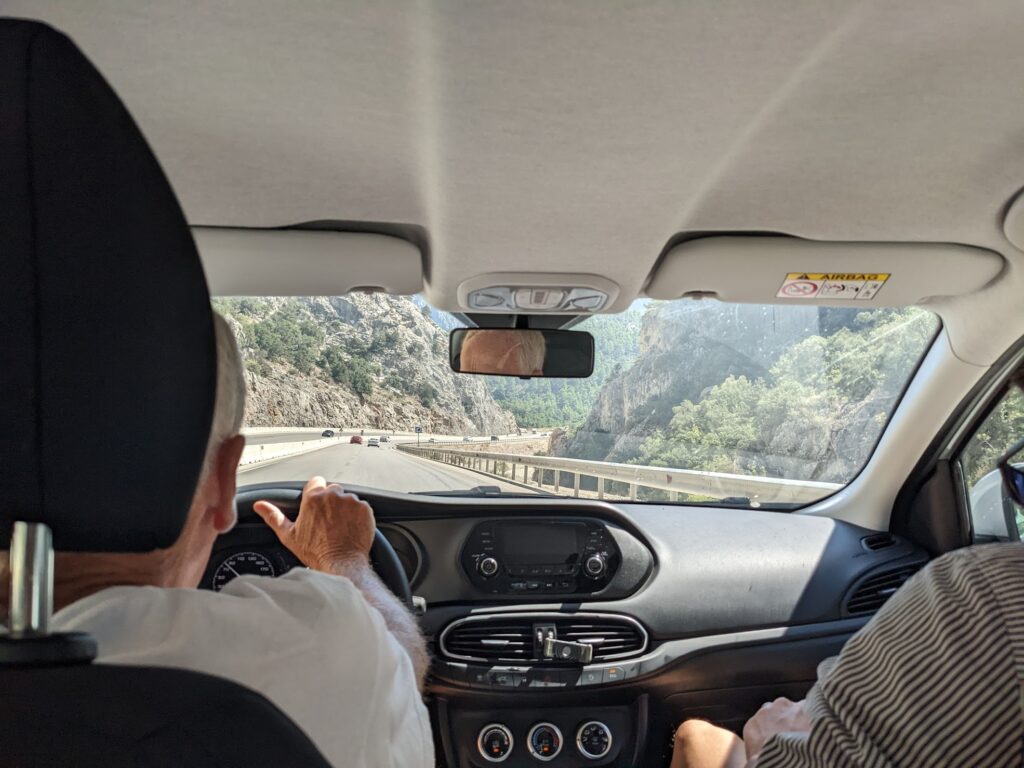 Selçuk is a lovely little town, founded in 6th century AD. It had just enough local cafes and restaurants to keep us exploring for a couple of days, yet it remained peaceful and was easy to traverse on foot. Its crowning jewel is the ruins of a 15m high Byzantine aquaduct right in the centre of town, built to carry fresh spring water to the surrounding area.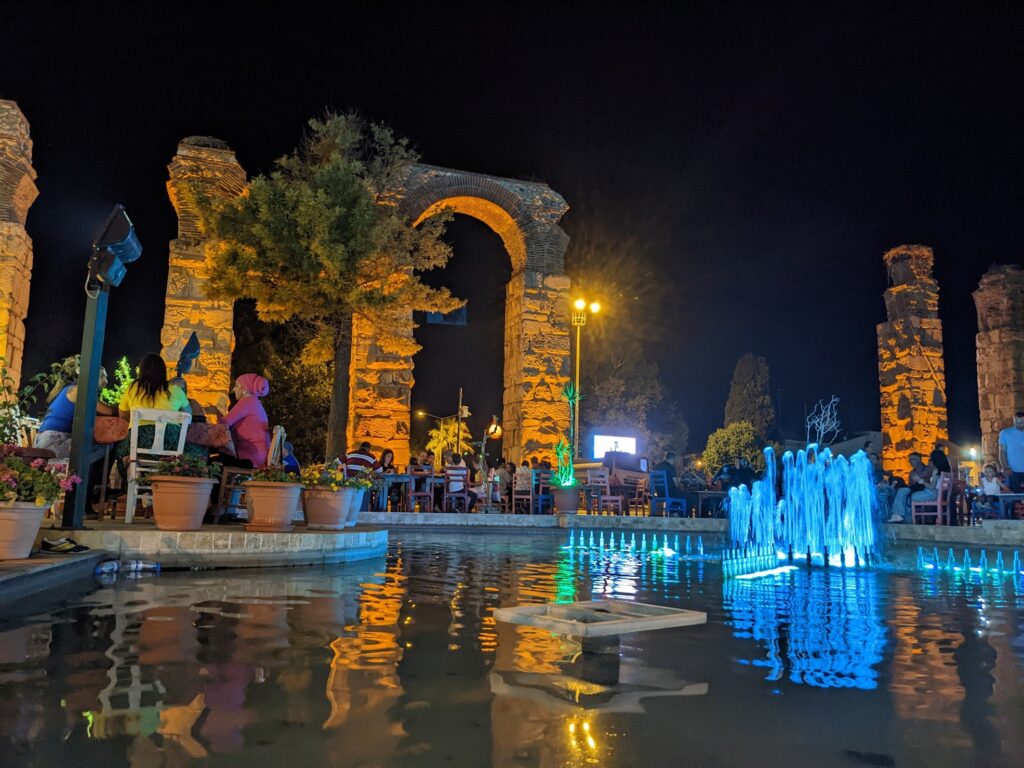 As soon as we arrived, we set up shop in Ejder Restaurant, where we ordered (amongst other things), a huge skewer of succulent grilled chicken. We watched as the owner worked the grill from our table beneath the aquaduct.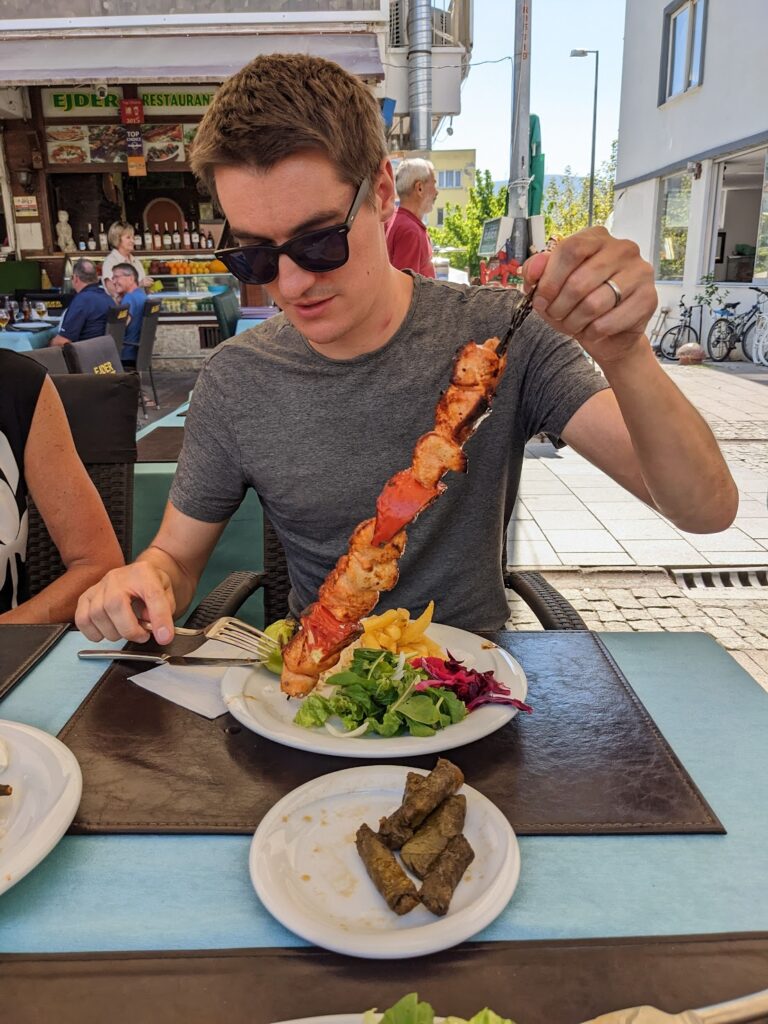 But the main reason we were in town was to visit Ephesus. Besides the ruins of The Temple of Artemis, Ephesus is also home to some magnificently restored buildings, such as the Library of Celsus and a 25,000 capacity theatre. Given that Roman theatres were typically built to hold 10% of the city's population, historians estimate that at its peak Ephesus was home to a quarter of a million Romans!
Although we didn't quite manage to beat the crowds, we did at least beat the heat of the day. We enjoyed learning about Ephesus' construction and downfall via Rick Steve's free audioguide, and wandering around the site wearing our noise cancelling headphones certainly made it easier to follow his instruction to imagine the other tourists wearing togas as the Romans would have done.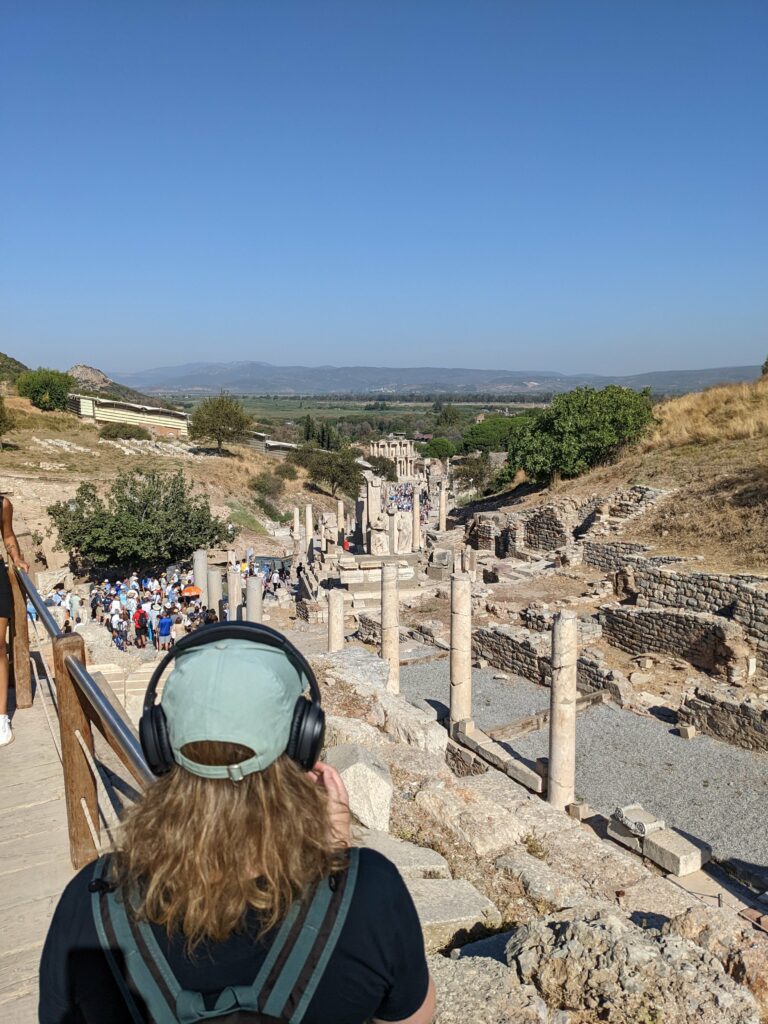 Our trip also featured a detour to a huge, covered section of terraced houses. These were clearly for the wealthier residents of Ephesus judging by their size and beautiful mosaics. As well as being a welcome escape from the heat, we had a front-row seat to the painstakingly-slow excavation and restoration process.
By this point the poolside bar was calling us, but we just about managed to squeeze in a trip to Ephesus' Archeological Museum, partly because it came very highly recommended, and partly because it was on the way to the bar.
With only two nights in Selçuk it felt like it was time to move on almost as soon as we'd arrived. However, we were excited to walk Pamukkale's travertine terraces, which are coming up in our next post.
---
Bonus blog post: thanks to a confusing conversation with Helen, we've just realised that no email notifications were sent when we posted Thasos without a car a couple of weeks ago. Enjoy!