After a peaceful few days in Selçuk, we hopped in Mum and Dad's hire car again to travel the 384km to Pamukkale. This small town hosts what is surely one of the weirdest sights in the whole of Turkey, and I couldn't wait! On the way, we passed through some really pretty villages filled with flowers and pomegranite-laden trees.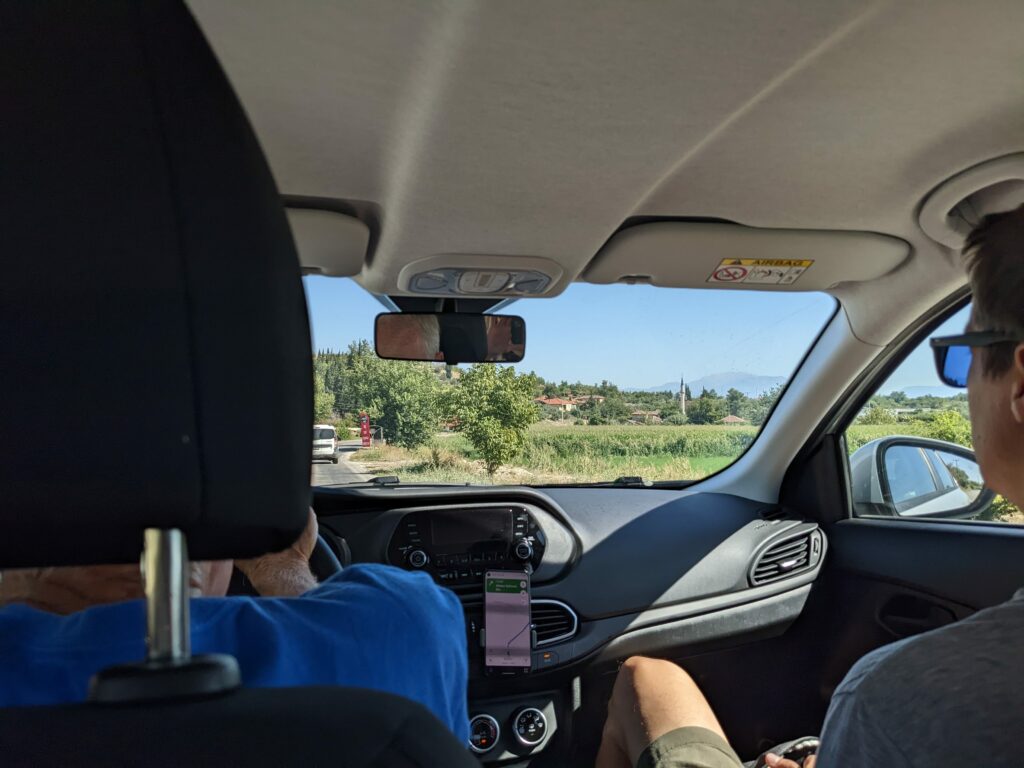 We first visited the ancient spa city of Hierapolis, which sits above the travertines that were the primary reason for our visit. Having spent several weeks in Greece and then having recently explored Ephesus, we were feeling a bit ruined for ruins, but Mum had developed a taste for seeing Roman theatres and this was supposed to be a great example. It was pretty spectacular – smaller but much steeper than at Ephesus, which added to an already dramatic setting with far-reaching views across the valley.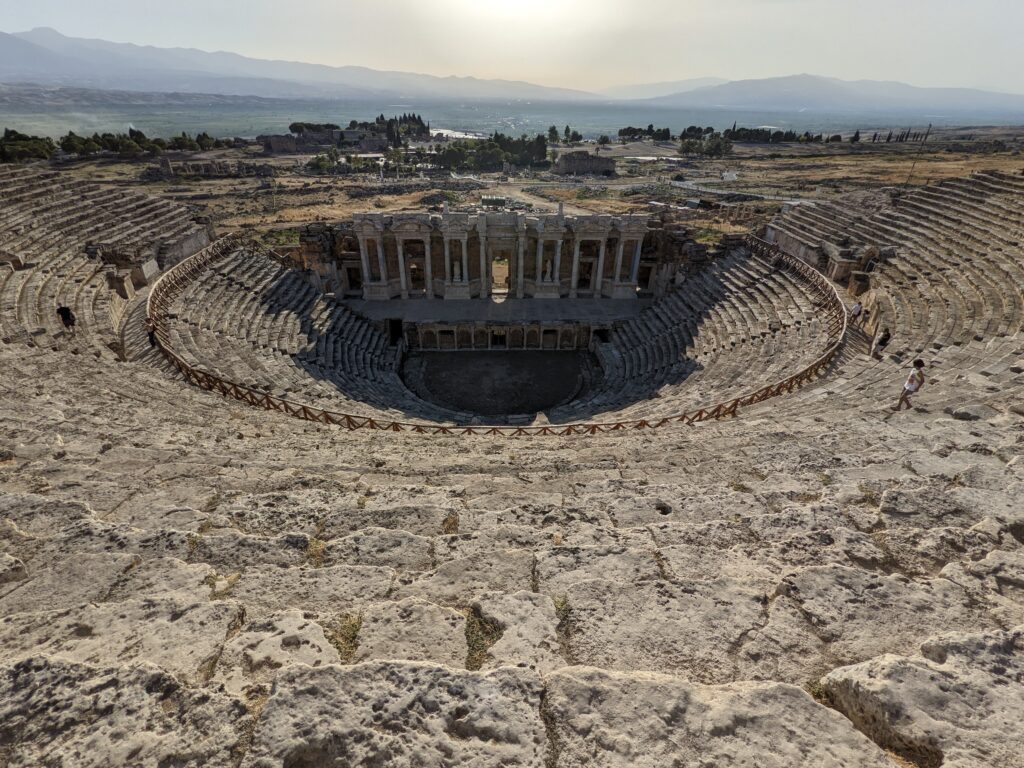 Next up was the main event – walking (and wallowing) down through the thermal terraced pools of Pamukkale, which translates as cotton castle.
As the mineral-filled water flows down the hill, it leaves deposits that build up to form terraces of travertine rock, which then hold shallow pools of the thermal waters. From some angles, the whole area looked like a slightly surreal, slushy ski slope.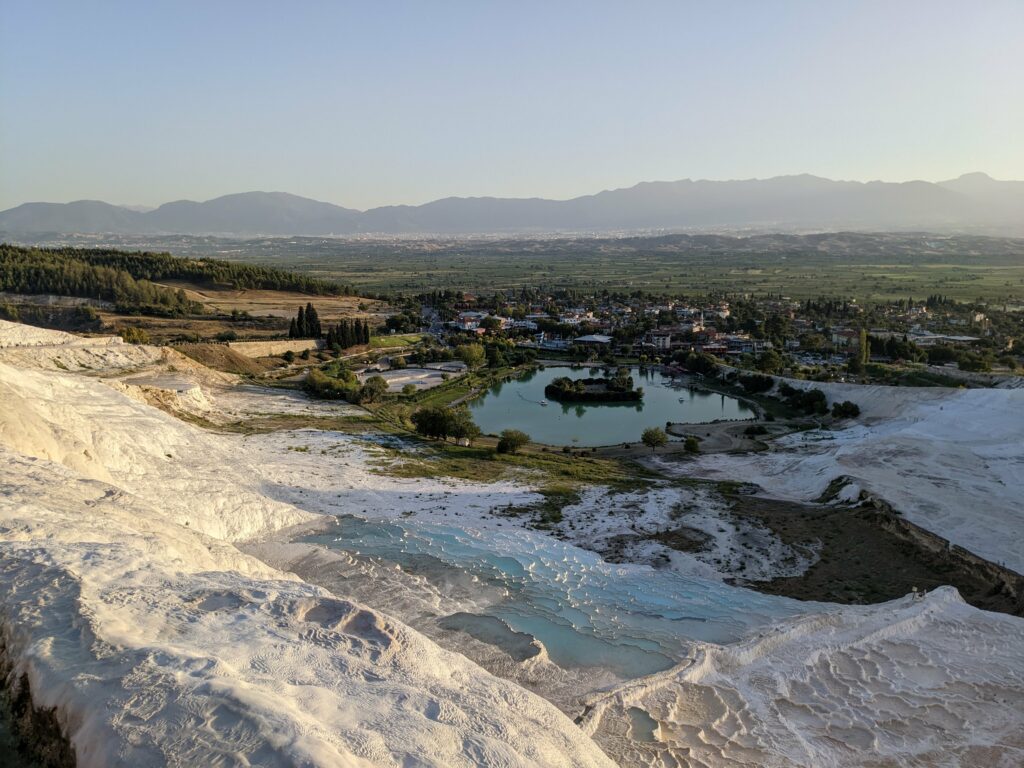 But from others, it was absolutely stunning and other-worldly.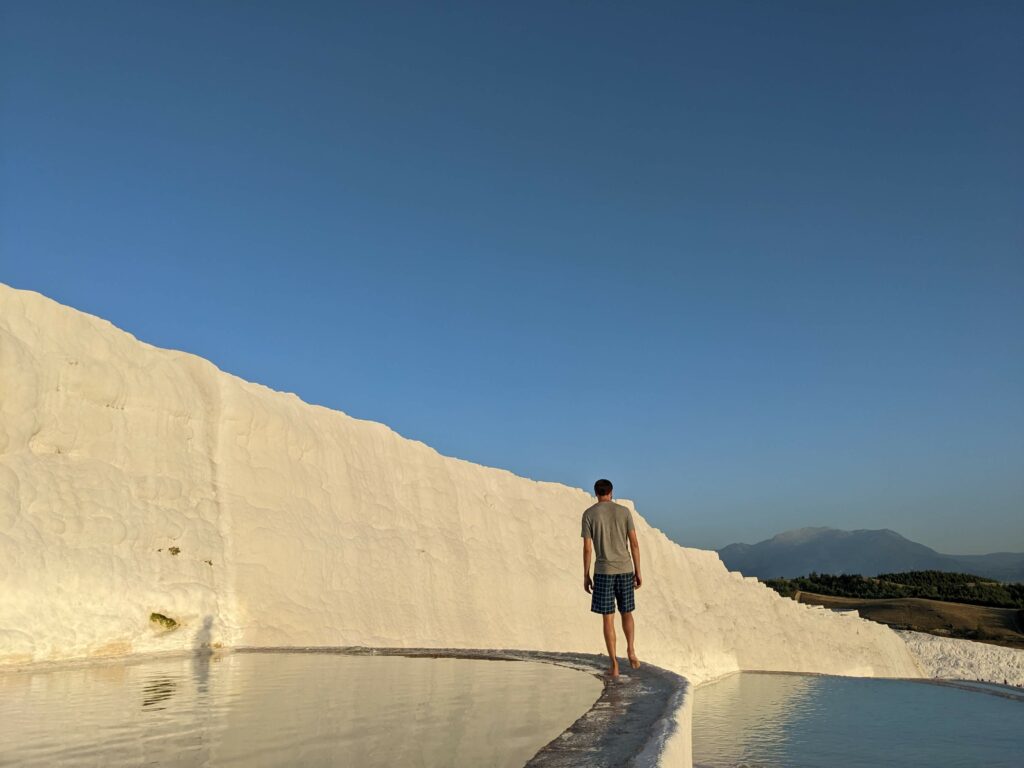 The pools weren't deep enough to swim in properly, but I did a good amount of wallowing.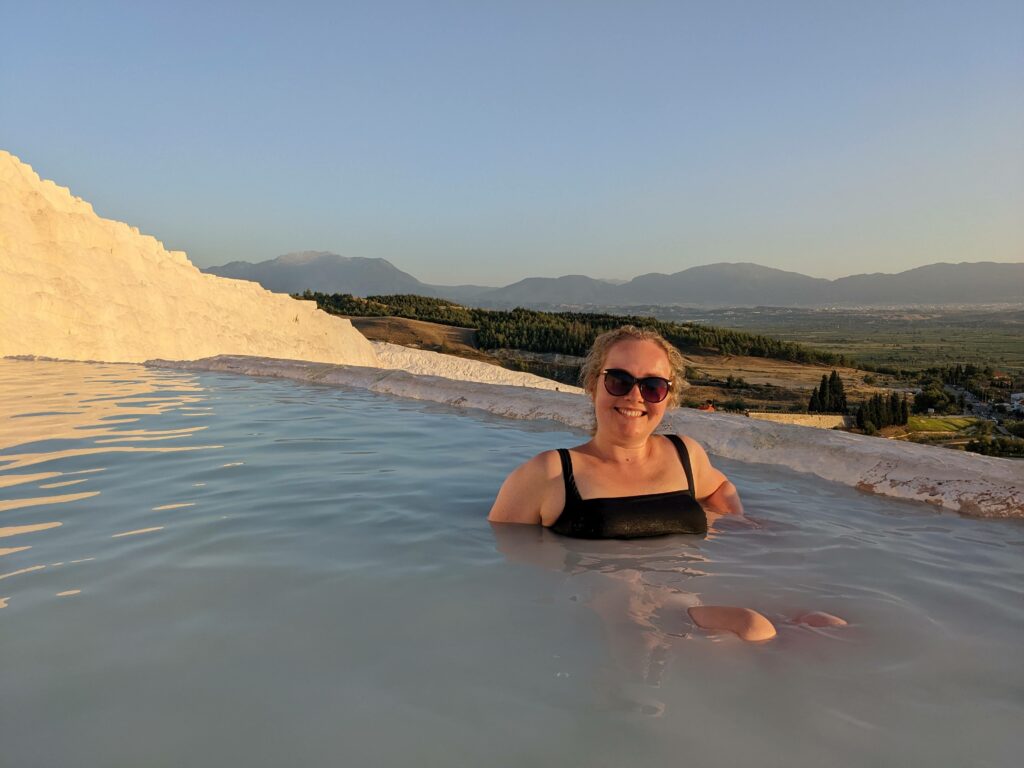 When out of the water, the rock underfoot alternated between feeling very scratchy and dry or slippery and clay-like, but under the water it felt like the softest, silkiest silt. It's supposed to be quite good for your skin, and given I'd dredged up a good amount during my wallowing, I painted some on my face. There's no photographic evidence because Mum, Dad and Oli were horrified by my appearance and refused to take a photo!
We watched the sunset from the terraces, and from these photos I still have a hard time convincing myself that this isn't snow.
We then walked back through the ruins of Hieropolis after sunset, and it was quite a sight.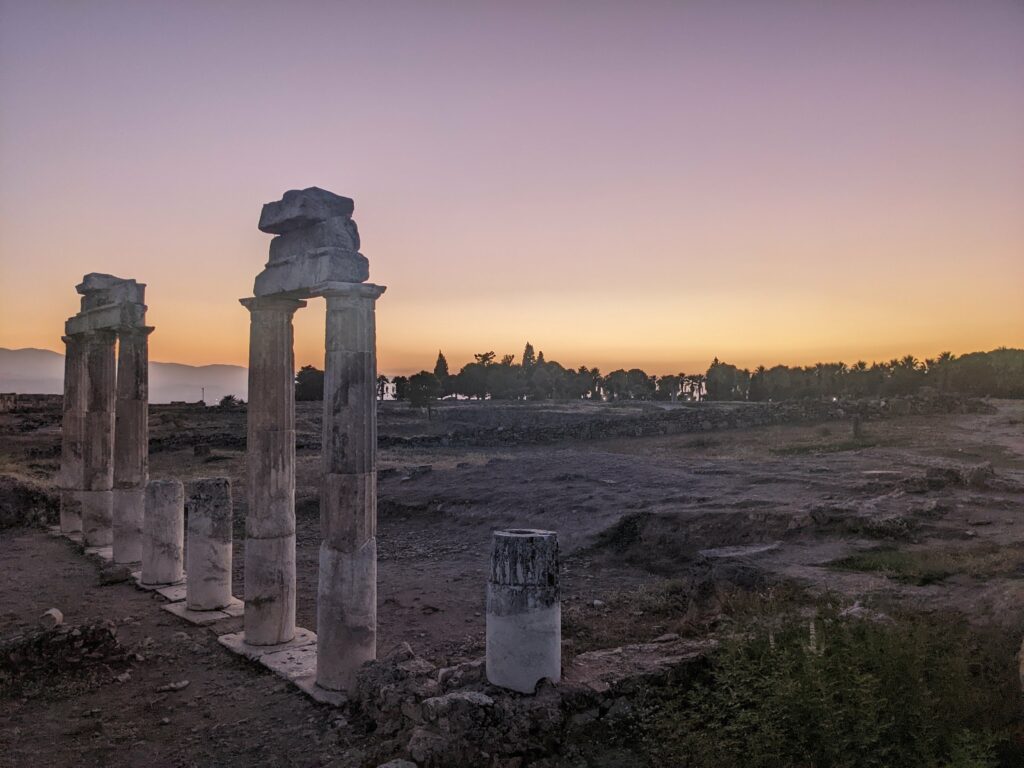 That evening, I arrived at dinner a bit late because I'd been resting (I'd been unwell for a few days at this point) and Oli recounted a dramatic story of how he'd wrestled with a huge white cat who had leapt on the dinner table. Apparently he very nearly did a table cloth trick with my parents' dinner because the cat dug his claws in when he was being unceremoniously removed. The cat didn't manage to get any seabass, but he did get his whiskers in a dish of Cacık (turkish tzatziki) and dispersed a full bread basket all over the floor. I arrived soon after and was a bit doubtful about Oli's tale of heroism, but my parents assured me it was true. Then again, Mum subsequently identified the wrong cat in the feline police line-up presented by the waiter, so it's hard to know who to believe.