Following a short but sweet visit to the colonial highland town of Đà Lạt, we were back on the road with our sights set on Ho Chi Minh City (formerly, and also still commonly, referred to as Sài Gòn). Once again, Team Tortoise and Team Hare went our separate ways:
🐢 Team Tortoise (Oli & Sara) boarded an eight-hour (daytime) sleeper bus in Đà Lạt, transferred to a minibus on the outskirts of Ho Chi Minh City (or HCMC for short), and walked the final 1.5 km to our hotel
🐇 Team Hare (Helen & Mick) hopped on a 50-minute flight to Ho Chi Minh City Airport, and took a taxi into the city
Unsurprisingly, flying was much faster and quite a bit more expensive, but emitted about five times as much carbon as taking the bus. Although their flight required them to depart our Đà Lạt hotel at 6am, Helen & Mick's time advantage did give them the chance to go for lunch, visit a market, take a nap, and still be waiting for us in the hotel lobby looking refreshed when we arrived hot and tired! Still, I think the bus worked out much more favourably than it did on the last leg of our journey!
| | | |
| --- | --- | --- |
| | Team Hare 🐇 | Team Tortoise 🐢 |
| Time | 4 hours | 10 hours |
| Cost | £112.46 | £27.07 |
| Carbon | 106 kgCO2e | 20 kgCO2e |
As we arrived in the city, HCMC felt incredibly busy, with its eight-lane roads and endless tide of motorbikes. Even when applying Sara's guide to crossing the road and heeding the pedestrian lights (where present), navigating HCMC's streets wasn't exactly a relaxing affair. Still, we loved the city's endless energy, and couldn't wait to eat some more Vietnamese specialities. After all, when I asked my HCMC-born barber in Hanoi what his favourite food was from home, he replied with enthusiasm: "EVERYTHING TASTES BETTER IN HO CHI MINH, MAN!"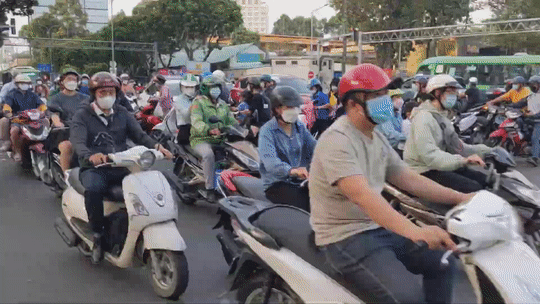 Top of Sara's food list was Bún chả, a dish of cold vermicelli noodles, pork meatballs and barbecued pork belly, fresh herbs and pickled carrot, all in a delicious broth and accompanied by a very deep fried spring roll. Despite this dish's origins in Hanoi, it had so far evaded us since our arrival in Vietnam, so we put our faith in my barber's theory that it would taste even better in HCMC and headed to Bún chả Hồ Gươm to get our fill. We were pretty hungry by the time we arrived, and the peppery spring rolls, salty barbecued pork, sticky noodles and huge pile of fresh leaves certainly hit the spot.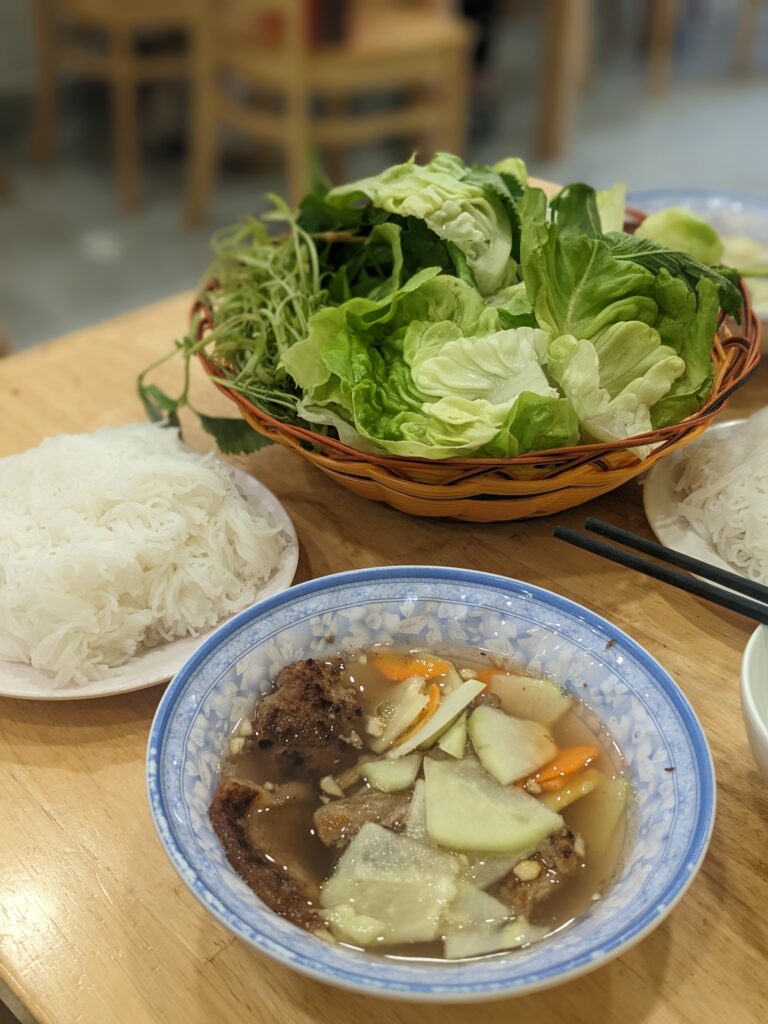 HCMC is the largest city in Vietnam (and has a population similar to that of London!), so we took a lift up to the 49th floor of the Bitexco Financial Tower to get a bit of perspective. Bizarrely, this skyscraper incorporates a helipad three-quarters of the way up, and the appearance makes it look like a UFO has crash-landed and become wedged in the building. It's this helipad that contains the observation deck, where we watched the rush hour traffic flow through the city before the sun set behind the high-rise offices.
---
The next day we took a taxi out to Chợ Lớn, HCMC's Chinese quarter, which holds the record as the world's largest Chinatown! Chợ Lớn is home to a handful of colourful temples, as well as a whole street of medicinal herb merchants.
We came across a huge variety of architecture as we walked the streets of HCMC. From the beautifully restored French-colonial Central Post Office and the vibrant pink gothic exterior of Tan Dinh Catholic Church, to the crumbling facades of Chợ Lớn and the ultra-modern skyscrapers of District 1, HCMC seemed to have something for everyone.
For our last dinner together, we decided to go out with a bang with a meal at Barbecue Garden. Our table featured a pit in the centre, into which the staff inserted a bowl of red-hot coals covered with a grill on which we cooked a handful of kebabs and vegetables. I'm going to blame the low light (rather than the draft beer) for the blurry photo below!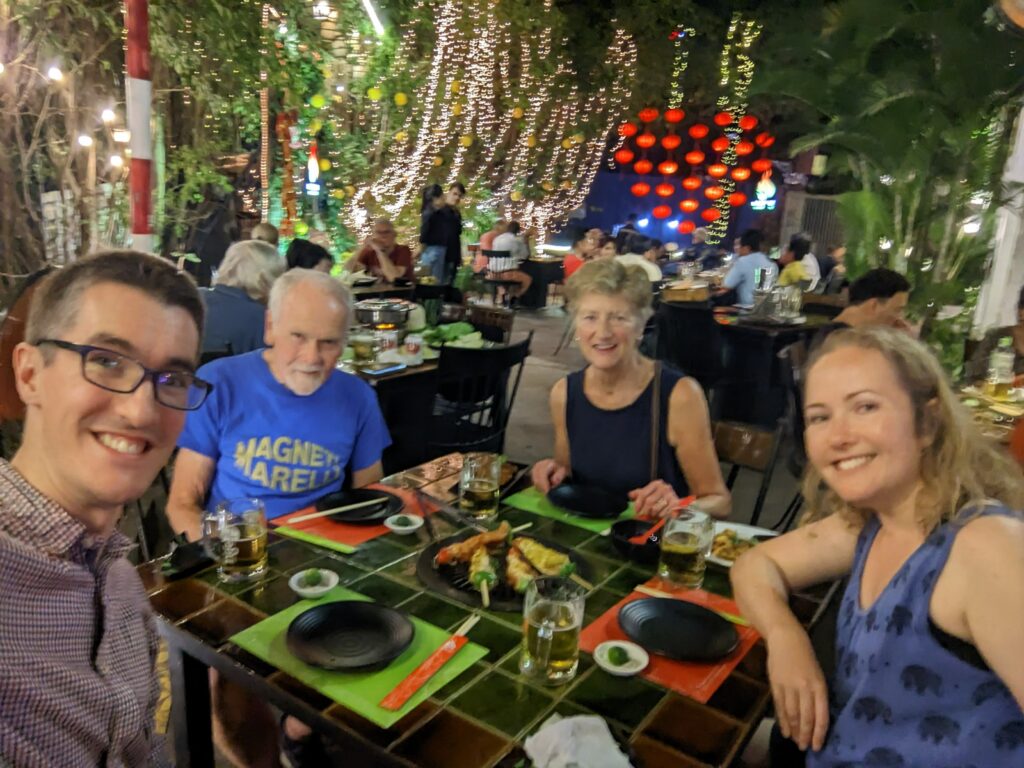 It was then sadly time to say goodbye to Mick & Helen, as they headed off to the airport to continue their trip through India. They called a Grab taxi (the SE-Asia equivalent of Uber), but were a little concerned when a tiny hatchback turned up. In contrast, the taxi driver looked downright panicked when he saw the four of us standing there, but relaxed when he realised only two people were travelling. He then optimistically tried to fit one of the suitcases into the boot, before giving up and stacking them on the backseat, leaving Helen & Mick to squeeze into what little space remained! We really enjoyed exploring Vietnam together – thanks so much for joining us on this leg of the trip 🙂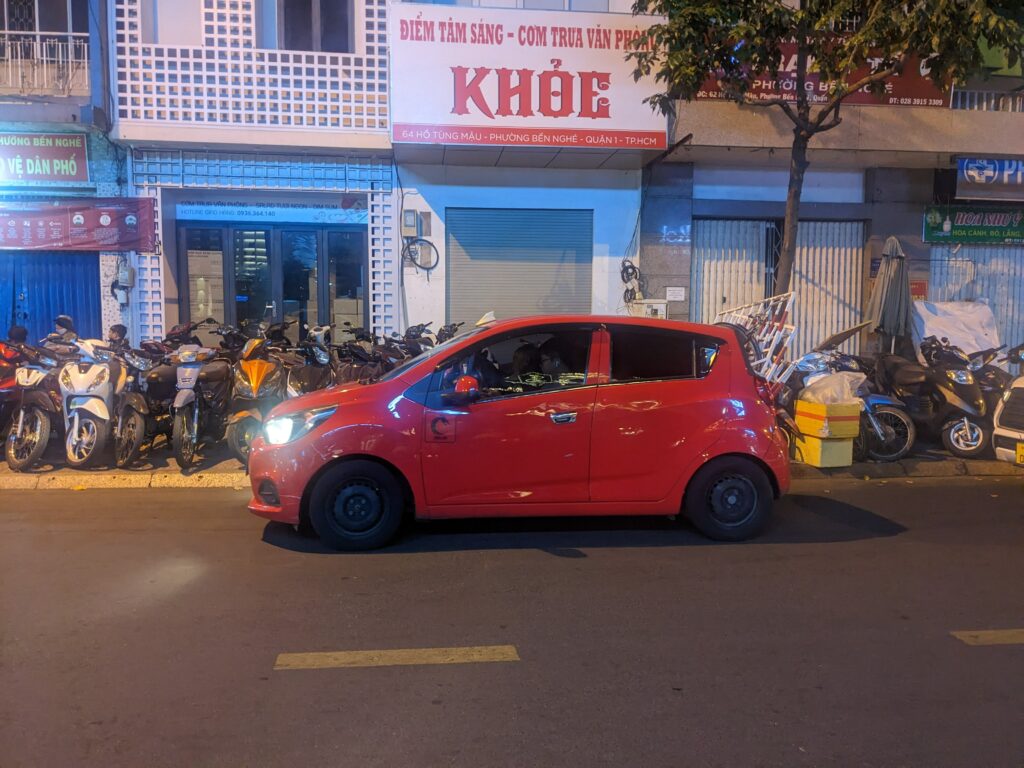 ---
While Helen & Mick headed to Delhi, we continued south to the archipelago of Côn Đảo to try to get our heads around the beautiful islands' harrowing past.