During the 2002 World Cup hosted by South Korea and Japan, the Jogye Order of Korean Buddhism opened their doors to try out a new idea: inviting participants inside to take part in temple life. It was such a success that temple stay programmes have been running across Korea ever since.
When we've visited Buddhist temples in the past, we've always admired the beautiful buildings but have only really been able to take them at face value. So, when we heard there was an opportunity to experience what a Buddhist monk's life might be like and to join in for a day or two, we were keen to sign up. It was a tricky decision to decide on a temple, since there are many to choose from across Korea, but in the end we decided to go for Golgulsa, because it combined a beautiful mountain setting with offering the chance to try Sunmodo, a Buddhist martial art. Crucially (for us, at least), it was also accessible via public transport. And so last week, we found ourselves walking up the drive to Golgulsa Temple, feeling excited but rather apprehensive to discover what our 'Two day, one night' temple stay would have in store for us.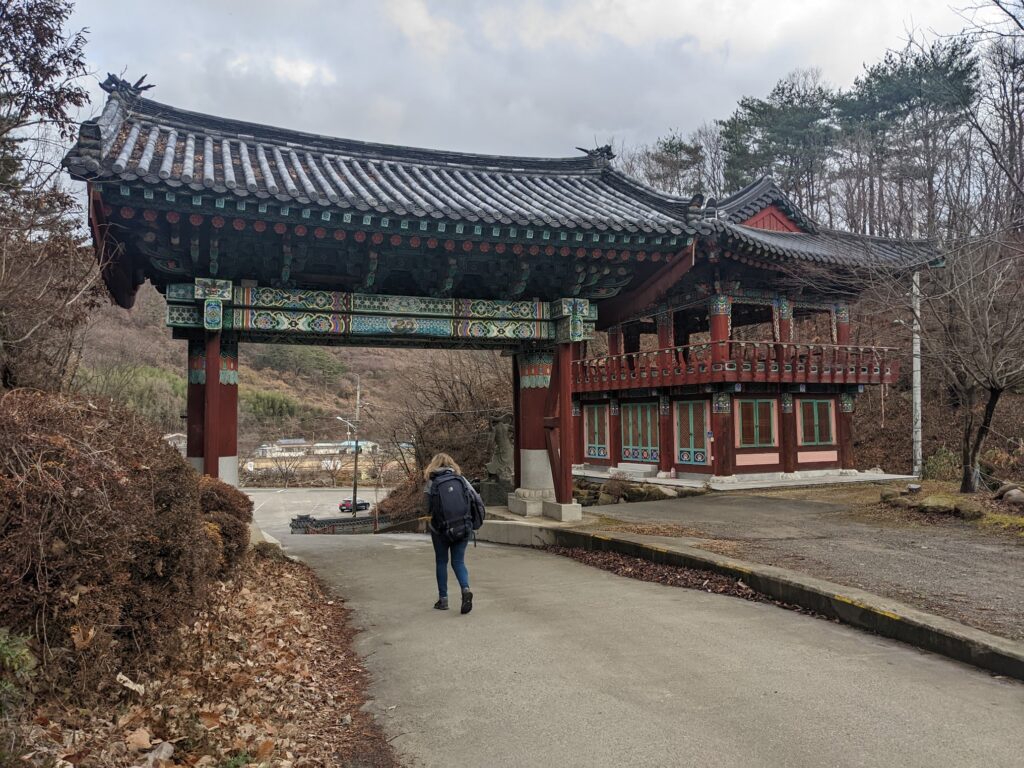 Day One
2.45pm: We have arrived! We received our uniforms, which consisted of a fetching buttoned orange vest and baffling, tie-front wide-legged trousers. The very welcoming lady that greeted us gave us our timetables and sent us on our way without telling us in which building to find our accommodation or even giving us our room keys. It was not the most auspicious start…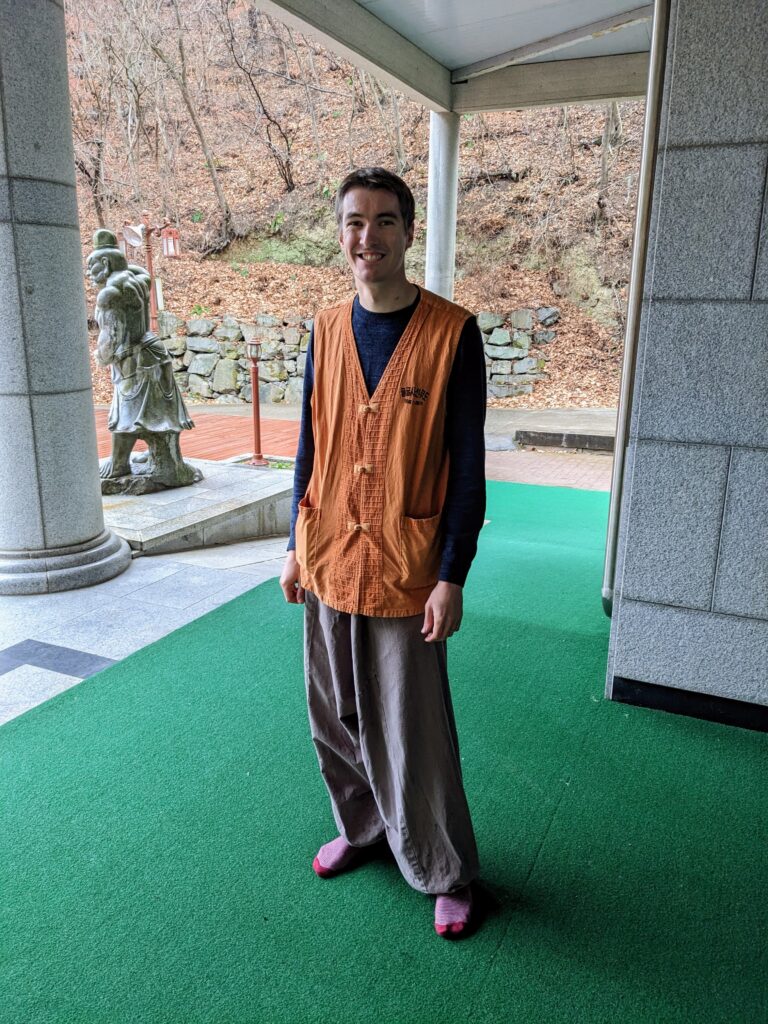 3.00pm: Men and women sleep separately, so while Oli headed upstairs to find his shared room, I stayed on the ground floor. Although I had been assigned a shared room, there were no other women staying at the monastery so I had it to myself. Jackpot! After some confusion about which was the mattress and which was the bed cover (the one big benefit of sharing with other people is that you can copy what they do), I made up my bed on the heated floor and then hurriedly changed into my temple clothes.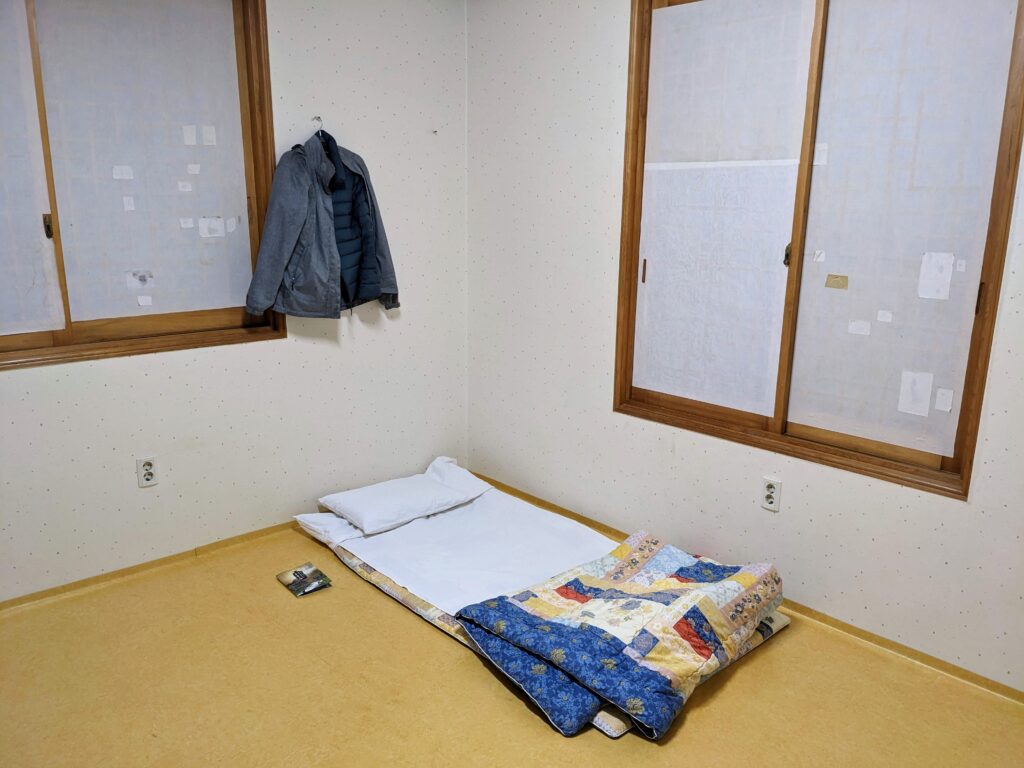 3.05pm: The 3pm Sunmodo demonstration took place about a 20-minute walk from our accommodation – it turns out the temple site is BIG! It was also extremely steep (genuinely one of the steepest hills I've ever walked up) and to top it off, it was pouring with rain and we were late already! We couldn't find the correct building at first and our timetables were getting all soggy in the rain – it definitely felt like the first day of school. We managed to catch the grand finale of the demo and realised we were way, way out of our depth for our training session later in the day.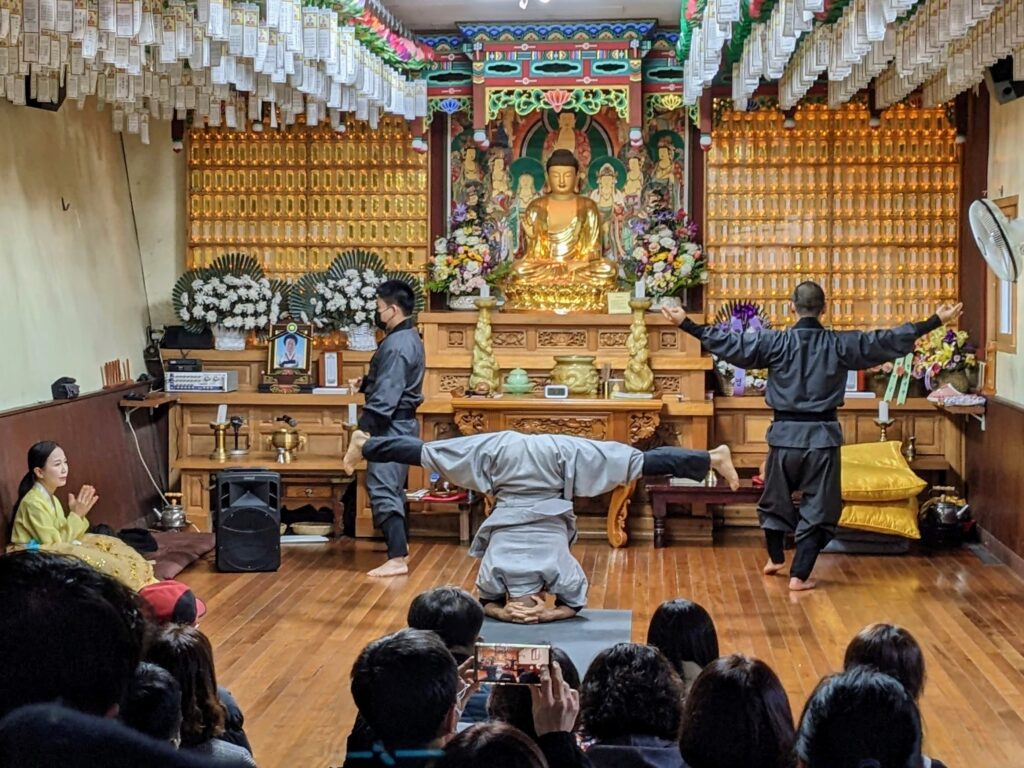 4.10pm: It was time for our session on temple etiquette, which we hoped would answer all our questions about how many faux-pas we'd already made. I listened intently, but Oli was feeling extremely sleep-deprived (having got up at 4am to watch England play) and said he spent the entire time so busy giving the impression that he was paying attention that he actually forgot to listen. Brilliant! This meant that we had to rely solely on me and I wasn't at all confident about the specifics of when we needed to bow to people, statues of Buddha and paintings of Buddha – there was quite a lot to take in. We agreed to follow the general strategy that too many bows were better than not enough bows, and this mostly seemed to work (we think).
Next, we were given a general introduction to the martial art of Sunmudo. Unfortunately, despite Oli being the main reason we'd signed up for the Sunmudo training, he repeatedly misheard and thought they were talking about 'some noodles' and so missed the whole introduction. Bloody hell! It seemed like I was in this on my own…
4.30pm: Finally, it was time for the main event: Sunmudo training. I really, really didn't anticipate that I would be running backwards around what felt like a school gym on this temple stay, but that's exactly what happened. It was a bit surreal! Oli's trousers fell down during the warm up, but the session otherwise passed without incident. It felt like a cross between yoga and more intense martial arts training, and I really enjoyed it. It was hard work, though!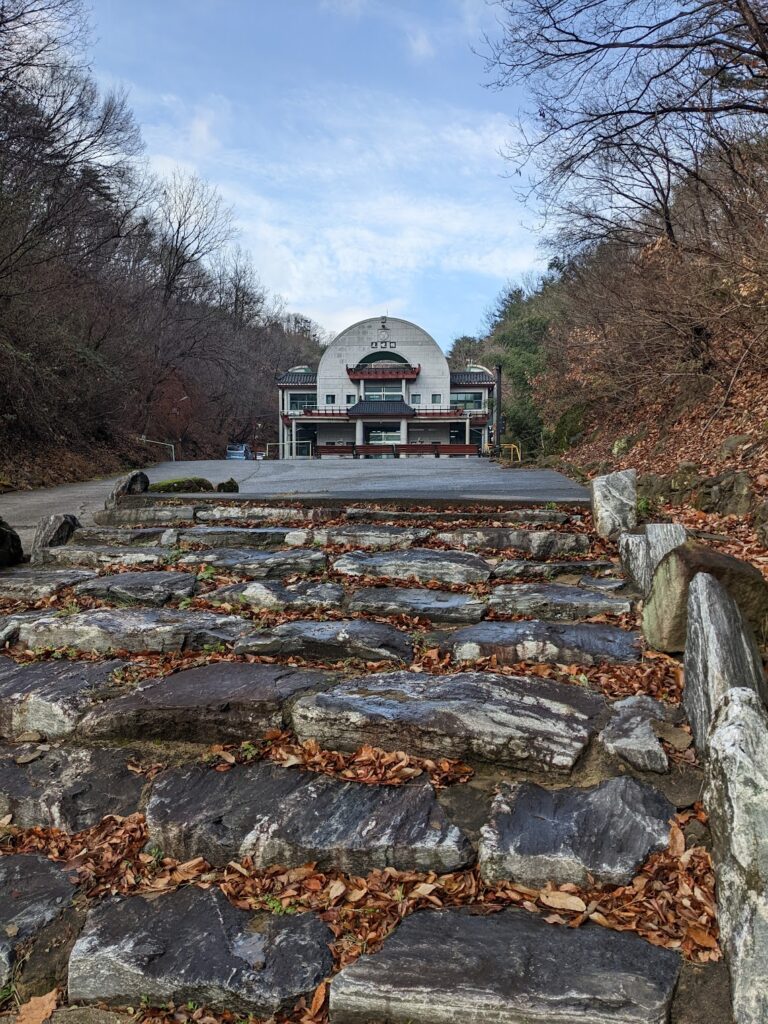 5.40pm: As soon as we'd finished our training, we had the option to join in with the 108 Prostrations (bows). Our information sheet described this as follows:
The 108 prostrations represent our basic mental sufferings. These sufferings arise through the meeting of the six sense organs. Take these 6 combinations of sense organs (the eyes, ears, nose, tongue, body and mind) and sense objects (colour, sound, smell, taste, touch and concept) and multiply by the three reactions (likes, dislikes, neutral feeling, which turn to joy, sorrow or indifference) to equal 36; then multiply this by three for the past, present and future, giving us 108. Doing 108 bows helps to sublimate and purify. By completely concentrating body and mind in unison, we rid ourselves of the scattering of energy that sensations and reactions cause us […] Such determination to return to our basic nature will eventually lead us to attain enlightenment.
We were shown how to go from a standing position to a deep kneeling bow with our foreheads on the floor, and then it was time to follow the beat of the jukpi (bamboo clapper) to complete the bows. We were told that it was absolutely fine to sit out some or all of them, which is lucky, because it turns out that 108 is quite a lot of bows! I found it exhausting and was still struggling to grasp exactly what they represented, having been given only a very brief explanation.
6.00pm: Dinner time! We'd read a lot about how temple food was simple, delicious vegetarian fare, so I was very excited to try it (although to be fair, I'm pretty much always excited for dinner). The meal centred around rice, with a whole variety of vegetable side dishes and a soupy stew. It was right up my street and I have to say, it feels like there's a lot less peril when eating unidentified vegetarian dishes than when they're meaty (case in point: we tried intestine the other day and it didn't go down so well). We had it really drummed into us to take only what we would eat and not to waste even a scrap, although it was no problem to go back for seconds. This was absolutely fine with us – we also hate food waste – but eating rice with chopsticks and not leaving a scrap did add to the stress of the meal! We perhaps took this a bit too much to heart…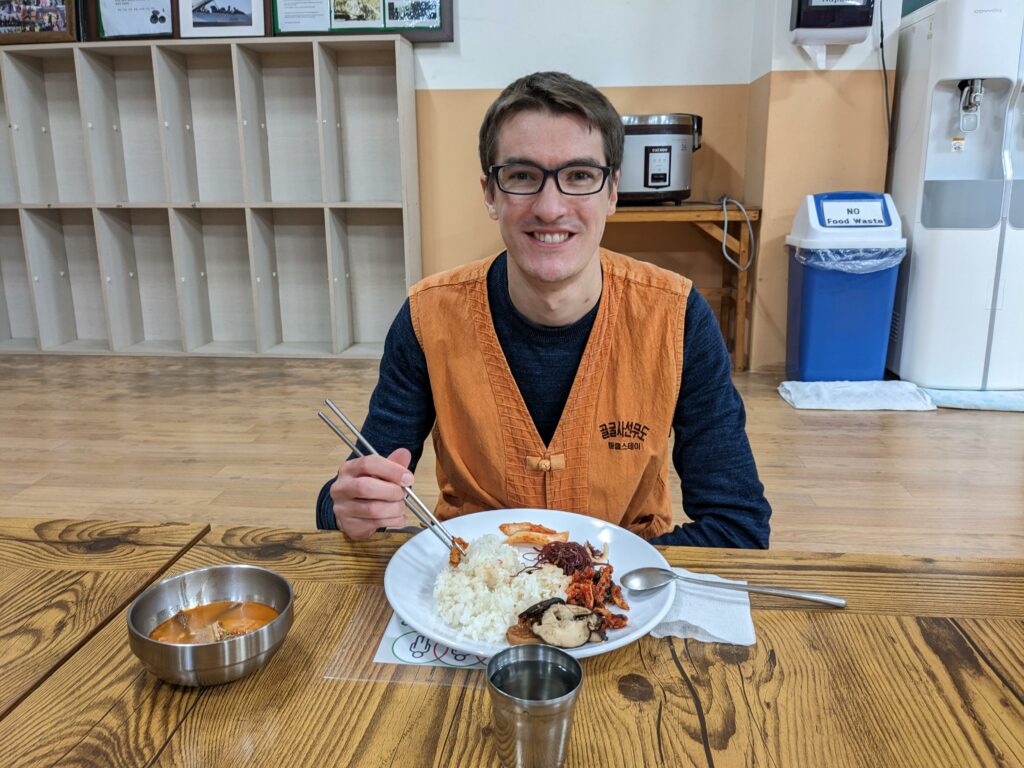 6.45pm: With strict signs posted around the site that "after dinner, it is forbidden to looking [sic] here and there in the temple compound" and with nowhere else communal to go, we retired to our separate rooms immediately after eating.
6.58pm: Oli text me to say that his room mate had already settled down to sleep! It was to be a long evening for him…
9.00pm: With no other furniture in my room, I spent the evening tucked up in bed writing a blog post about our ski trip. Our timetable said that 9pm was bedtime, but I couldn't quite face the thought of trying to sleep so early. However, I was also scared someone might spot my light and tell me off! Time to switch on my torch.
10.00pm: Lights out. Or more accurately, time to spend 2.5 hours lying with my eyes open waiting for my normal bedtime…
Day Two
4.55am: Ouch. That was not a welcome alarm! I fumbled my way into my uniform, tying my tricky trousers as securely as possible to avoid 'doing an Oli' and met the man himself outside in the dark and pouring rain.
5.30am: Time for the early morning service, which consisted of a combination of chanting, beating our moktak (percussion instruments) in time and bowing. I lost my place in the chanting almost immediately and never quite caught up, but next up was a sitting meditation and I was more confident I couldn't mess this up. How wrong I was! While everyone else was silent and peace fell across the temple hall, Oli's and my stomachs started having a lively chat from opposite sides of the room. After what felt like an eternity (punctuated by loud growls), I checked the clock only to find that it had been just two minutes! Mortifying.
6.30am: Breakfast time. Like dinner, this was also centred around rice, although they had kindly provided toast for those who preferred a Western breakfast. My personal highlight was watching the focus on Oli's face as he steadfastly attempted to spread jam and eat toast with chopsticks. I stuck to the rice!
7.00am: After mopping up all the errant jam and washing our dishes, we had a bit of free time until our next Sunmudo training session. We wanted to explore the temple, but it was still dark outside, so I gave into temptation and had a little nap. With the rain falling outside, the heated floor and my big duvet (or mattress, depending on whether I got them the right way round), it was so cosy that I could have stayed there all day.
9.00am: Time for our second Sunmudo training session. This time, we started to cover some punching and kicking sequences that sounded simple enough but required way more coordination that I had available without my morning coffee. I think the instructor could see that I was seconds away from a giggling fit so he left me alone while I flailed wildly. My freestyling was an incredibly good workout, even if I do say so myself.
10.30am: Our training session overran slightly so we didn't have time to get to the morning Buddhist service, but neither of us much fancied a repeat of the stomach rumbling incident anyway. Instead, we took the time to explore the temple complex and visited the 9th century Buddha statue that was carved into the cliff face. We also saw a chipmunk! He was a speedy chap, so we didn't manage to get a photo, but he seemed to be enjoying temple life.
11.15am: On our timetables was an entry that simply stated, "Ring the Big Dharma Bell". We were intrigued – would we watch someone else ring it or was this finally my big moment? I was incredibly excited when they let me have a go – so excited, in fact, that I lost count while doing my five chimes, which seemed quite impressive. Sadly it didn't have quite the same thrill as my unsupervised bell ringing session in Athens, but at least I didn't have to run away afterwards.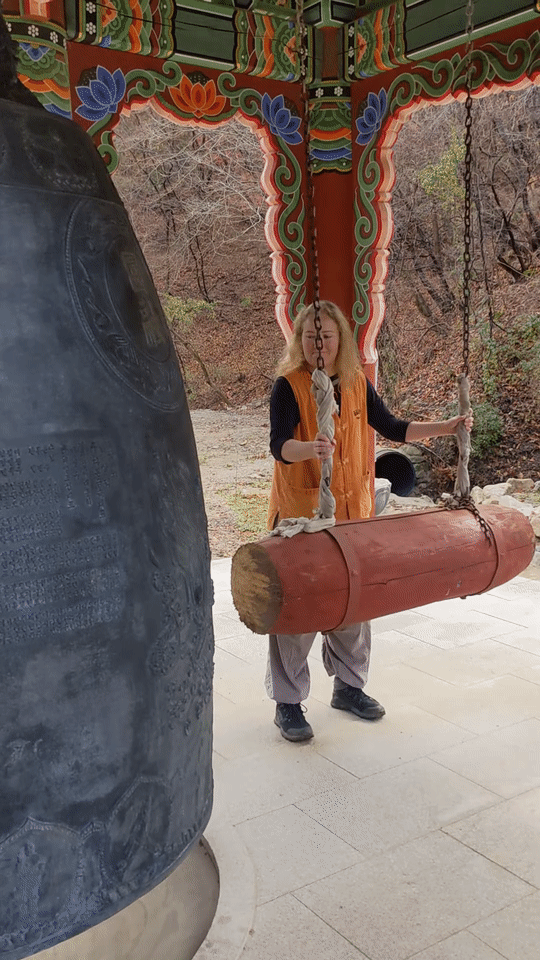 11.30am: Lunch was the last item on our timetables and we were more than ready for our next meal after such an early breakfast. We ate more delicious vegetarian food and had the biggest grapes we've ever seen for dessert (the size of small plums!). Then, it was time to return our uniforms, bid a fond farewell to Oli's room mate (with whom he'd exchanged literally two words) and head back out into the big bad world. Or, in other words, it was time to get me a cup of COFFEE!
Overall reflections
We didn't get quite up so close and personal with the monks as we had hoped during our temple stay – we actually only saw two! With hindsight, it seemed obvious that they would not be dealing day-to-day with visitors, though. Some monasteries offered tea with a monk as part of the schedule, but given that we'd read this took place only in Korean and involved a lot of awkward silence if you didn't speak the language, we didn't feel like we'd missed out on too much.
It must be such a different experience in the summer – there were only three participants while we were there (including us) but we couldn't believe how many accommodation buildings were around the complex. I'm not sure whether our timing was good or not – I really appreciated having my own room, but I wonder whether the programme would have run more smoothly and had more of a 'buzz' if there were more participants.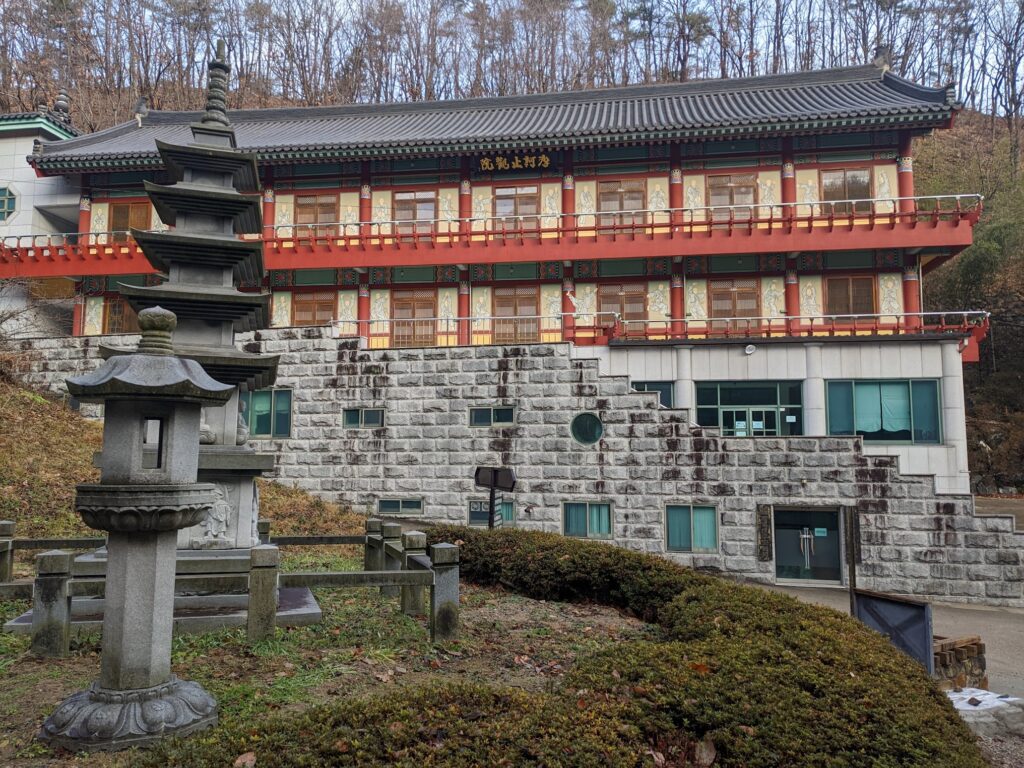 To be honest, it was a very strange 24 hours and felt much more like going back to school and less like the zen experience I had imagined, but we were still really glad we'd given it a go. We'd read that it was worthwhile staying for more than one night and I can totally see that with longer, we would have settled into the routine and perhaps found it more relaxing, but there's so much to see and do in Korea that we just couldn't justify locking ourselves away for too long.
After a very large cup of coffee, it was time to head towards our next destination, the island of Jeju.