Borjomi, also known as the pearl of the Caucasus, is a small resort town in central Georgia. It's well known throughout ex-Soviet countries for its natural mineral water springs, which are said to have many healing properties, and it's a popular bottled drink throughout the region. We stayed two nights here, which gave us one full day to make the most of Borjomi's offerings.
Most of Borjomi's sites are situated in a gorge cut between the mountains by the Borjomula river. The river is criss-crossed by a number of bridges, including the one below, which also featured a charming guard who inspected passers by between naps in the sun.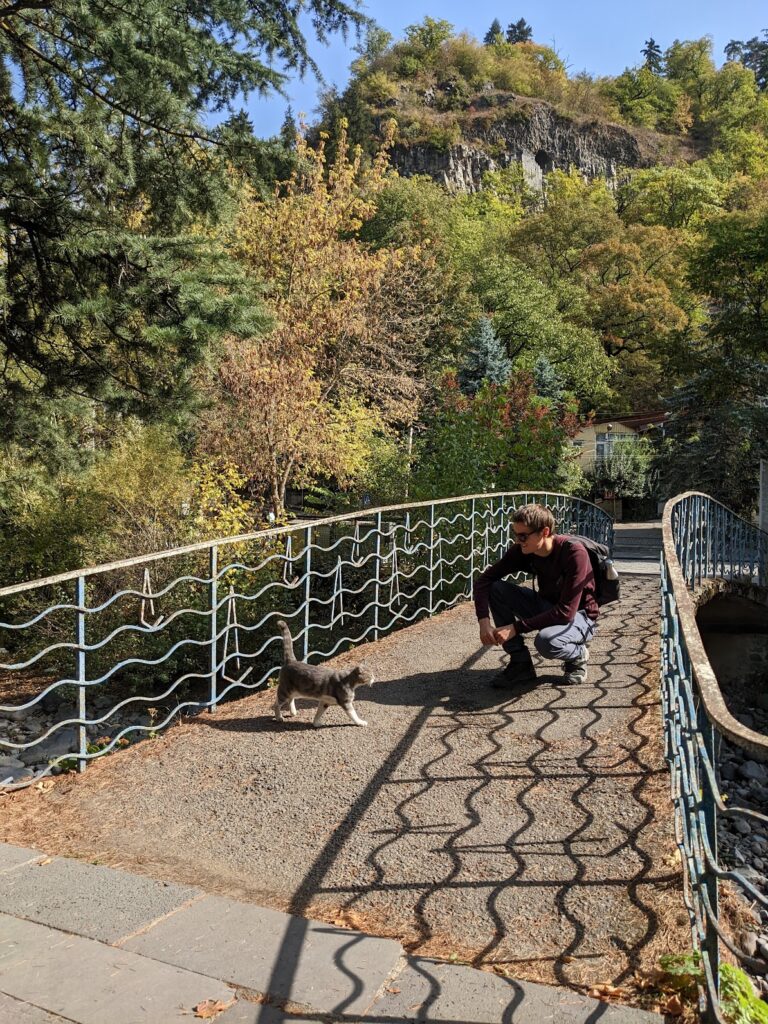 From the bridge, we continued upstream, passing countless market stalls and some impressively ornate architecture. This is where the fancier resort hotels are located, but alas it was a little walk for us from the main town centre.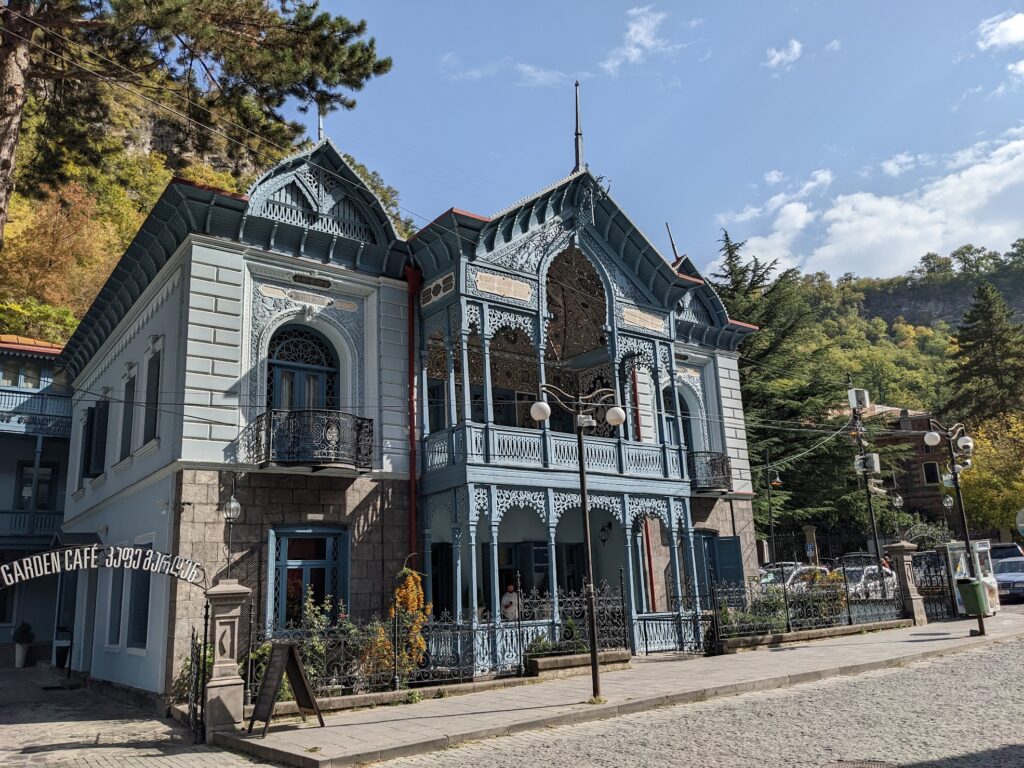 Arriving in Borjomi's Central Park, we were greeted by some very well sculpted gardens, and the source of the town's fame – a water fountain created from one of the gorge's many natural springs. We quickly downed one of our bottles of tap water to create an empty vessel, and Sara went to fill it up.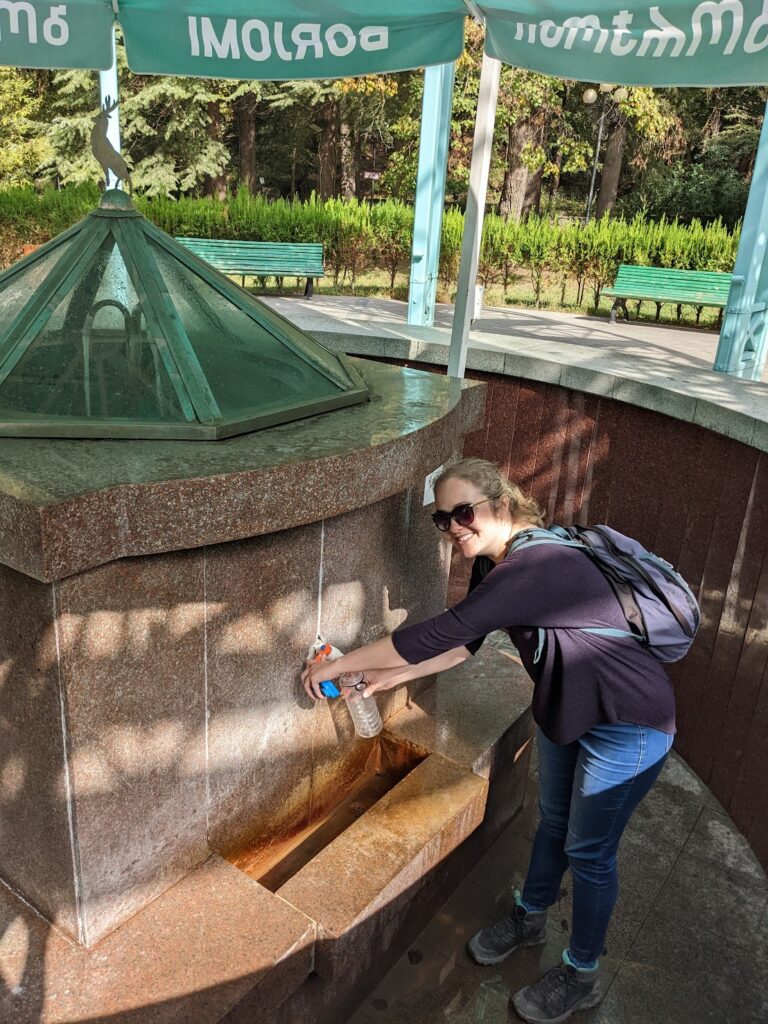 She subsequently tried it and pulled a face, before handing it to me. It was certainly an acquired taste – warm, subtly carbonated, sweet and salty on the palette with an eggy aftertaste. Just what I needed to settle my stomach.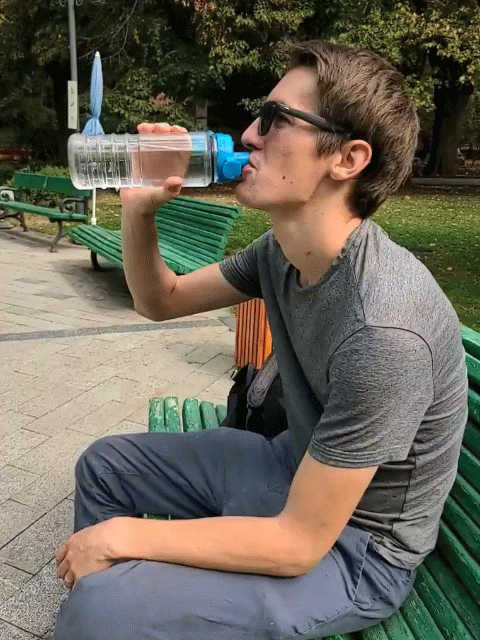 Not wanting to waste it, Sara kept the Borjomi water in her bottle for several days after this. She insisted that she was drinking and enjoying it, while in reality getting increasingly dehydrated.
We continued through the park past what is apparently the "most extensive ecologically-themed amusement park in the Caucasus." You can't argue with that! However, each of the rides was motionless, with many under covers already. I guess we're well into shoulder season now, and we'd seen plenty of photos of the town under snow in the winter. Still, we amused ourselves on anything that wasn't bolted down.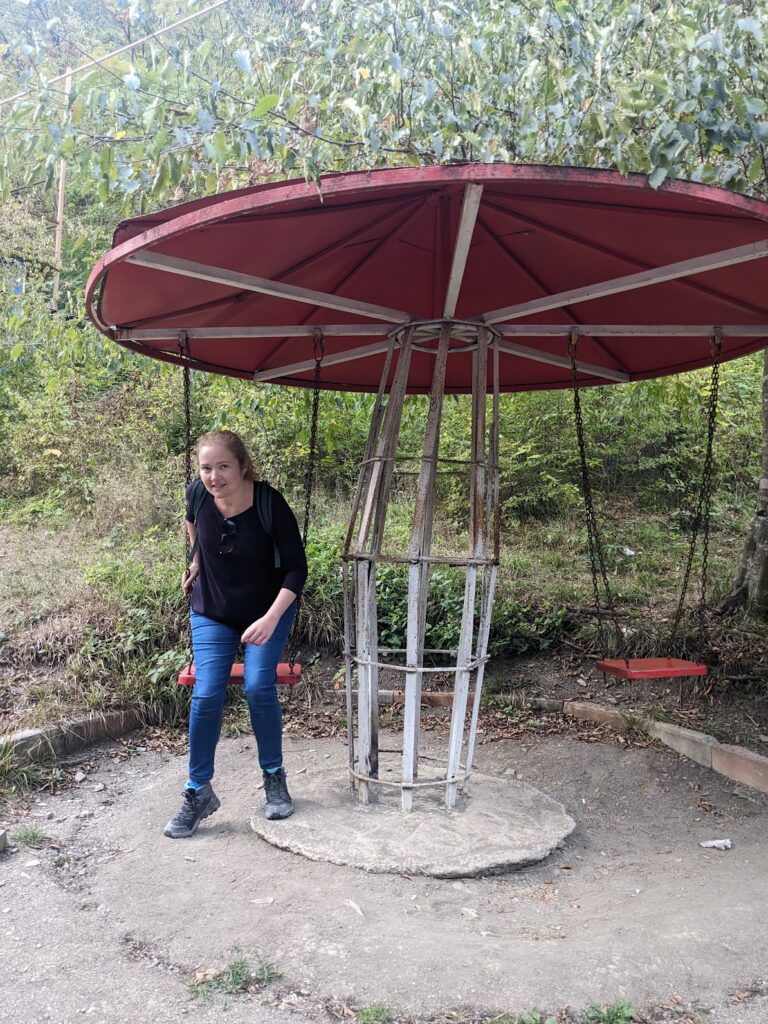 Continuing further upstream, the fairground rides ran out leaving just a path beside the river, which produced a constant and soothing accompaniment of white noise as we walked. The path weaved its way across over the river via a series of increasingly rotten bridges, on which old and broken slats had been covered up by new wood, giving them a patchwork appearance.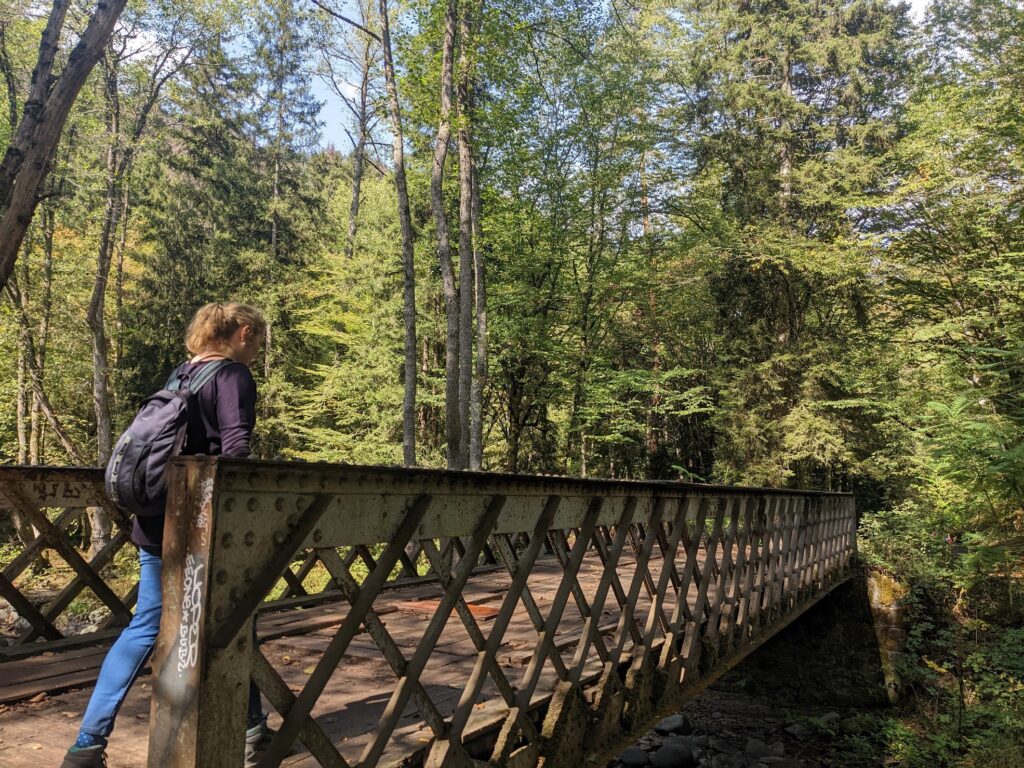 Eventually, after some back and forth (we were under some confusion – no change there), we arrived at our destination – a trio of hot (well, warm-ish) pools filled from the mountain's famous springs. Similar to the fountain, these also gave off a pungent sulphur smell, but were just mild enough in temperature to encourage us in for a short wallow. Much like drinking the water, soaking in the pools is supposed to cure some motor and nerve-related ailments, along with pretty much everything else. An information board aroused our suspicions when it described the pools as being highly effective at curing symptoms that were already in remission. Hmmmm.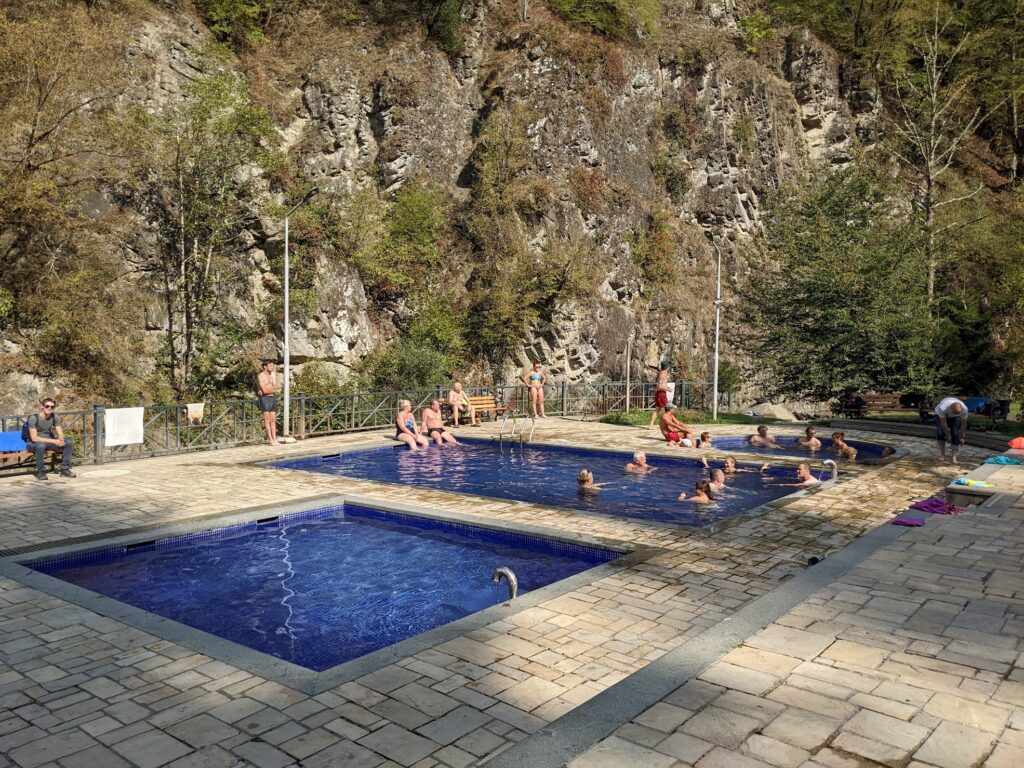 Upon exiting the park, we couldn't pass up the chance to ride yet another cable car. This one took us back over the park, and up to the top of a cliff overlooking the gorge along with the rest of the Borjomi.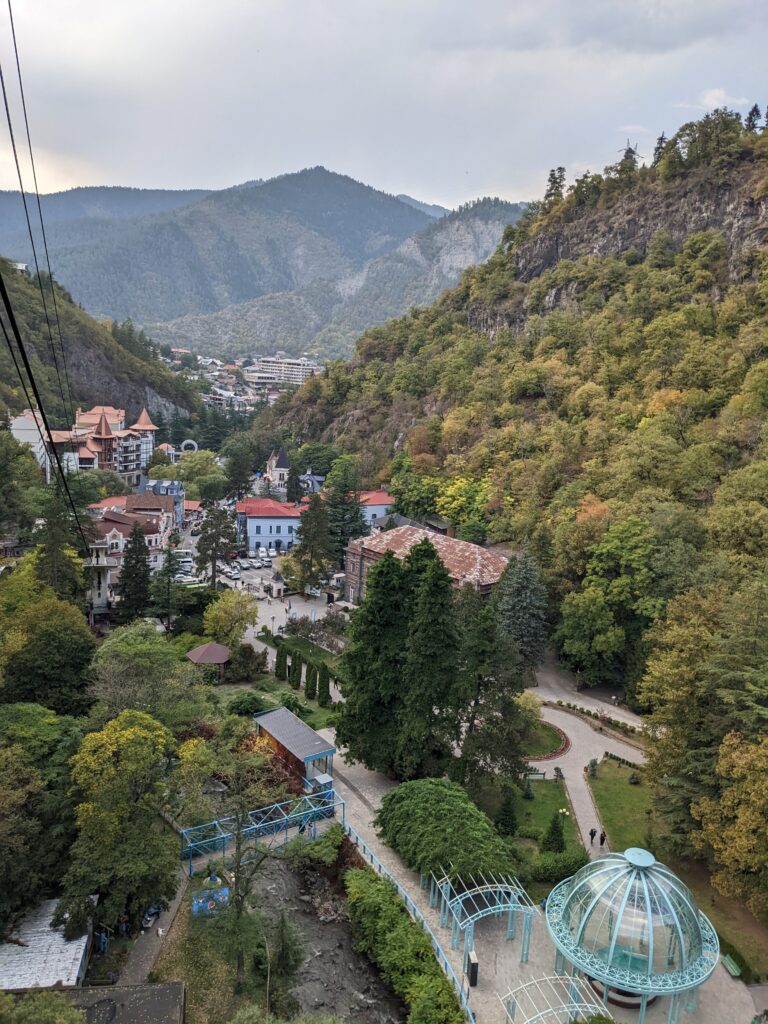 Sara assured me that it wasn't anywhere near as shonky as the one she rode a few days earlier in Kutaisi, although its departure from the lower station was slightly more violent.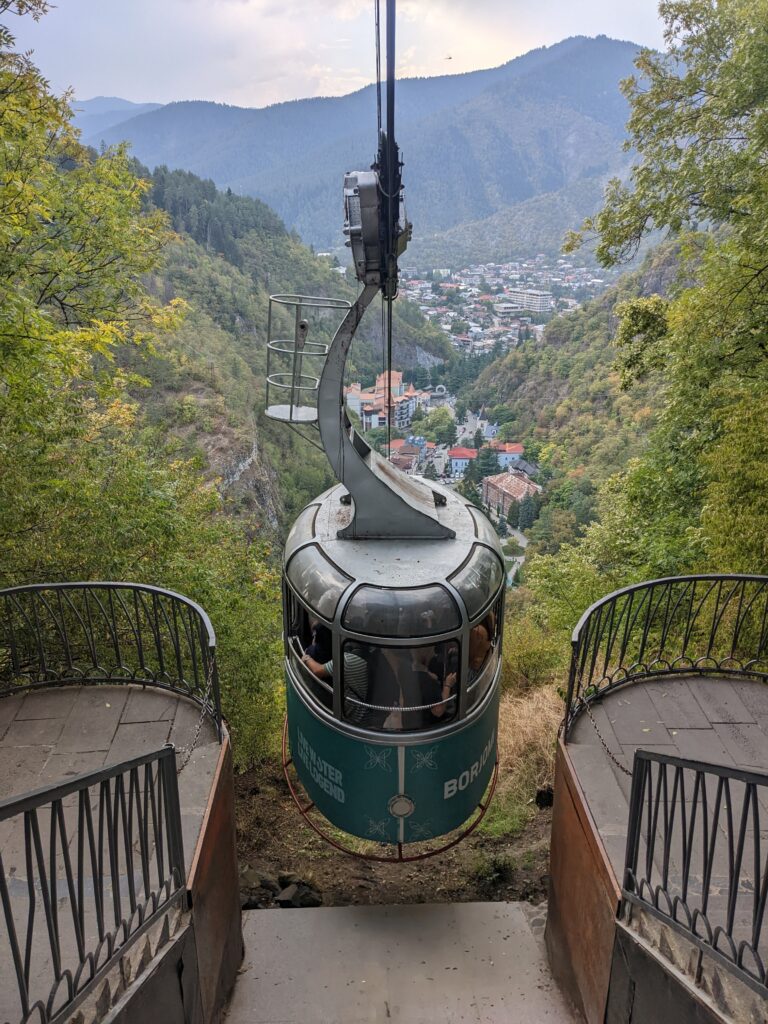 We were met at the top by yet another rusting Ferris wheel, although this one didn't look like it had seen any visitors in quite a while. Not wishing to push our luck any further, we opted to walk back down to the park via a highly educational nature trail. This was all fun and games until we spotted a snake rustling through the bushes next to path, prompting a rendition of Sara's famous "Snakey watch, Spider watch" song (memorable for her bold attempt to rhyme 'watch' and 'forest'), as we hurriedly descended back to the relative safety of the central park.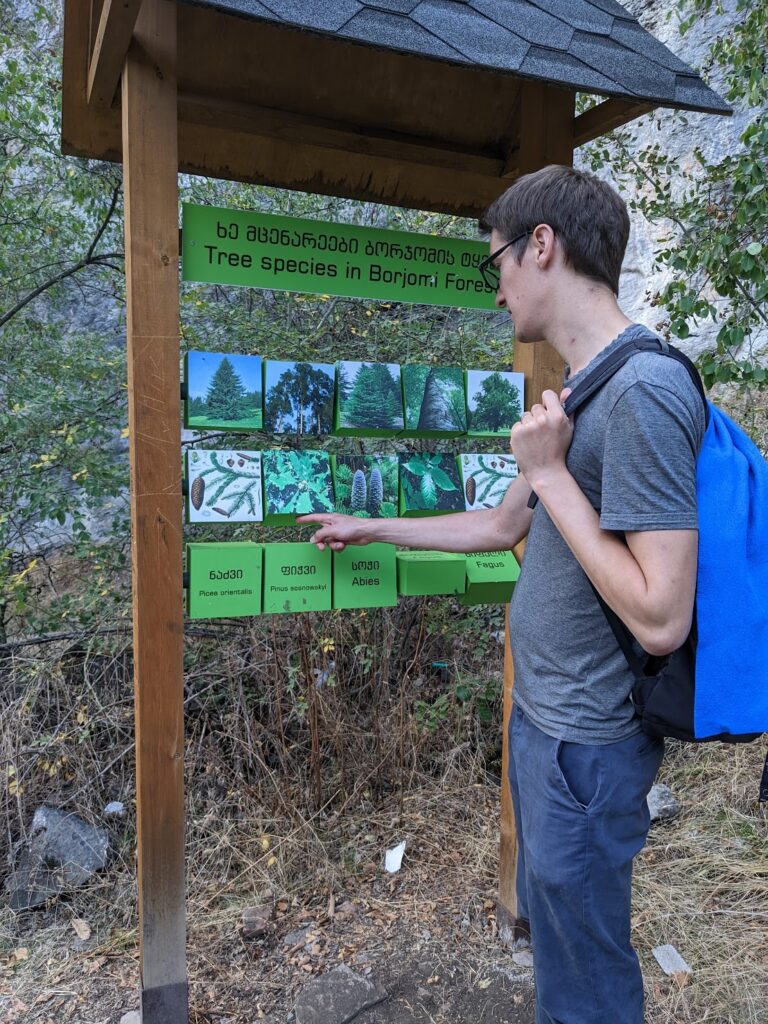 ---
All in all, Borjomi provided a very enjoyable mountain retreat en route to Georgia's capital, Tbilisi. Still, we were also excited to return to the modern luxuries of a big city, such as craft beer and Airbnbs with washing machines.