Just a few miles from Kutaisi is the spa town of Tskaltubo. Although it's still a living, breathing town, it's best known for its many crumbling sanatoria, bath houses, spas and hotels. The town exploded during the Soviet years as a place to come for rest, relaxation and healing, thanks to its waters of immortality that were used in balneotherapy. At the peak of its popularity, there was even a direct train from Moscow. Although a couple of the bath houses and resorts are still in use or have been renovated, many were abandoned after the fall of the Soviet Union and have since fallen victim to the elements, making them ripe for exploration.
The most photographed one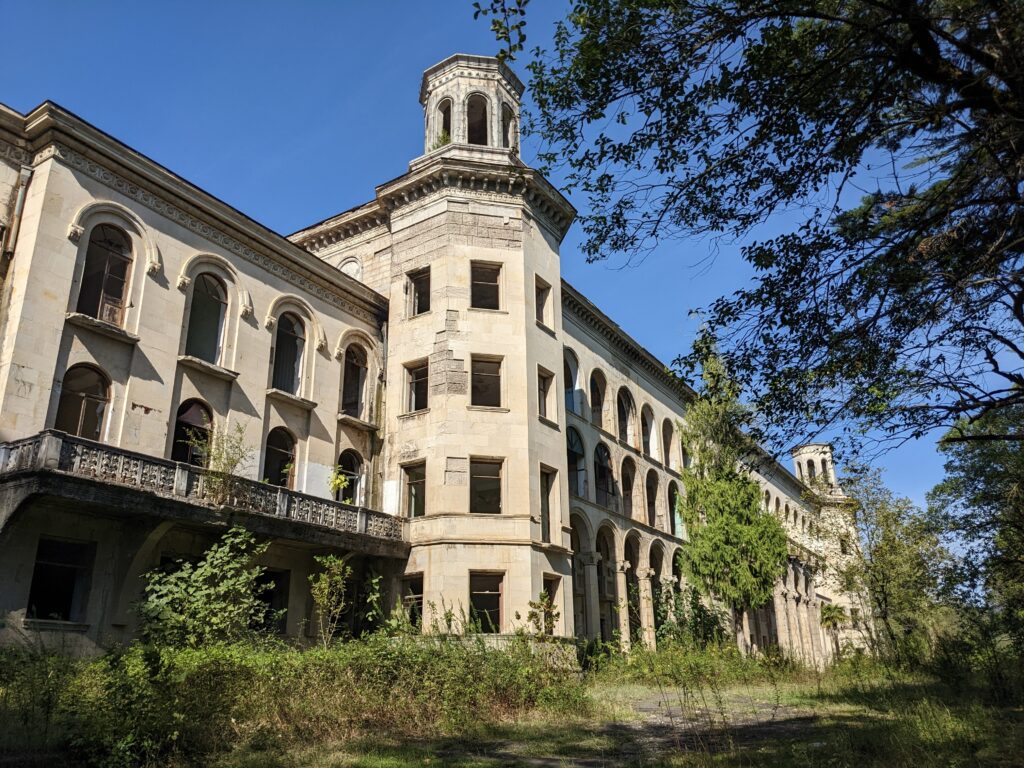 Sanatorium Iveria was the first spa we explored, and what a place to start. The building was crumbling, completely uninhabited and mostly stripped of all its interiors, but there were still some signs of how opulent it would have been, with ornate cornicing and ceiling roses still intact. We climbed the stairs to explore further and were very careful not to stray too close to the edge of the atrium, which we think would have housed a huge chandelier but was now completely open. Further inside, we found what would have been bedrooms, tiled treatment rooms and a huge space that looked like a ballroom.
The one with Stalin's private bathing room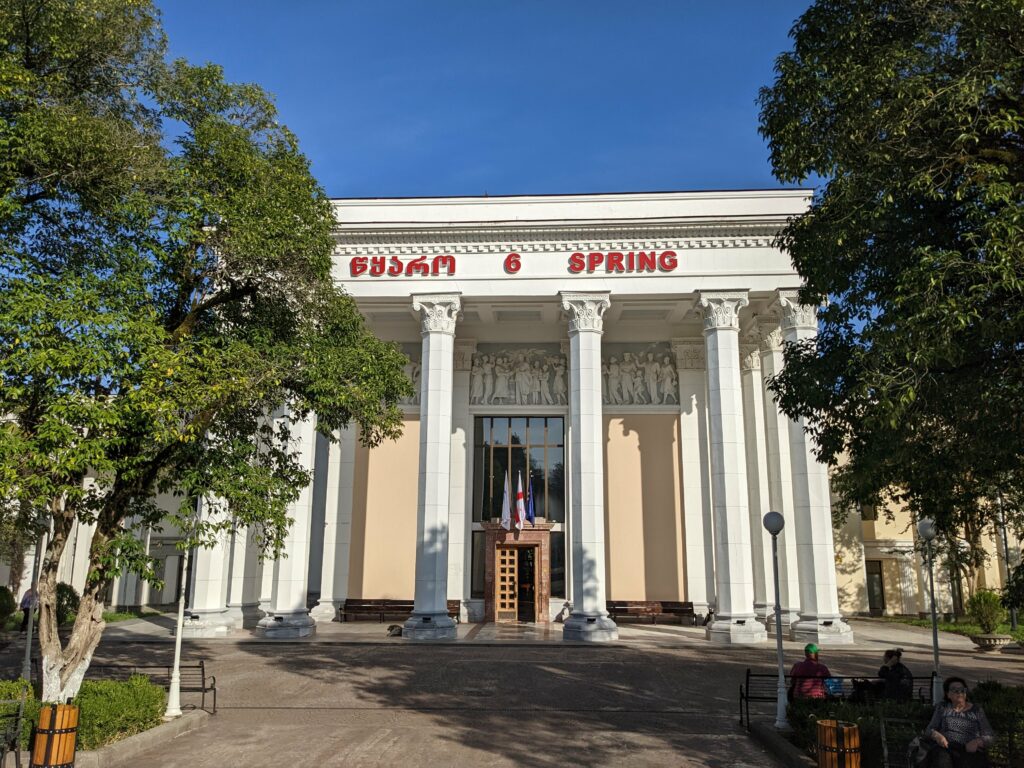 Bathhouse No. 6 was the only one we visited that is still open and offering treatments. It's also where Stalin had his own private bathing room. We'd read that it was virtually impossible to get access to Stalin's room but that it might be worth asking (or begging) nicely. Neither of us particularly wanted the awkwardness of being refused, but it seemed silly not to ask when we were already standing in the lobby, so imagine our surprise when they waved us through with a smile! It was pretty cool and we were left alone to admire the mosaics (and to peek into other treatment rooms on our way there and back).
The one with all the wedding photographs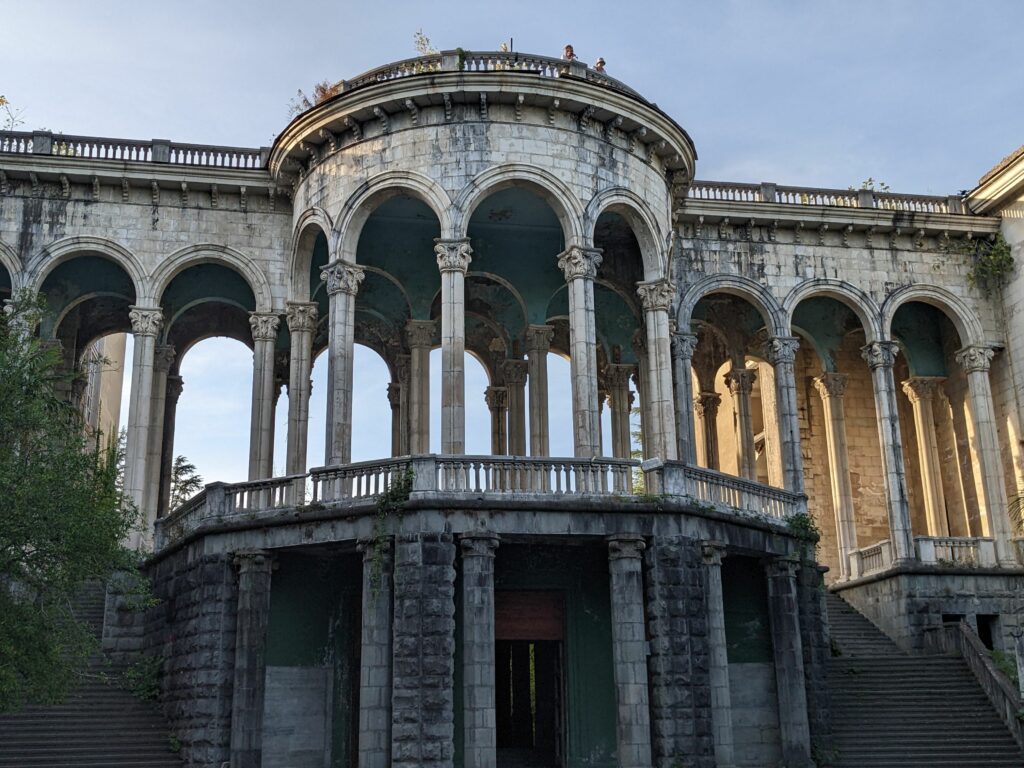 We upped the 'intrepid explorer' ante a bit at Sanatorium Medea by approaching (along with our usual dog friend/guide who had joined us for the afternoon) via a very overgrown path that led to the back of the sanatorium. At least this meant we got a few minutes of exploring to ourselves, because this was by far the busiest site we visited. We'd read that it was a popular place to have wedding photographs taken but we were still a bit surprised to actually see a wedding party around while we were there. I don't blame them though – it was pretty cool (although I hope the bride got less bitten by mosquitos than I did…)
The ones where wild dogs chased us away
Finally, there were a couple of sanatoria that we wanted to visit but where the resident dogs had other ideas. We decided not to mess with them!
The first was Sanatorium Tbilisi, which had a totally spectacular exterior. However, we'd read that much of the building was inhabited by internally displaced persons from the conflict in Abkhazia. We didn't want to pry, given these are people's homes, so we weren't so sad not to go inside.
The second time this happened, we were a bit more disappointed. We'd read on Wander Lush's excellent guide that Sanatorium Metalurgist was her top fave to explore because it was so beautifully preserved. We'll just have to satisfy ourselves with the pictures we saw on her blog, which as an aside, I would highly recommend if you're planning a trip to Georgia. Much more professional than our ramblings 😉
We only saw a fraction of what there was to see in the area, but it was a fascinating afternoon and totally different to anything else we've done on our trip so far. Our next stop was Borjomi, another spa town (we are on a roll) around two and a half hours south-east of Kutaisi.