Our planned route roughly follows the Silk Road through Southern Europe, across the Mediterranean and Caspian Seas and onwards overland through Central Asia. This route is somewhat similar to the first three legs of Race Across the World (series 1), which was certainly an inspiration of this part of our trip.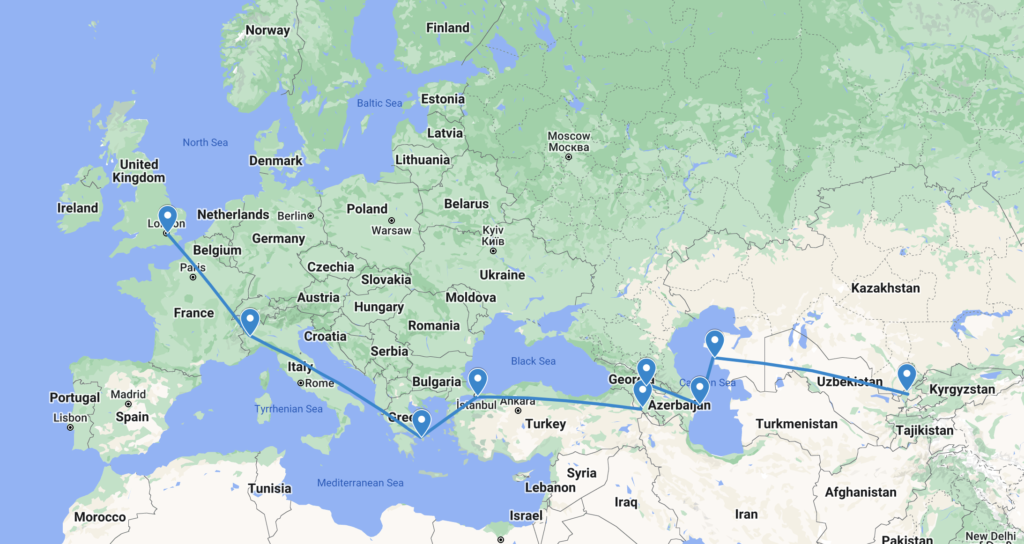 Our trip begins on 3 August 2022, when we'll take the Eurostar from London to Paris, followed by onward train to Turin later on the same day. We'll spend the next two weeks exploring the Gran Paradiso National Park, Cinque Terre, the Marche region, Naples and Matera, before catching an overnight ferry to Greece, where we'll spend the latter half of August.
Upon arriving at the port of Patra, we'll head straight to Delphi, before continuing our journey to Athens. We plan to spend the rest of August island hopping across the Aegean Sea, although our route into Turkey is less certain. We like the efficiency of continuing to Turkey by ferry, although we're also tempted by the romance of entering Asia via Istanbul.
Istanbul will certainly feature on our itinerary regardless of where we cross into Turkey. We're expecting to spend the best part of September exploring the country, including visiting Ephesus, Pamukkale and Cappadocia and walking part of the Lycian Way.
We'll then spend the following few weeks exploring Georgia, Armenia and Azerbaijan. We've visited (and loved) this part of the world previously, but some of these land borders remain closed so our plans for this leg of the journey might change as October approaches.
In mid-October, we're hoping to cross the Caspian Sea by ship from Baku to Aktau. The route exists primarily to transport truck drivers and their freight and there are no scheduled crossings, so this could be quite an adventure. If successful, we'll then cross a short section of Kazakhstan to arrive in Uzbekistan, where we plan to stop at Bukhara and Samarkand on our way to Tashkent, some time in late November.
This route intentionally moves at a reasonable pace en route to Central Asia. The primary motivation for this is to reach Uzbekistan before the peak of winter. However, it's likely that we'll return to London a few times over the next year or so, and we'll try to follow different routes in and out of Europe where possible so there should be ample opportunity for further exploration.
After Uzbekistan, we'll see where the road takes us…