From Slovenia, we crossed into Austria to spend a couple of days re-enacting The South Of Music in Salzburg, before taking the train to Innsbruck to go hiking in the Nordkette mountains.
Our coach from Ljubljana to Salzburg hit a few delays en route, but this did at least give us a good amount of time to savour the views as we crossed the Austrian Alps. We finally arrived at the bus station (5 km south of Salzburg city centre) with only half an hour until reception closed at our guest house (5 km north of Salzburg city centre). With no other option, we hopped in a taxi to make the journey. It quickly became clear that our taxi driver wasn't going to let us down, and what followed was a mildly terrifying but ruthlessly efficient journey on two wheels through the city centre. We finally screeched into the drive ready to check in with 5 minutes to spare.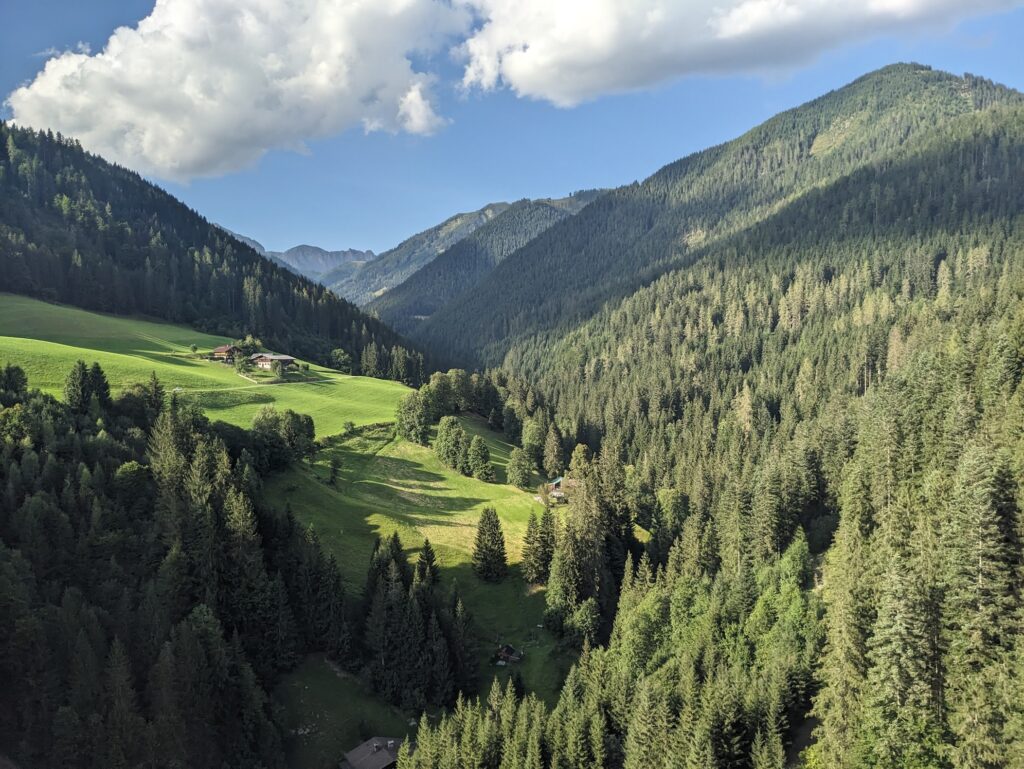 Our guesthouse was a quintessentially-Austrian chalet in a quiet and sunny suburban neighbourhood. It seemed to have all the essential features – the guesthouse name written in huge letters, a large sloping roof, window shutters and a borderline-excessive number of window boxes.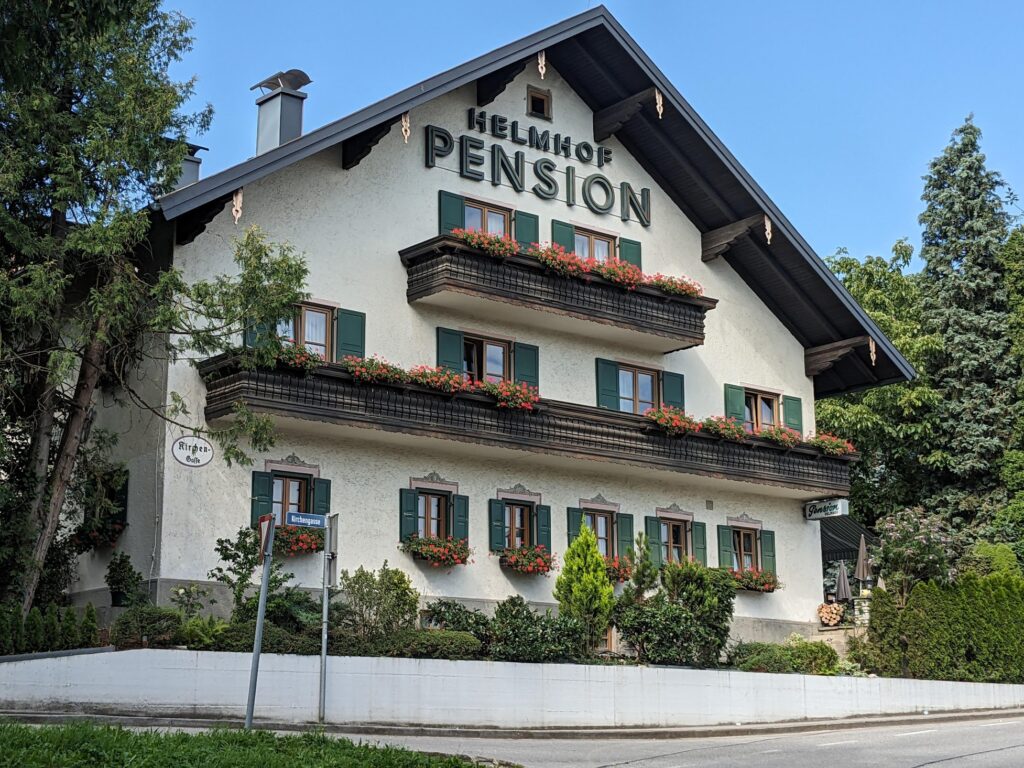 We were excited to be visiting Salzburg, not just for its beautiful old town centre, but also because Salzburg is where much of The Sound Of Music was filmed (if you're not a fan of the movie, you'll have a lot in common with me! You might want to skip down to the first roast pork photo below). Anyway, Sara is a fan so we'd booked onto a cycle tour that would take us around many of the key locations, starting in the gardens behind Mirabell Palace, through which Maria dances in the crescendo of Do-Re-Mi.
Next up was Residenzplatz, where Maria playfully splashes the horse statues in the fountain while singing I Have Confidence.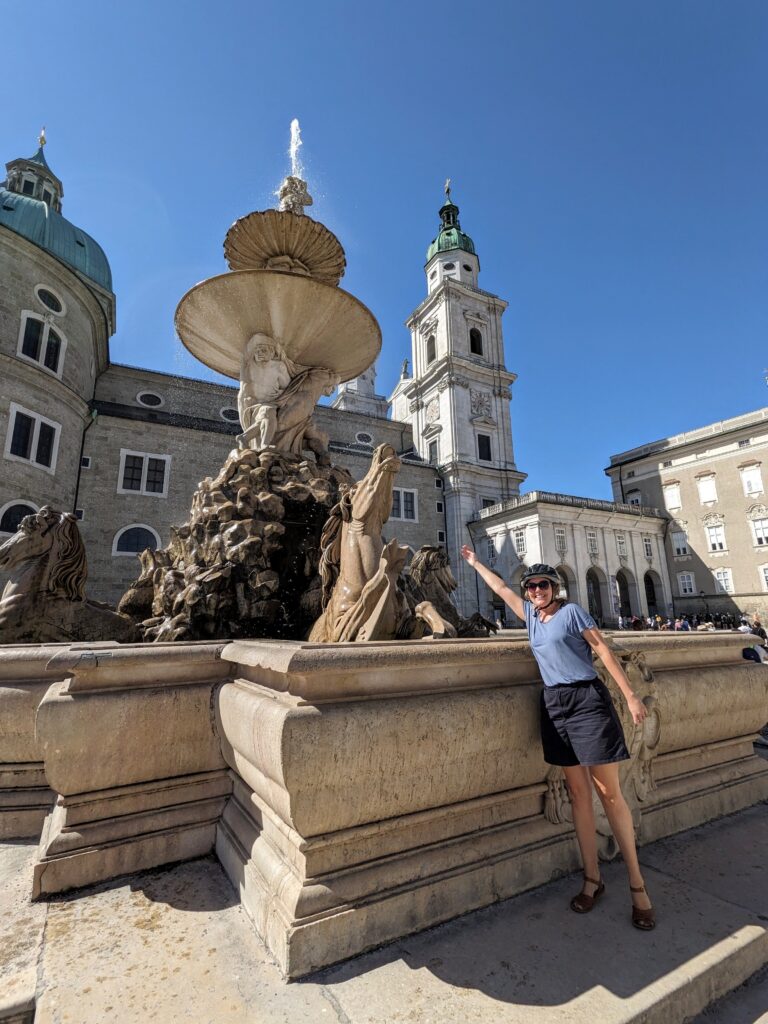 Later in the movie, Nazis are also shown marching through this square, and although the production company had permission to film this scene, the local authorities changed their minds right at the last minute. Apparently, when the producers suggested they could instead use real footage of Salzburg citizens cheering the arrival of the Nazis, the authorities had a sudden change of heart and allowed them to film after all.
Our tour then took a short break in Kapitelplatz, where we indulged in two quintessentially Austrian refreshments – an Apfelstrudel (apple pie) and a bottle of Radler (shandy), which literally means "cyclist". It was the perfect pick-me-up and refreshment on an already seriously hot day!
We then climbed the hill to Nonnberg Abbey (where Maria studies to become a nun), with a beautiful view over Innsbruck's rooftops. Legend has it that the filming crew cut out one of the bars of the metal gate (to Sara's right) without permission to make space for a camera. At least they had the good manners to weld it back again, and the welding scars are still visible to this day as proof!
Our tour continued through the beautifully sun-drenched meadows surrounding Salzburg to our final stop – the two von Trapp houses. These buildings were used as the front and back of the von Trapp house in the film, and although they look very different in real life, no one seems to notice in the movie.
To recharge after our cycling adventure we headed to Augustiner Braustübl, a monastery-brewery founded in 1621 with a 1,400-seater (!) beer garden. Inside is huge vaulted beer hall, surrounded by a food court selling traditional beer snacks. Our favourite was definitely the kümmelbraten – slow roasted pork belly with caraway seeds, a staple across Austria. This came with a side of grated horseradish, which wasn't quite up my street but Sara made short work of it!
We returned to our guesthouse to find a local festival in full swing just down the road. Having been cancelled for the past five years through a combination of global pandemic and poor weather, these Salzburgers had donned their lederhosen and dirndl and were in the mood to celebrate. The following morning, a tractor pulling a brass band trailer arrived outside our guesthouse at breakfast and we were treated to private performance of a few numbers. We just couldn't work out whether this was all part of the festival, or if it was a way to apologise for all the noise last night!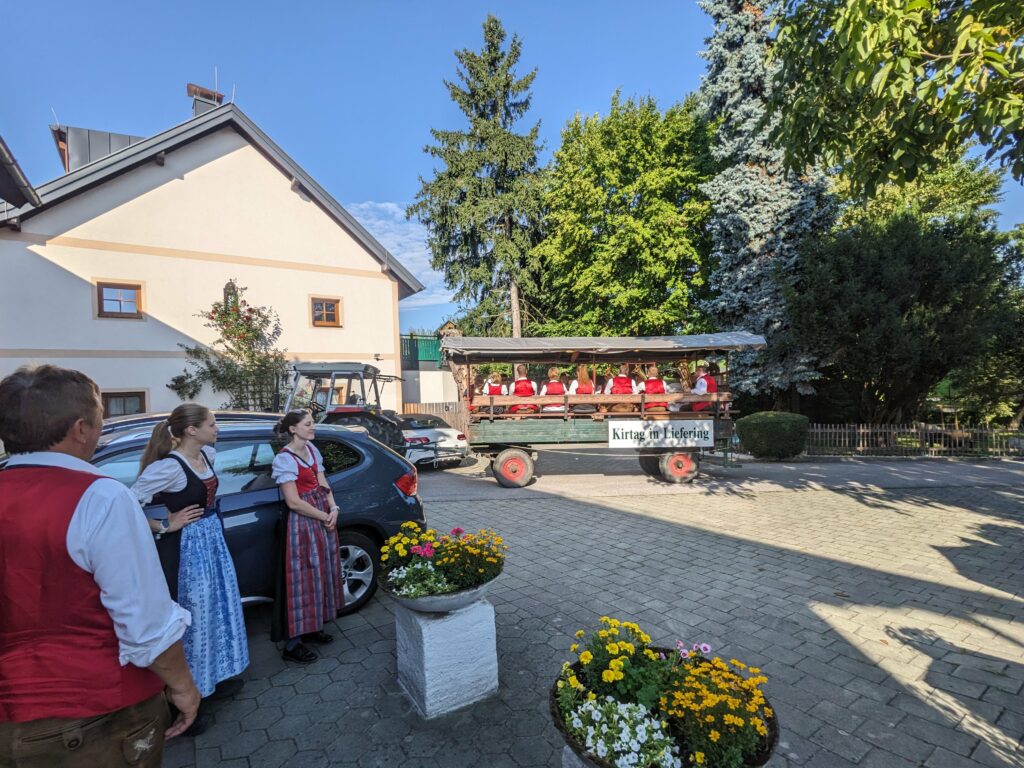 The next stop on our Austrian detour was Innsbruck, a city with a medieval old town nestled in a valley between the Karwendel Alps, and the Patscherkofel and Serles mountains, which were the fictional location of the Chalet School books, one of Sara's favourite childhood series. Actually, walking the narrow pedestrianised streets reminded me more of Diagon Alley in Harry Potter, with every building's bay window protruding into the street, and every business' sign hanging further across the thoroughfare. Talk about atmospheric!
Innsbruck's proximity to the mountains is no exaggeration, with a funicular and cable car combo whisking hikers from the city centre to 2,000 m elevation in less than 20 minutes. However, this route came with a hefty price tag, so instead we opted to take a bus to Hungerburg and set off on a short hike through the forest. Even as we got off the bus, the view across Innsbruck and to the mountains beyond was already spectacular.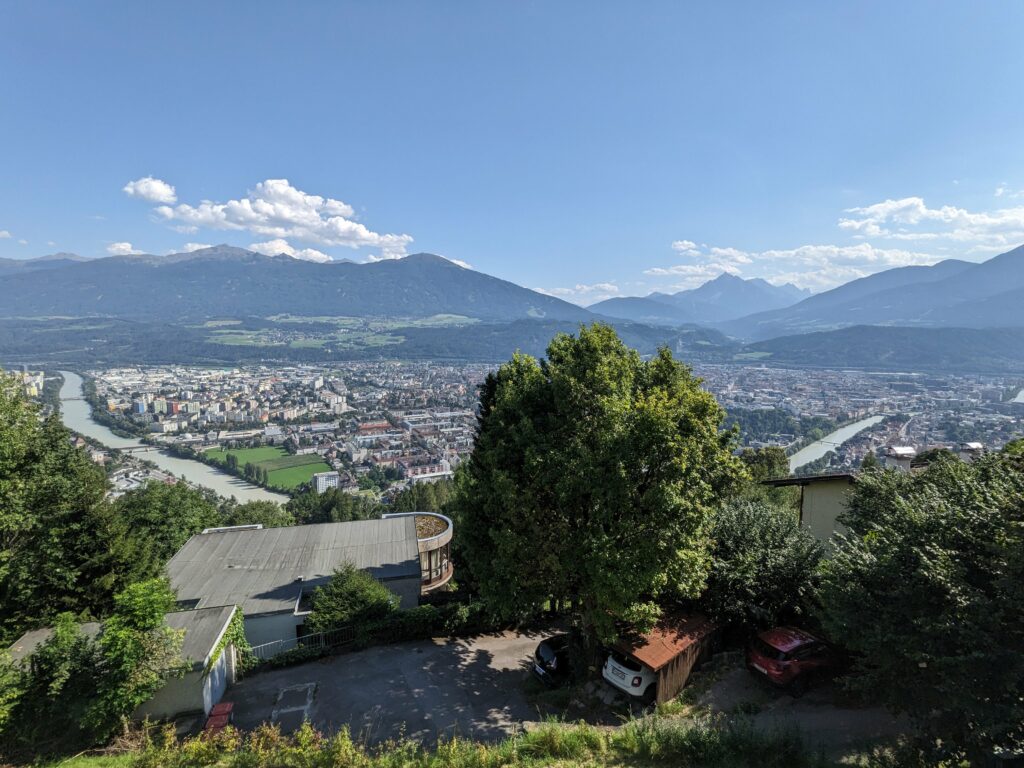 The first half of our route climbed steeply through the trees, which provided some much-needed shade from the summer sun. Every so often, the trees would give way to a clearing under the path of the cable car, leaving a wild meadow to take hold, framing more stunning views down to the city.
Just beyond our highest point we arrived at Umbrüggler Alm – an immaculately kept mountain restaurant with an incredible sun terrace. It seemed like such an unlikely place for a modern restaurant, given that it was nowhere near a cable car station and there were no paved roads leading to or from it. Sadly, the restaurant wasn't open on the day of our visit, so I hope they didn't mind us resting in their deckchairs while we enjoyed the view from the terrace.
The beauty of all this exercise was that we could we could visit yet another beer garden with little-to-no guilt. This time we tried out Siftskeller, a traditional Tyrolean restaurant with a large courtyard on the edge of Innsbruck's old town. Once again the roast pork was our favourite, although this time it was served with a generous ladle of onion and carrot gravy, sauerkraut (natürlich!), and a pretzel dumpling that wouldn't have seemed out of place in an English stew. Not exactly heatwave-appropriate food, but it was just what we needed after a tiring hike!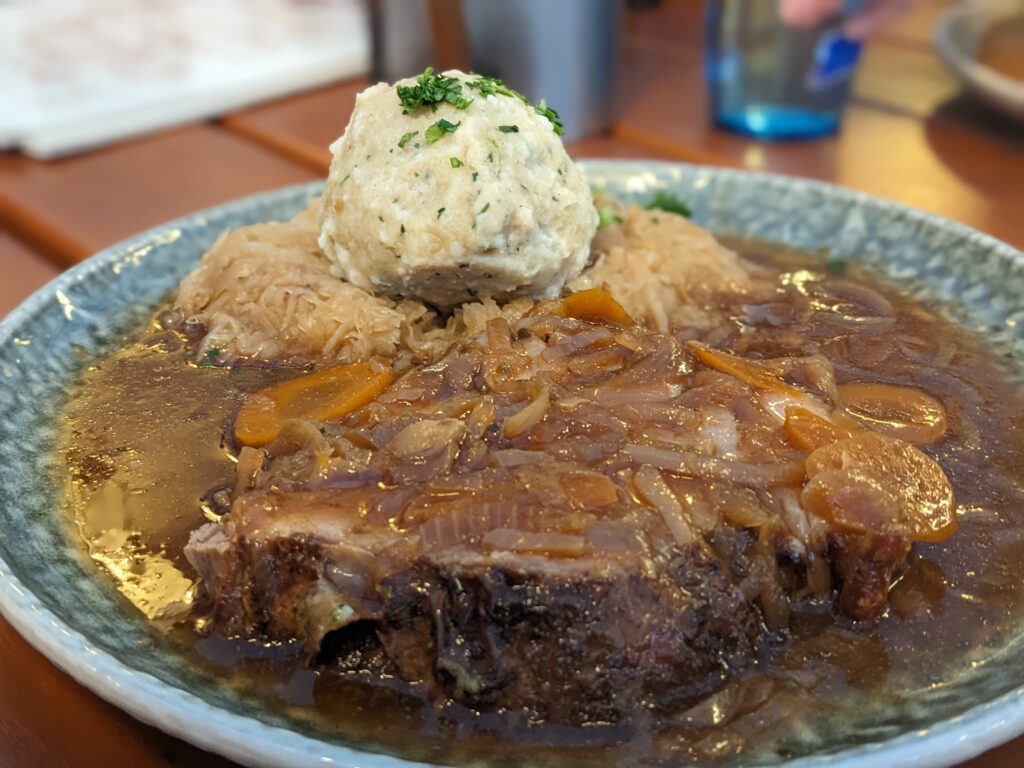 ---
With our visit to Austria already coming to an end, we set our sights on our final country – Germany – before our return to the UK.