It's been quite some time since we shared our plans – in fact, in our last update we mentioned that we were thinking of visiting New Zealand and (spoiler alert) we've just spent a brilliant two months there! This has been our route around Southeast Asia and New Zealand since we left Japan in January…
And now onto what's next…
June to mid-July: United States 🇺🇸
We plan to spend a couple of days exploring O'ahu, one of Hawaii's 137 islands, before moving onto the continental United States. Although the stop in Hawaii adds an additional flight to our route (not exactly nearly neutral), it's been on our to-visit list for a very long time, so we decided it made sense to stop off while we were already crossing the Pacific – not somewhere we find ourselves very often. The compromise we have made is to stay on O'ahu rather than visiting any of the other islands, since the only way to get between them is to fly. There was briefly an inter-island ferry service, but that was halted due to environmental concerns. Go figure…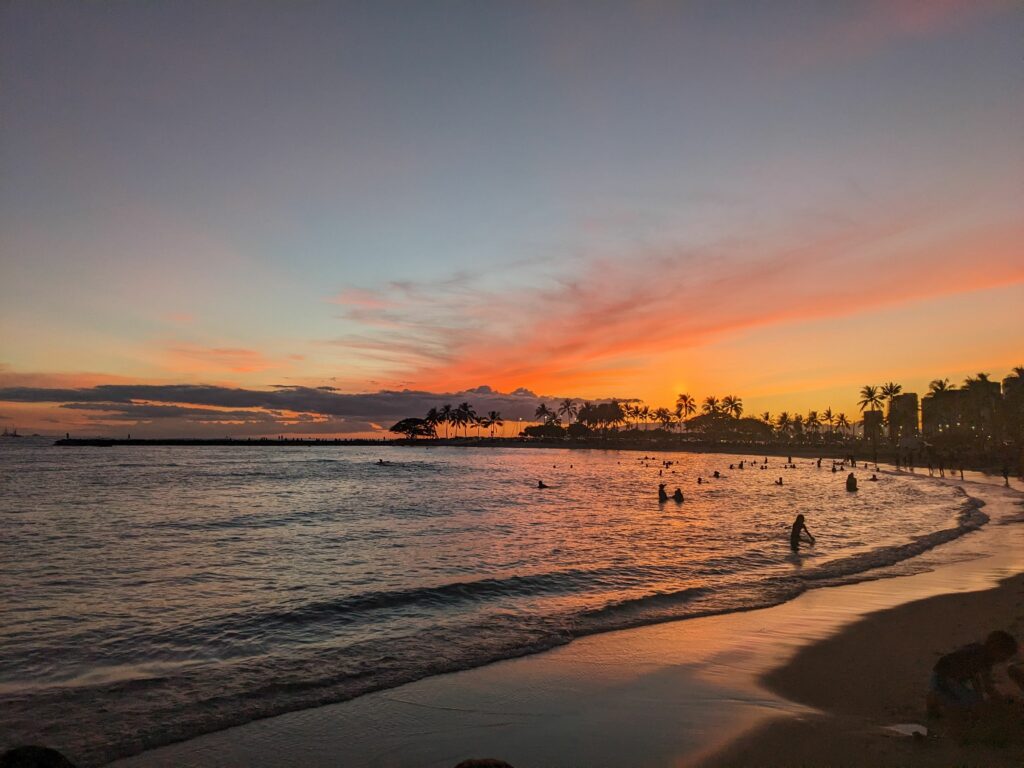 From Hawaii, we'll fly to Portland, OR, where we'll begin a 40(ish) day traversal of North America. We plan to travel mostly by train, visit at least a couple of National Parks, and cram in as much local food as possible in that time. Having been just the two of us since we said farewell to Mario at the start of May, we'll be happy to have some company again as our top stalkers fans (Mum and Dad) are coming to join us again for the journey between the west coast and Chicago. At least there'll be witnesses next time Oli throws me off a tandem! We'll end our North American leg in New York, before hopping on one of the shortest possible trans-Atlantic flights to Lisbon.
Mid-July to late-August: Lap of Europe 🇵🇹🇪🇸🇫🇷🇮🇹🇬🇷🇦🇱🇲🇪🇭🇷🇧🇦🇸🇮🇦🇹🇩🇪🇧🇪
From Lisbon, we'll cross into Spain and then pass through the South of France into Italy (again!). Here, we'd love to visit Bologna (FOOD!), Ravenna, and spend some time in the Marche region, which we missed last time. However, this is all dependent on the situation following May's devastating floods in Emilia-Romagna, so we'll see how the region's recovery is going and whether they are yet welcoming visitors.
Either way, we'll need to cross Italy as we're once again heading for a ferry to Greece, but this time our route is between Ancona and Corfu. Once we reach Corfu, we'll meet up with the Appletons to gatecrash part of their summer holiday.
If our plans pre-Corfu were vague, they get even more vague after this! We'll probably take a ferry to Albania, then work our way up through the Balkans into Central Europe. We're aiming for a Eurostar from Brussels at the end of August, which will take us back to…LONDON! 🇬🇧
September onwards
We plan to spend at least a month in the UK to give us a chance to catch up with friends and family, meet all the babies who have been born since we left last August (well, not all of them, just those born to people we know), and hug Thomas until he wriggles free (probably immediately).
After September? TBC!