Admittedly, it wasn't exactly the smoothest entry to a country we've ever had…
We'd forgotten to fill out our online entry card before we reached the border, which meant we had to queue up twice at immigration. By the looks of it, almost everyone else had forgotten too, but unfortunately it slowed us down enough that our international coach from Kuala Lumpur left us behind at the border. Whoops! We managed to negotiate our way onto another bus with the last of our Malaysian Ringgit and eventually made it into the city, where things looked up considerably.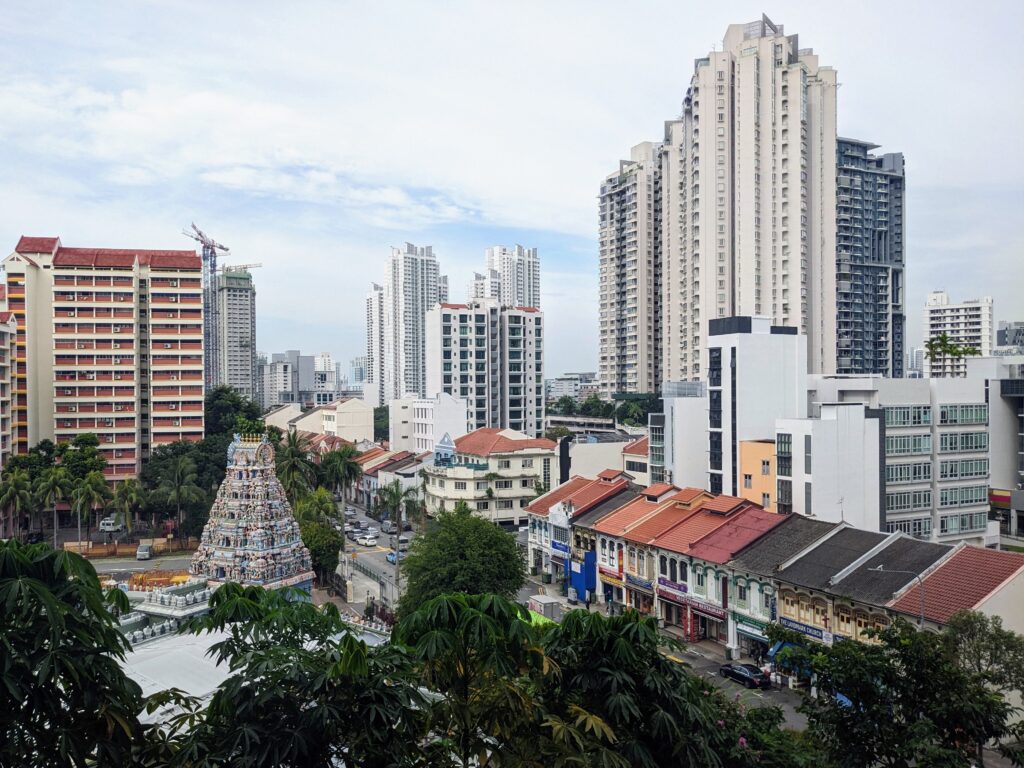 It was about 4pm by this time and we were ravenous. While carrying our backpacks through the maze of roads in Little India, we stopped for a bite to eat and couldn't quite believe we'd stumbled upon exactly the same chapati restaurant where we ate on our first visit together in 2015 (on our honeymoon). Clearly, our tastes haven't changed much! Almost certainly, it was the same lovely 'uncle' serving us, but looking even more wizened for the intervening years. He was incredibly kind and put a smile on our faces after a bit of a difficult day. We ordered chapatis, channa masala and mutton keema and demolished it in minutes. We forgot to take a photo of the food, so instead have one of Oli eating the same thing in 2015 (below; second photo), looking very young and rather overheated!
The next morning, we headed straight out to get a kaya toast set for breakfast, which included two rounds of thin toast sandwiching a generous dollop of kaya (coconut) jam and thick wedges of salted butter, accompanied by two soft boiled eggs for dipping. We'd been excited about this ever since we first tried kaya toast in Jeju and realised that it was actually a Singaporean dish. The eggs elevated the dish to a whole other level – definitely a top tier breakfast option. I've already been searching for where we'll be able to find it in London!
Our next stop was Toa Payoh, which was well outside the city centre but somewhere we'd read was a lively neighbourhood and good for wandering. After what ended up being a comically long time lost in the bus station, we eventually broke free and had a good poke around the local area.
As well as seeing a refreshingly local hawker centre, a shrine to an ancient tree, a park with cute turtles swimming in the pond and a landmark watchtower from the 1970s, we also learnt that Toa Payoh was the site of the first public housing built in the city in the 1960s. There was even a heritage walking tour devoted to it. Now, we're both firmly of the belief that anything can become interesting if you learn enough about it, but I have to say that this was an outstandingly unengaging walking tour! So, we didn't complete the whole tour, but we did visit block 53, which became known as the VIP block because so many Prime Ministers, Presidents and Royalty (including the Queen!) were brought to see it when it was first built. We also saw a couple of cats (which were thin on the ground in Singapore), so it wasn't a wasted journey in the slightest.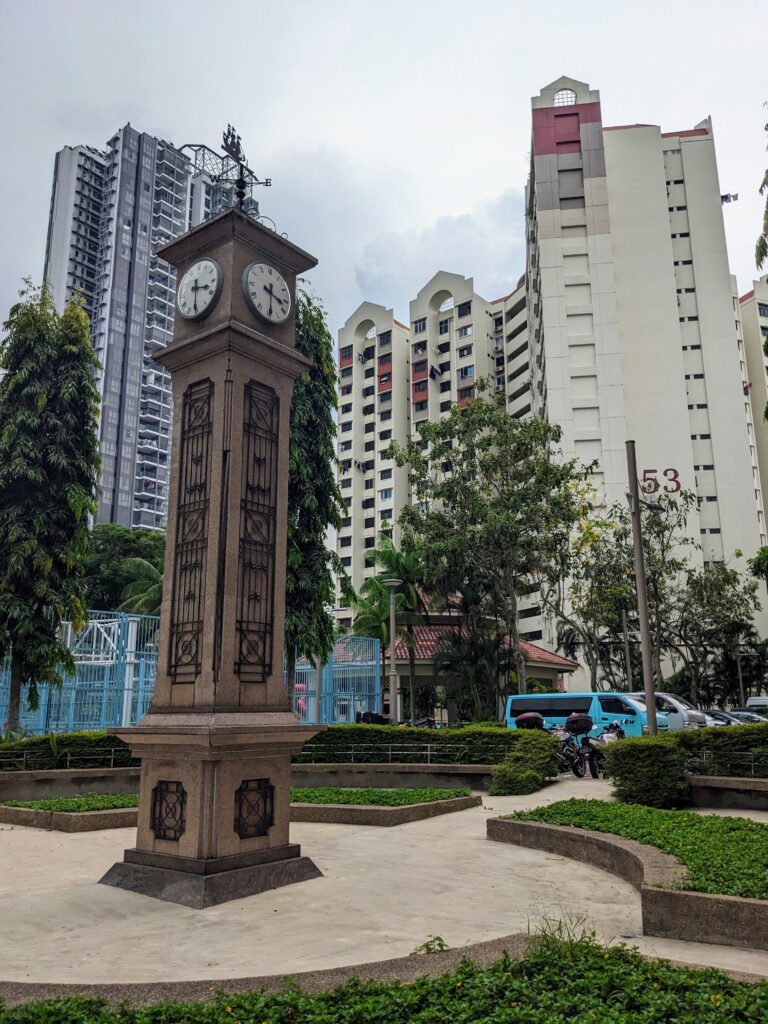 We ended the day at the spectacular Gardens by the Bay, where we ate satay sticks and drank beer in the hawker centre, replicating another visit from our honeymoon. Apparently we've got a lot more sensible over the years, because the beer was served in much smaller volumes in 2023 (left) than in 2015 (right)!
Finally, we sat on the grass to watch the nightly light show at the Supertrees. This was pretty impressive and, most important, totally free!
We began the next day with a walk around Robertson Quay, one of Singapore's three quays (and definitely the one with the best name). There were lots of appealing restaurants and wine bars here and we could see that it was about to start pouring with rain, so we did the sensible thing and carried on walking until we got caught in a big downpour!
We hopped on a bus and headed to Chinatown with plans to visit a hawker centre for a late lunch, but it was raining so hard that we had to take shelter. While Oli was scrolling around on Google Maps looking for something to lift our spirits, he came across the perfect entry: Temple Cats! Just across from where we were sheltering was a temple with two resident cats, who had been given glowing five-star reviews from people presumably about as mad as us. Highlights included, "Dignified eyebrows 5/5" and someone who had helpfully reported that no reservations were required. Now this was something for which it was worth braving the rain! We headed straight over and made friends with one of the cats (unfortunately the other was nowhere to be found – and we searched the area thoroughly).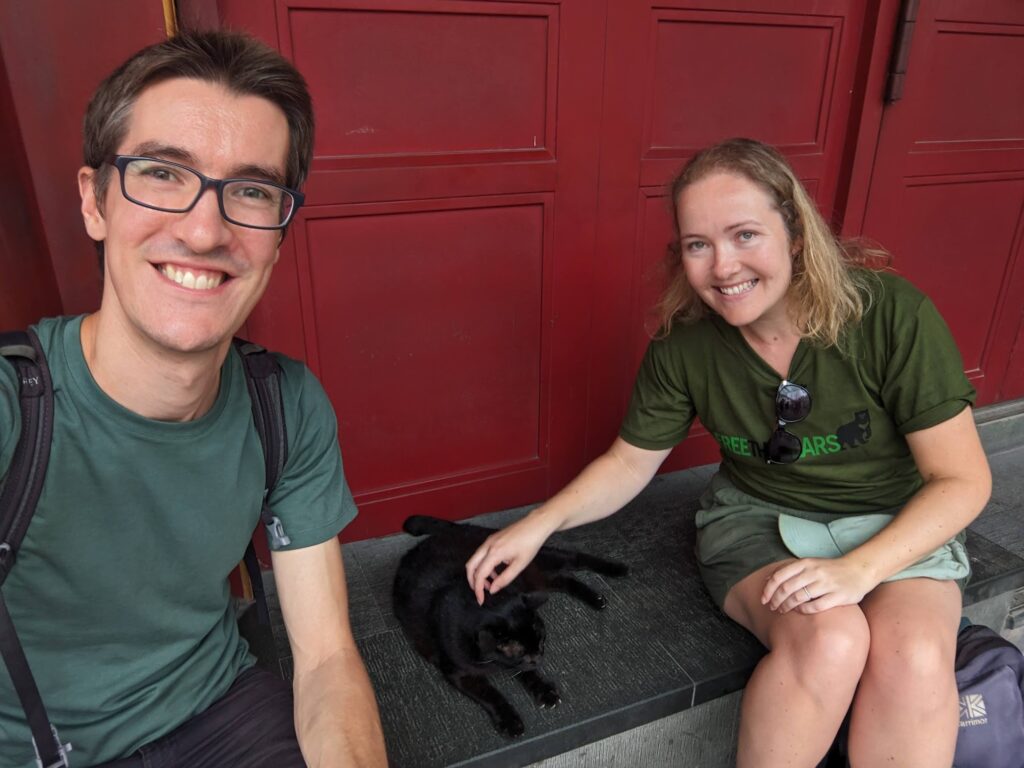 By the time we were finished hanging out with our new friend, the rain had stopped, so we headed over to the Maxwell Food Centre and joined a very long queue that stretched right out of the building for the famous Hainanese Chicken Rice that is churned out from a small stall here. We'd read that this poached chicken dish was very beige but much tastier than it looked, and as it's a defining dish of Singapore we just had to try it while we were in town. It was tender and delicious, with a mild, salty and garlicky gravy, masterfully-prepared rice and a citrussy chilli sauce: definitely more than the sum of its parts.
Next, we took a brief wander around Orchard Road, the commercial centre of Singapore. This is where we stayed last time and it has such a different feel to the rest of the city – the slick shopping malls and high-rise hotels are a stark contrast to the restored shophouses of Little India, where we based ourselves this time.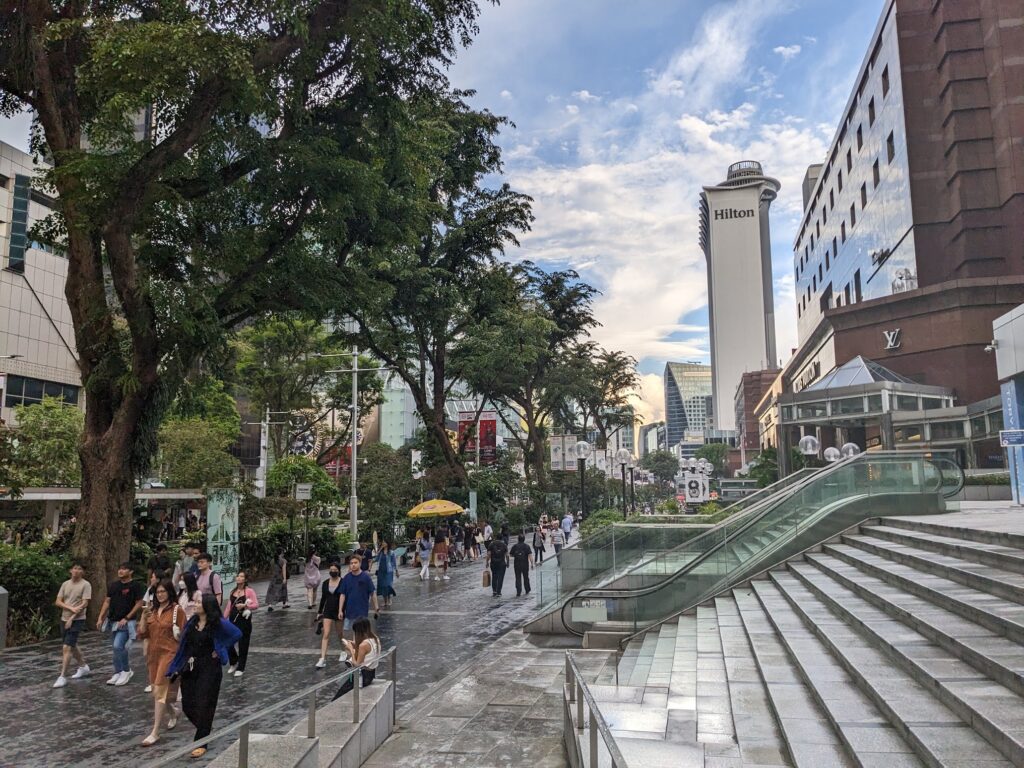 For our final Southeast Asian meal, we just had to make the most of staying in Little India by eating some more Indian food. Singapore has a similarly stunning culinary mix to Malaysia, with regional specialities well represented, and we headed for a South Indian vegetarian restaurant. We were actually aiming for the one next door, but MTR Singapore had such a long queue down the street that we couldn't resist seeing what the fuss was about. We like to imagine that we're pretty knowledgeable about Indian cuisine, but this restaurant put us firmly in our place – we recognised barely anything on the menu! It was a pretty high-pressure ordering process as we only saw a copy of the menu as we reached the front of the queue and then had to order immediately at the counter, but thankfully we had input from the waiter and fellow customers in the queue and they made great recommendations!
We had further input when we reached our shared table, as our neighbours insisted that the food would taste better eaten with our hands. I'm all for this where possible, but some of the things our queue friends had ordered on our behalf were really quite messy and we simply don't have the skills to eat tidily without cutlery. Anyway, we couldn't really refuse while they were keeping a close eye on us, so please spare a thought for my fingernails, which will now be turmeric-stained for the foreseeable future!
Our top pick was the pudi masala dosa (in the forefront of the photo below), which was totally unlike any dosa we've eaten in the past. It was spongy on top (a bit like a crumpet), crispy and fried underneath, and topped with a fiery dry spice mix and a ball of waxy, delicately spiced potato. Super satisfying!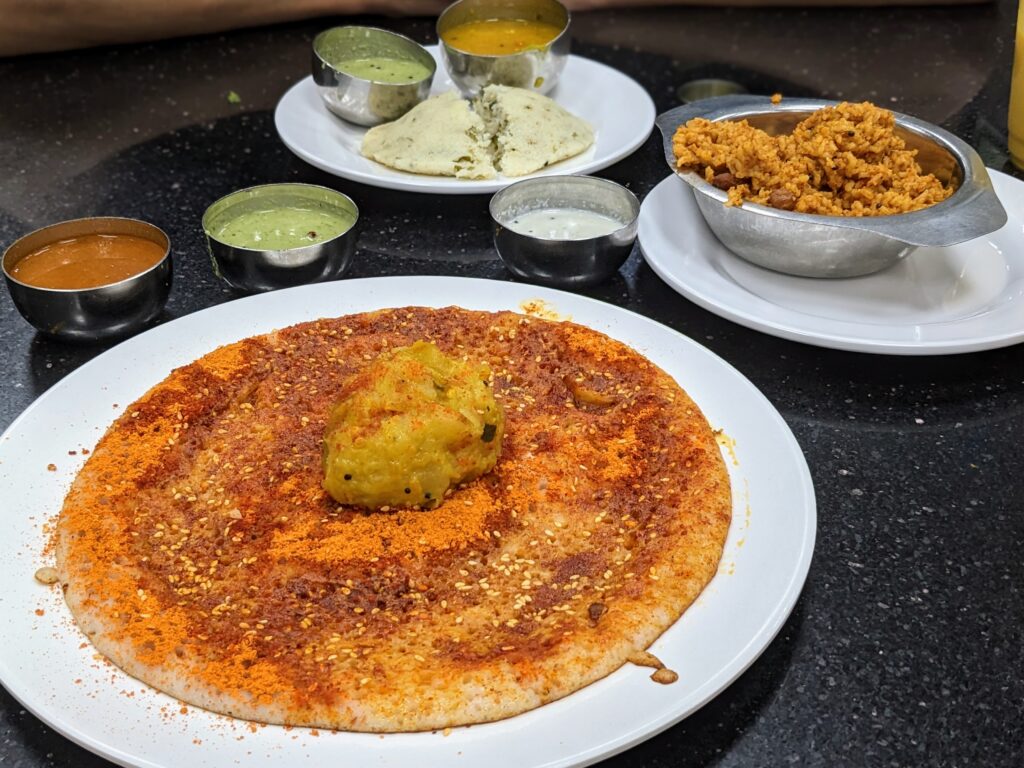 Food aside, I think we actually spent most of our time in Singapore scrubbing our walking boots. This probably sounds like quite a strange way to spend our time in one of the most exciting cities in the world, but suitably chastened after our mishap entering Singapore (we're normally SO organised with this kind of thing!), I reread the New Zealand travel advice and realised just how seriously we needed to take their biosecurity policies. So, we set about doing the best we could to scrub off eight months of mud from all across Europe and Asia using a toothbrush, a showerhead and lots of splashing, and then hoped for the best.
New Zealand, here we come (with squeaky clean boots)! 🇳🇿