After the sober sights of the last few days, it was time to continue on our path southwards and visit the catchily-named town of Prachuap Khiri Khan. This small town came highly recommended by Lonely Planet as being off the beaten track, our previous guesthouse owner had described it as unspoilt, and it received a glowing write-up from the same blogger couple who had loved Nong Khai, so we were pretty confident that we were onto a winner.
We boarded the open-windowed train bound for Bangkok, but hopped off after about two hours to change onto a southbound train. This required some planning and speed, since the train really didn't stop for long at each station and they weren't announced in advance. Thankfully, all our practice at Public Transit Roulette meant that we were ready! The train conductor seemed very surprised to see that we were on the move and wanted to know where we were going. Repeating "Prachuap Khiri Khan" three times because our pronunciation was so poor took quite a while, but eventually he understood and took great pride in telling us that there was a train heading in that direction in 40 minutes – well, we knew that, that's why we were here! We thanked him anyway, and we were really amused to see him hanging off the train as it pulled out of the station, beaming at us and calling, "Remember, 40 minutes!".
Our next train was scheduled to take five hours and we'd treated ourselves to second class in the hope of some air conditioning, but no such luck. It was another window-cooled train, and we were soon to learn that these are even more of an assault on the senses by night since this is when the bugs turn up!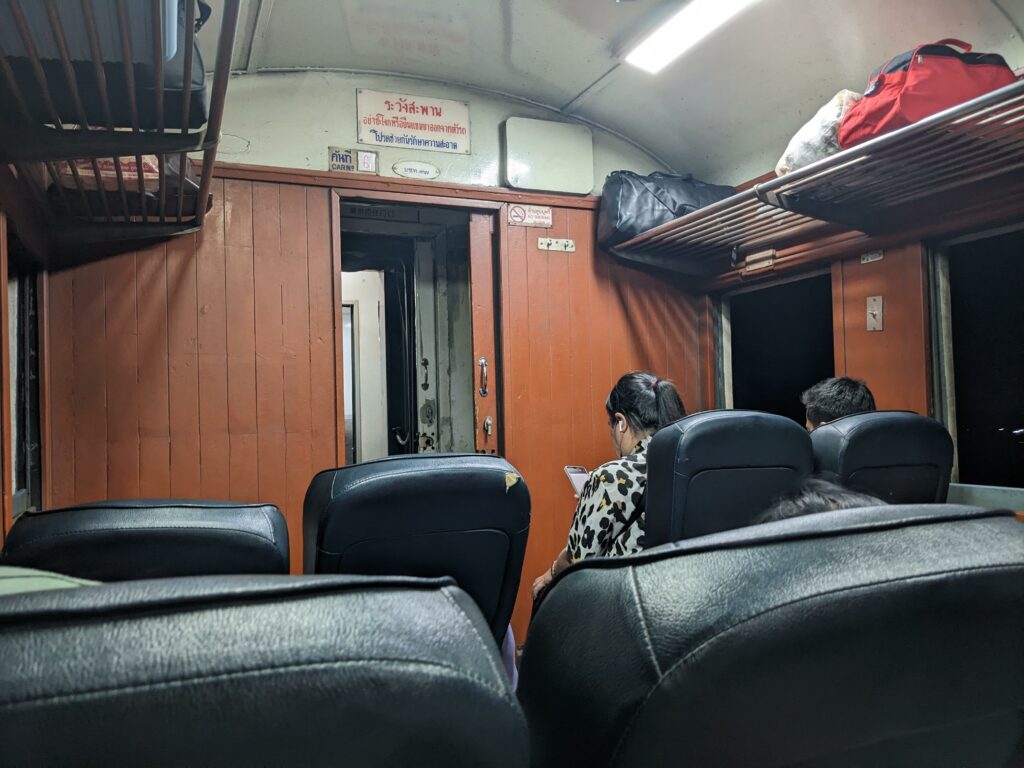 When we eventually arrived in Prachuap Khiri Khan around 10pm, we were pretty tired and absolutely filthy from the open train windows, but we had just one more mode of transport to tackle before we could shower and sleep: a tuk tuk meets motorbike side car. I can confidently say it is one of the least comfortable forms of transport I've ever taken, but it got us safely to our destination with only moderate jarring of our backs and necks, so I won't complain!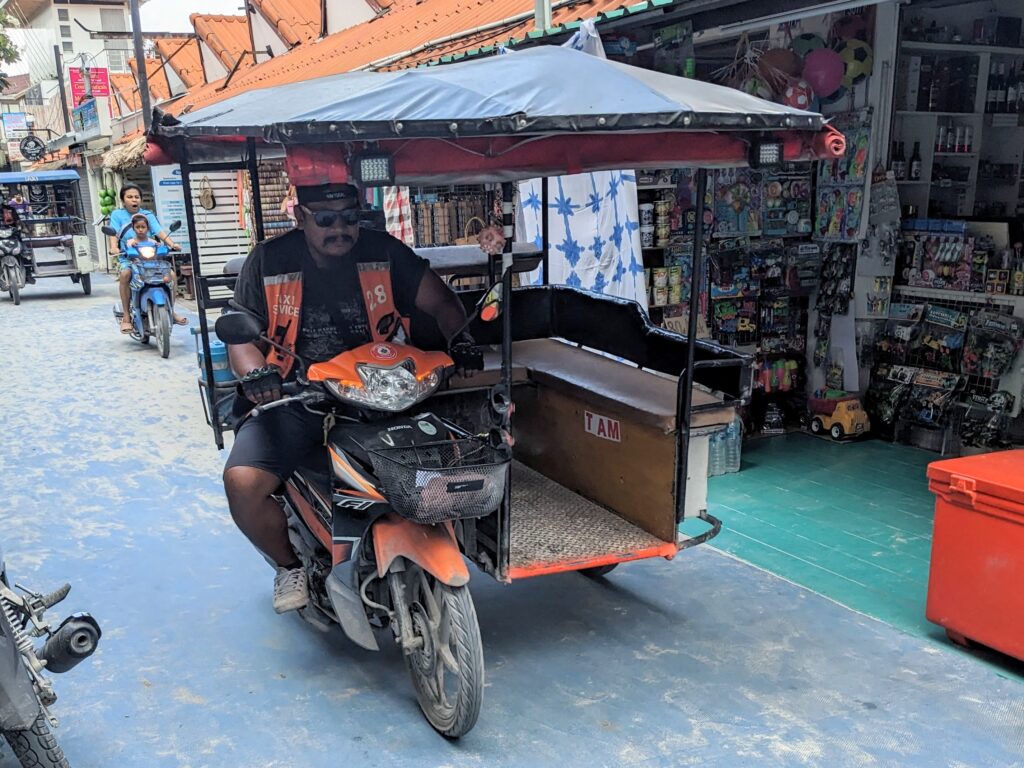 The next morning, we borrowed bikes from our hotel to get around town. Amazingly, these were free of charge and roadworthy (but the lock did jam shut later in the day, leaving passers by to assume we were attempting to steal them – you can't have everything)! Our first destination was the local air base, because we'd read that we could show our passports to get access to the best beach in the area, which sat within the base. In reality, the guard seemed supremely relaxed about letting us pass and simply gestured us towards a neighbouring building where there was a book to sign in. There were no headers at the top of the page and no one to ask, so just as everyone previous had presumably done, we copied the person above and the errors continued down the page – I'm sure we wrote 'beach' in at least four of the columns! We hopped back on our bikes and cycled through the beautifully tended grounds – and then right across the runway!
As we pulled up at the beach, Oli turned to me and asked, "So is this the Thailand you've been searching for?" It really was!
After a day spent at the beach, we headed into town for a cycle along the promenade, which was an equally chilled affair.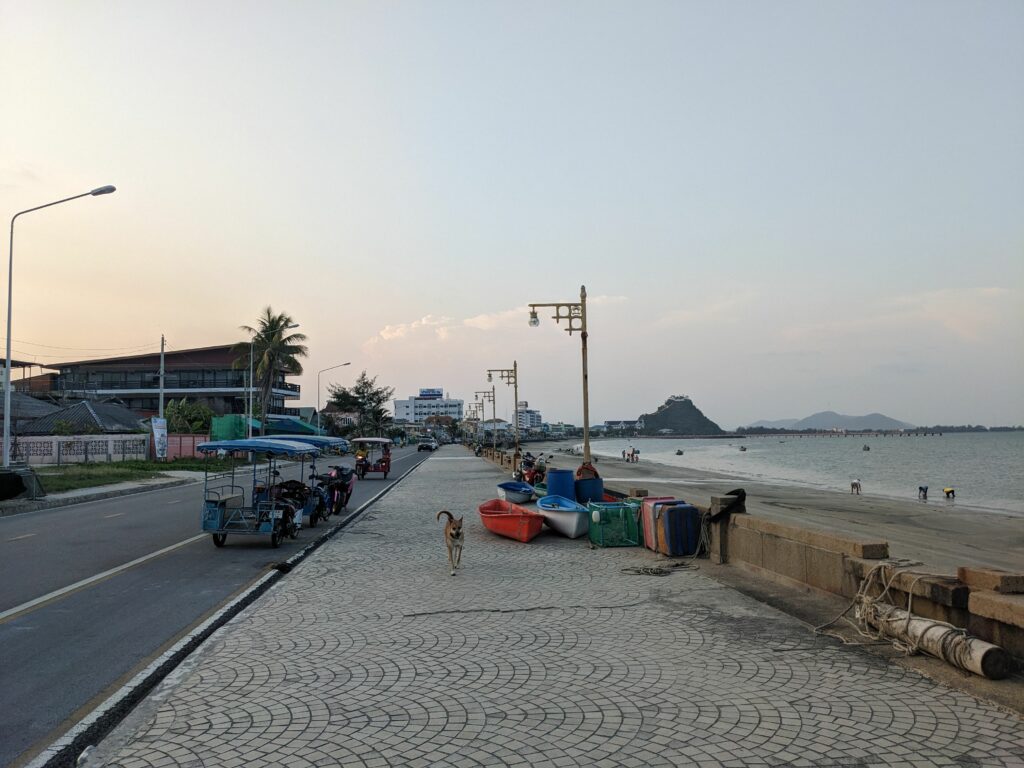 The next day was the first of a multi-day journey that would take us nearly to the Malaysian border, but we couldn't leave before picking up our laundry. Bizarrely, they had scrawled 'Oli' onto the label of every single item we gave them, and where the garment didn't have a label, just straight onto the fabric with a permanent marker. We've had a few weird laundry experiences, but this has to be the strangest!
With that, it was time to bid farewell to Prachuap Khiri Khan to continue our journey south. It occurs to me now that we never did sign out of the air base, I do hope they're not still looking for us…