To get to Huế, we took a sleeper train from Hanoi. The trains were still pretty booked up post-Tết, so we ended up in one of the private carriages that are allowed to couple onto the main train. Theoretically, these offer a bit more luxury but in practice the compartments are not much different – the photo below left makes it look way smarter than it actually was – and the toilets are still an experience (nothing on Uzbekistan trains though, and I hope nothing else will ever match them!). It was nice for once to travel in a four-person compartment with people we actually know, particularly when they were so happy to share their cold beer. And there was actual, working WiFi!! Unheard of.
Despite a positively arctic night on the train, we all slept surprisingly well so headed straight off to sample some Huế specialities at Quán Hanh for lunch. We'd read about royal rice cakes but we had no real idea of what they were, but we soon found out as we ended up with a five-course feast! Not every course was a type of rice cake, but they were all delicious. As is par for the course in Vietnam, each dish had its own dipping sauce and special method for 'building' and eating it, so we needed a tutorial for each one.
Bánh bèo (rice and tapioca flour cakes topped with dried shrimp and pork crackling)

Bánh khoái (deep fried rice and turmeric pancake with a peanut dipping sauce)

Nem lụi (lemongrass pork skewers, eaten wrapped up in rice papers with herbs)

Nem rán (crispy fried spring rolls)

Bánh cuốn thịt nướng (BBQ pork summer rolls)
The next day, we headed to the Citadel, and spent most of our time within the Imperial Enclosure, described as a "citadel within a citadel" by the Lonely Planet. Indeed, the Citadel is enclosed by a moat and fortified walls, and then a further moat and walls surround the Imperial Enclosure. This area houses the royal residences, temples, palaces and gardens of ancient Huế (so called, but probably not as ancient as you have in mind – much of it was built around 1803). A lot of it was crumbling, but in a very aesthetically-pleasing way, and there were literally thousands of bonsai trees around the site, which were incredible. We were very tempted to 'borrow' one but never quite agreed on a plan for how we could send this on the plane with Mum and Dad without detection (although Mum was confident, having previously brought back chairs, Christmas trees and other assorted large items in her checked luggage…)
We'd read to allow a half day around the Citadel, but we spent nearly all day there and didn't see everything – there really was a lot. But then again, our slow pace might partly be explained by the fact that Oli and I somehow managed to persuade Dad to dress up as an emperor. Mum wasn't feeling well and we thought this might cheer her up, and I think it did a bit! The resulting photo also got rave reviews from Katie, who described it as "the best photo I have ever seen, apart from maybe Oli's yukata outfit". In a chilling illustration of how quickly power can go to someone's head, Empie (as he requested we call him) threatened to throw us all down a well later that afternoon when none of us laughed at his 'well, well, well' joke. You think you know someone…
Spot the difference: Empie in his palanquin (left); Emperor Khai Dinh (right)
Having survived the day despite our benign ruler's best efforts, Oli and I headed off to try another of Huế's famous dishes. Bún bò Huế is another noodle soup, but unlike phở, it has a richer and spicier broth, contains mixed meats (usually pork and beef) and has cylindrical rice noodles rather than flat. It's one of my standard orders from the wonderful Pho Ta at home, so I was super excited to try it in its birthplace. It wasn't nearly as spicy as I expected (although there were plenty of chillies available in a pot on the table to liven it up) but was still so full of flavour, with a tasty shrimp ball in the broth, which was an added bonus I've not tried before.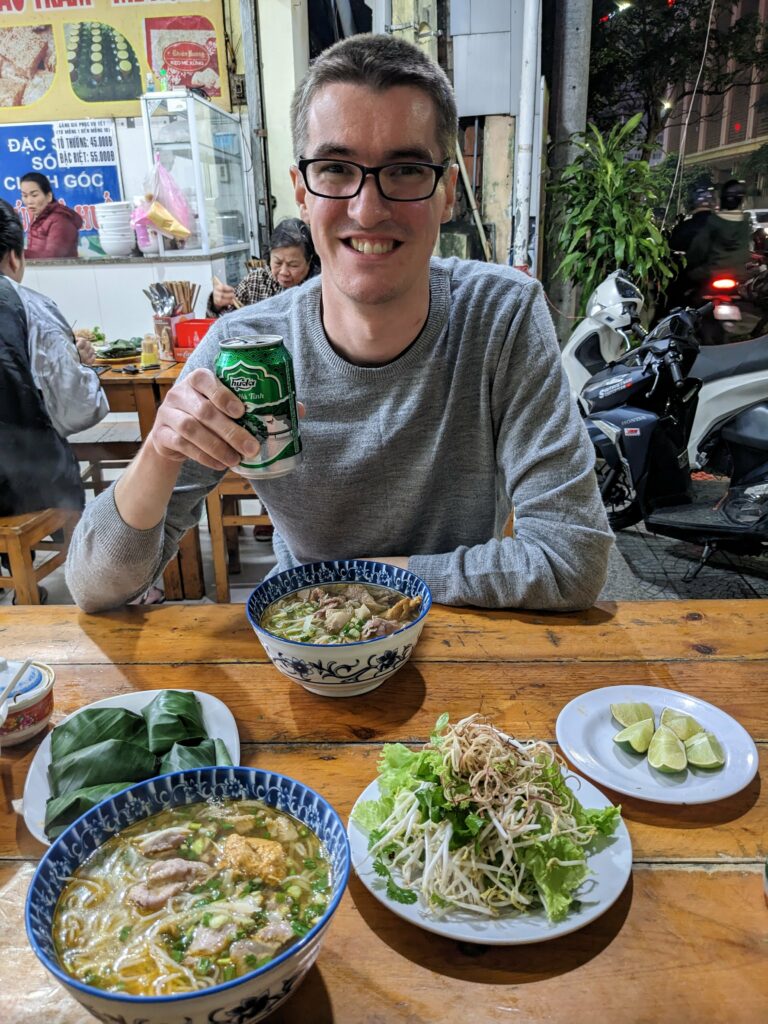 The restaurant also served us up more rice cakes, this time wrapped in banana leaves. We weren't very hungry but had to try them, and they were satisfyingly chewy with a mystery (but very tasty) filling. We didn't order any of this by the way, it all tends to arrive unprompted and it's normally best just to let it happen!
The star of the show was probably the coconut jelly served as dessert, using the tender green coconut flesh as a shell. Look how beautiful they are!
By this point, we were absolutely stuffed, but we'd found an excellent craft beer joint the previous evening and couldn't resist going to try the other half of the menu.
The next day, we headed out into the countryside to explore Huế's collection of royal tombs, which house the mauseoleums of emperors who ruled in the Nguyễn dynasty between 1802 and 1945. We began at the tomb of Minh Mạng, which was a huge, peaceful and highly symmetrical complex of many buildings set on the banks of the Perfume River. We spent an hour exploring but I still don't think we saw it all in this time.
Our second stop was the tomb of Khải Định, which was much smaller but still impressive for its imposing terraced site. The exterior was quite plain (well, relatively speaking…) but the interior was totally encrusted in elaborate mosaic bas-reliefs, with painted lamps and motifs on the ceiling. It was a bit like the designers of each element had never met, but had each gone all out on making their part the most highly decorated of all. Nothing really matched and I was a big fan!
Our third and final royal tomb was that of Tự Đức – well, sort of (more on that in a moment). It was another enormous complex, set on the banks of a lake.
All three tombs that we visited were beautiful and very different, and we couldn't agree on an overall favourite between us. However, one thing we could agree on was that the story of Tự Đức's final resting place was totally horrendous! Apparently, through fear that his tomb would be targeted by grave robbers, Tự Đức was not buried in the lavish surrounds that we had explored, but instead had a hidden tomb in an undisclosed location. All 200 of those who were involved in his actual burial were beheaded so that the secret could never be revealed! Just imagine the level of paranoia and self-absorption that could lead you to thinking this was a reasonable plan…
After a busy couple of days exploring Huế, we were ready to hop back on the Reunification Express for the short(ish) journey south to Đà Nẵng.