We noticed that not everyone received an email for our last post. If you were one of the unlucky ones, you might want to check out Soaking up the atmosphere in Kinosaki Onsen before reading this post.
---
We split our two remaining nights in Japan between Nara, a small city south of Kyoto, and Tokyo. Nara is only a short 45 minute local train from Kyoto, and made for a very convenient short excursion. The city is well known for its resident deer population, who are loved by both residents and visitors alike.
We bought some 'deer cookies' (rice crackers) from a vendor as soon as we saw the first group of deer hanging out in a little park, and immediately a group came trotting over meet us. Some were more persistent than others, with one of them head-butting my bag and his little horns clonking against my metal water bottle. Another even gave Sara a light nip on the back of her leg (although this might have had more to do with the fact she had a piece of bacon in her pocket that she didn't find until later – and no, she can't explain why it was there). I really don't want to give the deer a bad rep though, as most were incredibly well mannered and would even bow their heads to request a cracker. These must be the best fed deer in the world.
Nara is also home to a number of temples and shrines, the largest and most impressive of which is Tōdai-ji. In fact, Tōdai-ji is the largest wooden building in the world, and is also home to a 16m tall buddha statue. The temple itself was genuinely quite atmospheric, with the beautiful architecture accentuated by the smell of incense and sound of the chanting monks.
We spent the rest of the day walking through Nara-kōen, a large park to the east of the city, which is home to many more shrines and temples, some with a beautiful view over the city.
It was at this point that we realised that there was no shortage of deer, with small herds of deer dotted throughout the park. They did seem a little cheeky when left to their own devices though, as we caught various deer disassembling shop displays, peering through restaurant windows, and generally hassling cookie vendors.
On our way back into the city we paused at Kōfuku-ji, another Buddhist temple home to an impressive five-storey pagoda. But of course, the area in front was occupied by more deer, who seemed more than happy to dismantle the small barriers that stood between them and tourists with rice crackers. The best part though was that many of the tourists patiently put the barriers back together each time, only for more deer to arrive and dismantle them once again. The security guards were less concerned with the futile barrier maintenance, and we even noticed one had a pocket full of acorns to feed his deer friends, who clearly knew what was on offer.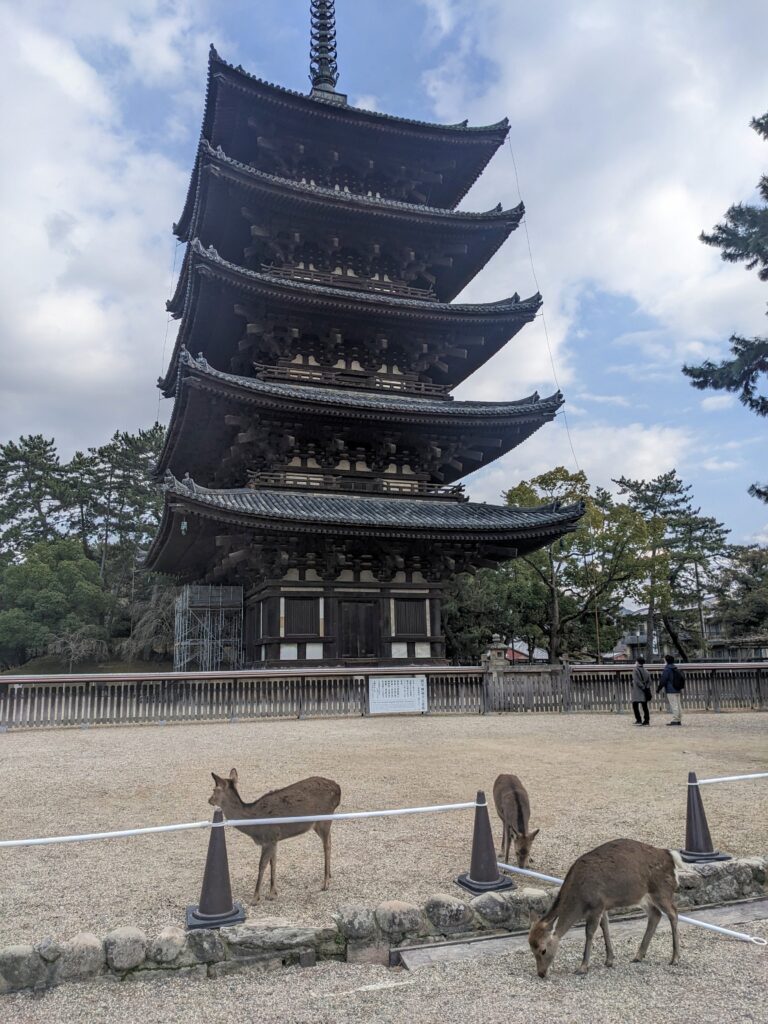 ---
We returned to Tokyo via Kyoto for one last bite at the apple before our flight. The Yanesen neighbourhood had so far evaded us, but we managed to squeeze in a sunny Saturday morning walk before we had to head to the airport. Our route started in Ueno Park which was already busy with families enjoying the weather. Almost immediately, we came across a small festival where local dance groups were performing on a stage to the now pervasive J-Pop. The couple below were our favourites, who performed their final song with help from a plushie character each. I think the song and plushies had something to do with Pokémon, though I'm only guessing at this point!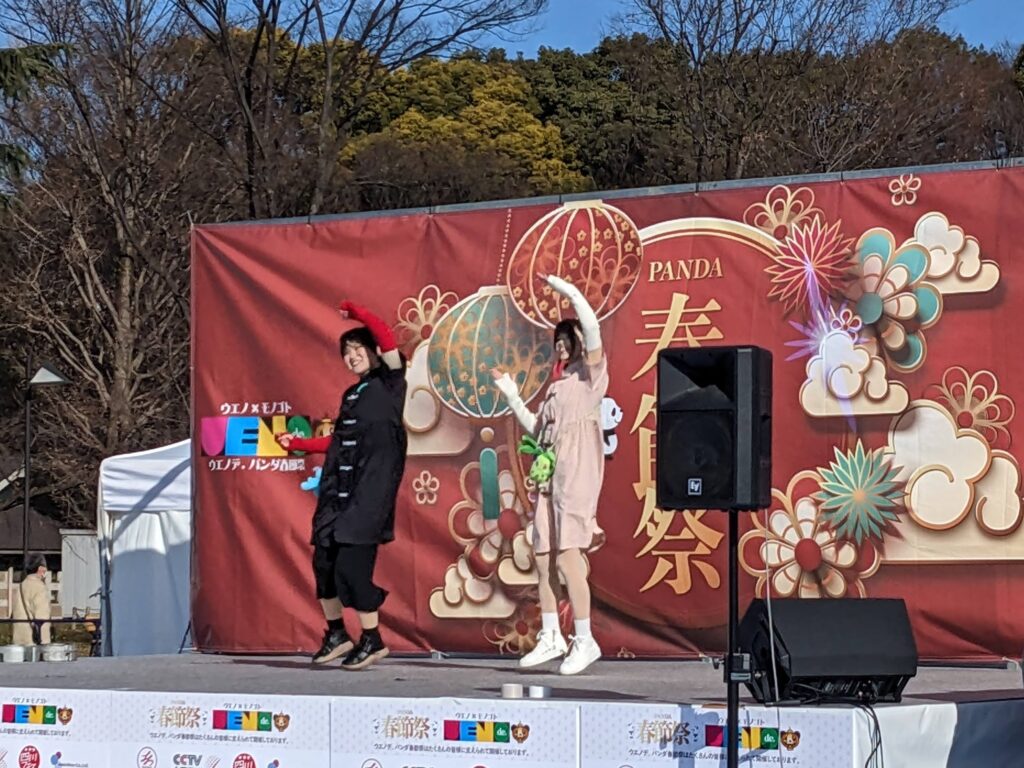 Our route wound through several traditional, low-rise areas and ended in Sendagi, a lovely neighbourhood of tiny shops and zig-zagging narrow residential streets, which was brought to life by the weekend footfall. This turned out to be one of our favourite parts of Tokyo we'd seen so far, and we explored the labyrinth of alleys for as long as our schedule would allow before it was time to take the train to the airport.
---
Our next destination will be Southeast Asia, which has been our target ever since leaving London. We're particularly excited to return to Vietnam after our first visit nine years ago, during which we were blown away by the country's incredible street food. We also had some unfinished business to attend to, since our first attempt to visit Hạ Long Bay was cancelled due a rather rude typhoon.