It's been 15 days since we left the UK, and we've thoroughly enjoyed our time in Italy. Our route covered the length of the country from Turin to Bari, which meant that we saw a huge amount of variety, from the Alpine-escape above Aosta to the cacophonous old town of Naples. I'm writing this from our ferry en route to Greece, and it feels like the perfect moment to reflect on our experiences over the past fortnight.
Train travel
Travelling by train has been incredibly easy in Italy. Admittedly, we did alter our itinerary to minimise the number of times we traversed the country, thereby avoiding many mountain passes that would have been time consuming by public transport. Specifically, we swapped a hike to the Marche region for a Tuscan adventure in Lucca, so we've already got one reason to return to Italy. Special thanks to Mario for his travel advice, which helped us make the most of our time in Italy. In total, we took 19 trains in Italy, and spent 47 hours trundling along the tracks.
We were genuinely impressed by the rail infrastructure, especially given that it extended to the mountainous coastline around the Cinque Terre. The trains were consistently large, modern and very comfortable. I'm sure low-carbon travel won't always be this easy, which is all the more reason to appreciate it while it is.
Carbon audit
Our two-week itinerary from London to Bari resulted in 127 kgCO2 being emitted into the atmosphere, so there's still a long way to go before we hit the minimum carbon offset credit size (1,000 kgCO2e). For comparison, we emitted 847 kgCO2e during our 2010 three-week interrail trip from London -> Berlin -> Pula -> London. It just goes to show the difference made by avoiding flying!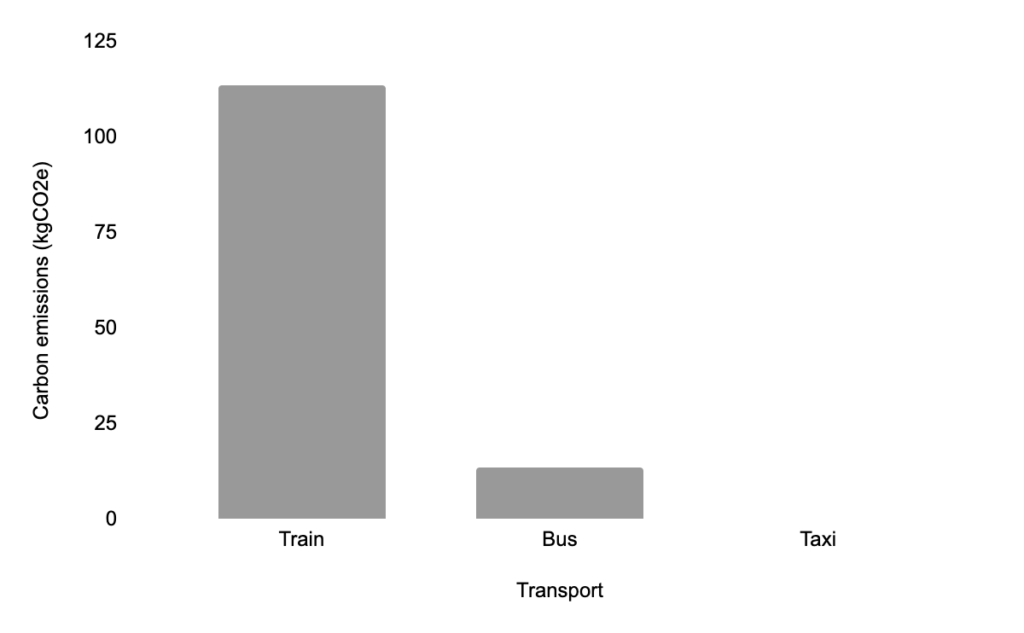 Unsurprisingly, the majority of our carbon emissions resulted from train travel, given that we travelled the vast majority of distance by train. Still, I was surprised to learn that low speed rail emits more than 7 times the amount of carbon of high speed rail, for journeys of the same distance. This is definitely something to consider for the future, given we sometimes opted for slower regional trains to save money.
Costs
The largest share of our money went towards accommodation costs, while food and transport costs occupied about a quarter of our budget each. I'm slightly surprised that activities made up less than 5% of our costs, but then again, I am really cheap and we both do enjoy walking!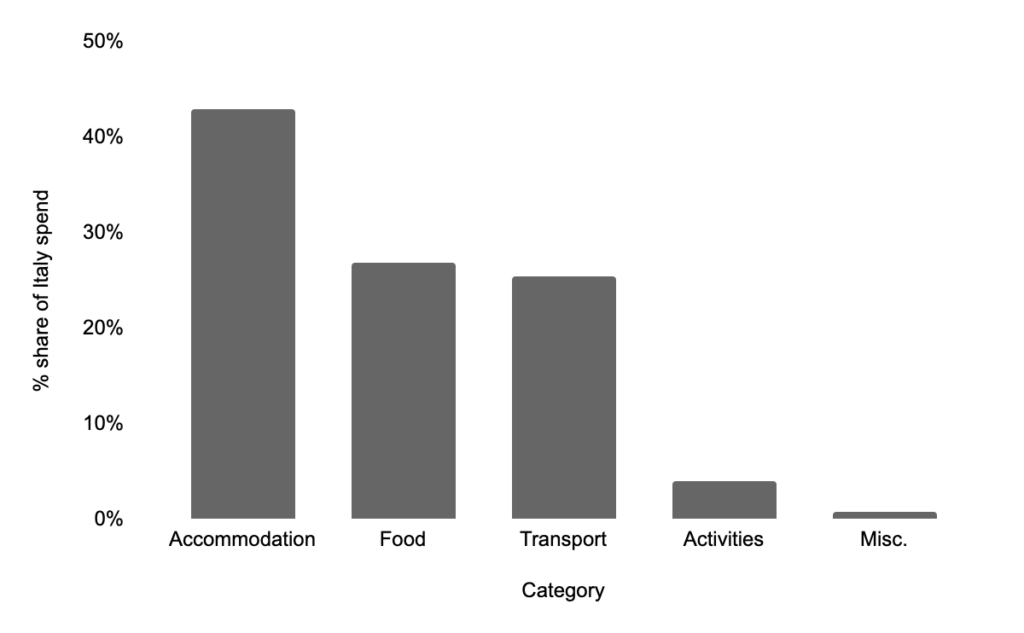 Recycling
We didn't buy a single plastic water bottle in Italy, owing to the abundance of water fountains present throughout every town. At times this meant that we sometimes carried more water than we would have if we'd bought it as we went, but this was a trade-off we were happy to make. Probably the largest detour we had to make for water was between trains at Roma Centrale, when I dashed out to a slightly sketchy neighbourhood to fill up our bottles at a public fountain while Sara remained anxiously fixated on the departures board. Fortunately, we had over an hour to kill during this connection, which we faffed away without issue.
I was also really impressed by the amount of public recycling. It seemed everywhere in Italy had 3 flavours of recycle bin, as well as a fourth bin for general waste. At least this meant that when we were given a couple of plastic water bottles by one Airbnb host, we knew they weren't going into landfill. In fact, recycling seemed so popular in some places that some large recycling bins belonging to residential buildings were locked to prevent randomers (like us) from using them. We LOVE recycling, in case you couldn't tell.
Cats
We miss Thomas (our cat) a lot. So much so, that Sara's been keeping a count of the cats throughout Italy, inspired by the increasingly complex system of counting and ratings that we've developed while walking the London LOOP with our friends George and Erin. Disappointingly, we didn't spot a single cat on our trip until we reached Naples. However, thanks to the feline population of southern Italy, the total now stands at 27, and we were delighted to have a cat as our neighbour out on the deck of our ferry (I think he was less delighted to be there).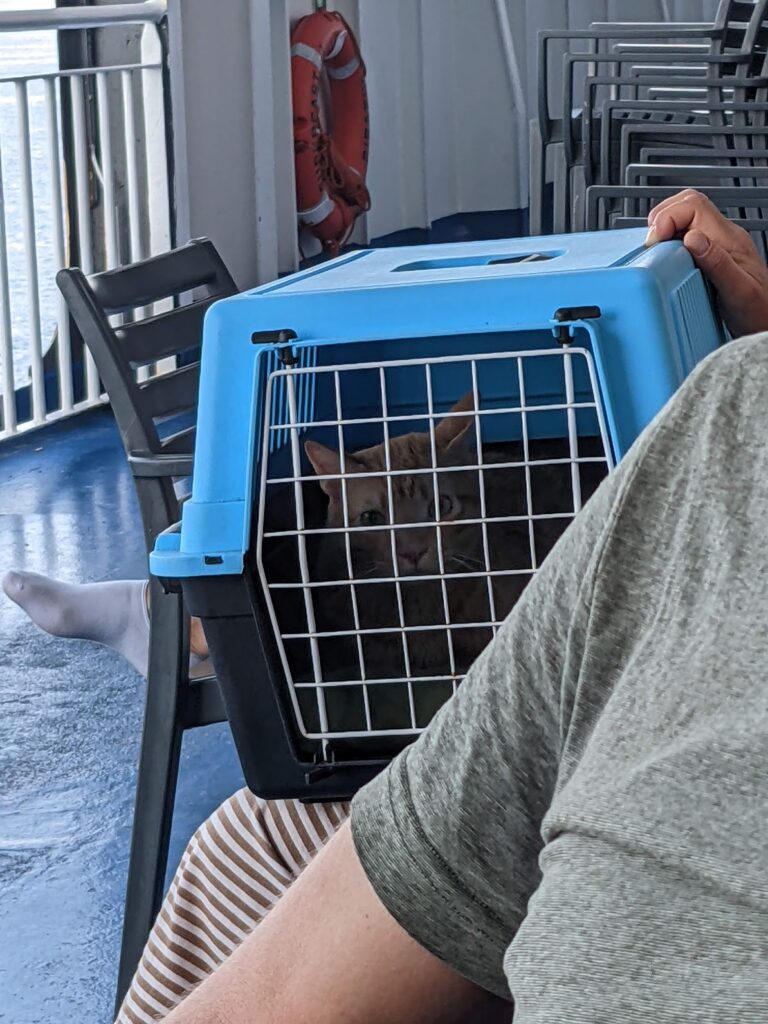 ---
Next stop: Greece!