Avid fans of the first series of Race Across the World will recall that the third checkpoint was in Tashkent, and specifically at the Hotel Uzbekistan. We couldn't make it to the second checkpoint (Baku) because of Azerbaijan's closed land borders, but we were now back on track! Much like in the episode, we approached the hotel via Amir Timur square (not because we are super fans, just because that's where we disembarked our bus…) and it was a great first view of the brutalist, Soviet monolith of a hotel.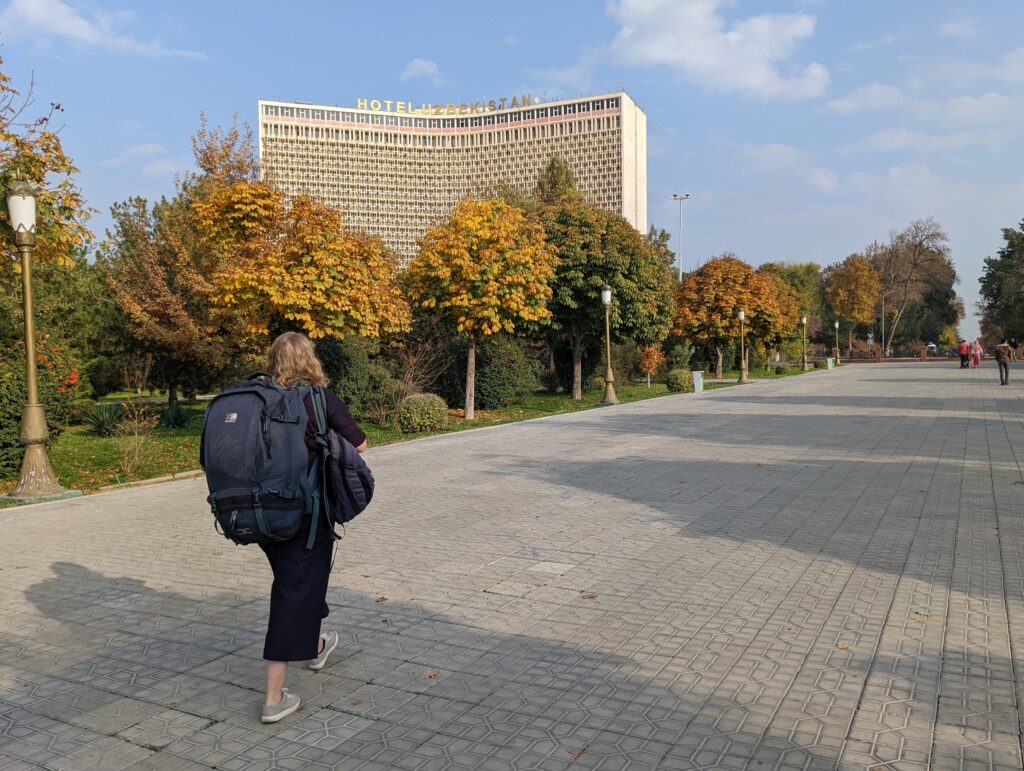 The Hotel Uzbekistan was completed in 1974 and in its prime it was one of the premier 5* hotels in the city, favoured by visiting dignitaries. Nowadays, it has a certain faded glamour and some of the worst TripAdvisor reviews we've ever seen of a hotel that we've then gone on to book! We couldn't resist though – it's a must-see attraction in Tashkent because it is such a brilliant example of the architecture of the period. I was a big fan of its striking design, but I can see why it might divide opinion.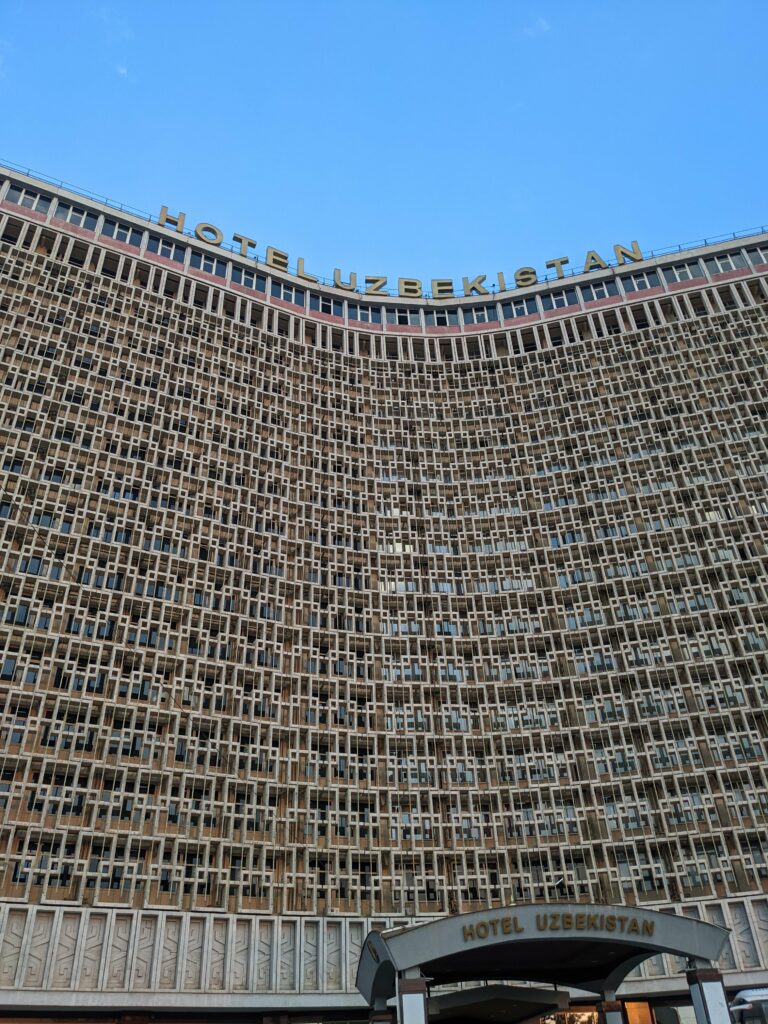 We briefly debated calling this post the Soviet Fawlty Towers, but it really wasn't that bad in the end. We had a strong start though – as we approached the reception desk and asked to check in, the staff looked totally panicked, almost as if it was everyone's first day. We had already overheard them telling other people that their rooms weren't ready, despite it being well past check-in time (no wonder, we realised later, when we saw that check out was until 1pm and check in from 2pm…), so we were prepared for the same. Indeed, they told us our room wasn't ready and then promptly handed us our key. We were confused but happy that the hotel was living up to expectations!
I'd read on the depths of the Internet that under no circumstances should we book a standard room, as we were likely to be faced with a non-renovated room that might not have working hot water. Threadbare carpets and worn furnishings we can happily tolerate, but cold showers when the weather was just starting to feel wintery sounded rather less appealing, so we heeded the warning. This left us with a twin room, since all the superior doubles were booked. Just like the dormitory at Malory Towers!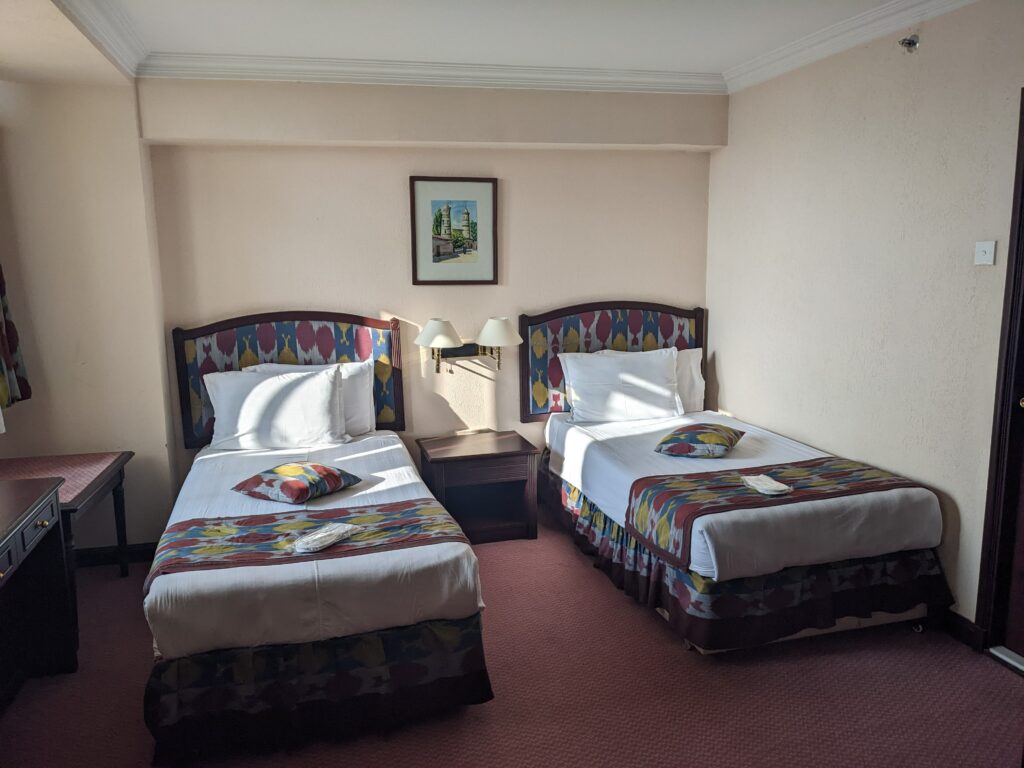 If this was renovated, I was curious to see how a non-renovated room would look (everything was pretty ancient) but most things worked and it was generally clean, so we were content. We may as well have been sleeping on the floor for how soft the beds were, though – no jumping on the beds in our dormitory!
The view from our 15th floor windows was also great, once we looked past the crumbling concrete facade and as long as we didn't lean too far out of the huge windows that opened fully 😬
Probably my favourite part of the whole experience was breakfast, which had been the subject of many scathing reviews. Granted, it did feel like a bit of a mass feeding session, but c'mon, it was in a ballroom! Given the scale of the operation, we thought it was pretty good. By the second morning, I even managed to get a smile out of the rather fierce omelette chef, so that was something.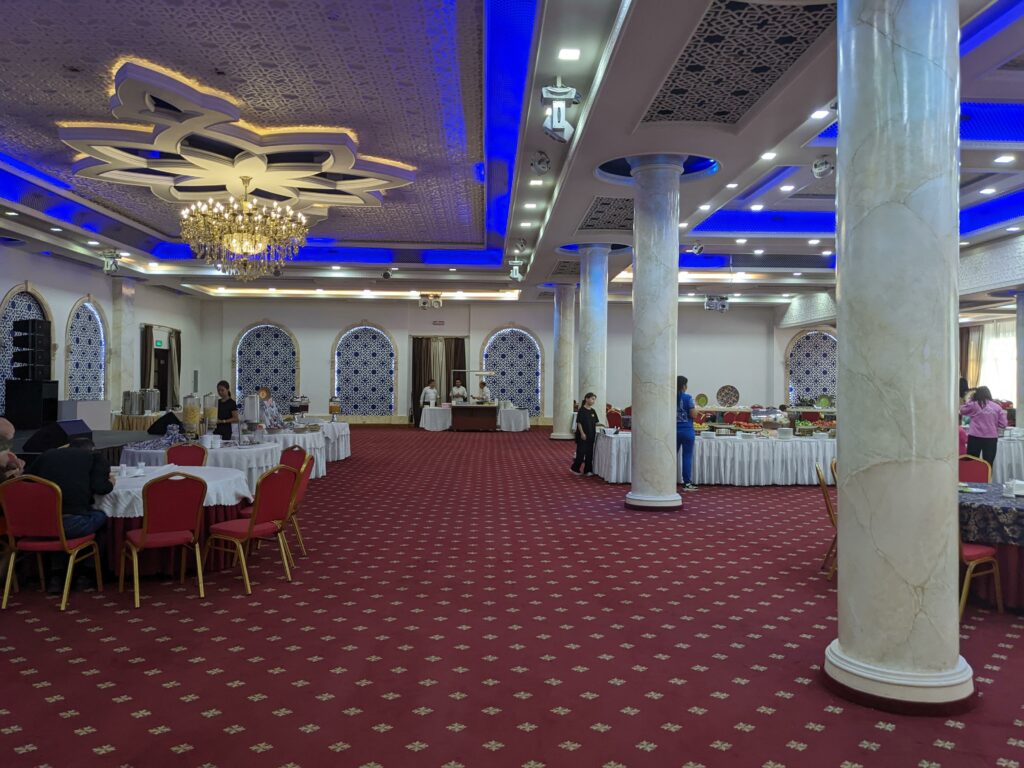 In a city full of accommodation that we'd read was overpriced and poor quality, the Hotel Uzbekistan seemed like exceptional value – we paid under £40 per night including breakfast. I think the key was having our expectations set appropriately (the TripAdvisor reviews will do that for sure). Overall, we thought it was a great experience and definitely worth it to officially reach the third checkpoint!
As one final parting gift, the reception staff printed our registration slips (which provide evidence of where we stayed in the country) on the back of another lady's passport photocopy. "No matter!" they said, not at all reassuringly, when we let them know. I wonder where our passport photocopies are now…