With Mum and Dad joining us for a couple of weeks, we didn't want to slow our progress through Turkey (and they didn't want to stay in one place either), so we had to consider how to coordinate getting from place to place. They were not very keen to join us on some of our less comfortable transport options (understandably) but equally we were still keen to avoid flying unless absolutely necessary. The answer was obvious: a Top Gear race!
Journey 1: Istanbul to Izmir (📌479km)
🐇 Team Hare (Helen and Mick) flew from Istanbul to Izmir on Turkish Airlines
🐢 Team Tortoise (Sara and Oli) took an evening 'high speed' train from Istanbul to Eskişehir and then an overnight train to Izmir
| | | |
| --- | --- | --- |
| | Team Hare 🐇 | Team Tortoise 🐢 |
| Time | 1 hour in the air (but 6.5 hours door to door) | 17 hours (!) including a midnight layover in Eskişehir |
| Cost | £106.44 | £23.24 |
| Carbon | 104 kgCO2e | 40 kgCO2e |
| Comfort | 6/10 | 4/10 |
| Comments | "The hot cheese and sundried tomato roll had great potential but was (literally) thrown at us just before the wheels came down for landing and we had no drinks as they ran out of time. So nil points for cabin service. The trip involved many hours of hanging around." | "Wow, those trains were slow! But it gave us a bonus day in Istanbul and saved a night's accommodation, so no major regrets. Sadly no cheese sarnies for us – we stealthily drank wine from a decoy water bottle instead." |
Verdict: If only one of us had actually thought to check driving directions, we would have realised that we could do the journey by road in about five hours! Although Team 🐇's flight was short, they still lost the best part of a day on transfers and waiting around, so this is pretty compelling. A car share between the four of us would have been similar in emissions to four seats on Team 🐢's trains (we're a bit surprised by this!) but more efficient than flying, so we would have saved 64 kgCO2e carbon overall.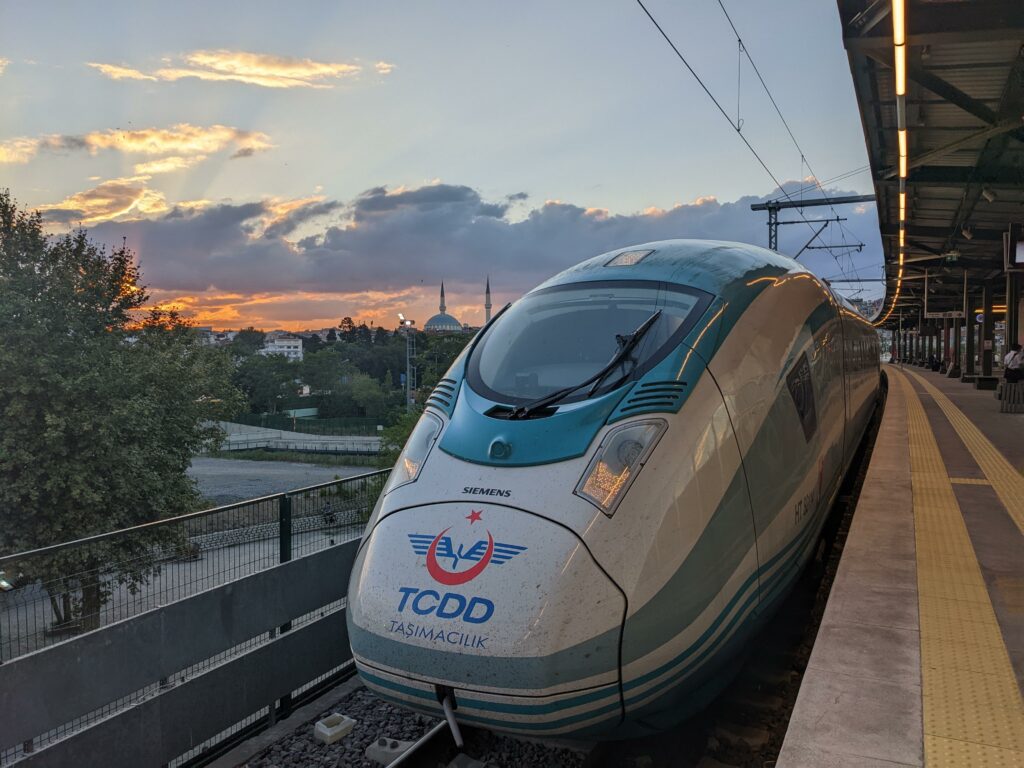 Journey 2, 3 & 4: Izmir to Selçuk | Selçuk to Pamukkale | Pamukkale to Turkish Riviera (📌538km)
Team Hare 🐇 and Tortoise 🐢 combined efforts in a hire car, driven by Dad with navigation by Oli, playlist (and carsickness threats) by Sara and snacks by Mum.
| | |
| --- | --- |
|  | Team Hare 🐇 & Team Tortoise 🐢 |
| Time | 1 hour + 3 hours + 4 hours |
| Cost | £427.02 (hire car for 8 days) + £50.56 (diesel) = £477.58 |
| Carbon | 125 kgCO2e |
| Comfort | 10/10 (what a team) |
Verdict: This was a really comfortable way to travel for four people together. The Turkish roads were consistently good (with the obvious exception of the dirt road on which our villa near Çıralı was located, but we knew about this in advance). The same couldn't always be said about the drivers on the Turkish roads, but isn't that just the same anywhere?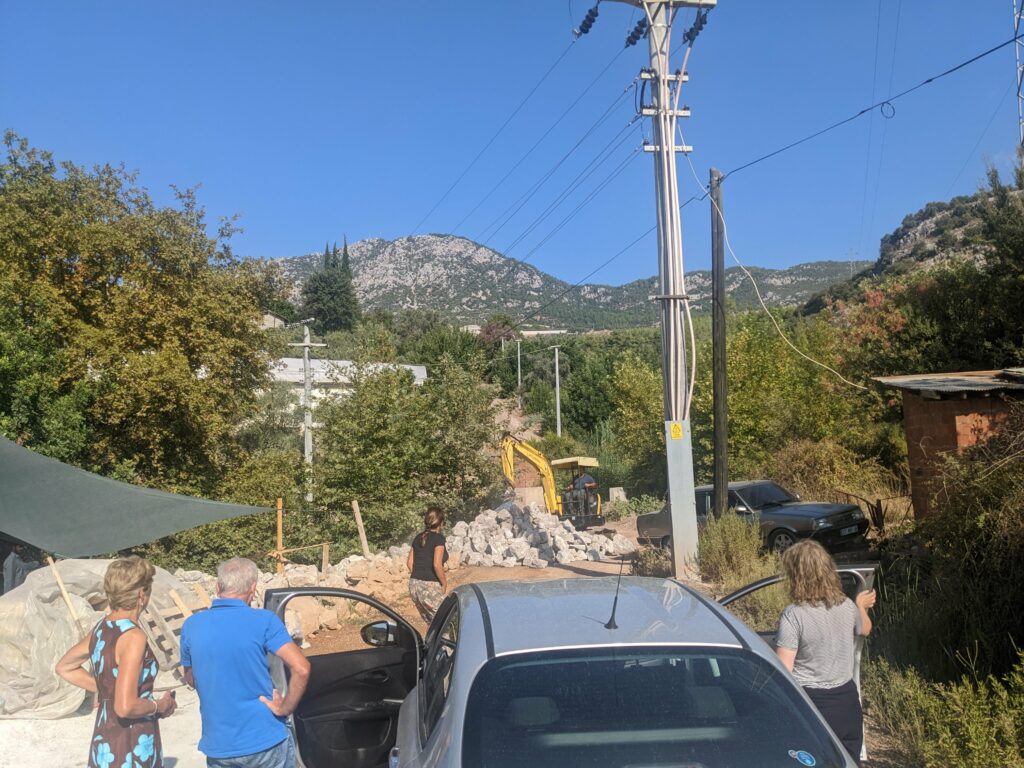 Journey 5: Turkish Riviera to Cappadocia (📌633km)
🐇 Team Hare flew from Antalya to Kayseri via Istanbul on Pegasus Airlines, then hired a car to drive the remaining 75km to Göreme
🐢 Team Tortoise spent a bonus day exploring the old town of Antalya (ok, ok, we spent about four hours exploring and then the subsequent four hours sitting on a terrace, drinking beer, writing blog posts and watching the sunset). We then caught an overnight bus from Antalya to Göreme, arriving at 7.30am the following morning
| | | |
| --- | --- | --- |
|  | Team Hare 🐇 | Team Tortoise 🐢 |
| Time | Approx. 3 hours in the air (but 11 hours door to door) | 9.5 hours |
| Cost | £230 | £32.71 |
| Carbon | 368 kgCO2e | 30 kgCO2e |
| Comfort | 6/10 | 5/10 |
| Comments | "The famous cheese and sundried rolls were nicely delivered to us in packaging with our names on. We had one on each sector! Living the dream. I only ate one and I was still digesting it a couple of days later. Our baggage was tagged all the way through and the stopover airport was quite pleasant." | "An easy journey and about as comfortable as we could have hoped on an overnight bus. If only they didn't keep turning the lights on at rest stops! Thankfully Oli's invention of the Sensory Deprivator 3000 (eyemask + hood + noise cancelling headphones) tends to be pretty effective. The afternoon spent drinking beer might have helped, too." |
Verdict: Surely Team Tortoise 🐢 won this leg hands (hooves?) down!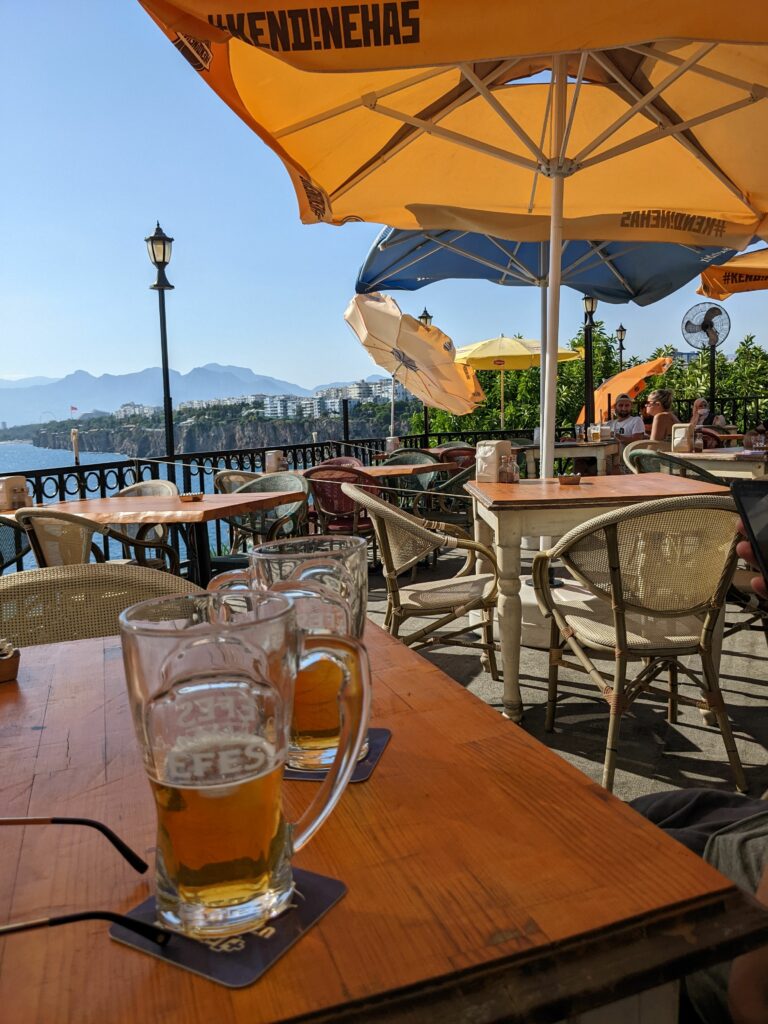 Overall verdict
Would I do the above trips in the same way again? Absolutely not! I knew Turkish Civil Aviation was well developed but made an assumption that the road network was in poor condition. Wrong. The intercity road network is excellent and in very good condition. It would have been quicker, cheaper and more enjoyable to travel together and keep the same car for the entire trip. I don't know why we did it the way we did. My excuse is that we only had a couple of days to make the hire car bookings and airline reservations. In the past I've always driven between points of less than around 500 miles. You see so much more.

Call Mick, representing Team Hare 🐇
On reflection, with four of us travelling, a car share would have been the best option, saving approximately 69% of emissions (largely through avoiding the three domestic flights). We also learnt a 17-hour lesson that there's a good reason why trains are so much cheaper than buses in Turkey. In future, we'll consider travelling by car as a viable alternative when there's a group of us – we'd been avoiding it outright until now.

Oli, representing Team Tortoise 🐢