I should probably explain that I've spent the last few days desperately trying to convince Oli that the Acropolis is actually called the apocalypse. ("Shall we get dinner after the apocalypse?") Sadly, it didn't catch on.

This was our first visit to Athens, so we had a lot of ground to cover. On our first morning, we followed a Lonely Planet walking tour, which is our favourite way to get our bearings in any new city. This took us past the changing of the guard at the Tomb of the Unknown Soldier, where the soldiers perform a slow motion march in their pom-pom shoes and then have their brows mopped in a strangely tender manner by another soldier. It was a very hot day but still, it was a little odd to watch.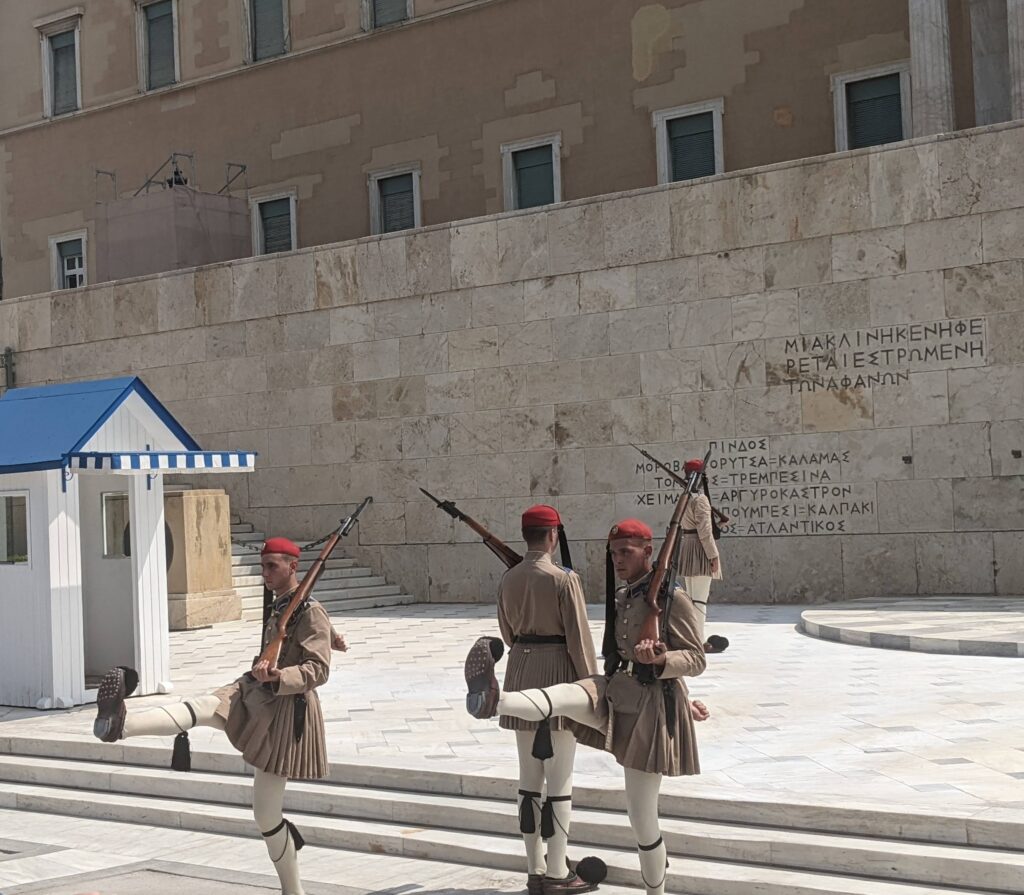 Next, we passed the Roman Agora, with its 64-seat public latrine (going to the loo in front of that many people is surely the stuff of nightmares!) We also walked through the pretty Anafiotika neighbourhood, which sat just under the Acropolis but had the feel of a peaceful village. Here, we saw our 50th Greek cat (hidden Where's Wally? style in one of the photos below).
We took full advantage of being in a capital city and enjoyed the international food scene – coconut curries at the buzzy Dara Thai Restaurant, south Indian cuisine at Dosa House, and a seriously, seriously good lentil moussaka at Veganaki. I would honestly revisit Athens just to eat the vegan moussaka again, and until then it will haunt my dreams.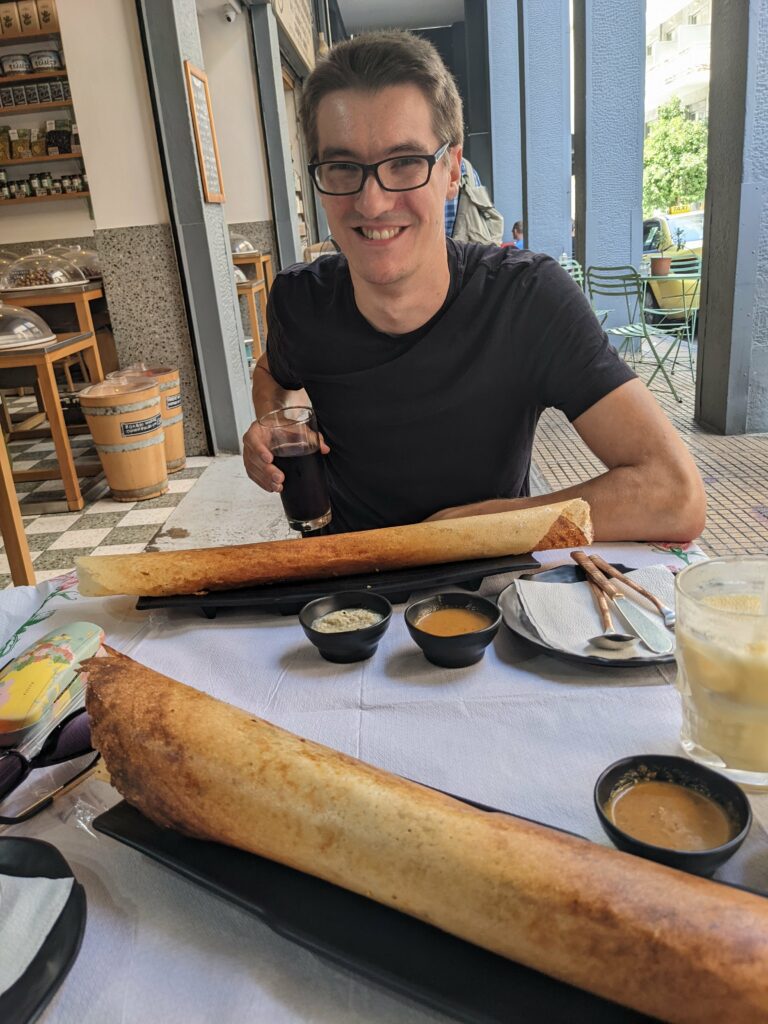 We perfected the art of peering through fences at Roman ruins. I say art – there's obviously not much to it really. Oli is helpfully demonstrating below, while saving on admission to the Archaeological Site of Kerameikos.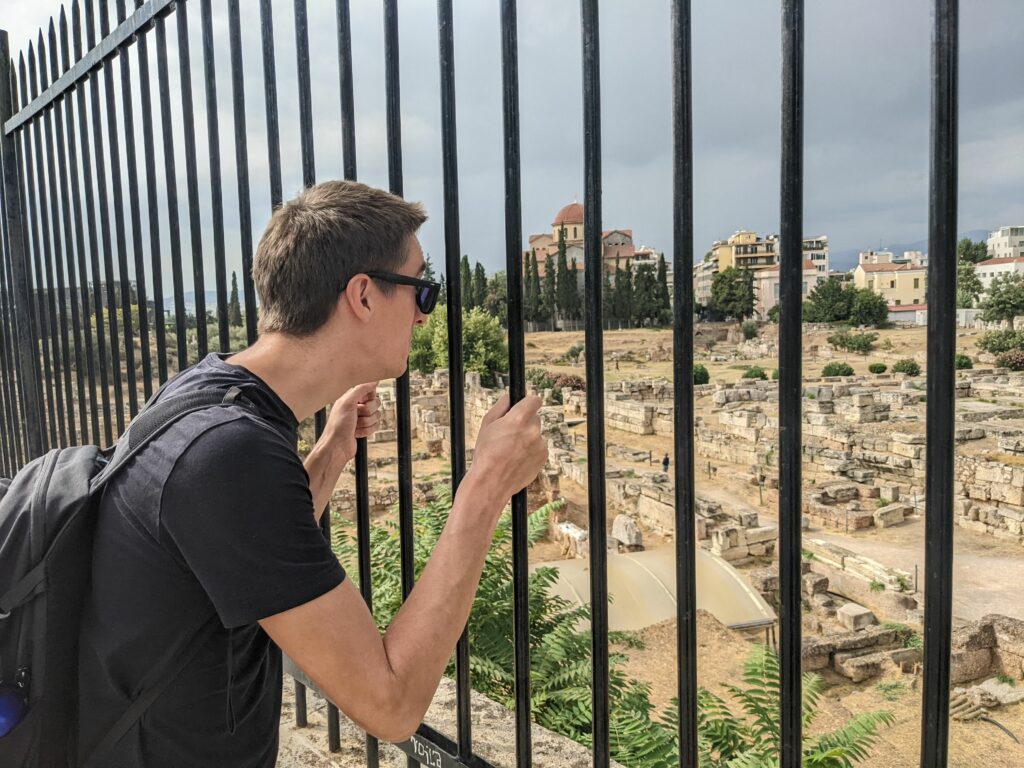 It was only a matter of time before Oli dragged me along to something energy-related, so we visited a disused Coal Gas plant that had been converted into an events space. I was envisaging something like Coal Drops Yard in Kings Cross and perhaps it would have been a bit more buzzy if not for being a grey Tuesday afternoon. Anyway, it wasn't a wasted journey because we took a look at some of the exhibits, met another cat and had a go on an enormous adventure playground.
Finally, we spent some time touring some of the best street art in the city. Athens has become known for its graffiti (much of it expressing dissatisfaction towards the government's handling of the financial crisis) and these street art projects have been an attempt to channel that creativity into something a little more structured.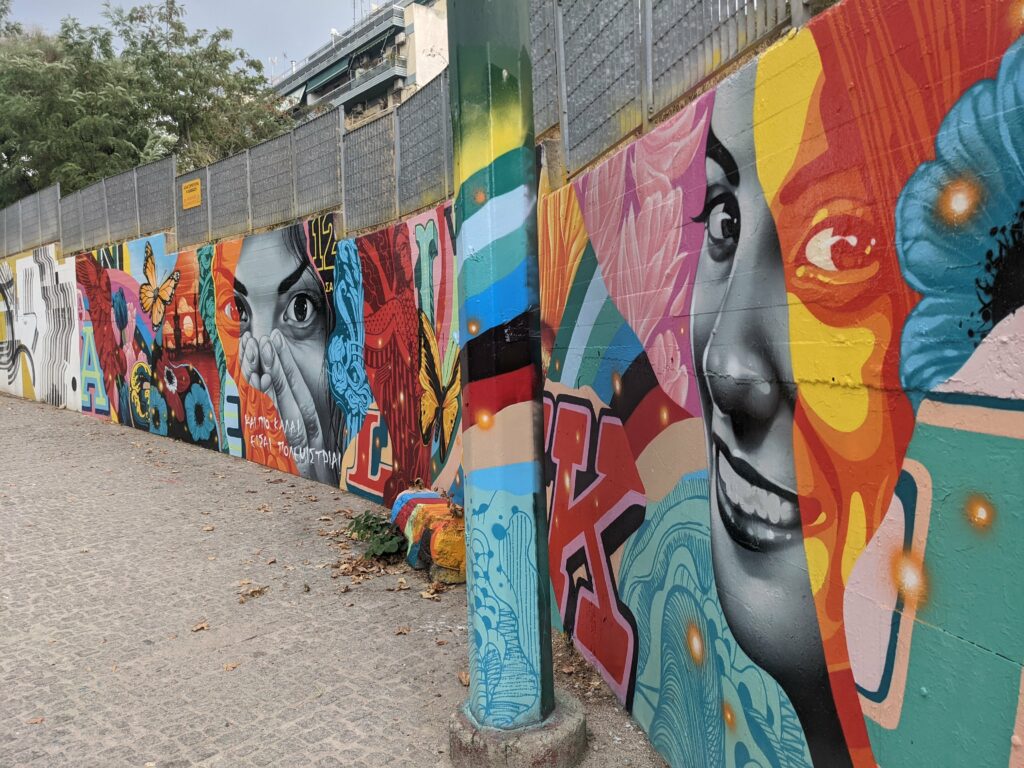 We definitely only scratched the surface of this great city and would love to return to explore it more (and eat more vegan moussaka).