While it wouldn't be an exaggeration to say that we spent the vast majority of our time in Naples eating pizza, drinking beer to recover from climbing the 104 steps up to our weird Airbnb, and flooding our apartment while using the washing machine (that one wasn't on us), we did find a bit of time to explore some of Naples' long and fascinating history.

First up, we took the circumvesuviana train 20 minutes into the suburbs to explore Herculaneum, a roman-era fishing village that had been partially destroyed by an earthquake in AD 62 and then fully submerged in volcanic ash in AD 79.
This meant it had a history that somewhat parallelled the much better known Pompeii, although with three key differences for us: it was a smaller site (more manageable for our incurable need for completeness!), with fewer visitors, and was much better preserved (because of the type of volcanic rock that enveloped the town, it even conserved some food).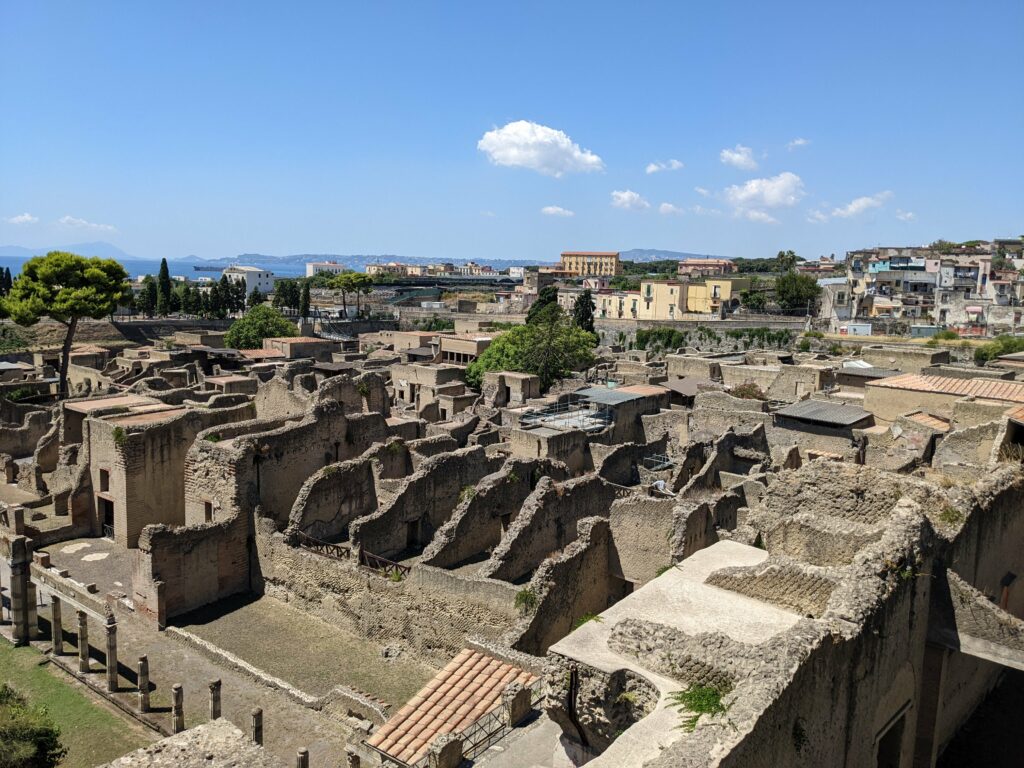 We visited roman villas and community meeting spaces that still had their second storeys standing, with beautiful marble cladding, mosaic floors and detailed decoration on the walls.
We saw a blacksmith's shop that was so well preserved that archeologists were able to work out what was in for repair when the town was buried: a ridiculously ornate candelabra and a bronze statue.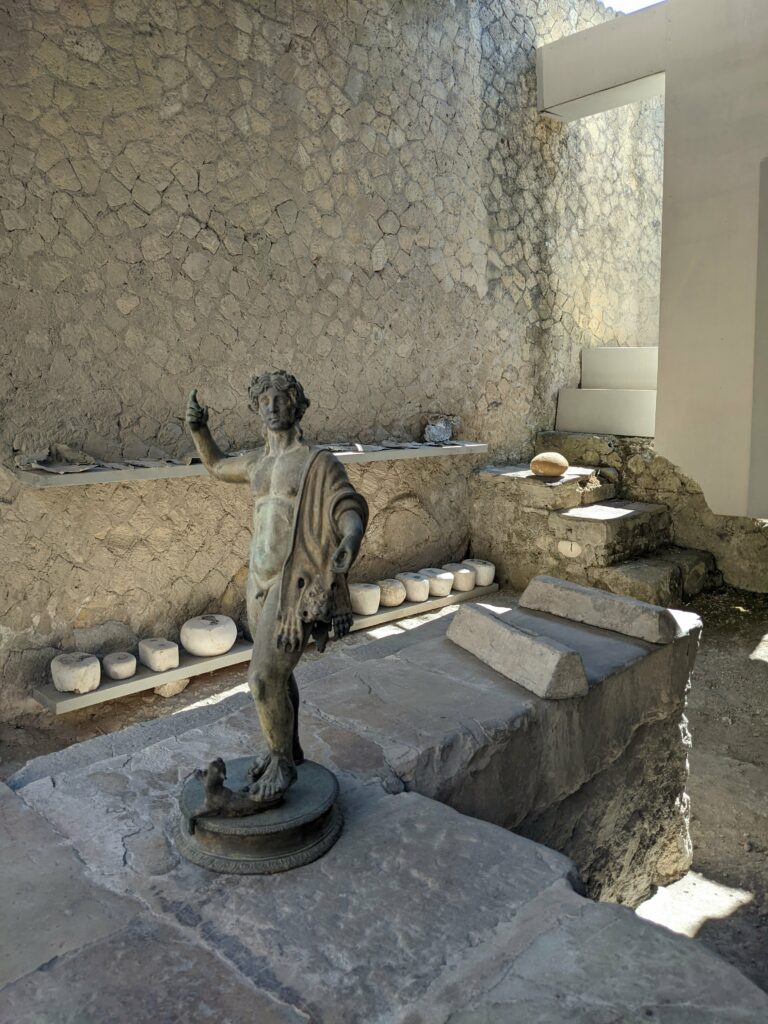 We saw several thermopoliums, which were restaurants where you could pick up ready-made food (ancient branches of Wasabi, if you will). We also visited the men's bath house, where you could still see the decorative mosaics of dolphins and cherubs, and where the compartments for men to leave their clothes were intact on the wall.
Apparently, there's a lot more of the village that hasn't yet been excavated because it is under modern Ercolano. Some parts have been explored by tunnel, but what lies beyond that is still unknown. It's a bit mind-blowing to consider what kind of treasures might be underground still waiting to be discovered. Other than a bit of a fascination with WW2, I'm not a huge history fan, but this was a truly impressive site and for me far exceeded Pompeii, which I'd visited in 2007 on an interrailing trip with Amy and Liz (pic enclosed just to embarrass them and check they are still reading 😉)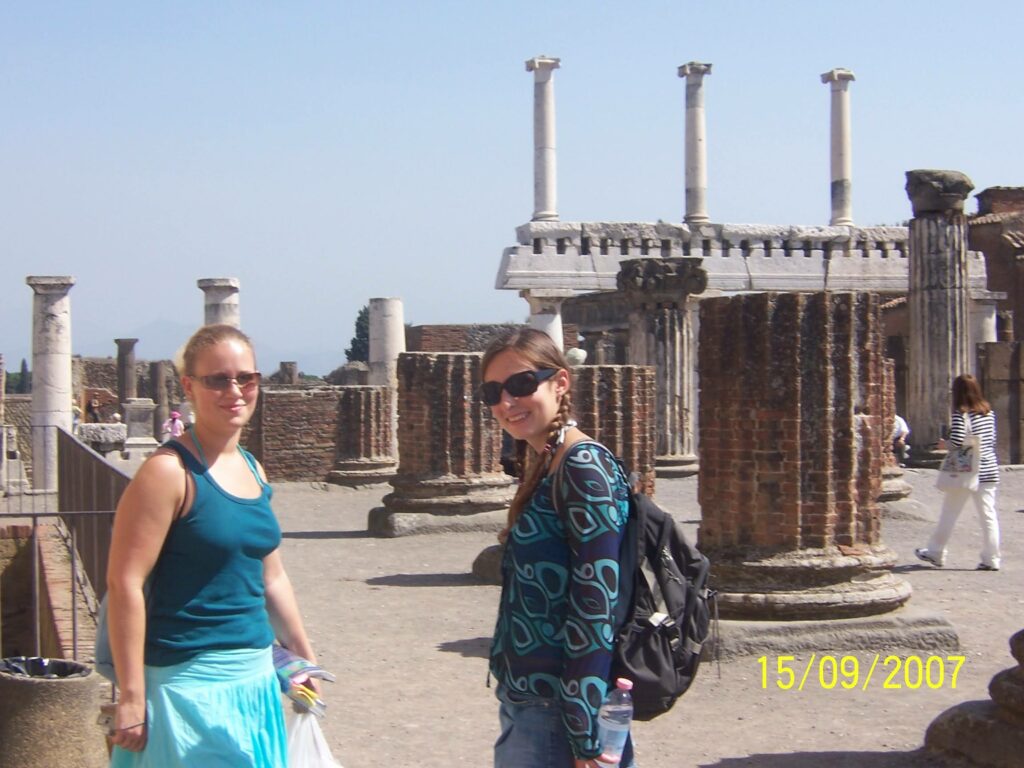 ---
Our second visit was to Napoli Sotterranea.  Here, we descended under the streets of Naples and followed a tour that covered the use of the underground catacombs from ancient Greek times to give residents running water, right up to their use as air raid shelters in WW2.  There's even a current project in collaboration with a local university examining growing plants underground using the ambient humidity to keep them watered – apparently they are supplying basil to many local restaurants.  
It was a really cool experience exploring underground in a space that had been used in so many ways over such a long time span. I won't lie – another of my favourite parts of this tour was also that we spent an hour at a comfortable temperature (we've not had air conditioning and it's preeetty hot in southern Italy in August!)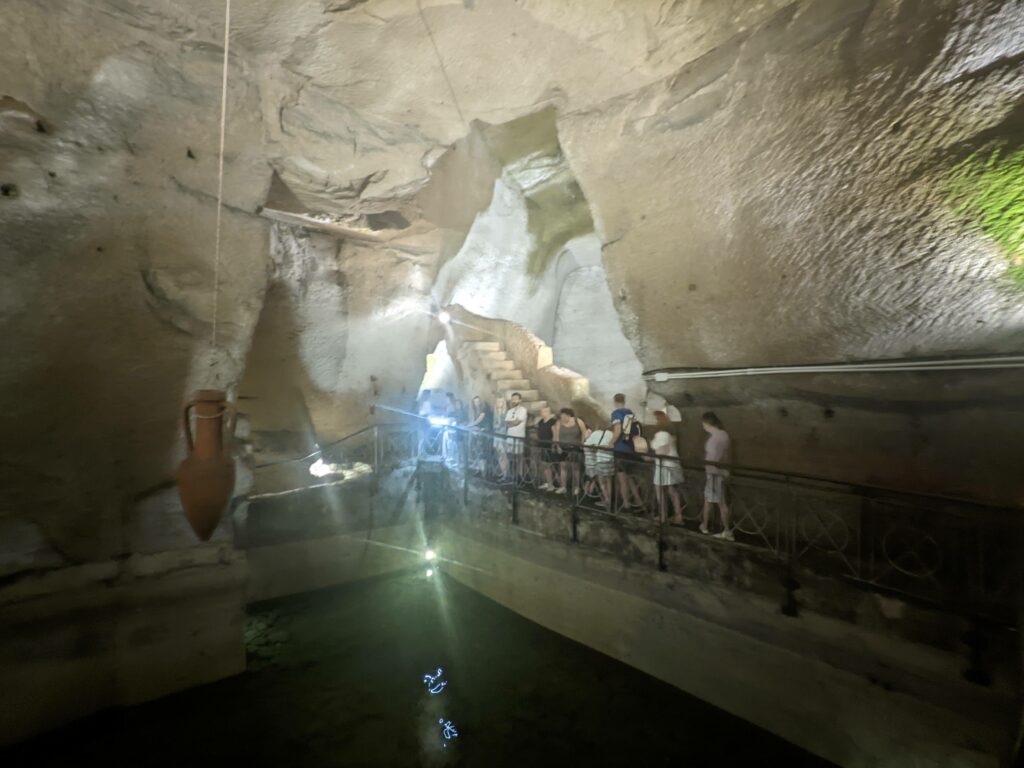 Thankfully we visited before we tried the pizza fritta, so we could still fit through the extremely narrow passageways.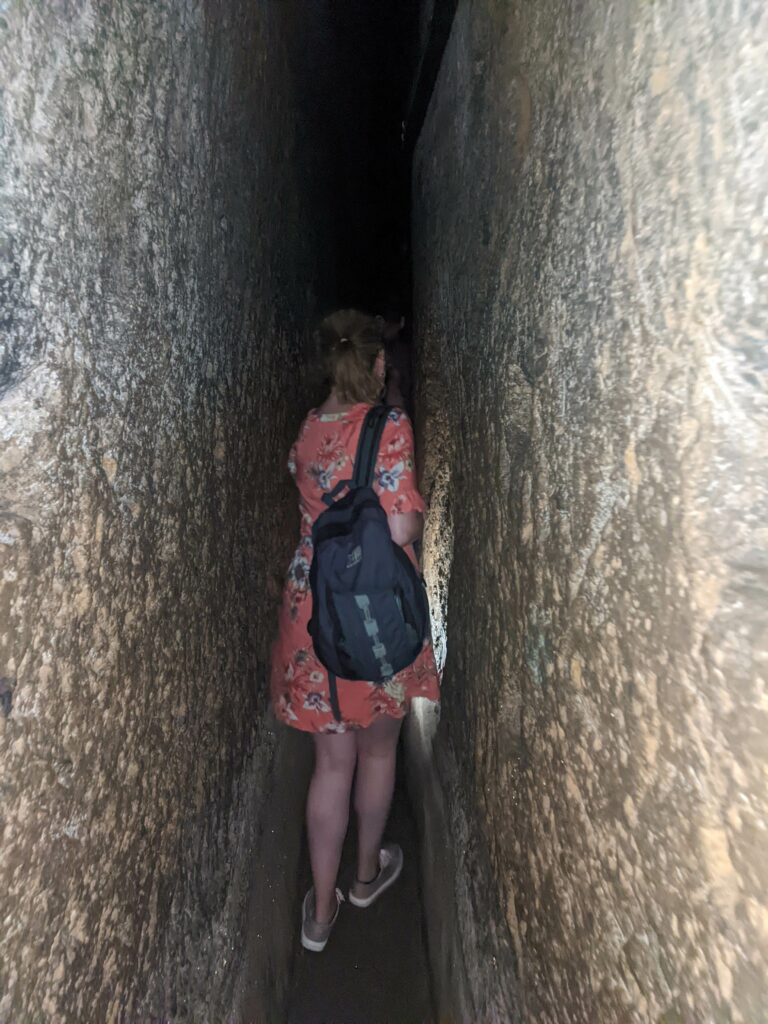 ---
We spent the remainder of our time in Naples walking for miles around different neighbourhoods to soak up the street life and architecture. This included skidding through a local fish market, admiring the Maradona murals in Quartieri Spagnoli, the art nouveau architecture and upmarket shopping in Chiaia, and walking the promenade from Santa Lucia to the port. 
We left Naples on the first bus of our trip; a four-hour ride to the hilltop city of Matera, via Candela.