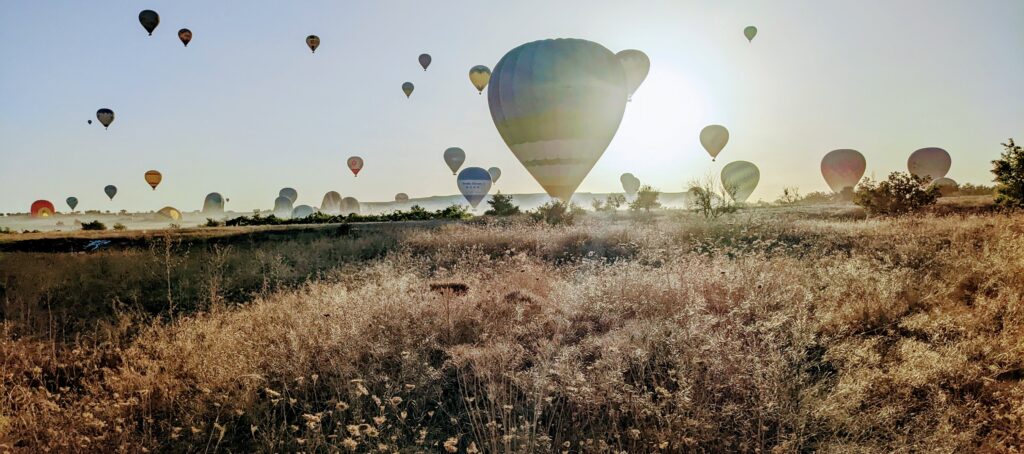 There are a lot of balloon companies operating in Cappadocia, and with obvious safety (and value for money) considerations, it's worth putting some thought into which company and which flight type to choose. We did quite a lot of reading beforehand to help us decide, but some things weren't obvious to us until after our flight, so we thought it would be worth making some notes of what we learnt.
---
1. Choose your company carefully
We found the articles on Turkey Travel Planner and Captivating Cappadocia helpful. However, much of their advice was about ensuring that the company adheres to safety standards and best practice, and in reality, it's very hard to assess this in advance (and even on the day – we are hardly experts). In practice, booking with a reputable company should cover these requirements. We repeatedly came across the following four companies as recommended picks during our research:
2. Book as soon as you know your dates
Based on what we'd read, Butterfly Balloons would have been our top pick, but as we booked only four days in advance they had no availability so we went with Turkiye Balloons. It's obviously worth booking as far in advance as you are able in order to have the best choice of company and basket size. We repeatedly read this during our research but had no idea whether this meant we should have booked six months, six weeks or a few days in advance. So, just to quantify: we found that when we started our research about a week before our flight, there was some availability but we didn't have full choice. One company also suggested that we could Whatsapp them at 8am the day before we wanted to fly, and that as long as flights had gone ahead that day then they would be able to accommodate us. So, don't panic if you are last-minute bookers, like us – there are likely to be options.
3. Smaller is better
The general advice is that smaller baskets are better, and we got very hung up on how many people would be in our basket. While we would have loved a private flight, these run into the thousands of Euros so that wasn't really an option for our budget. Having ended up booking a 20-person balloon (we were aiming for 16), we really don't feel like it impacted our experience as everyone had a good view because of the rectangular shape of the basket. We can't speak from personal experience for the larger basket sizes, but our impression is that you would have a similar experience on a larger balloon for a lower price.
4. Choose the first flight of the day
Many companies run two flights a day and everything that we read suggested it was very important to be on the first flight (or ideally the only flight) of the day. We never quite grasped the full justification for this, but it seemed to come down to three things: ensuring we were in the air during sunrise, making sure the flight was not rushed (although to be honest, ours still felt a little rushed), and because the weather conditions tend to be more favourable at dawn. Every company we asked assured us that we would be on the first flight anyway, but it's probably worth checking.
5. Book your flight for your first morning in Cappadocia
Most companies we spoke to wanted us to give them at least two dates when we would be available to fly, just in case weather conditions meant that our first choice date was cancelled. This isn't essential, but as there's lots to do in Cappadocia you would probably want at least two full days in the area anyway. It would then make sense to book your flight for your first available morning.
---
Read more about our experience in Flying high above Cappadocia.